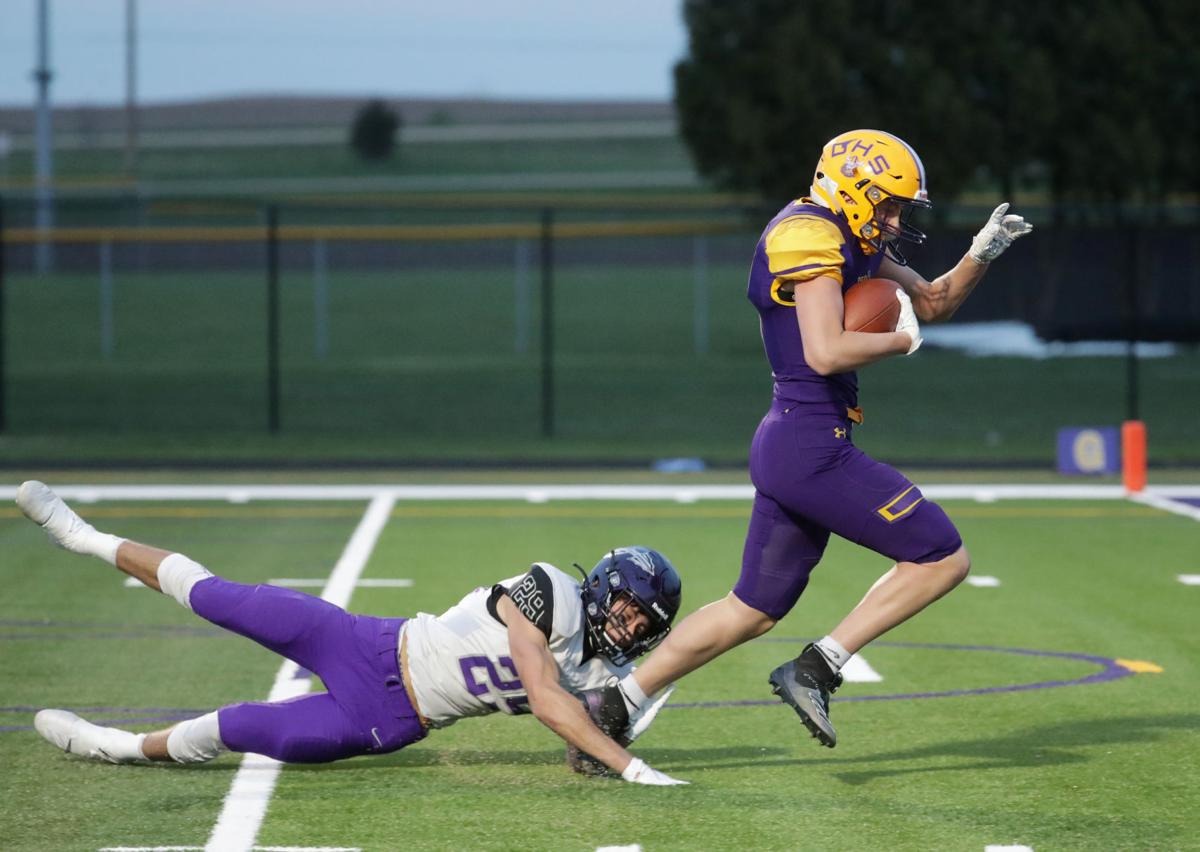 Here are Week 6 games to watch, with many eyes focused on the Badger Large Conference showdown between Waunakee and DeForest.
Friday's Big Eight Conference game between Madison West and Sun Prairie was canceled because West's varsity program was shut down for 10 days due to health and safety protocols. Sun Prairie, ranked No. 2 in The Associated Press Large Division and No. 3 in Division 1 in the state coaches' WisSports.net poll, added a home game Friday against River Falls.
Waunakee (5-0 overall, 3-0 Badger Large Conference) at DeForest (5-0, 3-0), 7 p.m. — One of the most highly anticipated games of the fall features the Badger Large leaders and state-ranked teams. Waunakee pulled away for a 40-2 victory over Watertown last week after leading 13-2 at halftime. The Warriors have received good quarterback play from Quentin Keene and backup Garett Lenzendorf. DeForest opened a 51-0 halftime lead en route to a 58-14 victory over Beaver Dam. Norskies junior quarterback Mason Keyes ran for one touchdown and threw five touchdown passes, including two to Brody Hartig. Waunakee was ranked No. 4 in the AP Large Division and No. 1 in Division 2 in the coaches' WisSports.net poll. DeForest was No. 5 in the AP poll and No. 3 in Division 2 in the coaches' poll. Waunakee topped DeForest 48-30 in the WIAA's alternate fall season last spring.
Baraboo (5-0, 3-0 Badger Small Conference) at Fort Atkinson (4-1, 3-0), 7 p.m. — The Badger Small leaders meet. Baraboo, despite injured Luna Larson's continued absence, pulled out a 14-13 victory over Mount Horeb/Barneveld. Kane Mahoney rushed for 192 yards on 39 carries and scored the winning touchdown in the fourth quarter. Baraboo this week was ranked No. 1 in Division 3 in the coaches' poll. Fort Atkinson, which outscored Portage 22-8 in the fourth quarter of a 29-16 victory, relies on a running attack led by Alec Courtier.
Middleton (3-2, 3-0 Big Eight Conference) at Madison Memorial (3-2, 2-1), 7 p.m., Mansfield Stadium — Middleton, after an impressive showing against Madison La Follette in Week 4, didn't get to play in Week 5 because its game with Madison West was canceled. The Cardinals' formidable running attack is led by backs Elijah Gray and Bryce Frank. Madison Memorial also likes to run, using the I-formation and backs Tyler Piotrowski and Antonio Thomas. The Spartans seek to bounce back after a 50-7 loss to Sun Prairie.
Verona (4-1, 2-1 Big Eight) at Madison La Follette (1-4, 1-2), 7 p.m., Lussier Stadium — Verona comes off a 49-21 victory over Beloit Memorial, a game in which quarterback Mason Fink tossed four touchdown passes and ran for another score. It also marked Dave Richardson's 200th victory as coach. Madison La Follette earned its first victory, a 28-18 decision over Madison East. Quarterback Kamarion James-Ragland had two touchdown passes for the Lancers.
Lodi (5-0, 3-0 Capitol Conference) at Lakeside Lutheran (2-3, 2-1), 7 p.m., in Lake Mills — Lodi has persevered this season in the absence of the injured Lucas Heyroth, with quarterback Keegan Fleischman and running back Jaylen Montgomery propelling the offense and Alex Rashid leading the defense. Montgomery rushed for 132 yards and two touchdowns in last week's 24-6 victory over Beloit Turner. Lodi was ranked sixth in the AP Medium Division and No. 3 in Division 4 in the coaches' poll. Lakeside Lutheran dropped a 14-13 decision to city rival Lake Mills. The Warriors have turned to Kooper Mlsna at quarterback following an injury to Levi Birkholz in Week 4. Mlsna had 104 yards rushing and one touchdown against the L-Cats.
Pardeeville (3-2, 2-1 Eastern Suburban) at Cambridge (3-2, 2-1), 7 p.m. — The two teams continue to pursue Eastern Suburban leaders Marshall and Markesan. Cambridge's Trey Colts rushed for 444 yards on 20 carries, according to WisSports.net statistics, and had six rushing touchdowns and one receiving score in a 53-7 victory over Dodgeland. The rushing total was the seventh-best single-game rushing performance in state history, according to WisSports.net and a Wisconsin Football Coaches Association list. Pardeeville received a forfeit victory over Clinton due to COVID-19 reasons, then added a game with Shiocton but lost 27-0.
(The report includes information and statistics from the State Journal, teams, other reports and WisSports.net).