The third week of the high school football season will bring a considerable taste of conference action to the schedule and a look at many newly configured leagues.
That includes the Big Eight Conference (which will have eight teams this season under realignment), Badger Large and the Badger Small.
Last week provided a few upsets of ranked teams, including Mount Horeb/Barneveld over Monroe and Marshall over Black Hawk/Warren (Illinois).
And there was a wild 34-31 victory for Waunakee, top-ranked in Division 2 in the state coaches' WisSports.net poll, over Middleton. Warriors junior quarterback Garett Lenzendorf relieved injured starter Quentin Keene and threw for two touchdowns and ran for another.
Here are several interesting storylines to watch this week:
Thursday
DeForest (2-0) at Oregon (1-1), 7 p.m. — DeForest, ranked sixth in the Large Division of The Associated Press state poll and fourth in Division 2 in the coaches' poll, comes off a 40-14 victory over Stoughton. Junior quarterback Mason Keyes threw four touchdowns — two apiece to seniors Deven Magli and Max Weisbrod — and ran for another score. Oregon (1-1) used a powerful ground game (334 yards), which included Teague Szudy and Austin Saunders each rushing for two touchdowns, in a 49-14 victory over Madison West. This Badger Large game was moved from Friday to Thursday due to a shortage of officials, according to DeForest athletic director Richard Henert.
Friday's games
Madison Memorial (1-1) at Verona (2-0), 7 p.m. — The game is a Big Eight opener. Madison Memorial won the conference title in 2019, the last time the title was awarded due to the COVID-19 pandemic. The Spartans edged Janesville Craig 7-6 last week. Memorial's Antonio Thomas scored the go-ahead touchdown on a 5-yard run in the second quarter, erasing a 6-0 deficit. Thomas had 95 of the Spartans' 216 yards rushing. Verona held off host Oshkosh West 17-14. Kyle Krantz ran for 93 yards and a touchdown, while the Wildcats' defense was led by Mason Armstrong (nine tackles) and Drake Badger (eight tackles). Memorial rallied for a 27-24 victory over Verona in the rain and mud in 2019, scoring on Kabaris Vasser's 3-yard run as time expired. 
Monona Grove (2-0) at Baraboo (2-0), 7 p.m. — This Badger Small game will highlight Monona Grove's passing attack and Baraboo's running game. Monona Grove quarterback Casey Marron has thrown 10 touchdowns in two games, including five in the 48-20 victory over Madison La Follette last week. Marron was 17-for-24 for 275 yards. Ty Hoier had six catches for 155 yards and two touchdowns. Baraboo, ranked No. 1 in Division 3 in the state coaches' WisSports.net poll, rolled over Madison East 44-6. Baraboo's Luna Larson had 204 yards and four touchdowns on 13 carries, while Kane Mahoney rushed for 115 yards and two touchdowns.
Madison Edgewood (2-0) at McFarland (0-2), 7 p.m. — Edgewood, which has come flying out of the gates with victories over River Valley and Lake Mills and is ranked fourth in Division 4 in the coaches' poll, opens Rock Valley Conference play on the road. In a 20-0 victory over Lake Mills, Cam Fane ran for two touchdowns and Chase Koch led the defense with 10 tackles. McFarland seeks its first victory and to bounce back from a 34-14 loss to Onalaska.
Columbus (2-0) at Lake Mills (1-1), 7 p.m. — Columbus, led by first-year coach Andrew Selgrad, enters Capitol Conference competition after topping Platteville 42-6. Nathan Cotter threw two touchdowns to Brady Link, while Colton Brunell and Andrew Pfeffer scored two rushing touchdowns apiece. The Cardinals, ranked sixth in Division 4 in the coaches' poll, will try to slow the L-Cats' passing game directed by quarterback Liam Carrigan.
Madison East (0-2) at Madison West (0-2), 7 p.m., Mansfield Stadium — It's been a rough start for these city rivals, but one team can gain its first victory and hold a share of the league lead after this Big Eight game. East comes off the loss at Baraboo, while West, led by first-year coach Art Bonomie, fell at Oregon.  
(This report includes statistical and game information from the State Journal, other published reports, teams and WisSports.net).
Big Eight football preview: Sun Prairie's Isaac Hamm among 10 players you need to know this season
Kamarion James-Ragland, sr., QB, Madison La Follette
Coach Scott Swanson and the Lancers will look to reload their diversified pro shotgun offense after quarterback Ben Probst led the passing game in 2019 (La Follette didn't play either season in 2020-21). James-Ragland is a top candidate to take over, and will have strong weapons at receiver and running back at his disposal.
Cole Hendrickson, sr., TE/DE, Madison Memorial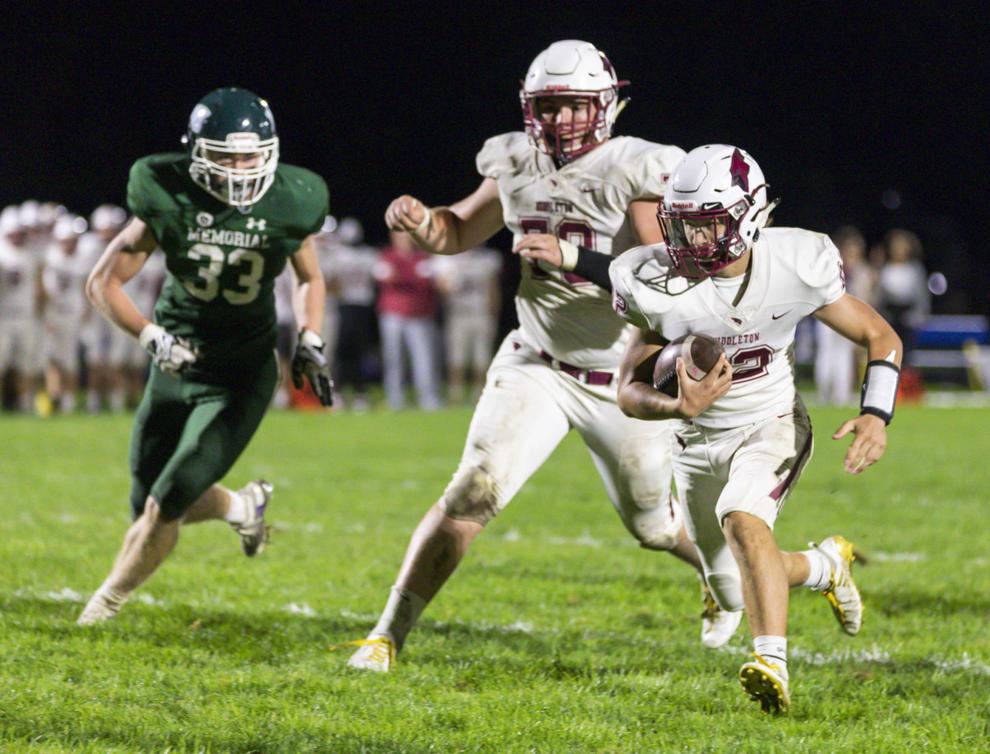 Hendrickson, scheduled to be a captain this season, is expected to be a leader on and off the field for the Spartans, who didn't play either season in 2020-21. He's ranked among the senior defensive linemen to watch by WisSports.net.
Elijah Gray, sr., RB, Middleton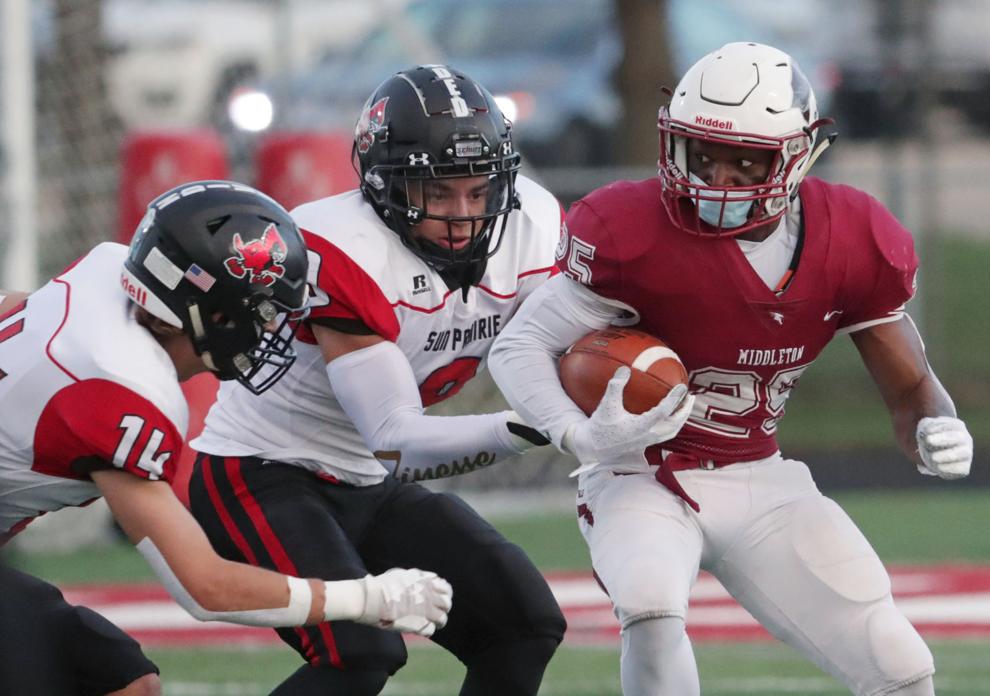 The 5-11, 175-pound Gray gained 468 yards rushing and scored four touchdowns during the spring season, despite battling injuries. He was rated as the No. 9 senior running back in the state by WisSports.net.
Jack Alexander, sr., OT/Guard, Middleton
The 6-4, 290-pound Alexander is a leader on the Cardinals' offensive line, which returns four starters. Alexander, receiving college interest, was ranked as the No. 14 senior offensive lineman in the state by WisSports.net.
Mason Armstrong, jr., LB, Verona
The 6-foot, 200-pound Armstrong figures to be a main cog in the Wildcats' defense this season after totaling 47 tackles, three tackles for loss and a sack during the spring campaign. He was listed among the semifinalists for top defensive player in the spring, according to WisSports.net.
Mason Fink, sr., QB, Verona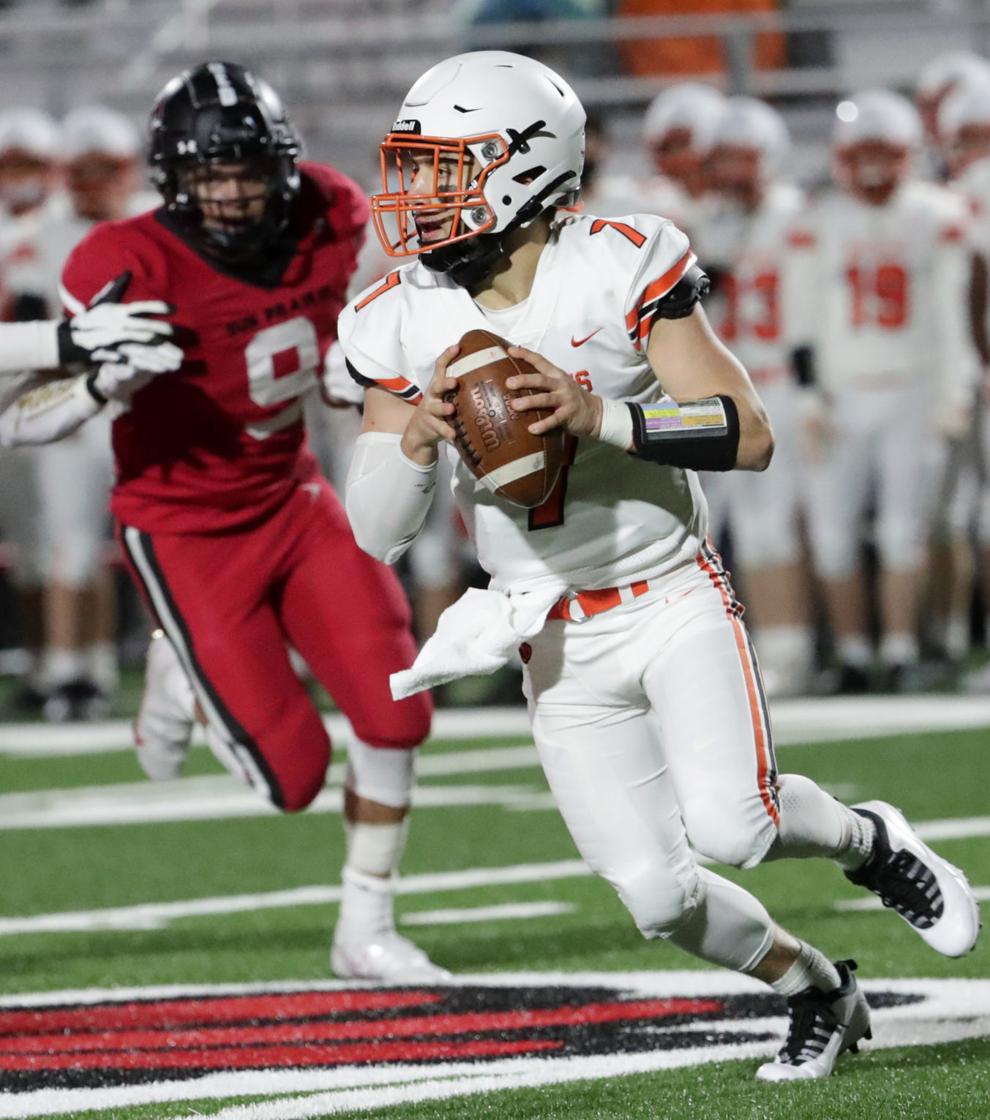 Coach Dave Richardson plans to call on the 5-11, 175-pound Fink to again direct Verona's attack after Fink threw for six touchdowns in the spring season and leads a skill position group that Richardson believes offers numerous run/pass combinations. Fink is among the senior quarterbacks to watch by WisSports.net. His brother, Max Fink, previously was a quarterback for Verona.
Isaac Hamm, sr., DE/TE, Sun Prairie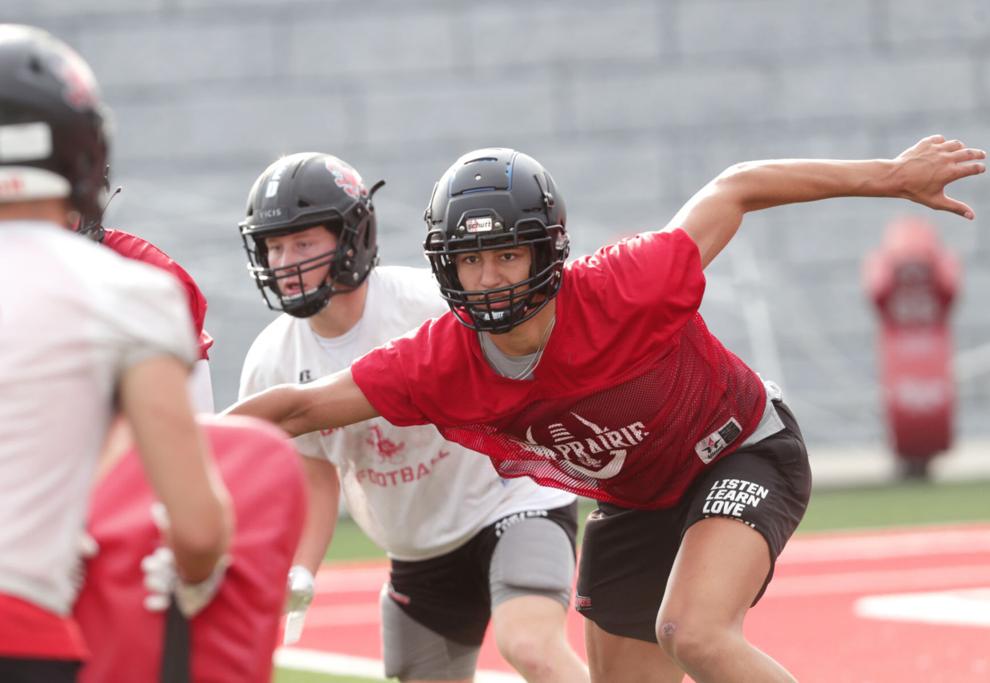 The 6-6, 250-pound Hamm was a first-team selection as a defensive lineman on the Wisconsin Football Coaches Association All-State team and a unanimous first-team choice on The Associated Press All-State team for the alternate fall season in the spring team. Hamm has multiple college offers, with an announced final four of the University of Wisconsin, Penn State, Ohio State and Notre Dame. Hamm had five sacks, nine tackles for loss and five forced fumbles in the spring. He is the top-rated senior defensive player in the state by Rivals.com and was ranked the top senior edge defender and top overall defensive player in the state entering this fall by WisSports.net (and No. 4-ranked senior overall).
Addison Ostrenga, sr., OLB/TE, Sun Prairie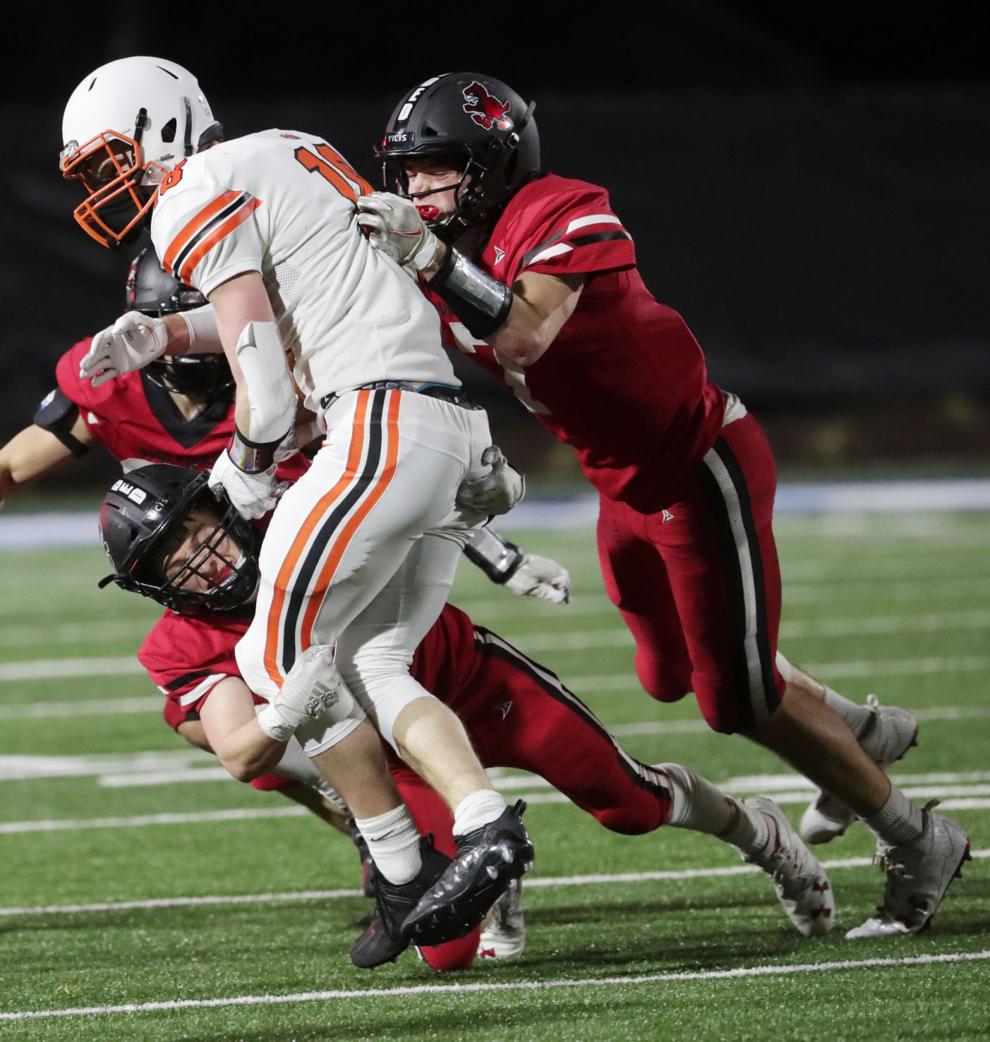 The 6-5, 225-pound Ostrenga, an outside linebacker, was ranked as the No. 2 senior edge defender in the state by WisSports.net (a No. 12 senior overall), giving Sun Prairie a formidable duo alongside Hamm. Ostrenga, who also plays tight end, originally committed to Iowa for baseball but since has committed to the Hawkeyes for football. He was a WFCA honorable mention All-State pick.
Evan Malcore, sr., OT, Sun Prairie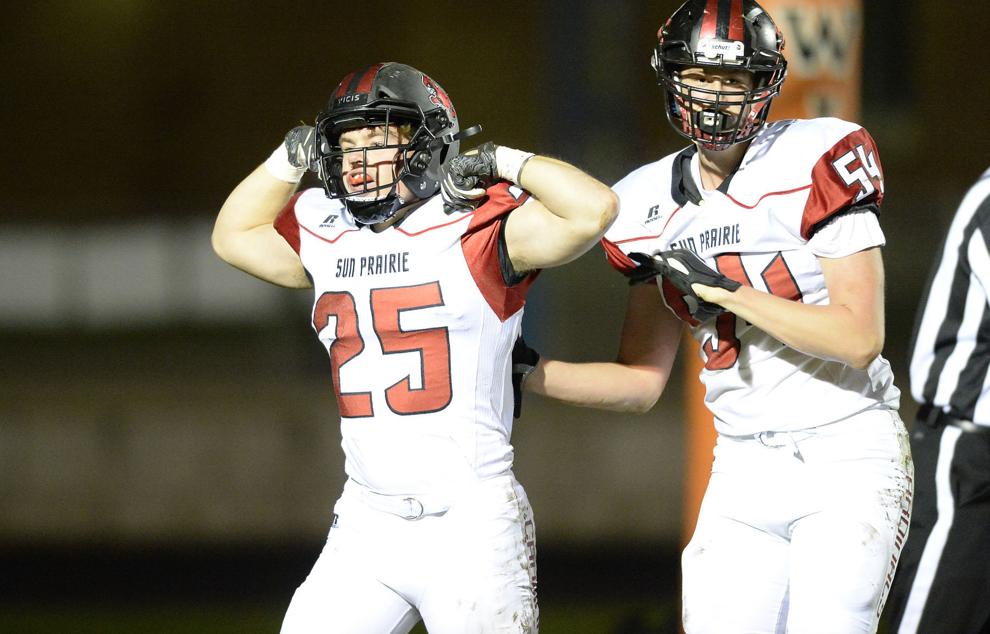 The 6-7, 275-pound Malcore, who plays left offensive tackle, has committed to Northern Illinois. He was selected for the WFCA All-State first team and was an honorable mention choice on the AP All-State team for the spring. He was ranked as the No. 9 senior offensive lineman in the state and No. 20 overall senior by WisSports.net.
Michael McMillan, sr., DB/WR, Sun Prairie
McMillan can play multiple positions, including defensive back and receiver. He is a strong player on the back end of Sun Prairie defensive coordinator Tim Bass' aggressive defense. McMillan was rated as the No. 9 senior defensive back in the state (WisSports.net).