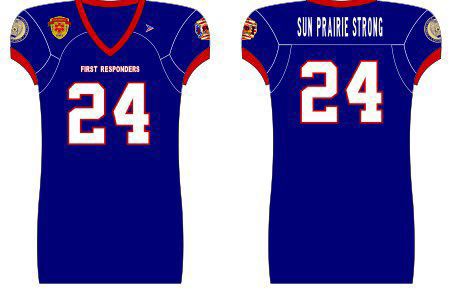 SUN PRAIRIE — Jacob Powley stood in the batter's box at Summit Field, a fastball or curve about to come his way during a baseball game in Sun Prairie on the night of July 10.
Then the calm of that summer Tuesday evening was interrupted by the sound of a boom just after 7 p.m.
A loud explosion in the nearby downtown rocked the community — the blast sending flames skyward. The smoke plume was visible for miles.
"We all turned around and looked and all the players' faces dropped," said Powley, a Sun Prairie High School senior. "You could see the debris in the air. We knew it was going to be bad. You could hear all the sirens and all the people coming from the other cities to help out. People responded right away."
Authorities said a subcontractor punctured a gas main that resulted in a leak and led to the massive explosion.
Cory Barr, a captain in the Sun Prairie Volunteer Fire Department, was killed and about a dozen others (including firefighters, police and civilians) were injured. The blast destroyed and damaged several buildings in downtown Sun Prairie. A month since, the area has remained cordoned off while the investigation and cleanup continues.
Numerous people and groups have helped those affected. That's included Sun Prairie football coach Brian Kaminski and those associated with the Cardinals' program, which finished last season as the WIAA Division 1 state runner-up and began this season involved with the relief effort after the explosion.
Sun Prairie athletics has scheduled a "First Responders Night" at the Cardinals' home opener against Beloit Memorial Aug. 24 at Ashley Field to raise money for the Sun Prairie disaster relief fund and to honor the first responders who assisted.
"Our community is unbelievable with its support for us in years past," Kaminski said. "We want to go ahead and rally behind this community after this devastating explosion that took place downtown."
Kaminski realizes the outcome of that night could have been even worse if people in the area hadn't been evacuated when the gas leak was detected about 40 minutes prior to the explosion.
"This is what is really unbelievable," Kaminski said. "They got everybody out. From what I heard, they evacuated 130 to 150 people minutes before that explosion. If people had been in the places or their apartments, this could have been, it's bad enough already, but it could have been scary."
Special uniforms
The Cardinals football team will wear red, white and blue uniforms in honor of the first responders and will auction off 20 of the "Sun Prairie Strong" uniforms, Kaminski said.
Ten more of the uniforms — Kaminski said he worked with Ripon Athletic and Badger Sporting Goods — will be framed. One is scheduled to be presented to Cory Barr's wife, Abby Barr, and three will go to firefighters who were injured, while the other six will be given to local fire, police and EMS departments, Kaminski said.
Navy blue "Pack the Pit" T-shirts also are being sold — shirts Kaminski hopes people will wear to the Aug. 24 game when about 120 to 140 first responders are expected to attend.
"We just want to 'Pack the Pit' that night and make it a night for those guys to always remember," Kaminski said.
Sun Prairie athletic director Eric Nee said "in an effort to bring the entire community together following the tragedy on July 10" there will be no admission charge for the Aug. 24 game and donations for the Sun Prairie disaster relief fund will be accepted at the gate.
Prior to kickoff, the Sun Prairie players will walk through the crowd, descending toward the field, and form a tunnel. The first responders then will come onto the field through the stands and tunnel. The players, coaches and first responders will lock arms for the national anthem.
"It definitely puts into perspective that it is more than a game," Sun Prairie senior quarterback Richie Gilles said. "It is our whole community. A Friday night is a way to gather and pay respect to all the first responders."
Added Powley, a linebacker: "I get chills just thinking about it. I think it will be a great opportunity for all of us."
Kaminski believes it will be a powerful moment. That sentiment wasn't lost on Beloit Memorial senior tight end and linebacker Matthew Wedig, whose team will be part of "First Responders Night."
"It is always good to have big fundraisers for servicemen and women," Wedig said.
Message of thanks
Cardinals senior receiver and defensive back Cooper Nelson said the Sun Prairie team wants to thank the people in the community on "First Responders Night" and throughout the season.
"They have always been so supportive," Nelson said. "This year, with everything that happened with the explosion, we just want to give back to the community and play our best because we know how much they have supported us."
That is an attitude Kaminski — who has lived in Sun Prairie for 22 years — has tried to pass along to his players, who among other duties, helped deliver water and Gatorade to displaced individuals who went to various shelter locations in the explosion's aftermath.
"We certainly preach to our kids about giving back," Kaminski said. "On the night of the explosion, I had eight kids text me right away asking, 'What can I do to get involved?' You see the support our community is doing to get involved. You see the involvement of officer Konopacki (Sun Prairie Police Lt. Kevin Konopacki), who is one of our kicking coaches. I think it will be a great way to show the first responders we appreciate what they do. We are hoping it's a great way in our community to say 'Thank you' to everyone."
Kaminski said the current team didn't have anyone directly affected by the explosion but that help was offered to former player Nathan Coy and his family. Kaminski said individuals on the current team knew "some of the people affected, but not directly like Nathan was."
A new season
Amid this backdrop, the Cardinals begin the season Friday, facing Madison Memorial at Mansfield Stadium.
The Cardinals were hit with heavy graduation losses after falling to Kimberly in the Division 1 state title game last fall. But that won't stop defending Big Eight Conference champion Sun Prairie from pursuing another league title, postseason berth and title run, Kaminski said.
"Those are our goals year in and year out," he said. "We are not going to shy away from that. We know it is a tough road. We definitely lost some great players and some great leaders. It's time for some other guys to step up and build on the legacy the other guys left."
Nelson, rated as one of the top receivers in the state, said the Cardinals learned from last year's seniors and are ready to step out from their shadow.
"We hope to leave a big legacy that we hope others can live up to," said Nelson, son of former University of Wisconsin safety Scott Nelson. "We've got the guys to do it. We've been working hard and building team chemistry."
Powley — an understudy last year to outside linebacker Marty Strey, who's now at UW — and fellow linebackers Hakeem McCullers, Ethan Ackley and Adam Rademacher are expected to lead the Cardinals' defense.
"We lost a lot, but we have to make our own mark," Powley said.
Said Gilles: "We have very high expectations. Last year's team paved the way. They showed us what it takes to get there, so we've applied that to our team. We are working hard and are ready to go."
That tragic night last month will be remembered at the Aug. 24 game.
"You knew it was going to be bad," Gilles said, recalling July 10. "But the way Sun Prairie responded, it was almost expected because it is such a strong community."