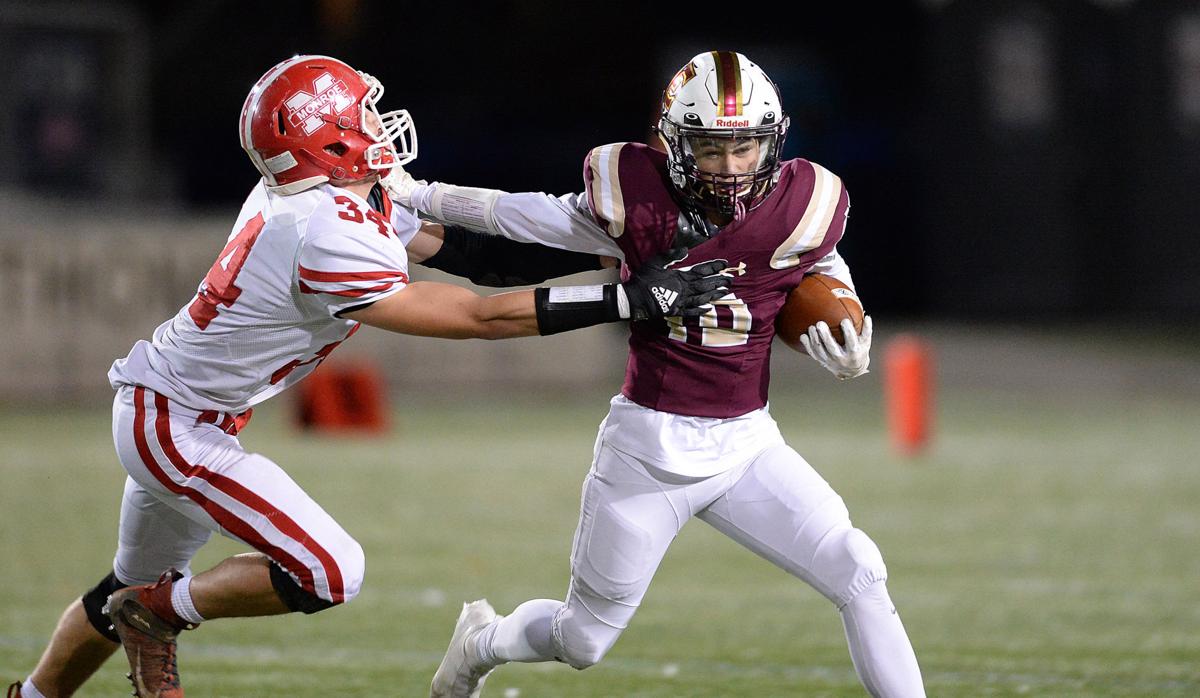 The WIAA high school football postseason begins this week. Here are six games involving area teams to watch.
Friday's games
Sixth-seeded Madison Memorial (5-4) at third-seeded Middleton (6-3), Division 1, 7 p.m.  — Big Eight Conference foes meet in the first round. Middleton finished 6-1 and second in the league standings while Memorial was 4-3 and tied with Verona for third. Middleton defeated Memorial 44-6 Sept. 24 as Cole Toennies caught two touchdown passes and returned a punt for a score and Gabe Passini threw for three touchdowns. The Cardinals come off a 47-6 victory over Madison East in last week's regular-season finale. Elijah Gray ran for three scores. Memorial defeated Beloit Memorial 17-14 as Charles Erlandson had two touchdown passes — one apiece to Cole Hendrickson and Devion Fountain.
Fifth-seeded Verona (6-3) at fourth-seeded Fond du Lac (5-4), Division 1, 7 p.m.  — Verona comes off a 38-35 overtime loss to Sun Prairie, which had to rally to win and secure the outright Big Eight title. Verona had leads of 28-20 and 35-32. Mason Fink threw four of the Wildcats' five touchdown passes. Cole Jannusch had three touchdown catches and Michael Valitchka had two scoring receptions. Fond du Lac finished tied for third with Kaukauna in the Fox Valley Association. Fond du Lac, which features a balanced offensive attack, defeated Oshkosh West 14-13. Verona defeated Oshkosh West 17-14 in non-conference action. The winner will face either eighth-seeded Madison La Follette or top-seeded Sun Prairie. Verona coach Dave Richardson plans to retire after the season.
Sixth-seeded New Richmond (6-3) at third-seeded DeForest (8-1), Division 2, 7 p.m. — DeForest finished second in the Badger Large Conference behind champion Waunakee. The Norskies were ranked sixth in the Medium Division in the final Associated Press football poll. DeForest opened a 28-7 halftime lead and defeated Janesville Parker 48-35. Mason Keyes threw three touchdown passes, and Cale Drinka ran for 182 yards and two touchdowns. New Richmond finished 4-3 and tied for fourth with Hudson in the Big Rivers Conference. New Richmond, which features a run-heavy offense, dropped a 44-28 decision to Rice Lake.
Seventh-seeded Onalaska (5-4) vs. second-seeded Mount Horeb/Barneveld (8-1), Division 3, 7 p.m. in Mount Horeb — Mount Horeb/Barneveld finished off a strong regular season with a 20-13 victory over Reedsburg that left it 6-1 in the Badger Small Conference and sharing the league title with Fort Atkinson. Kolton Schaller threw two touchdown passes against Reedsburg. Onalaska finished fourth in the Mississippi Valley Conference. The Hilltoppers defeated Tomah 51-13 as Ayden Larson threw three touchdown passes and ran for another. Larson has completed 71.3% of his passes and thrown 18 touchdowns, with two interceptions.
Seventh-seeded Lakeside Lutheran (4-5) at second-seeded Columbus (8-1), Division 4, 7 p.m. — The Capitol Conference foes meet in a first-round playoff game that is a rematch of last week's league contest. Columbus defeated Lakeside Lutheran 49-21 behind Colton Brunell's 286 yards rushing and four touchdown runs and Nathan Cotter's two touchdown passes. Columbus, ranked ninth in the Medium Division of the AP poll, finished 6-1 in conference play (a loss via forfeit to Walworth Big Foot) and shared the Capitol crown with Lake Mills. Lakeside Lutheran, which was 4-3 and fourth in the Capitol, will bank on the running and passing of Kooper Mlsna.
Eighth-seeded River Valley (5-4) at top-seeded Marshall (9-0), Division 5, 7 p.m. — Marshall earned the Eastern Suburban Conference championship for the second consecutive season, winning the league title with a 33-22 victory over Markesan last week. Craig Ward tossed four touchdown passes, Bryce Frank had a touchdown run and a TD reception, and Canon Siedschlag had two TD catches. Marshall wound up tied for fourth with Highland in the Small Division of the AP state poll. River Valley's defense, led by Zach Gloudeman (nine tackles, two sacks) and Ethan Hillebrand (eight tackles), was stingy in a 10-7 loss to Richland Center. River Valley tied with Prairie du Chien for third in the SWC with 4-3 records.
This report includes information and statistics from the State Journal, teams, other reports and WisSports.net. — Jon Masson
Big Eight football preview: Sun Prairie's Isaac Hamm among 10 players you need to know this season
Kamarion James-Ragland, sr., QB, Madison La Follette
Coach Scott Swanson and the Lancers will look to reload their diversified pro shotgun offense after quarterback Ben Probst led the passing game in 2019 (La Follette didn't play either season in 2020-21). James-Ragland is a top candidate to take over, and will have strong weapons at receiver and running back at his disposal.
Cole Hendrickson, sr., TE/DE, Madison Memorial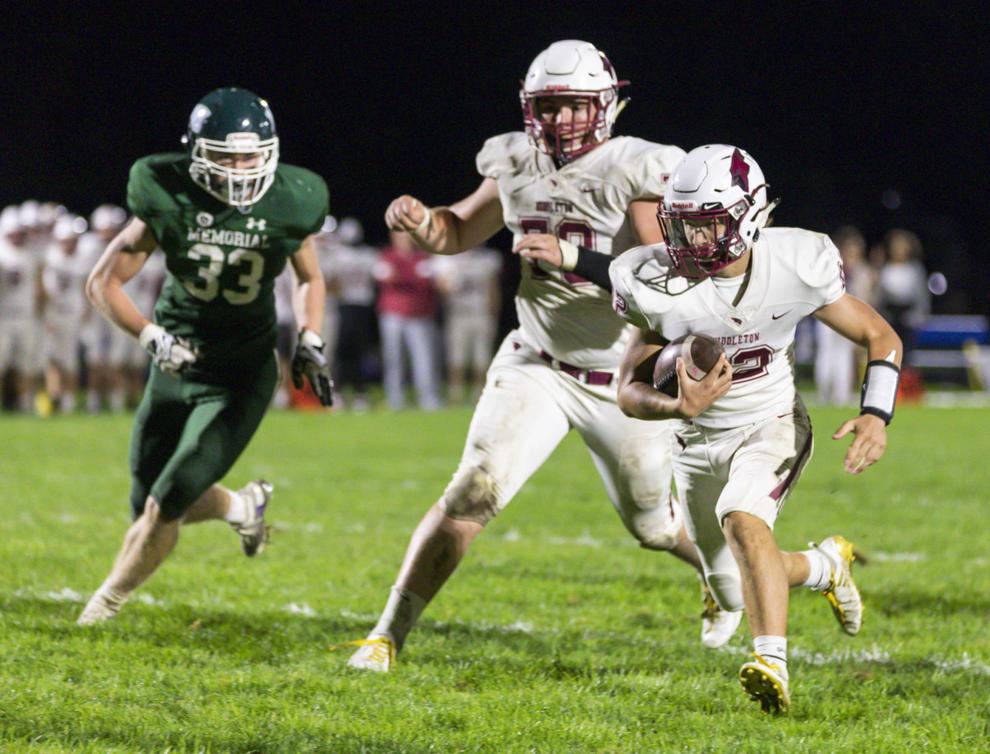 Hendrickson, scheduled to be a captain this season, is expected to be a leader on and off the field for the Spartans, who didn't play either season in 2020-21. He's ranked among the senior defensive linemen to watch by WisSports.net.
Elijah Gray, sr., RB, Middleton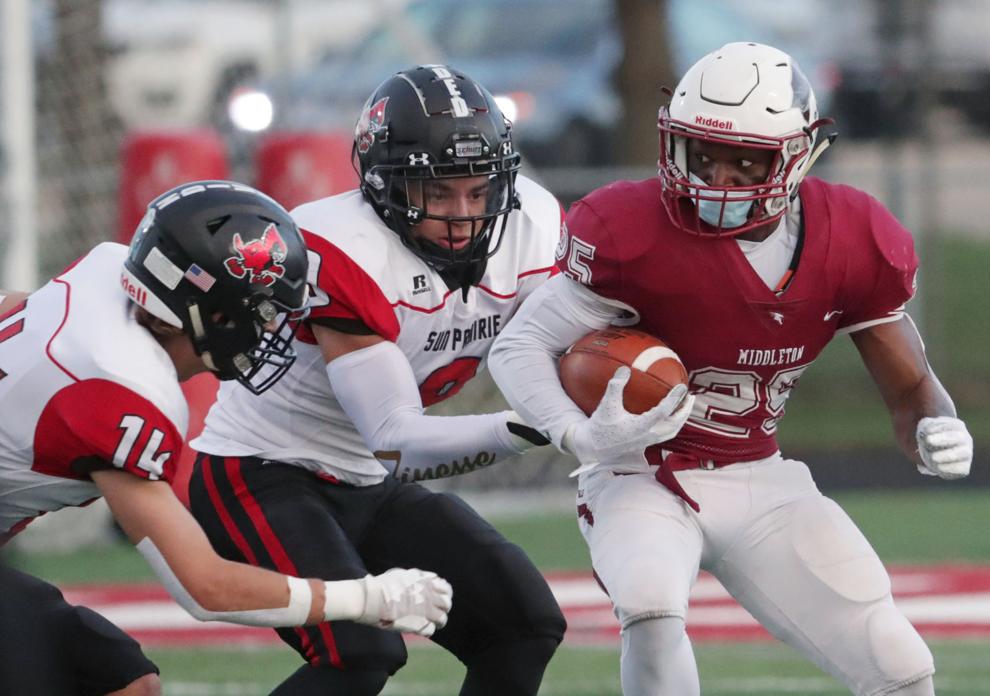 The 5-11, 175-pound Gray gained 468 yards rushing and scored four touchdowns during the spring season, despite battling injuries. He was rated as the No. 9 senior running back in the state by WisSports.net.
Jack Alexander, sr., OT/Guard, Middleton
The 6-4, 290-pound Alexander is a leader on the Cardinals' offensive line, which returns four starters. Alexander, receiving college interest, was ranked as the No. 14 senior offensive lineman in the state by WisSports.net.
Mason Armstrong, jr., LB, Verona
The 6-foot, 200-pound Armstrong figures to be a main cog in the Wildcats' defense this season after totaling 47 tackles, three tackles for loss and a sack during the spring campaign. He was listed among the semifinalists for top defensive player in the spring, according to WisSports.net.
Mason Fink, sr., QB, Verona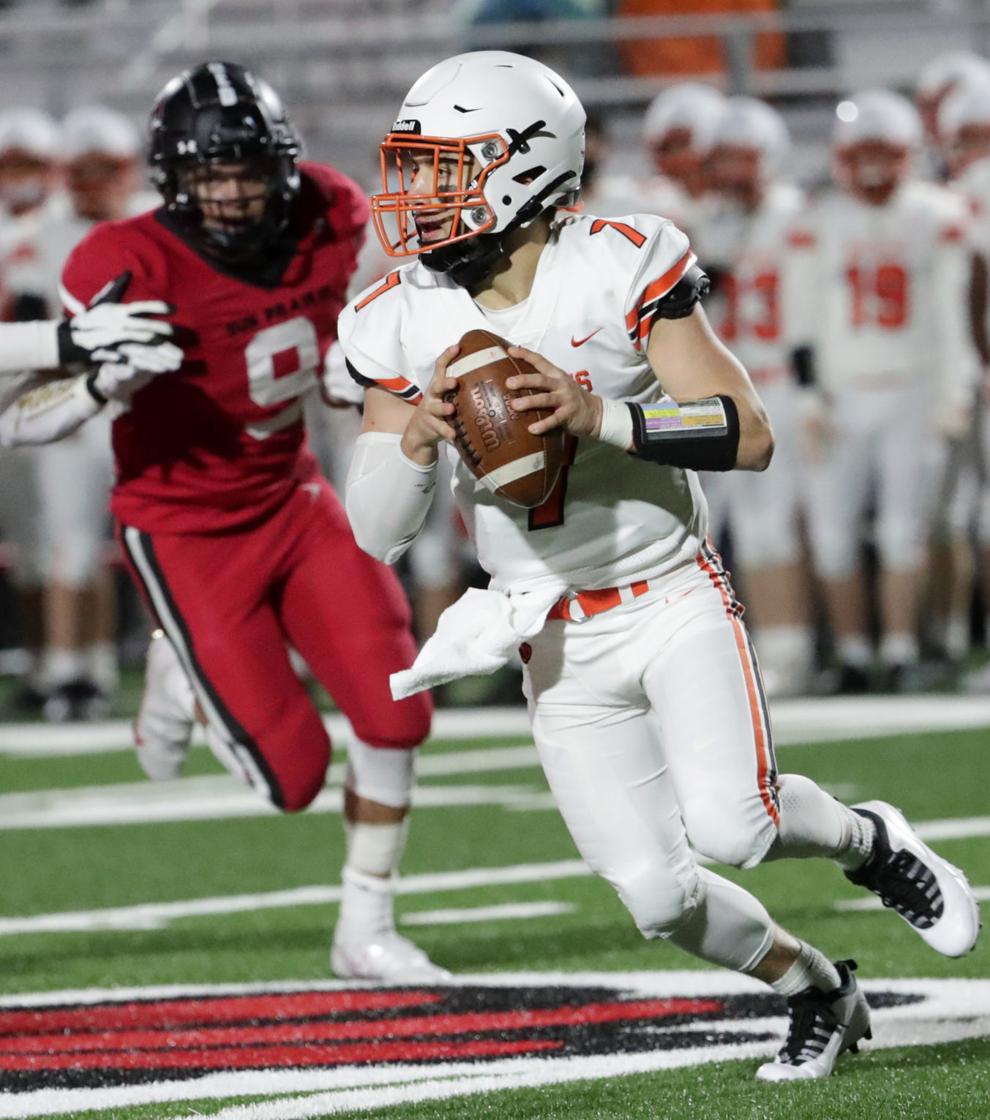 Coach Dave Richardson plans to call on the 5-11, 175-pound Fink to again direct Verona's attack after Fink threw for six touchdowns in the spring season and leads a skill position group that Richardson believes offers numerous run/pass combinations. Fink is among the senior quarterbacks to watch by WisSports.net. His brother, Max Fink, previously was a quarterback for Verona.
Isaac Hamm, sr., DE/TE, Sun Prairie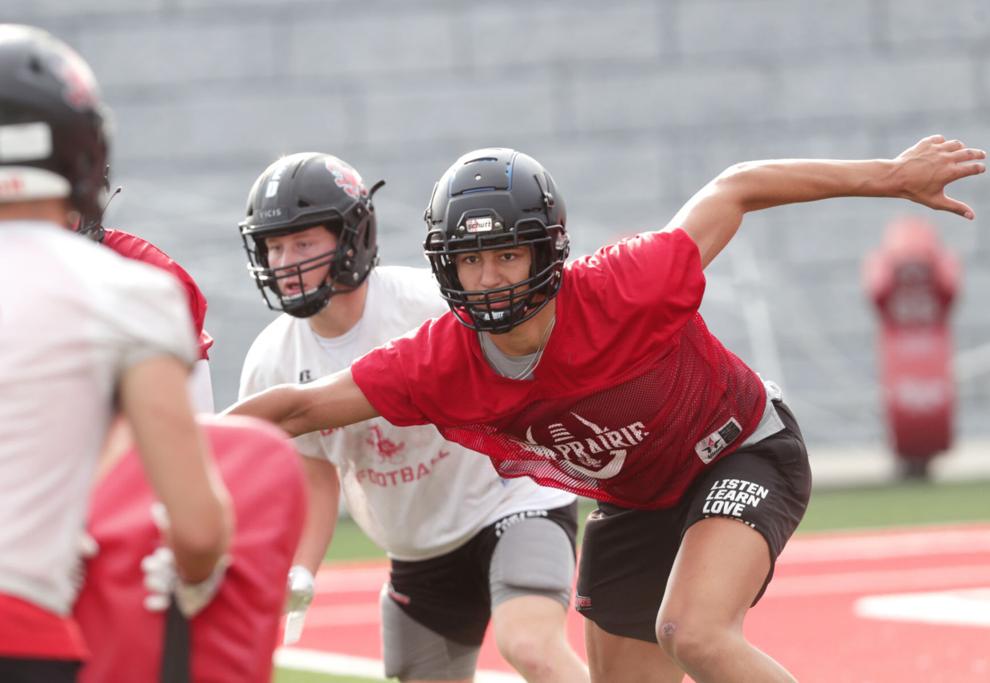 The 6-6, 250-pound Hamm was a first-team selection as a defensive lineman on the Wisconsin Football Coaches Association All-State team and a unanimous first-team choice on The Associated Press All-State team for the alternate fall season in the spring team. Hamm has multiple college offers, with an announced final four of the University of Wisconsin, Penn State, Ohio State and Notre Dame. Hamm had five sacks, nine tackles for loss and five forced fumbles in the spring. He is the top-rated senior defensive player in the state by Rivals.com and was ranked the top senior edge defender and top overall defensive player in the state entering this fall by WisSports.net (and No. 4-ranked senior overall).
Addison Ostrenga, sr., OLB/TE, Sun Prairie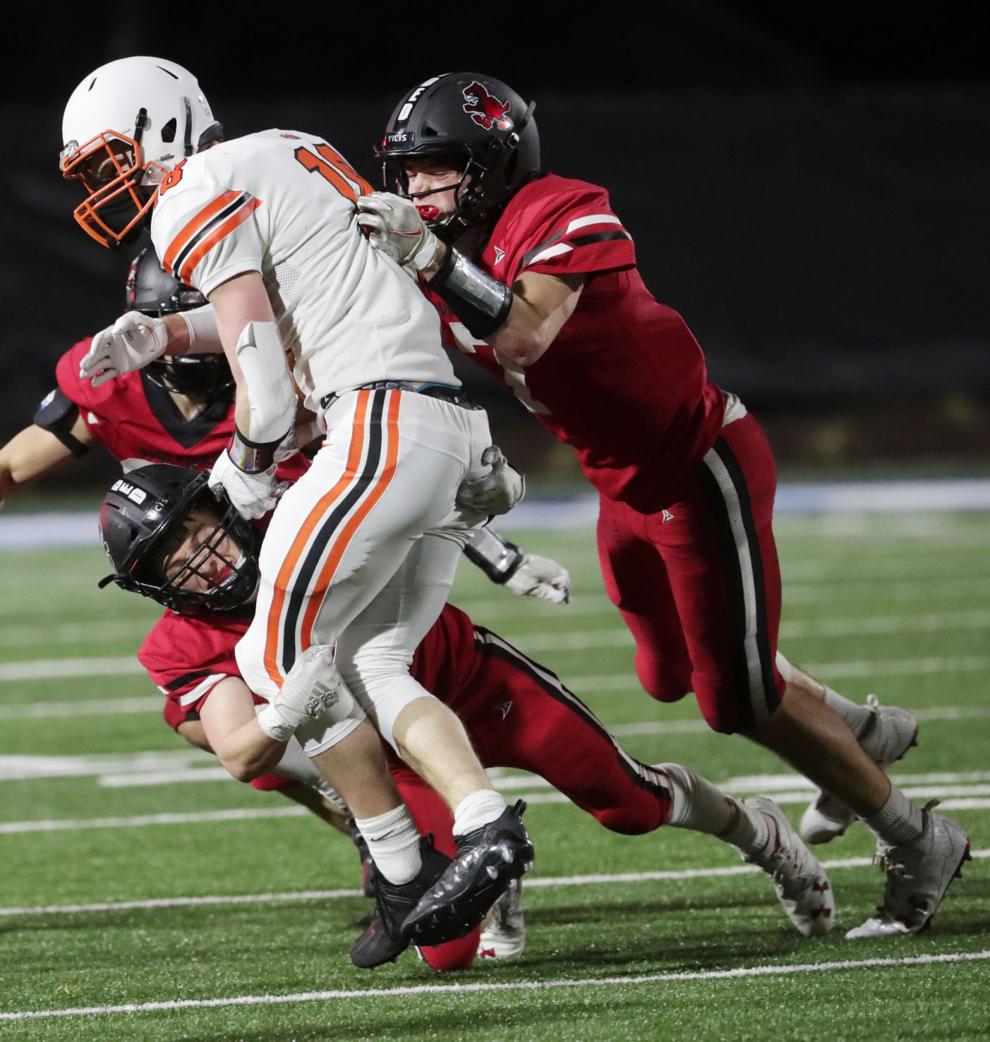 The 6-5, 225-pound Ostrenga, an outside linebacker, was ranked as the No. 2 senior edge defender in the state by WisSports.net (a No. 12 senior overall), giving Sun Prairie a formidable duo alongside Hamm. Ostrenga, who also plays tight end, originally committed to Iowa for baseball but since has committed to the Hawkeyes for football. He was a WFCA honorable mention All-State pick.
Evan Malcore, sr., OT, Sun Prairie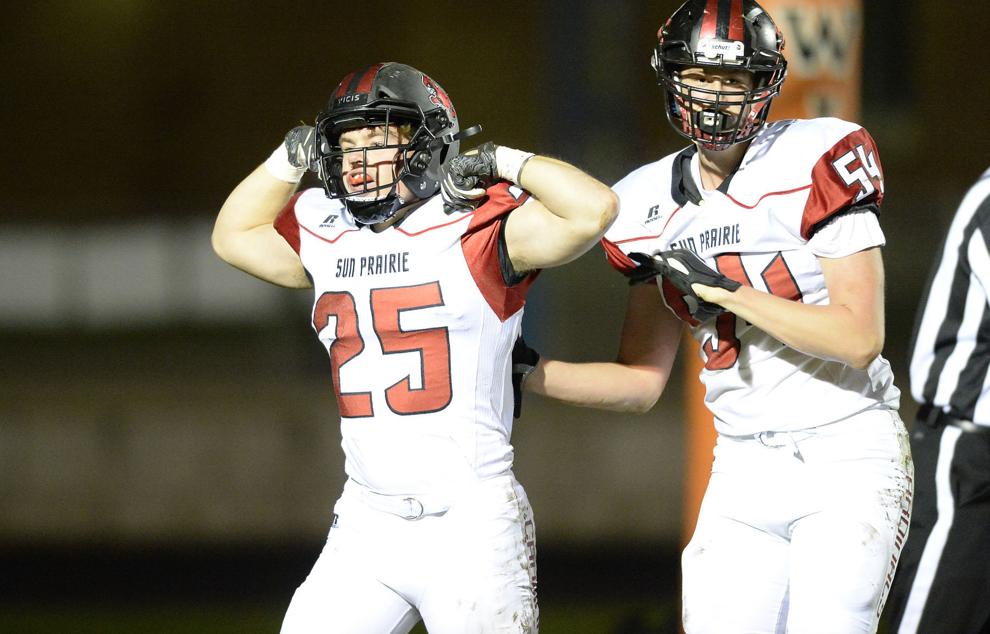 The 6-7, 275-pound Malcore, who plays left offensive tackle, has committed to Northern Illinois. He was selected for the WFCA All-State first team and was an honorable mention choice on the AP All-State team for the spring. He was ranked as the No. 9 senior offensive lineman in the state and No. 20 overall senior by WisSports.net.
Michael McMillan, sr., DB/WR, Sun Prairie
McMillan can play multiple positions, including defensive back and receiver. He is a strong player on the back end of Sun Prairie defensive coordinator Tim Bass' aggressive defense. McMillan was rated as the No. 9 senior defensive back in the state (WisSports.net).