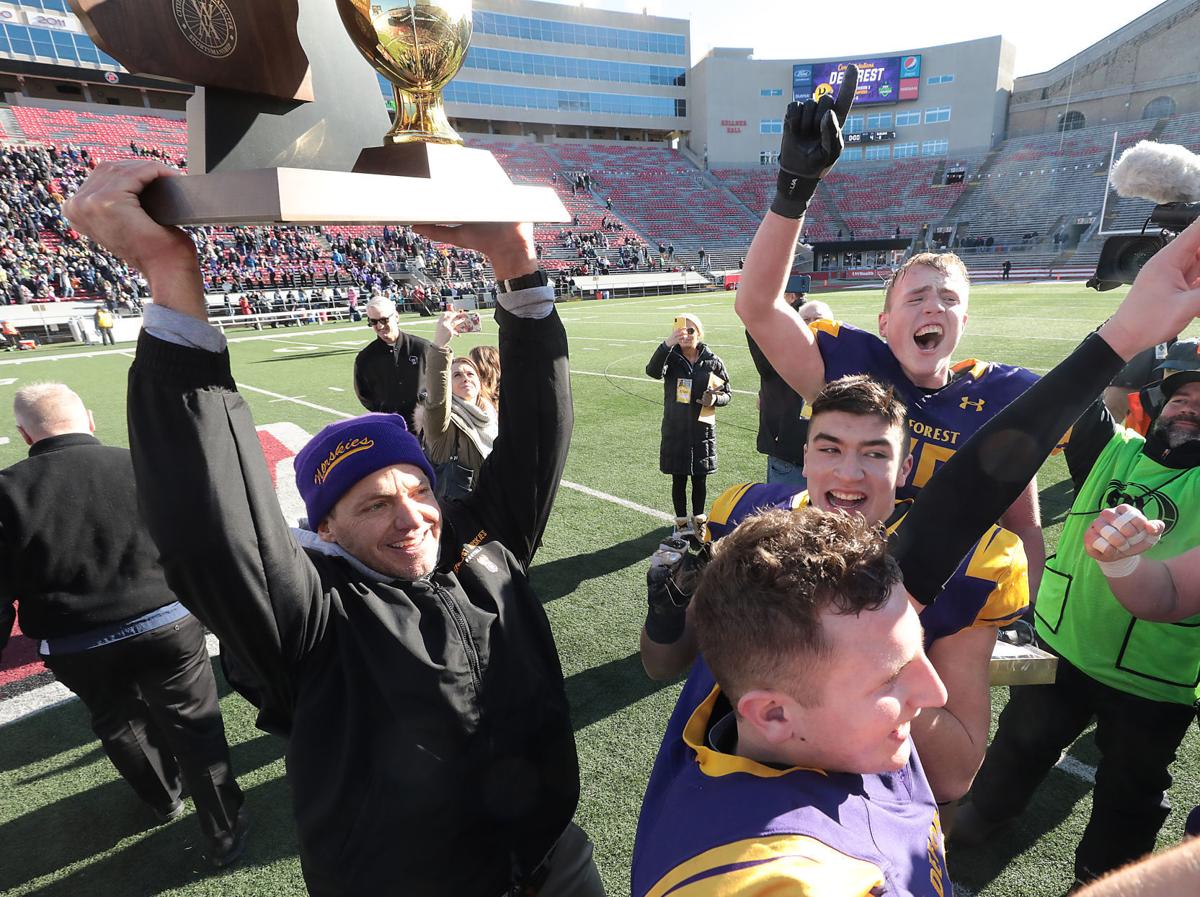 Mike Minick, who led DeForest to the WIAA Division 3 state championship in football, has been nominated for the Don Shula NFL high school coach of the year award.
Minick retired as DeForest's coach after the season in which the undefeated Norskies also won the Badger North Conference crown. He coached 20 years at DeForest.
The NFL announced Thursday the high school football coaches nominated by the 32 NFL teams for the Don Shula NFL high school coach of the year award, according to a release from the league. Minick is one of 32 nominees.
The coaches were recognized by their local NFL club for the prestigious award for their character, integrity, leadership, dedication to the community, commitment to player health and safety and on-field success. The award is named after pro football Hall of Famer Don Shula, the winningest coach in NFL history.
According to the release, Don Shula Award nominees are invited to attend the 2020 Pro Bowl in Orlando, Florida, and will be recognized in special ways during the NFL's week-long celebration of football.
Throughout the week, coaches will receive VIP access and accommodations at various events such as Pro Bowl practices and the Play Football High School Skills Showdown, a chance to interact and engage with various members of the football community and attend the Pro Bowl.
Each coach also will have an opportunity to invite a senior on their roster to participate in the Skills Showdown to represent their high school football community.
Two finalists will each receive $15,000 from the NFL Foundation, $10,000 of which will go to their high school's football program. They also will attend Super Bowl LIV in Miami as special guests of the NFL.
You have free articles remaining.
The Don Shula Award winner will be announced during the 2020 Pro Bowl, Jan. 26 at 2 p.m. Central Time on ESPN and ESPN Deportes, and simulcast on ABC and Disney XD – the third time the game will be available on both broadcast and cable networks. The winner also will be recognized and walk the red carpet at NFL Honors, a two-hour primetime awards special to air nationally Feb. 1 on FOX, the night before Super Bowl LIV.
The Don Shula NFL High School Coach of the Year winner is selected by a panel of distinguished individuals:
Pro Football Hall of Fame President David Baker;
Former Dallas Cowboys Personnel Director and NFL.com contributor Gil Brandt;
Super Bowl XLIV winner and NFL Legends Youth Advisory Committee Member Mark Brunell;
Pro Football Hall of Fame coach and current NBC analyst Tony Dungy;
Executive Director of USA Football Scott Hallenbeck;
3-time Super Bowl Champion (XXXVI, XXXVIII, XXXIX) and NFL Legends Youth Advisory Committee Member Willie McGinest;
2-time AP NFL Comeback Player of the Year, current head coach at the Sayre School (Lexington, Kentucky) and NFL Legends Youth Advisory Committee Member Chad Pennington;
Pro Football Hall of Famer, Coach Don Shula