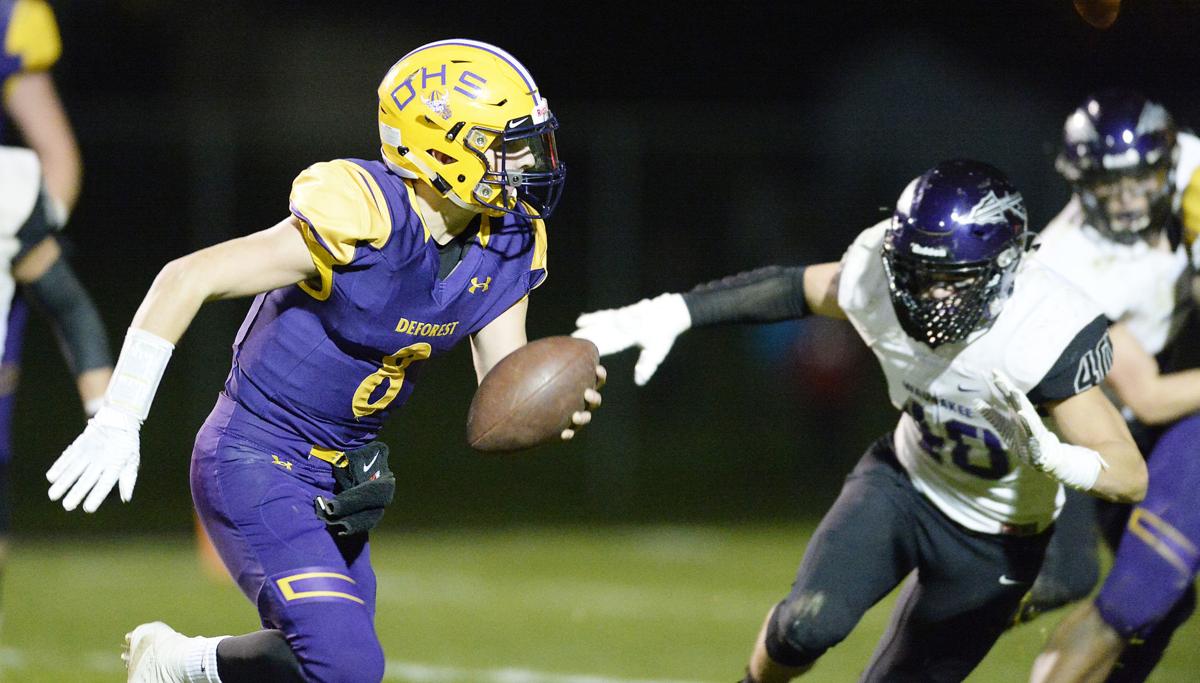 DEFOREST — Since fourth grade, the current seniors on the DeForest football team have played the sport together, setting goals along the way and growing close on and off the field.
Those players — the DeForest roster lists 22 seniors — have become the undisputed leaders for this season's undefeated Badger North Conference champion, which secured the title for the first time since 2014 with a 38-13 victory over Waunakee on Oct. 18.
The Norskies earned a top seed in their WIAA Division 3 grouping and opened the postseason with a 49-7 victory over McFarland last Friday. DeForest (10-0) will play host to fourth-seeded Reedsburg (8-2) at 7 p.m. Friday in a second-round game.
The Norskies win 35-13 to remain unbeaten and hand the Warriors their first loss.
The Norskies found motivation after a narrow second-round playoff loss to Waunakee last year.
They further bonded during a team-building session this past summer at Camp Douglas, where they played paintball, ran an obstacle course and remembered how important the small details could be — such as sweeping the locker room clean after practice. They have had fun, too, regularly making Tuesday wing night at Buffalo Wild Wings.
"We knew the potential was there," DeForest athletic director Mike McHugh said. "I have been impressed by the leadership of the seniors. They really have come together as a group. They feel they are on a mission."
The Norskies' successes are displayed on a team ladder, taking one rung at a time and climbing the ladder with each victory.
"We all bought in," senior defensive end Cole Yocum said.
The team's focus on family resulted in a "brotherhood" theme for the season, demonstrated earlier this week after practice when Norskies coach Mike Minick responded to an interview request for himself and a couple of key players by having all the seniors meet at the same time with a reporter and letting them do the talking.
"We had a lot of experience coming back," said senior quarterback Trey Schroeder, one of the team's captains. "All these guys we have, all these seniors, we know what to do. We know how to work. We have a little bit of a chip on our shoulder with what happened last year. Every single day we come to work hard."
Also on Friday, Badger South co-champ Milton plays at Badger North runner-up Waunakee in a battle of 9-1 teams.
You have free articles remaining.
Remaining disciplined in their assignments and habits also is critical for the Norskies, senior linebacker Devin Moran-Rivers said.
Minick, who said he loves coaching this year's team and the heart the Norskies have shown, told the players the week of the Waunakee game that this season — his 20th as head coach — would be his last.
That decision plus the passing earlier this month of former longtime DeForest football coach Jerry Roelke, who instructed these seniors when they were on the freshman team, have added layers of meaning to the Norskies' season.
The 6-foot-1, 185-pound Schroeder — who likes to use Baltimore Ravens quarterback Lamar Jackson as a comparison for his playing style — directs a balanced offense that features the running of Schroeder, junior Gabe Finley and senior Alex Andres and an aerial game with 6-2, 182-pound senior receiver Lane Larson as the left-handed Schroeder's chief target (for instance, Larson had nine catches against Waunakee). Schroeder has completed 70.1 percent of his passes, while Finley has surpassed 1,000 yards rushing.
Up front, seniors Colby Hartig, Adam White and Jack Thennes lead the offensive line for DeForest, tied for fourth among large-sized schools in the final Associated Press state rankings.
"We are very close," said the 6-4, 260-pound Hartig, who's orally committed to Minnesota State University-Mankato. "We also are very smart. We can adjust. Teams throw different defenses at us, and we can adjust on the fly. We are a physical group. We like to finish."
Hartig was the first DeForest player to orally commit to a college for football when he selected Minnesota-Mankato.
"I went down there and just fell in love with it," Hartig said. "It's a good program. A lot of good players have come out of there. I just want to be the next man up."
Experience keys the Norskies' physical defense, which has recorded four shutouts, said the 6-2, 208-pound Yocum. He mans the defensive front along with senior end Trey Warne and senior tackles Edwyn Erickson and Alonzo Blevins. Senior defensive back Marlon Cystrunk has been a top tackler in the secondary.
DeForest hadn't been in Division 3 in postseason since 1992, and the players had been anticipating another trip to the Division 2 playoffs.
DeForest beat Reedsburg 28-0 on Sept. 6, but the Norskies expect a difficult challenge on Friday from their Badger North rival.
"They will be well-coached," Schroeder said. "They know us. They know how we run our stuff. It's hard to beat a team twice, and they are a very good team."
The Norskies' band of brothers has unfinished business, Yocum said.
Said Schroeder: "The ultimate goal at the end of the season is playing at Camp Randall, but we have to go 1-0 each week. We have a team ladder of who we play next and we take one step at a time."