DeFOREST — This was the moment the DeForest football team had waited for since last year when Waunakee ended its season during a dramatic WIAA Division 2 second-round playoff game.
DeForest halted Waunakee's four-year reign atop the Badger North Conference on Friday night, claiming the outright title 35-13 in the regular-season finale between state-ranked teams.
Norskies senior quarterback Trey Schroeder threw for two scores and ran for another, junior running back Gabe Finley scored two rushing touchdowns and senior defensive end Cole Yocum caught a touchdown pass in a rare appearance as a tight end, blocked a punt and helped lead the stingy and ball-hawking DeForest defense. Senior receiver Lane Larson caught nine passes for 162 yards and a touchdown.
"Since we lost to these guys last year, we've been working for this moment," Schroeder said. "We always have confidence in ourselves, no matter what. It does not get any better than this. You dream of this when you are a little kid. This is a dream come true right now."
DeForest (9-0 overall, 7-0 Badger North) earned its first conference title since 2014, when it shared top honors with Mount Horeb/Barneveld.
DeForest rallied from a second-quarter deficit against Waunakee (8-1, 6-1), taking a 7-6 lead into halftime on Schroeder's 2-yard touchdown pass to Yocum with 7.6 seconds left in the second quarter.
The Norskies wound up scoring 21 unanswered points while taking a 21-6 lead in the third quarter during the much-anticipated showdown for the conference crown in front of a standing-room-only crowd at DMB Community Bank Stadium.
Prior to the game, DeForest recognized 20th-year coach Mike Minick, who plans to step down after the season, and the late Jerry Roelke, the former longtime coach who died Oct. 8 at age 77. Add in DeForest's Senior Night and what was at stake, and emotions ran high.
"Our kids hung in there and made some plays in the second half," Minick said. "We love this group. They have a big heart. There is great leadership from our senior group. (The team is) a great group.
"They are a group of brothers. They have been together for a long time. They love each other off the field, and hang out. It's been a lot of fun coaching these guys. We're conference champs. It means a lot to us."
Waunakee entered the game ranked fourth and DeForest eighth among large schools in The Associated Press state poll. But DeForest, which most recently defeated Waunakee in 2014, ended a seven-game losing streak (including postseason) to the Warriors.
Warriors coach Pat Rice said his team made mistakes in all three phases of the game.
"I'm proud of our kids' effort," said Rice, whose team came up with three interceptions. "They fought and battled throughout. We just put ourselves behind the 8-ball and didn't finish on a couple things. DeForest deserves a lot of credit. I'm proud of how we competed."
Finley had a 36-yard touchdown run with 9 minutes, 50 seconds left in the third quarter — putting DeForest ahead 14-6. Larson then made a leaping 24-yard touchdown grab of a Schroeder pass, giving the Norskies a 21-6 lead with 3:53 left in the third quarter.
Senior Joe Hauser's 76-yard touchdown return on the ensuing kickoff rallied Waunakee with 21-13 with 3:39 left in the third quarter. But DeForest junior Trace Grundahl's interception at the goal line with 10:10 left to play thwarted Waunakee's bid to pull closer.
Yocum blocked a Waunakee punt, setting up DeForest at the Warriors' 5-yard line with 3:23 remaining. Schroeder scored on the next play — a 5-yard run — and DeForest opened a 28-13 lead.
"That was a big play," Minick said of the blocked punt. "That might have sealed it."
After another DeForest interception, Finley's 31-yard touchdown run capped the scoring with 1:28 left.
You have free articles remaining.
Register for more free articles
Stay logged in to skip the surveys
DeForest took a 7-6 lead into halftime when the left-handed Schroeder, rolling to his right, tossed a 2-yard touchdown pass to the 6-foot-2, 208-pound Yocum just inside the right sideline in the end zone with 7.6 seconds remaining in the second quarter. Schroeder said that was a special play put in; Yocum has played tight end in fewer than five plays this season.
Waunakee scored first on a third-down, 5-yard pass from junior quarterback Caden Nelson to sophomore receiver Andrew Keller in the left corner of the end zone. That gave Waunakee a 6-0 lead, but the extra point kick was wide left.
WAU — Keller 5 pass from Nelson (kick failed)
DEF — Yocum 2 pass from Schroeder (Lokken kick)
DEF — Finley 36 run (Lokken kick)
DEF — Larson 24 pass from Schroeder (Lokken kick)
WAU — Hauser 76 kickoff return (Driscoll kick)
DEF — Schroeder 5 run (Lokken kick)
DEF — Finley 31 run (Lokken kick)
First downs — WAU 10, DEF 20. Rushes-yards — WAU 34-136, DEF 39-197. Passing yards — WAU 81, DEF 176. Comp-Att-Int — WAU 8-21-3, DEF 14-25-3. Fumbles-lost — WAU 0-0, DEF 2-0. Penalties-yards — WAU 9-111, DEF 6-55.
Rushing: WAU, Nelson 16-78. DEF, Finley 15-126. Passing: WAU, Nelson 7-20-81-3. DEF, Schroeder 13-24-176-3. Receiving: WAU, Grommon 3-39. DEF, Larson 9-162.
DeForest 35, Waunakee, 13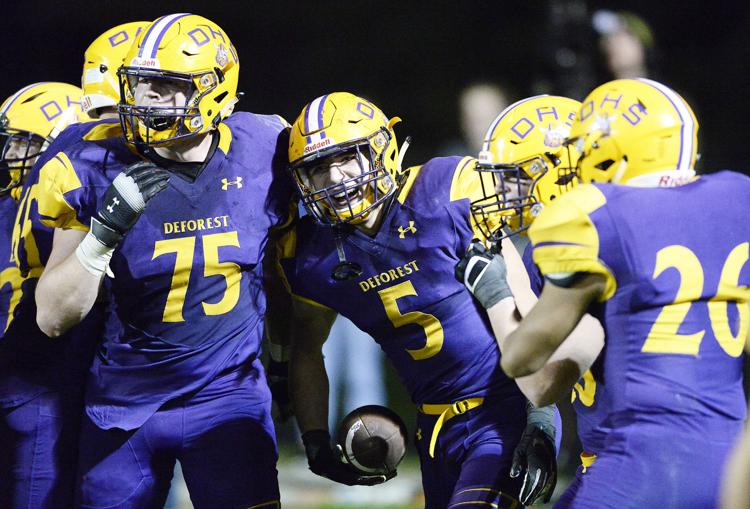 DeForest 35, Waunakee, 13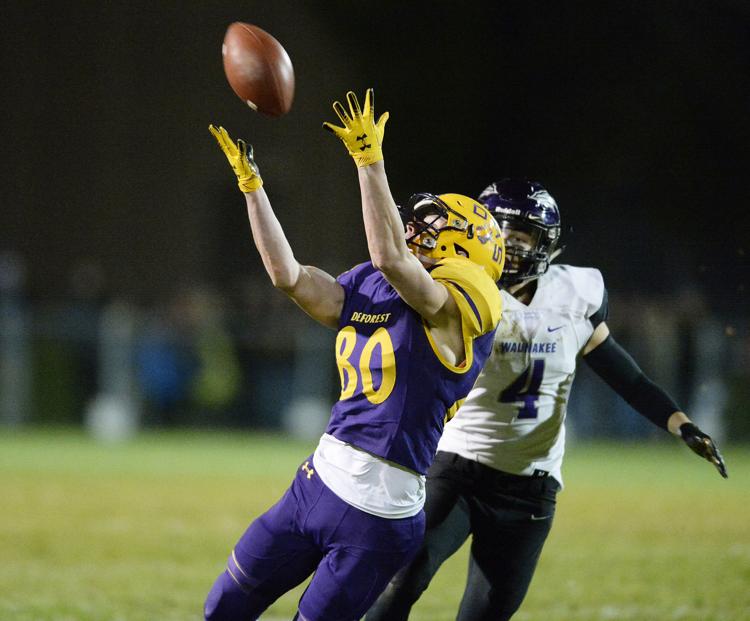 DeForest 35, Waunakee, 13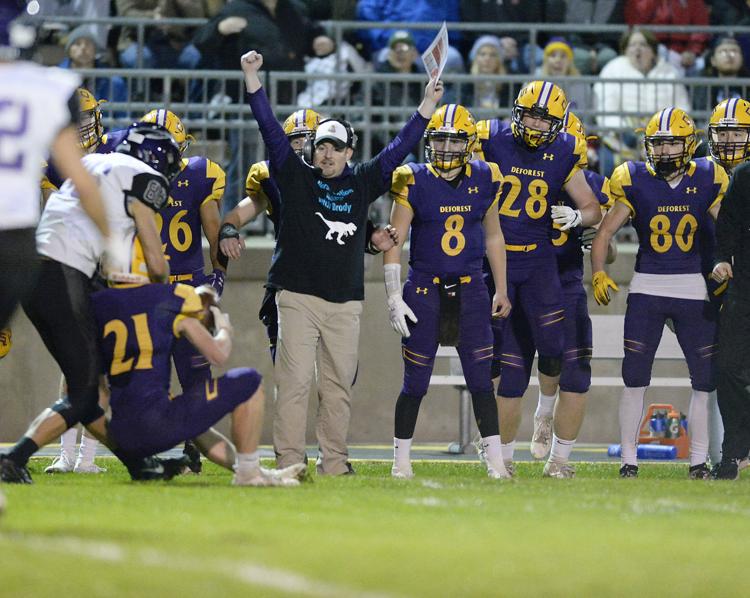 DeForest 35, Waunakee, 13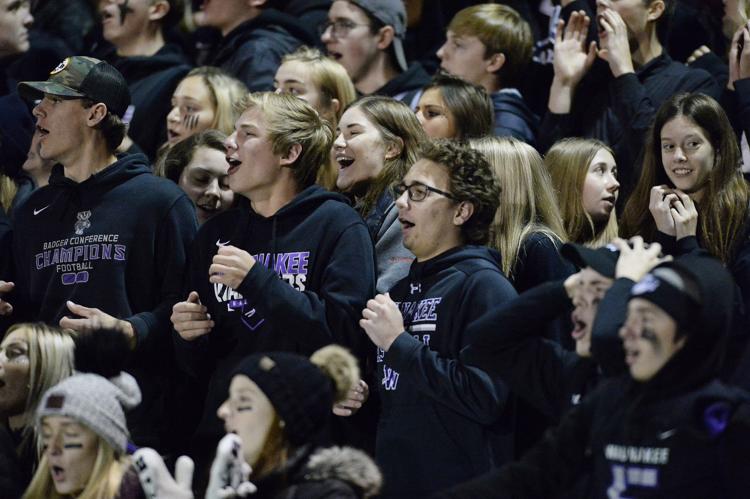 DeForest 35, Waunakee, 13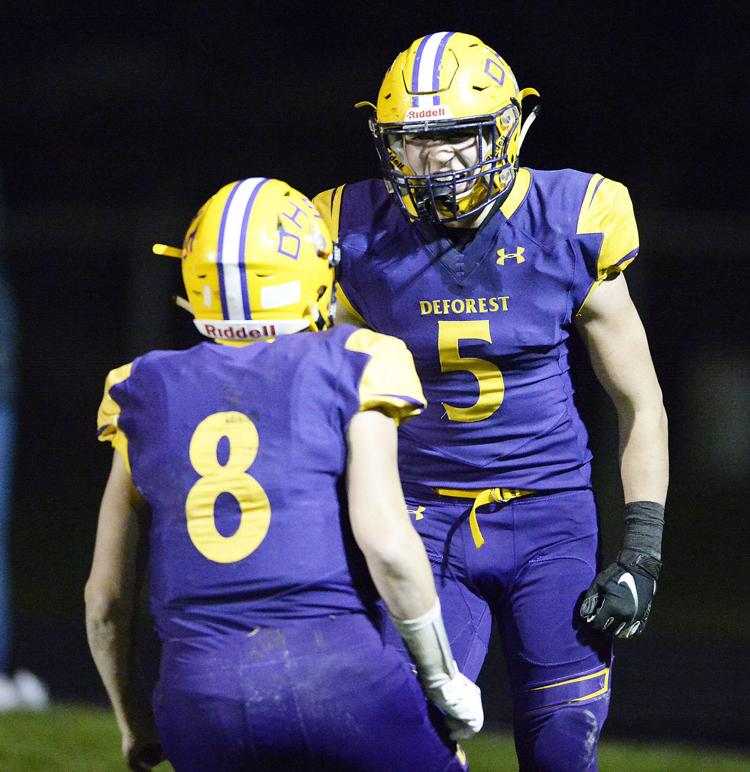 Prep football photo: Waunakee's Joe Hauser and Isaac Schaaf
DeForest 35, Waunakee, 13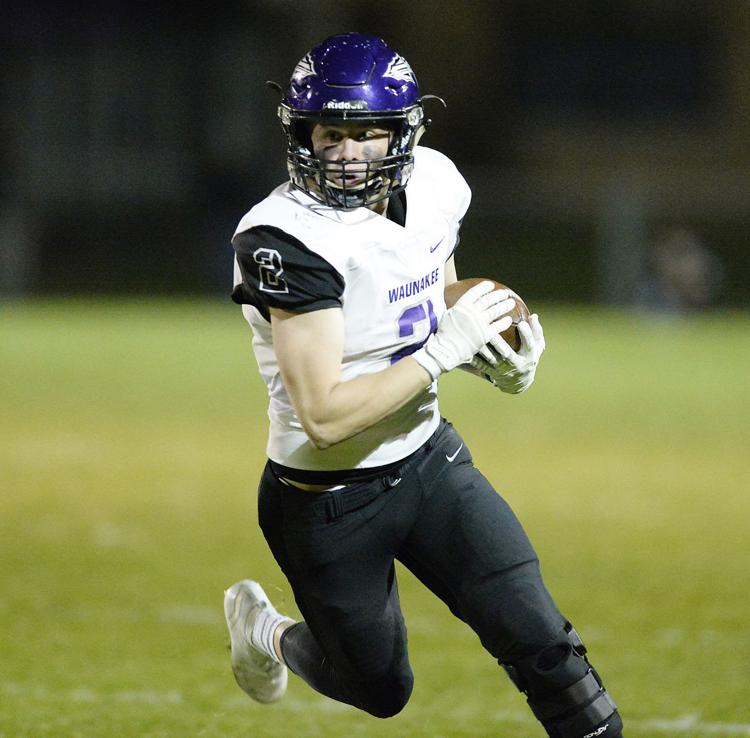 DeForest 35, Waunakee, 13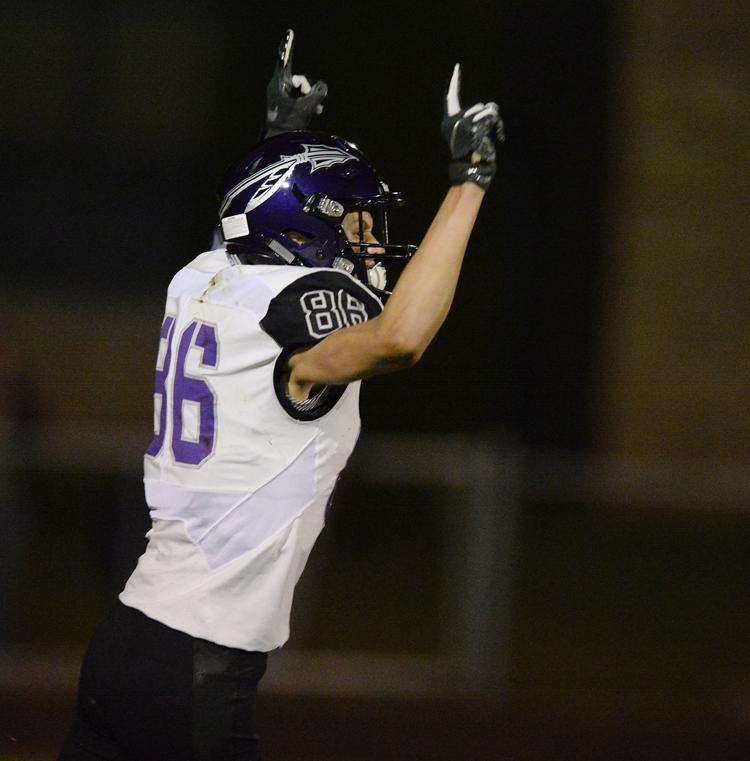 DeForest 35, Waunakee, 13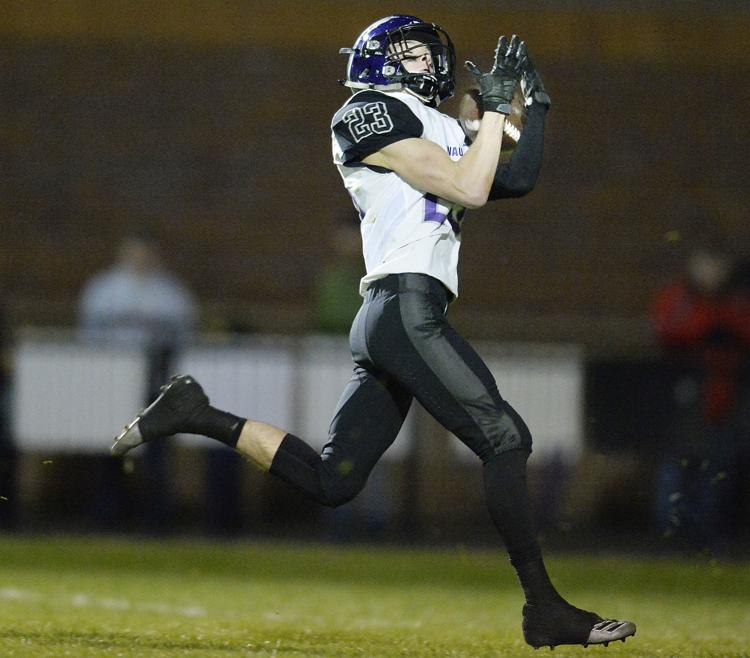 Prep football photo: DeForest's Cole Yocum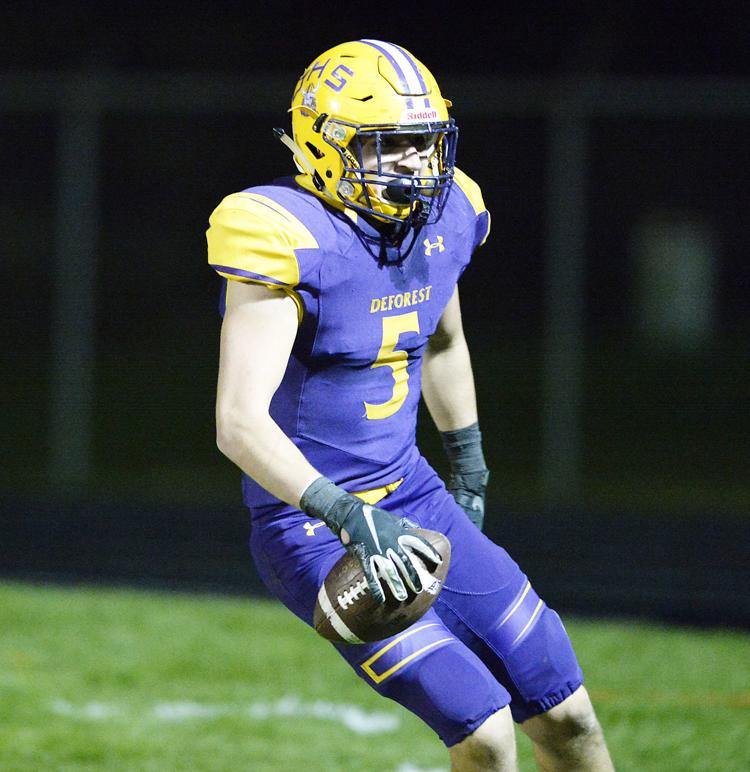 DeForest 35, Waunakee, 13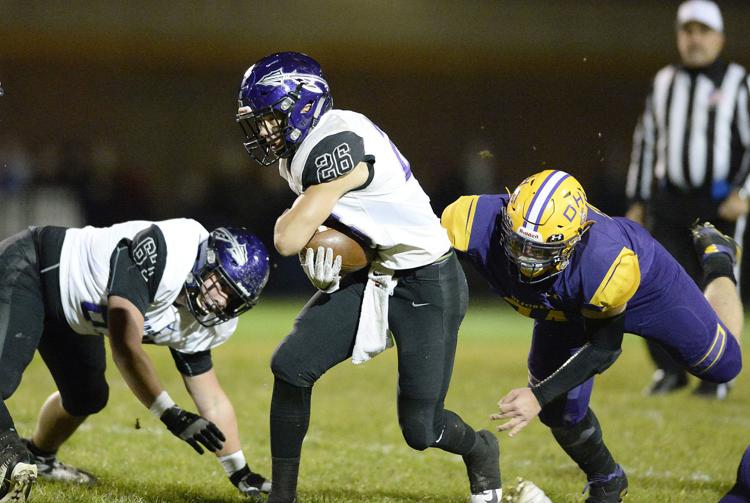 DeForest 35, Waunakee, 13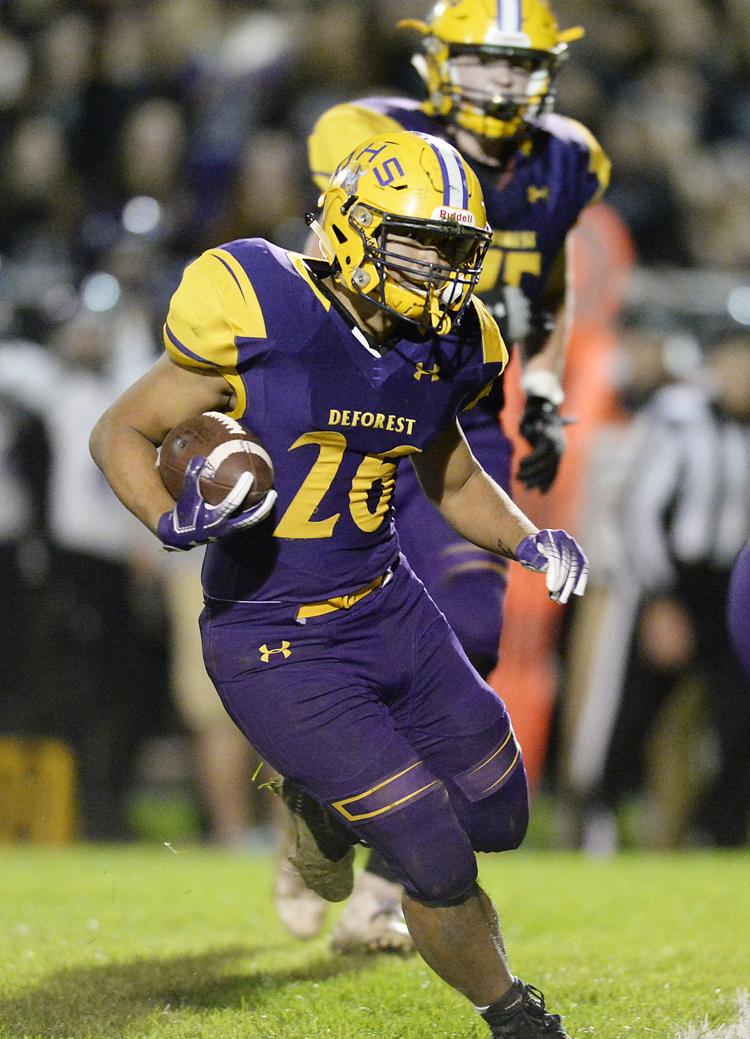 DeForest 35, Waunakee, 13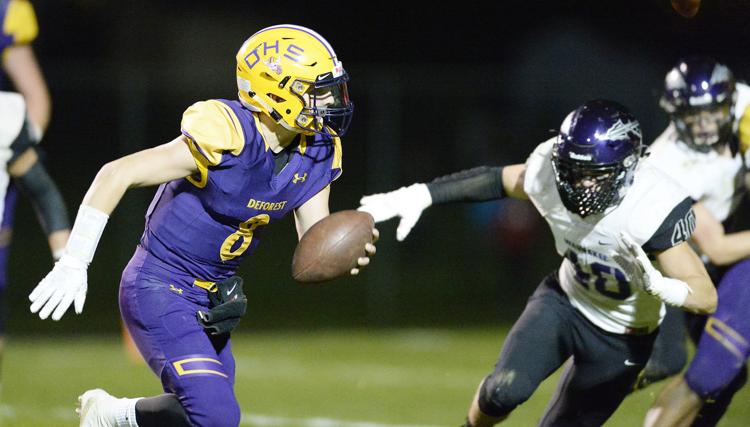 DeForest 35, Waunakee, 13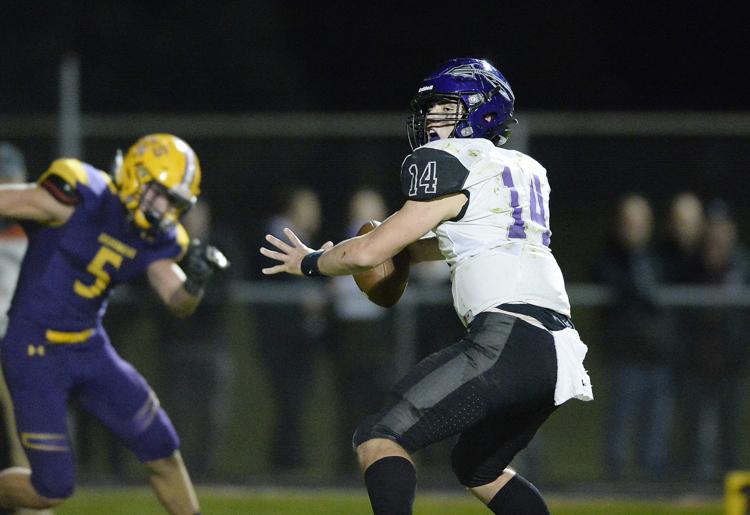 DeForest 35, Waunakee, 13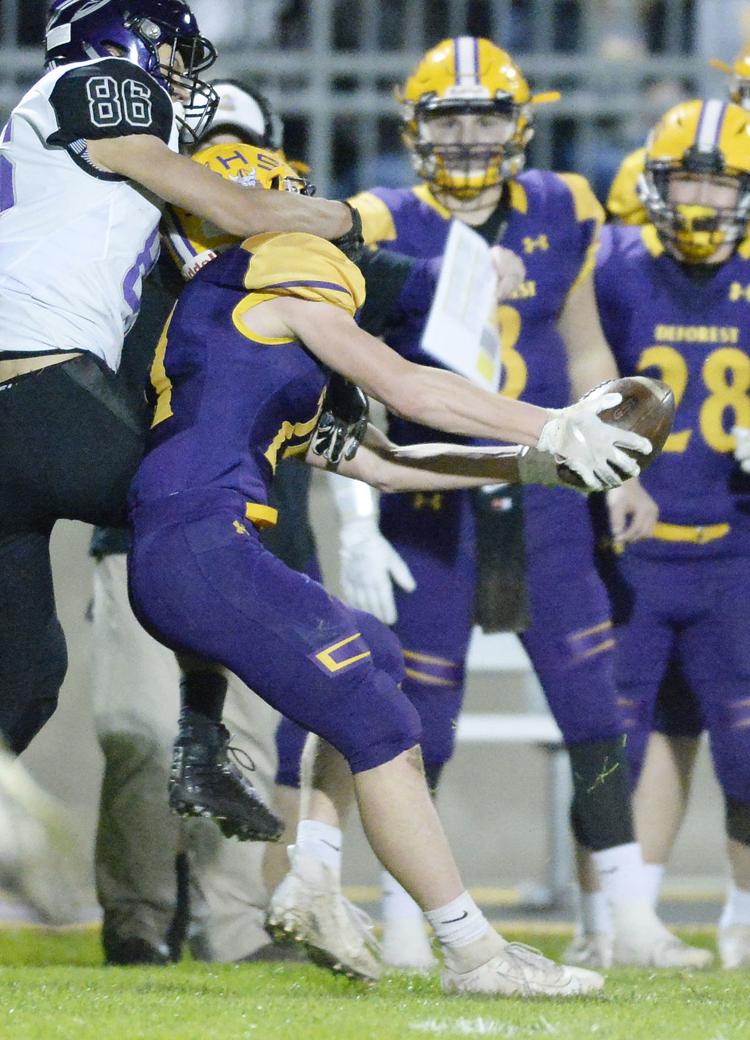 DeForest 35, Waunakee, 13