In a realigned Capitol Conference, the competition is expected to be fierce in the race for playoff spots. 
In addition to Columbus, Lake Mills, Lakeside Lutheran, Lodi and Watertown Luther Prep, the conference includes Walworth Big Foot, Horicon/Hustisford and Beloit Turner. 
Here are three key things to watch for area teams with the first games right around the corner:
Can Watertown Luther Prep and Lakeside Lutheran build off last fall?
Both Watertown Luther Prep and Lakeside Lutheran played during the normal time of football season last fall, and each team proved their prowess.
Lakeside Lutheran won each of its first six games by an average of 21 points before losing to Lake Mills by two in the season finale. Luther Prep won its final six games after losing the first two, notching shutouts in the final four. 
However, both teams will have to overcome key losses to repeat those performances. 
Lakeside Lutheran lost top rusher Micah Cody (759 yards, 11 TDs), who also was the team's fourth-leading receiver (seven receptions, 74 yards). The Warriors lost their top three receivers — Brendan McKenna (nine/141), tight end John O'Donnell (12/183/two touchdowns) and Tersony Vater (15/210/two). 
Meanwhile, Luther Prep lost quarterback Elijah Shevey (36-for-59, 415 yards, four passing TDs, three rushing TDs), in addition to lead running back Jon Holtz (450 yards, seven TDs), who also was the team's top receiver (seven/95/one TD).
Will Lodi and Columbus playing last spring prove to be advantageous?
Lodi and Columbus didn't compete in the fall season in 2020, but both teams made the most of their respective slate of games in the WIAA's alternate fall season in the spring.
Lodi ran the table, winning all six games by double digits except for a 17-14 victory over Columbus, which won its other five games and scored at least 35 points in each one. Furthermore, each side has returning stars and should have expectations to win the conference as a result. 
Senior running back Lucas Heyroth leads Lodi's offense as one of the top players in the state, and he'll have all-state honorable-mention offensive lineman Mitchell Lane anchoring the unit blocking for him.
For Columbus, the Cardinals' leader in tackles-for-loss and total tackles, Malani Aragon, returns along with tight end and linebacker Colton Brunell, who played well beyond his years as a freshman. 
It's only been a few months since each of these teams played their most recent game in the spring season. Will that make it easier to carry their momentum into the fall? Or will it cause players to wear down more than normal as the season trudges on? 
How will Lake Mills move on from Moen?
Moving past the loss of key players is a natural part of high school football, regardless of how good or bad a team is. But not all losses are equal, and Wisconsin Football Coaches Association Small Schools offensive player of the year Adam Moen has left a gaping hole at the quarterback position for Lake Mills.
Junior Caden Belling got a sideline view to Moen's performance last season and should be prepared for his opportunity to quarterback the offense.
Having star slot receiver Michael Stenbroten (31/347/four touchdowns) will help, but the L-Cats will have to overcome losing their top two receivers in Charlie Bender (24/358/three TDs) and all-state honorable-mention pick Jaxson Retrum (55/889/11). 
---
Capitol football preview: 10 players you need to know this season
Colton Brunell, so., TE/LB, Columbus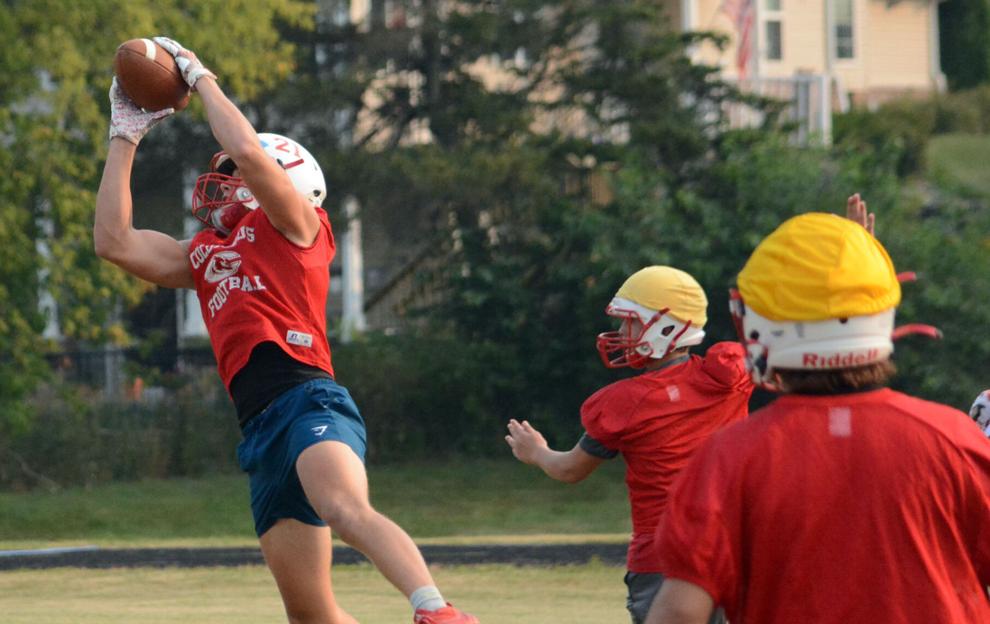 The 6-foot-1, 182-pounder starred on both sides of the ball for the Cardinals, but especially on defense, logging a third-best 38 tackles, including 10 solo takedowns, to go along with four tackles for loss, five sacks, a pair of fumble recoveries and two interceptions. Brunell also added nine catches for 163 yards and a score.
Malani Aragon, jr., RB/LB, Columbus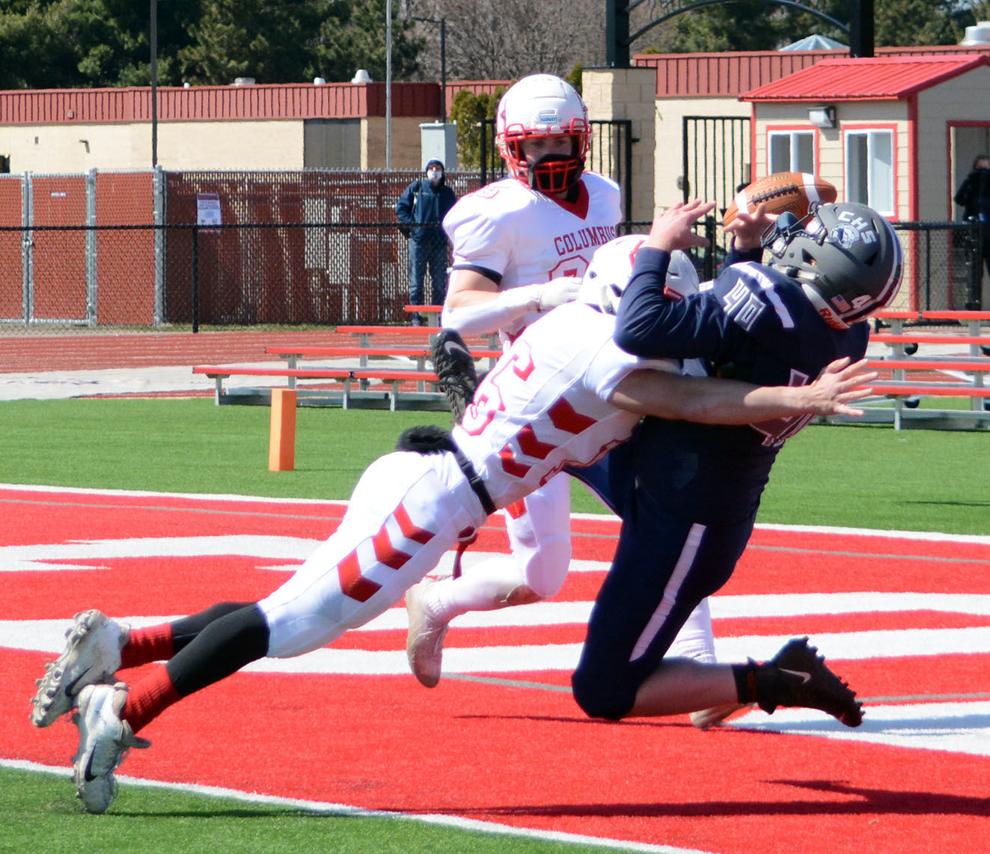 Aragon led the team in tackles, TFLs and had 2½ sacks in the WIAA's alternate fall season in the spring as sophomore. He also could be an option in the running game to replace 2021 grad Caden Brunell, the workhorse last season.
Michael Stenbroten, sr., WR/DB, Lake Mills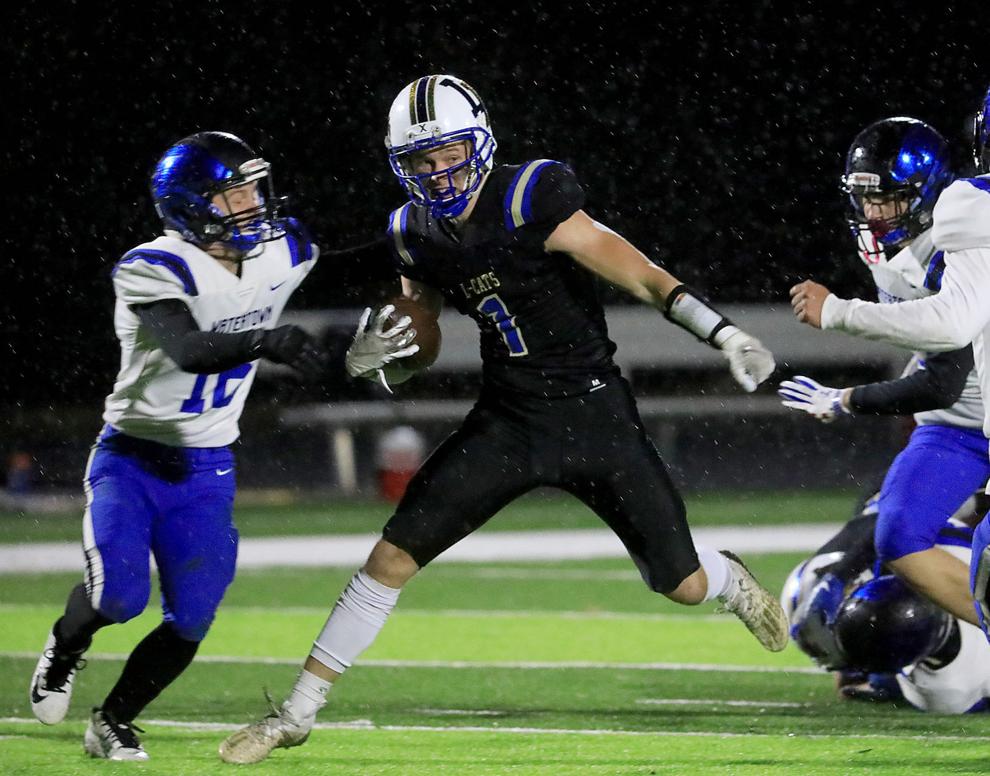 With Lake Mills losing its top two receivers and star quarterback, Stenbroten becomes the offense's go-to guy. He caught 31 passes for 347 yards and four touchdowns last season. On defense, he also led the team in tackles with 36. Stenbroten, receiving college interest, was rated as the No. 4 senior defensive back in the state by WisSports.net, entering this fall.
Caden Belling, jr., QB, Lake Mills
Replacing Adam Moen, the WFCA small school offensive player of the year, will not be easy considering the departure of other key players from a Lake Mills team that went 7-2. But Belling is expected to be tasked with just that. He passed 6-for-8 for 53 yards and rushed four times for 21 yards in limited action.
Levi Birkholz, jr., QB/LB, Lakeside Lutheran
After accruing 55 total yards a season ago running and receiving, Birkholz will be looked on to take a significantly larger role in the offense as the starting quarterback. Although inexperienced, coach Paul Bauer believes he has the athleticism and arm to be one of the conference's better quarterbacks.
Ben Buxa, jr., OL/DL, Lakeside Lutheran
The 6-3, 267-pound lineman will look to anchor the offensive line and on defense take another step from his 25 tackles, four tackles-for-loss and two sacks over seven games a season ago. He's also being recruited, including receiving interest from the University of North Dakota, according to Rivals.com.
Lucas Heyroth, sr., RB/OLB, Lodi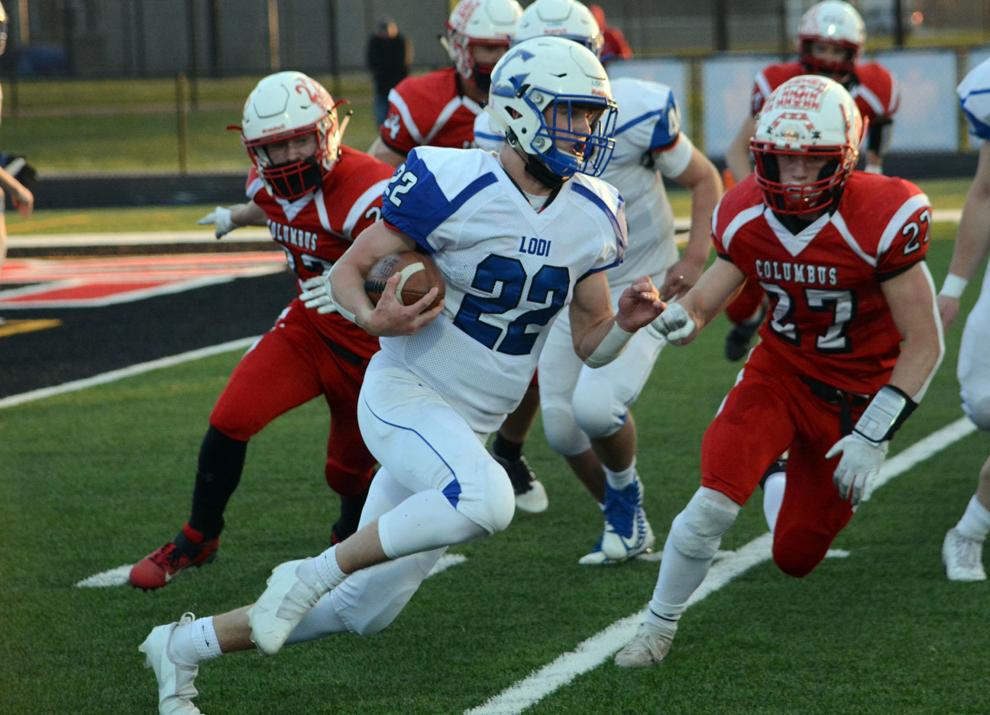 The younger brother of 2017 AP State Player of the Year Jacob Heyroth, Lucas proved he's a lot like big brother. The 6-2, 190-pound senior earned two-way All-Region honors and was an honorable-mention All-State pick by the Wisconsin Football Coaches Association as a running back. Heyroth finished with 779 yards and seven scores on 91 touches in his team's five-game alternate fall season, good for an average of 155.8 yards per game and 8.6 yards per attempt. On defense, he also accounted for 23 tackles (17 solo), as well as nine tackles for loss, six sacks and a forced fumble. Heyroth was ranked as the No. 3 senior running back in the state and 44th senior overall entering this fall season by WisSports.net.
Mitchell Lane, sr., OL/DL, Lodi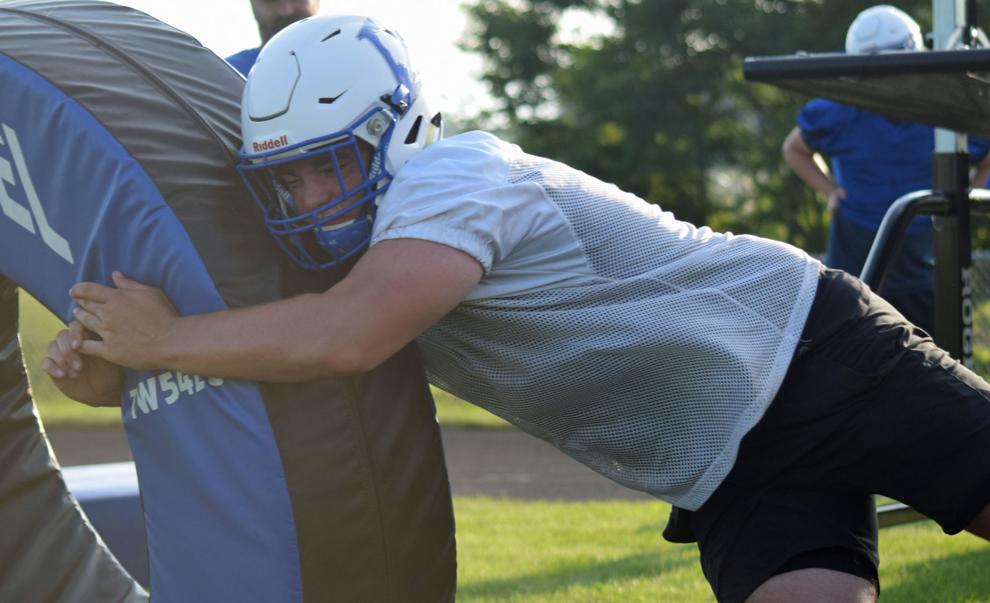 The Blue Devils' offense piled up more than 2,000 total yards and 27 touchdowns last spring. Lane played a big hand in that success. The 6-2, 285-pounder garnered Small Schools Honorable Mention All-State honors, as well as a spring All-Region pick, from the WFCA.
Brett Wieting, sr., QB, Watertown Luther Prep
Following a season as a receiver in which he caught four passes for 47 yards and a touchdown, Wieting has been tabbed as the starter at quarterback. Coach Justin Gregorius believes he has the athleticism to replace the graduated Elijah Shevey, and build on the team's momentum of six straight victories to finish last season.
Marcus Winkel, sr., LB, Watertown Luther Prep
The senior saw the field a good amount last season, according to Gregorius, and should be looked upon as a leader of the defense. Last season, the unit shut out the last four teams it played and only allowed 13 total points in the team's six victories.