MIDDLETON — As the old football adage goes, in big games, teams rely on their big-time players to make plays.
Count senior receiver and cornerback Cole Toennies in that category for the Middleton football team.
The 6-foot-2, 180-pound Toennies caught two touchdown passes and forced a fumble that he recovered in leading host and third-seeded Middleton to a 33-3 victory over sixth-seeded Madison Memorial in a WIAA Division 1 first-round playoff game Friday night.
Toennies' touchdown receptions of 68 and 22 yards on passes from sophomore quarterback Gabe Passini helped the Cardinals (7-3) overcome an early 3-0 deficit against the Spartans (5-5) in the penalty-plagued game.
"He's a pretty special player," Middleton coach Jason Pertzborn said about Toennies. "He has a refuse-to-lose mentality. He just makes plays."
Cardinals senior defensive back Colin Krueger's 80-yard interception return for a touchdown late in the second quarter gave Middleton a 20-3 lead and breathing room entering halftime.
"That was one of the top plays of the year for us," Pertzborn said. "That broke the game open."
Middleton advances to play next week at second-seeded Wisconsin Rapids, which defeated seventh-seeded Oshkosh West 35-0.
"I think that we didn't play our best football," Toennies said. "We made a lot of mistakes and penalties hurt us and could have cost us a lot. But I think this shows a lot about our team and our resiliency to still put up the score we did even when things weren't always going our way. I think we made some big plays to get the `W.'''
Passini went deep and Toennies, along the right sideline, hauled in the contested pass and broke free for a 68-yard touchdown reception with 2 minutes, 54 seconds left in the first quarter — giving Middleton a 6-3 lead.
"I just went up and got it, and tried to stay on my feet, and I did," said Toennies, who joined some other teammates in getting their hair buzzed and bleached for the postseason.
Middleton gained excellent field position for its next series. A high snap on a Spartans' punt led to the Cardinals taking over on the Memorial 24-yard line.
Passini rolled to his left and fired a 22-yard touchdown strike to Toennies, who got his foot down in the left corner of the end zone with 1:01 left in the first quarter. Middleton led 12-3 after a two-point conversion pass failed.
"We were doing our best," Spartans coach Mike Harris said. "Our objective was to fight as hard as we could in the first quarter. We knew how well they strike and have scored points on teams in the first quarter. It's just one of those situations where our team was not matched accordingly."
A bad snap on a Middleton punt set up Memorial at the Cardinals' 28 with 2:49 left in the second quarter.
But Memorial junior quarterback Charles Erlandson's pass on third-and-10 was picked off by Krueger, who raced 80 yards for a touchdown 2:24 before halftime. Senior running back Elijah Gray scored on a two-point conversion run and Middleton increased its lead to 20-3.
With 10:46 left in the third quarter, Toennies came up with a forced fumble and fumble recovery at the Middleton 19 at the end of a 45-yard pass play from Erlandson to sophomore receiver Mekai Ward.
The Spartans had the early advantage after junior Joe Mueller recovered Bryce Falk's fumble at the Middleton 20 on the game's opening kickoff.
Erlandson appeared to score on a 1-yard sneak on third down, but the touchdown was nullified by an illegal-shift penalty. An incompletion by Erlandson followed. Freshman Ty Aparicio wound up kicking a 22-yard field goal, giving Memorial a 3-0 lead with 9:24 remaining in the first quarter.
"When we fumbled and they got the ball in the red zone and we made a stop, that made us feel pretty good about ourselves," Toennies said. "I think that was a huge stop. The D-line came up with a bunch of plays. … I think that was a statement for us to make right at the start."
Pertzborn agreed, saying: "The defense did what they always do. I think they proved tonight they are one of the best around. The way that started and to hold them to three points, I think that took some of the wind out of their sails."
Passini completed his first four passes for 110 yards, with Toennies on the receiving end of three of those for 100 yards. Passini wound up 8-for-11 for 157 yards, while Toennies finished with four catches for 125 yards.
Erlandson finished 11-for-30 for 155 yards, with one interception. Senior Devion Fountain had four receptions for 77 yards and Ward had three for 73.
Big Eight football preview: Sun Prairie's Isaac Hamm among 10 players you need to know this season
Kamarion James-Ragland, sr., QB, Madison La Follette
Coach Scott Swanson and the Lancers will look to reload their diversified pro shotgun offense after quarterback Ben Probst led the passing game in 2019 (La Follette didn't play either season in 2020-21). James-Ragland is a top candidate to take over, and will have strong weapons at receiver and running back at his disposal.
Cole Hendrickson, sr., TE/DE, Madison Memorial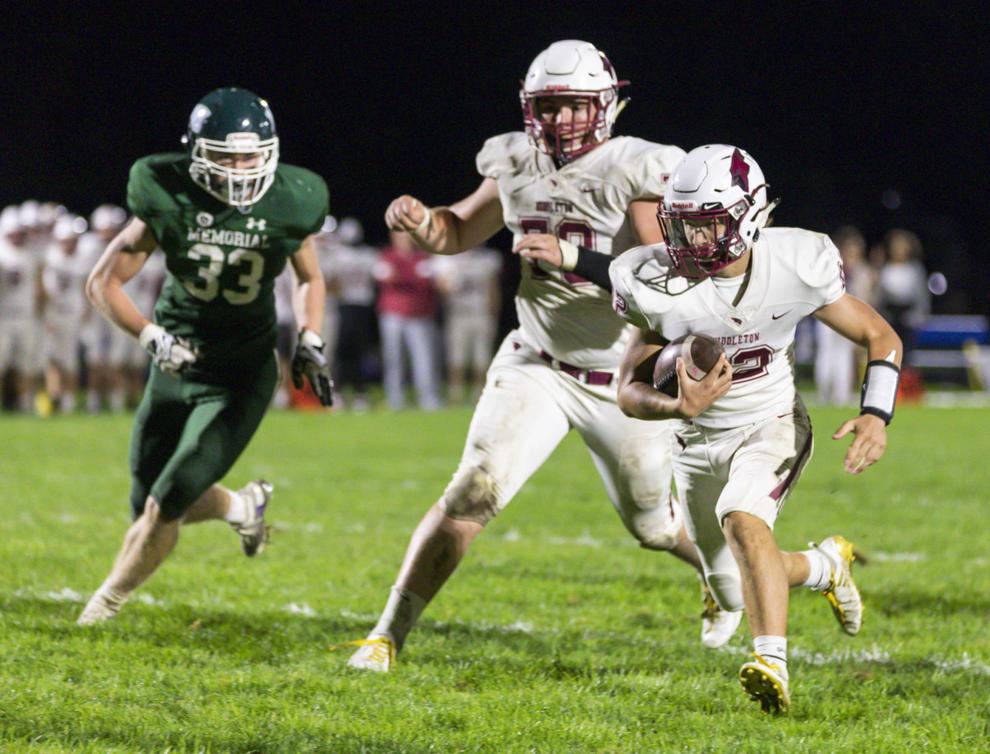 Hendrickson, scheduled to be a captain this season, is expected to be a leader on and off the field for the Spartans, who didn't play either season in 2020-21. He's ranked among the senior defensive linemen to watch by WisSports.net.
Elijah Gray, sr., RB, Middleton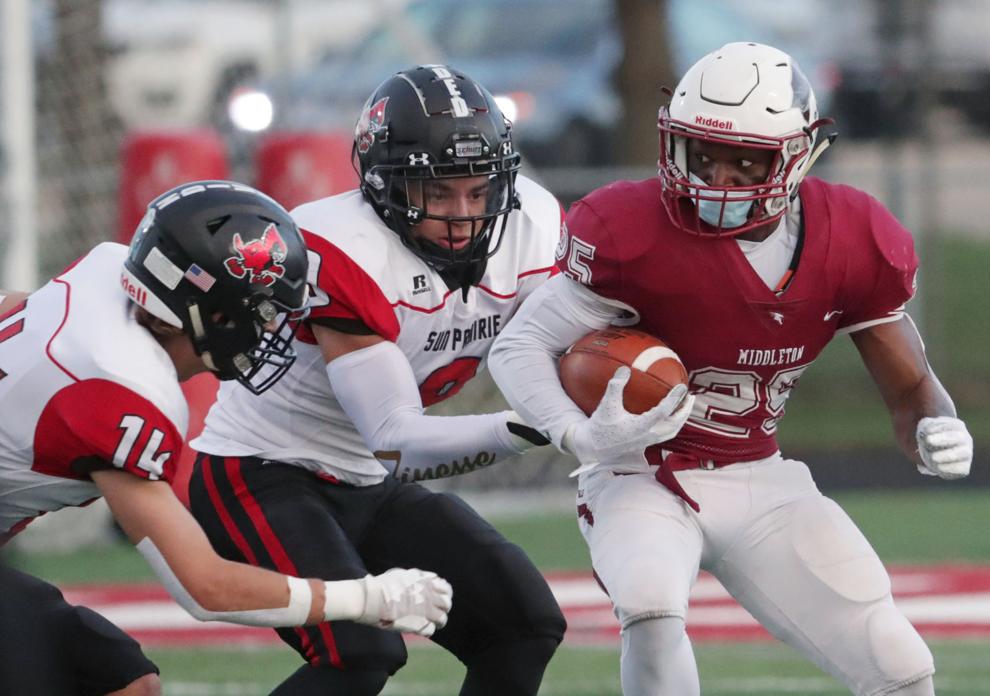 The 5-11, 175-pound Gray gained 468 yards rushing and scored four touchdowns during the spring season, despite battling injuries. He was rated as the No. 9 senior running back in the state by WisSports.net.
Jack Alexander, sr., OT/Guard, Middleton
The 6-4, 290-pound Alexander is a leader on the Cardinals' offensive line, which returns four starters. Alexander, receiving college interest, was ranked as the No. 14 senior offensive lineman in the state by WisSports.net.
Mason Armstrong, jr., LB, Verona
The 6-foot, 200-pound Armstrong figures to be a main cog in the Wildcats' defense this season after totaling 47 tackles, three tackles for loss and a sack during the spring campaign. He was listed among the semifinalists for top defensive player in the spring, according to WisSports.net.
Mason Fink, sr., QB, Verona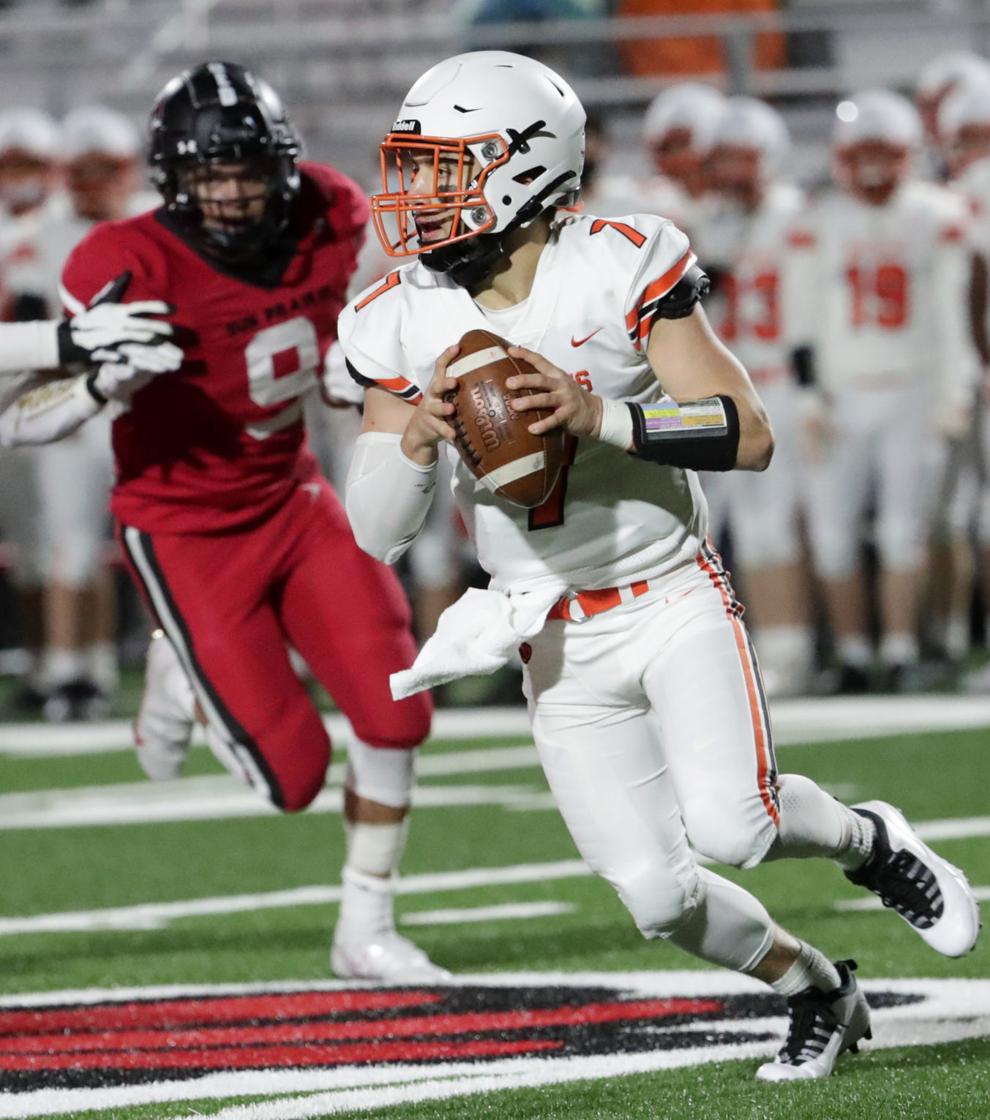 Coach Dave Richardson plans to call on the 5-11, 175-pound Fink to again direct Verona's attack after Fink threw for six touchdowns in the spring season and leads a skill position group that Richardson believes offers numerous run/pass combinations. Fink is among the senior quarterbacks to watch by WisSports.net. His brother, Max Fink, previously was a quarterback for Verona.
Isaac Hamm, sr., DE/TE, Sun Prairie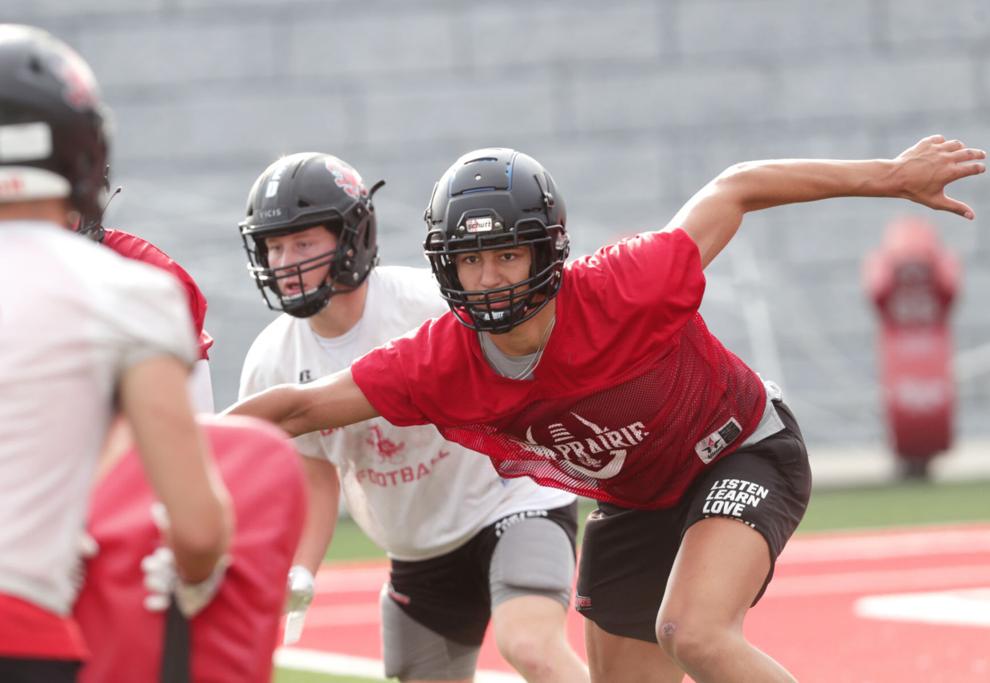 The 6-6, 250-pound Hamm was a first-team selection as a defensive lineman on the Wisconsin Football Coaches Association All-State team and a unanimous first-team choice on The Associated Press All-State team for the alternate fall season in the spring team. Hamm has multiple college offers, with an announced final four of the University of Wisconsin, Penn State, Ohio State and Notre Dame. Hamm had five sacks, nine tackles for loss and five forced fumbles in the spring. He is the top-rated senior defensive player in the state by Rivals.com and was ranked the top senior edge defender and top overall defensive player in the state entering this fall by WisSports.net (and No. 4-ranked senior overall).
Addison Ostrenga, sr., OLB/TE, Sun Prairie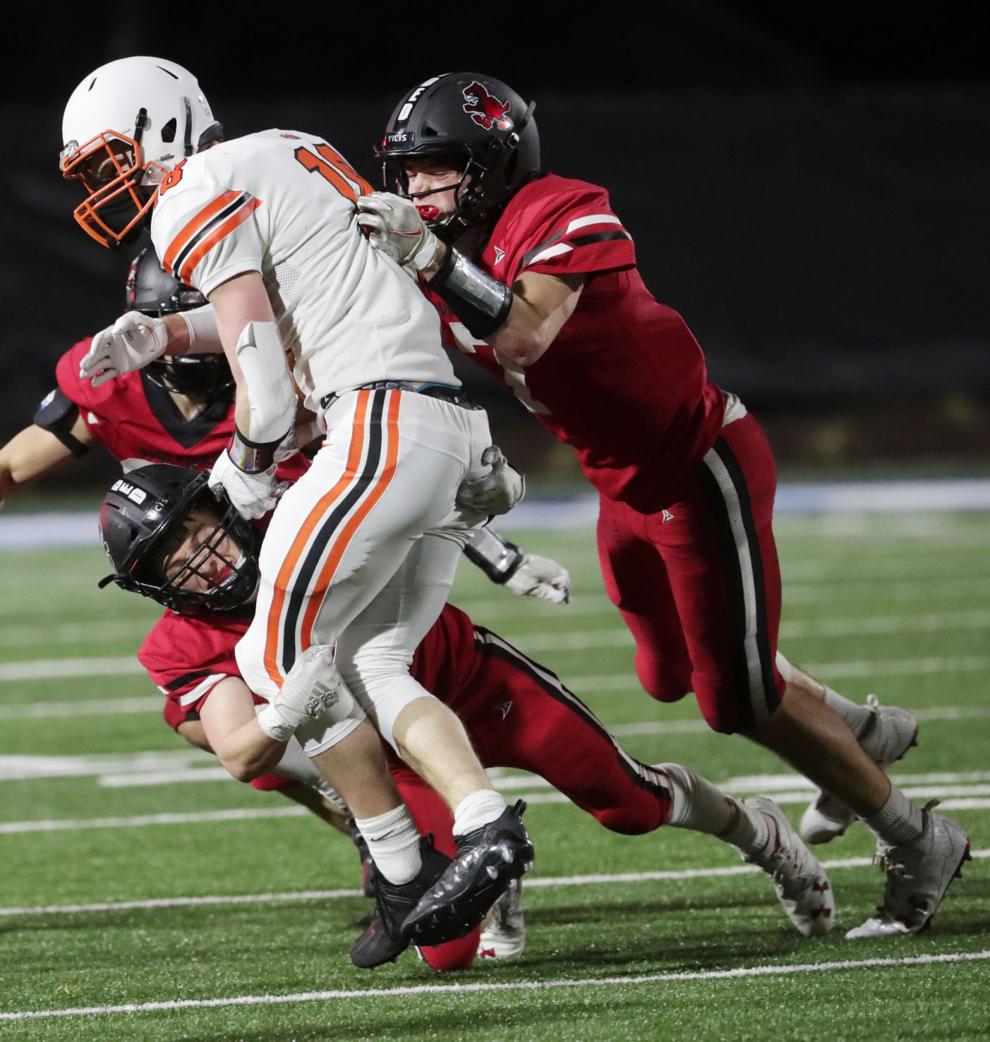 The 6-5, 225-pound Ostrenga, an outside linebacker, was ranked as the No. 2 senior edge defender in the state by WisSports.net (a No. 12 senior overall), giving Sun Prairie a formidable duo alongside Hamm. Ostrenga, who also plays tight end, originally committed to Iowa for baseball but since has committed to the Hawkeyes for football. He was a WFCA honorable mention All-State pick.
Evan Malcore, sr., OT, Sun Prairie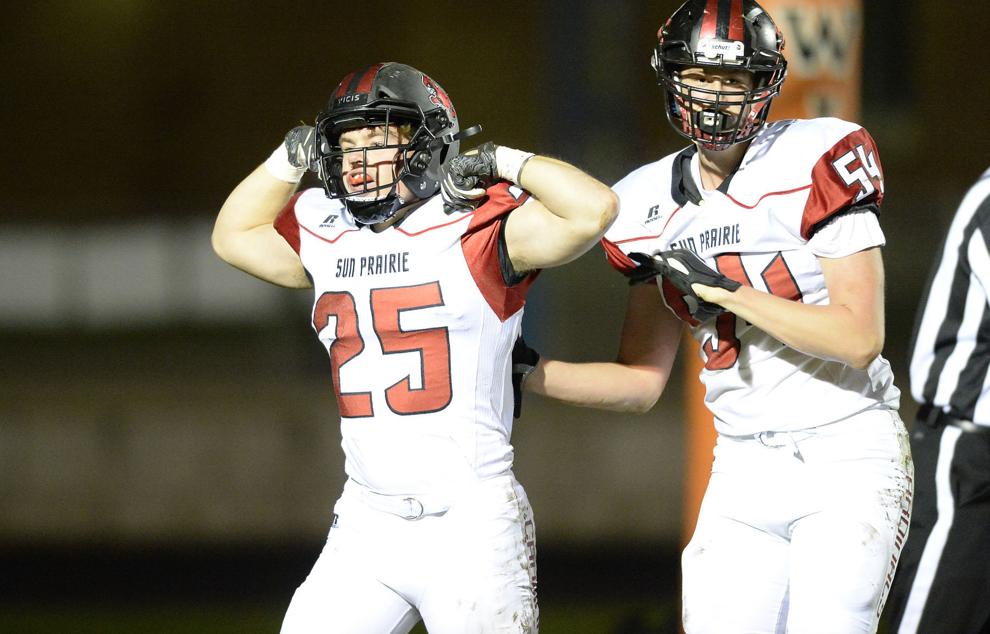 The 6-7, 275-pound Malcore, who plays left offensive tackle, has committed to Northern Illinois. He was selected for the WFCA All-State first team and was an honorable mention choice on the AP All-State team for the spring. He was ranked as the No. 9 senior offensive lineman in the state and No. 20 overall senior by WisSports.net.
Michael McMillan, sr., DB/WR, Sun Prairie
McMillan can play multiple positions, including defensive back and receiver. He is a strong player on the back end of Sun Prairie defensive coordinator Tim Bass' aggressive defense. McMillan was rated as the No. 9 senior defensive back in the state (WisSports.net).