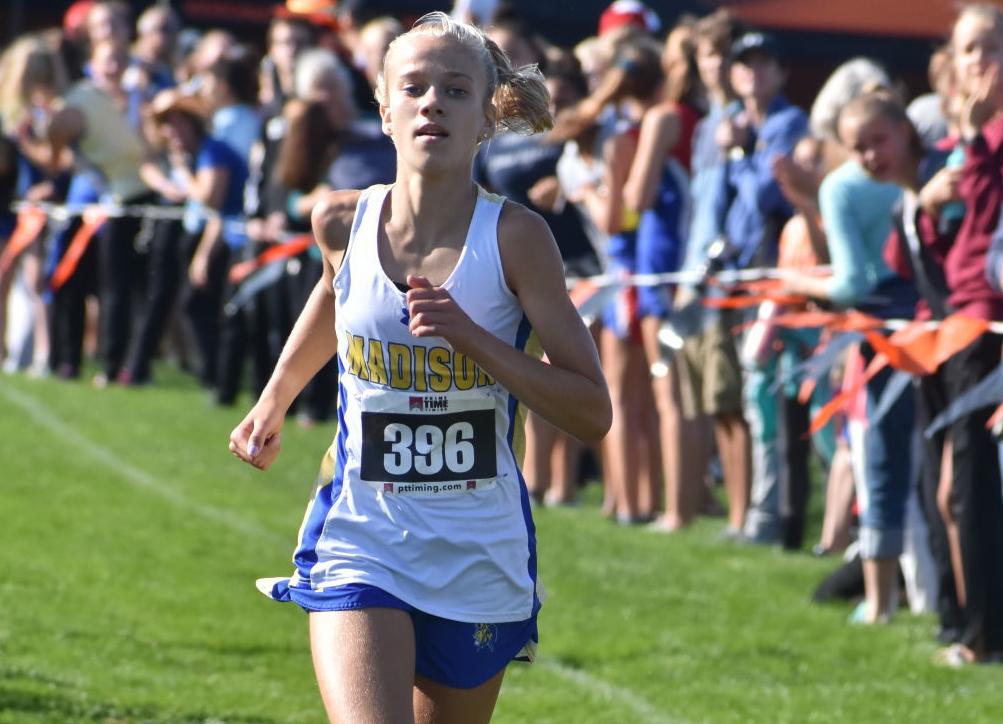 Humble is the word that comes to mind when describing Madison West sophomore Genevieve Nashold.
A year ago, Nashold became West's first-ever state girls cross country champion, winning the WIAA Division 1 girls race. On Saturday, she'll go up against a deep and difficult field in the 2019 state meet at The Ridges Golf Course in Wisconsin Rapids. The Division 1 girls race is scheduled for 12:40 p.m.
After winning nine of 11 cross country races as a freshman, with both of her non-winning runs coming outside of Wisconsin, it has been more of a challenge this year.
Nashold hadn't faced defeat last year until she placed 13th in the Nike Cross Heartland Regional Championships in Sioux Falls, South Dakota. In the spring, injuries held her back during her first season of high school track.
"It has helped her with patience and understanding the long-term goal of running your best at the end of the year," West coach Cory Hayden said.
But Nashold's mantra is simple: "I try not to put too much pressure on myself and just remember to have fun."
Over the summer, Nashold got to train with her brother, Julian Gary, a senior standout on a West boys squad who will compete Saturday for the program's ninth team championship.
"It was especially nice when we had to run in the morning before work," Gary said, "because sometimes it's hard for me to get up early when I'm running alone."
"It's been nice to have someone to run with," Nashold said. "We share a lot of common traits, like dedication and determination. I think we both push each other to chase our goals."
"It's been really exciting to see her progression," Gary said, "and I look forward to seeing what she can accomplish in the future."
Hayden, in his second year leading the West girls, knows what he has in Nashold, the 2018 Gatorade Wisconsin Cross Country Athlete of the Year and the 2019 Big Eight Conference and Madison West sectional runner-up.
"You feel really fortunate to have an athlete that's not just driven and talented, but also well-rounded and a good student, and just overall a really nice human to be around," Hayden said.
Senior teammate Grace Weigl, who will be run in her third state meet as West's No. 3 runner, agrees.
"She is probably one of the hardest-working people I've met in my life," Weigl said. "She's so humble about it that you wouldn't ever really know how hard she works, but at practice she's always the one adding on that last mile or doing those extra 800 (-meter runs)."
Heading into the state meet, one luxury the West girls team has lies in the depth of its roster.
"The unique thing about West (girls cross country) is that the participation numbers are over 100 athletes," Hayden said.
The West girls will make their 15th state appearance; the boys will be at state as a team for the 42nd time.
"I think we have a very similar talent pool and community and culture around the school that we should be able to replicate that tradition," Hayden said.
Behind the depth of their roster and their senior leadership, the West girls believe they can get to their first ever podium in school history.
"That's something we're going to try to do at state, kind of run as a pack because the talent on our team goes so deep," Weigl said. "We really push each other to achieve things we thought we couldn't otherwise."
"The seniors are really hard-working and the whole team is supportive and fun," Nashold said.
Aside from Nashold and Weigl, the Regents will feature sophomores Cecily Greblo and Rose Greblo, senior Ella Kuntsman and freshmen Kate Aman-Lavicky and Hypatia Newton.
"We have Genevieve, she's the speed queen," Weigl said. "But if she's having an off day, its ok because the bond of our team goes so deep between us. The rest of us will still make up for it as a pack."
Nashold posted a personal best at the Verona Invitational on October 7th with a 17:39.5 winning run, and will look to save her best for last at the state meet today.
"She pushes the rest of the team to do their best, because if she can do it, we can. It's the mindset she embodies," Weigl said.
"I try to meet my own goals and try not to think too much about what other people are doing and focus on what I want to do," Nashold said.
Get in the game with our Prep Sports Newsletter
Sent weekly directly to your inbox!