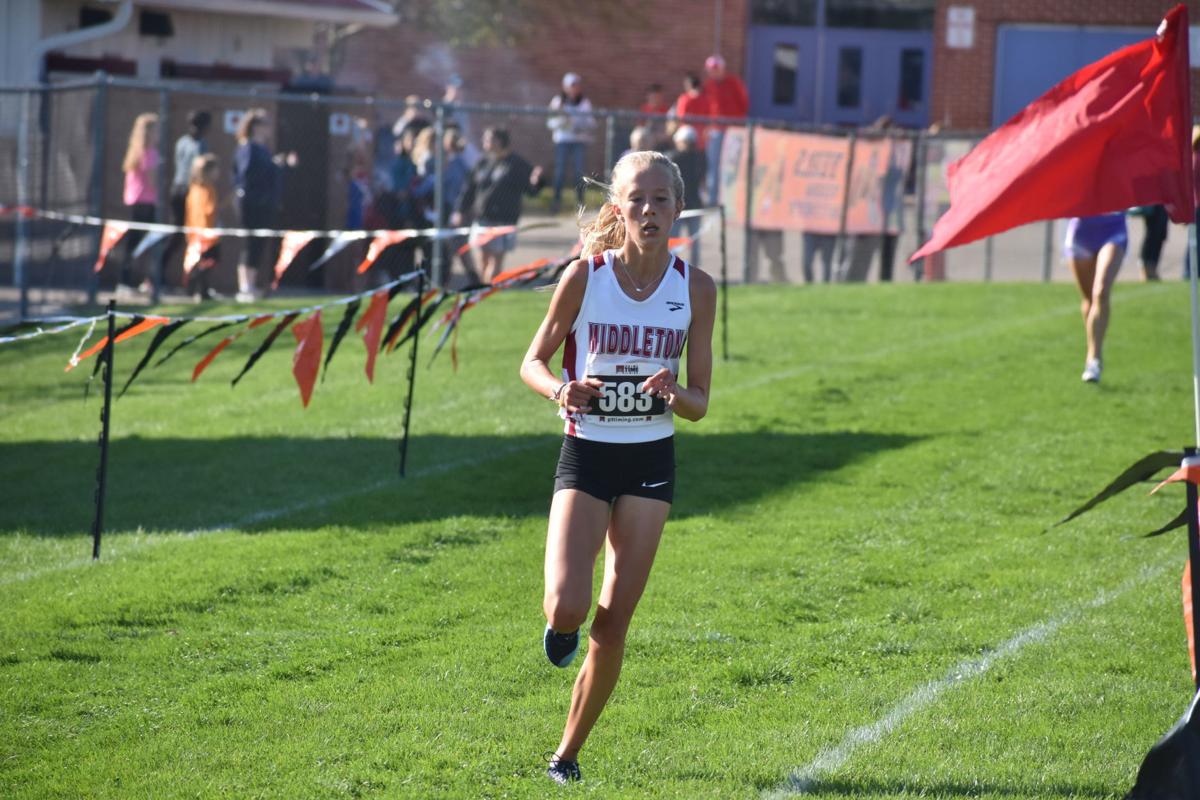 Middleton sophomore Lauren Pansegrau recorded quite a first earlier this month.
When she beat Madison West sophomore Genevieve Nashold by 18 seconds to win the Stoughton Invitational on Oct. 5, she became the first girl to defeat Nashold, the defending WIAA Division 1 state champion, in a race in Wisconsin.
Middleton coach Alexa Richardson was thrilled to see Pansegrau defeat Nashold. "It definitely was a breaking point for Lauren," Richardson said. "She pushed the pace and, in turn, ending up beating Genevieve."
Both young runners are only sophomores, and that means cross country followers around the area and state have two-plus years of excitement to look forward to. The next chapter will be written on Saturday in the Big Eight Conference meet, set for 9:30 a.m. Saturday at Rockport Park in Janesville.
Not only will the race give Pansegrau and her Cardinals — ranked fifth in Division 1 by state coaches — a chance to win a conference championship, it will also offer Pansegrau a rematch with Nashold in the race for the varsity individual title.
"I'm really excited to see how our team does," said Pansegrau, who finished 31st in the state meet last fall.
"(Genevieve) and Lauren have a competitiveness between the two of them. They are going to push each other," Richardson said. "The two can work together to be two of the best runners the states seem in a long time."
For Pansegrau, though, it's mostly just fun.
"It's good competition. We're lucky we get to run against each other, it helps get me better — and it's really fun," Pansegrau said.
You have free articles remaining.
Pansegrau has earned high places in a number of races this season, winning the Hartland Arrowhead Invitational, taking ninth in the Roy Griak Invitational in Minneapolis, finishing third in the Verona Invitational and winning at Stoughton.
Her list of accomplishments shows that Pansegrau has put in the work to maximize her natural talent.
"Over the summer I trained a lot. I did a lot of cross training, biking, and running, that could be part of the reason," Pansegrau said.
"She's also a tri-athlete (who does) a lot of cross training, biking, swimming, a lot of stuff on her own in addition to the running and workouts that I give her," Richardson said.
All of that, Richardson says, comes from a mindset that Pansegrau follows. She figures that after all that preparation, competition days should be fun.
"She is very light-hearted and excited about the meets," Richardson said. "She gets nervous, (but) not to the point where it gets in her head, though. And that's what sets her apart. She's just excited to go out there to prove herself."
Another reason she stressed was the competitive camaraderie that runs through the entire Middleton program.
"All of my teammates are so nice and supportive," Pansegrau said. "We are all good friends, which is good. It's really nice training and running with them."
"(Pansegrau) is a very team-oriented athlete," Richardson said. "She's obviously very competitive individually, but she gets that motivation from the athletes on her team."