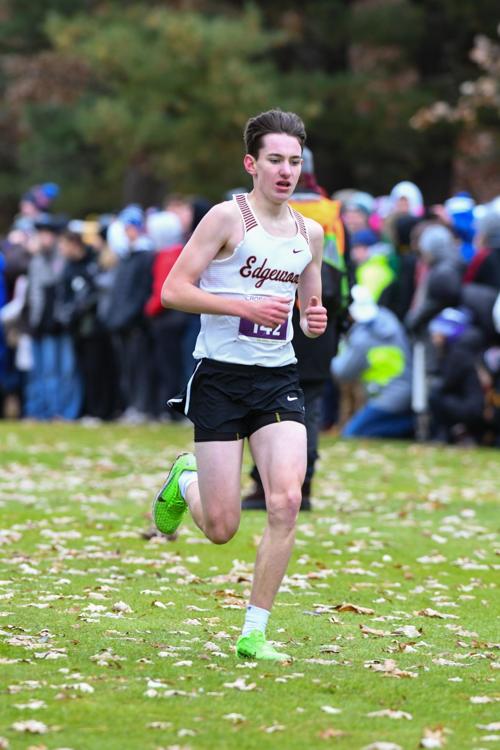 Leo Richardson of Madison Edgewood placed second at the WIAA Division 2 cross country meet last season.
And he remains humble, every step of the way.
"He's definitely the most humble kid I've worked with," Edgewood coach Joe LaMontagne said. "The sky's the limit for him, and he doesn't have a high ego at all. It's ego-less confidence. He just feels like he can go out and control a race."
In last year's WIAA state meet at The Ridges Golf Course in Wisconsin Rapids, he covered 5,000 meters in 16 minutes, 11 seconds to earn a runner-up medal.
From the beginning of the 2019 season, Richardson blew away the competition and shaved off more than a minute from his sophomore season best. With a personal best of 16:04 and a dominant victory at the Cam-Rock Invitational in Cambridge, he exploded onto the scene. 
Richardson went on to place in the top three of all but one race in 2019, including taking home the individual championship in the Badger South Conference race and the WIAA River Valley sectional. 
"Leo just goes into a race and competes," LaMontagne added. "He has this ability to shut (his) brain down, get lost in a race and compete. He'll go up with the lead pack, get a feel for the race and if he thinks he feels good, he'll go. If he sees someone else go, he'll take that risk and go with them. To me, that's his most valuable tool."
The Edgewood program has a term for this tactic: "Running stupid."
"Yeah. Run stupid! I love that," Richardson laughed. "We say (that), but I still believe there's a really big mental part to running. A big part of that is knowing the course and knowing when you want to make a move.
"Strategy is also important, but it could even change during the race. That's where run stupid comes in."
Although the spring track season was canceled due to the COVID-19 pandemic, Richardson and his coach still firmly believe a state title is within reach. Having a year-long training cycle under his belt and maturing physically from his sophomore to junior years, he has shown significant improvement, jumping to second at the state meet from a 43rd-place finish and then-personal record of 17:17. 
He and his coach see the possibility for even more growth this fall. 
"Leo is definitely motivated by the prospect of being a state champion in cross country," LaMontagne said. "He still trained through the spring. … He was disappointed that there was no track season, but I think it motivated him even more this summer. It really amped him up for this fall and cross country."
"He is going to do something special this season," teammate Jacob Linderoth said. "I think he can make another big leap from junior to senior season. … He has some pretty high expectations for himself regarding state, as well."
Even with all the excitement and spotlight on him this season, Richardson repeatedly emphasized his focus on the Edgewood team as a whole in 2020.
"Oh man, my team is so important to me," he said. "We motivate each other. … I'm excited to lead and help lead them through workouts and long runs. They push me, too."