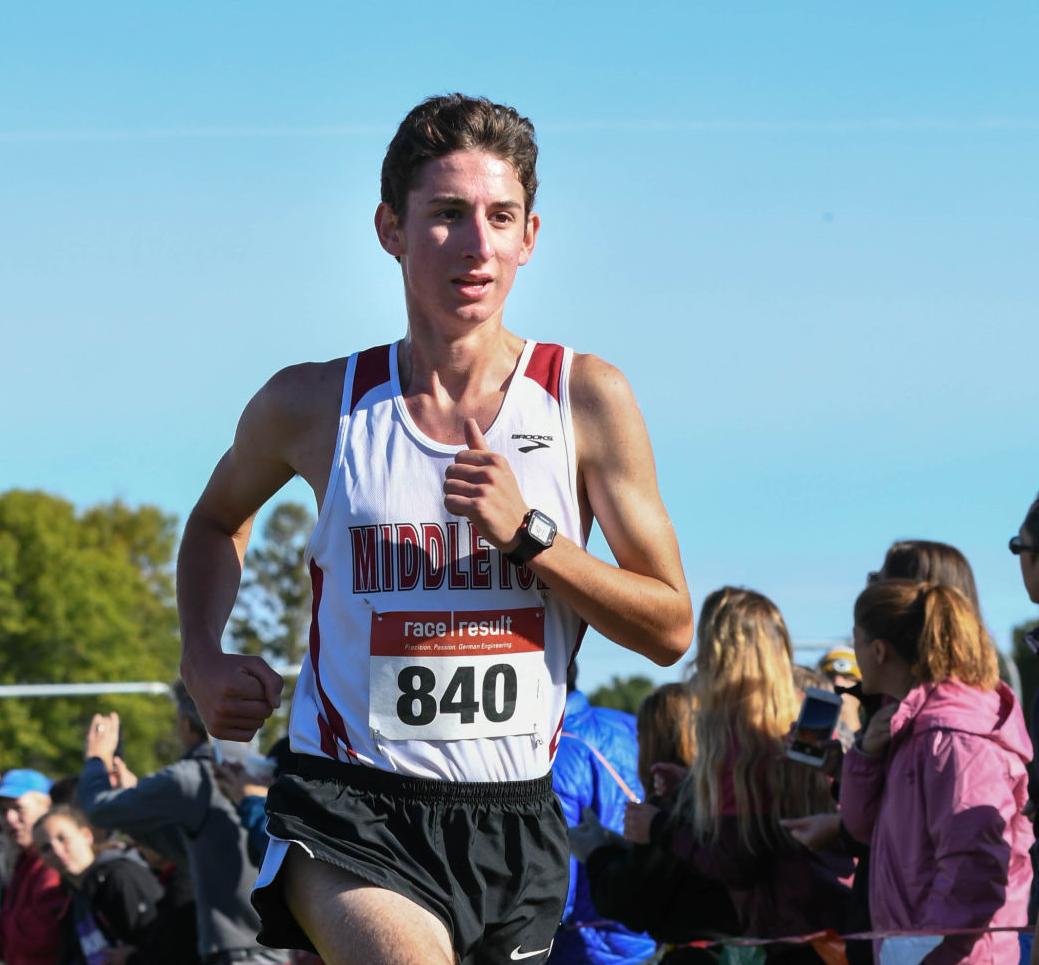 Division 1 boys: 1, Neenah; 2, Middleton; 4, Madison West; 12, Sun Prairie. 1, Drew Bosley, Mequon Homestead, 15:21; 7, Caleb Easton, Middleton, 15:52.
Division 2 boys: 1, Valders; 5, McFarland. 1, Henry Chapman, East Troy, 16:00; 2, Andrew Pahnke, McFarland, 16:12.
Division 3 boys: 1, La Crosse Aquinas. 1, David Vannucchi, Onalaska Luther, 15:44; 25, Colin Green, Madison Country Day/Abundant Life, 17:11.
Big Eight race: Middleton is the favorite to remain atop the Big Eight Conference and is expected to bid for the WIAA Division 1 state boys cross country title after finishing second last year and winning the championship in 2017. "Middleton will still be virtually untouchable this year," Verona coach Randy Marks said. The Cardinals have won the past two conference meets. "I think we have the right pieces to the puzzle in place to podium again at state," Middleton coach Brian Finnel said. Madison West is expected to be a chief challenger. Janesville Craig junior Bryan Bloomquist is a top returning individual, who will find plenty of competition in the conference, including from runners from Middleton, Madison West, Madison La Follette and Verona.
Looking to repeat: Sauk Prairie, with six of its top runners returning, seeks to defend its Badger North Conference title. Seniors Hudson Haas and Noah Wankerl lead the way. DeForest, Baraboo, Waunakee and Beaver Dam are expected to be right on Sauk Prairie's heels.
View from the Capitol: Deerfield/Cambridge began the season ranked eighth in Division 2 in the Wisconsin Cross Country Coaches Association poll and is favored in the Capitol South, ahead of New Glarus/Monticello and Wisconsin Heights/Barneveld, which is expected to be led by senior Christian Patzka.
Bryan Bloomquist, jr., Janesville Craig -- Bloomquist had the top finish by a sophomore at last year's WIAA Division 1 state meet last year. He finished 10th overall. He was third at the Big Eight meet. He was a first-team choice on the Wisconsin State Journal All-Area team.
Roman Ystenes, sr., Middleton – Ystenes was second behind teammate Caleb Easton at the Big Eight meet last year, but was knocked out of the rest of postseason by injury.
Ryan Reed, sr., Madison West – Reed placed ninth at the Big Eight meet and 29th at the Division 1 state meet, helping lead the Regents to a fourth-place team finish. He was a first-team choice on the Wisconsin State Journal All-Area team.
Julian Gary, sr., Madison West – Gary finished seventh at the Big Eight meet last year and got off to a good start this season, winning the Glenn Herold Invitational in Watertown.
Christian Patzka, sr., Wisconsin Heights/Barneveld – Patzka finished fifth at the WIAA Division 2 state meet last year, behind four seniors. Patzka won the Capitol South Conference meet in 2018.
Luka DiMaggio, sr., Verona – DiMaggio figures to lead an up-and-coming Verona lineup. He finished second at Watertown.
Seniors Egan Johnson, Peter Hoferle, Zachary Leffel, Braedon Gilles, Middleton – In addition to Ystenes, the Cardinals have a group of runners who all could finish with high placings in this season's meets. Leffel was sixth at last year's Big Eight meet.
Gavin Czarnecki, jr., Beaver Dam – Czarnecki's fourth-place finish as a sophomore at last year's Badger North Conference meet was the best finish by an underclassmen.
Chris Wolfe, sr., Madison La Follette – Wolfe leads the Lancers, who seek to challenge Middleton and Madison West at the top of the Big Eight. He was eighth at last year's conference meet.
Elias Ritzke, sr., Poynette – Ritzke returns after claiming the Capitol North Conference meet title last year.
(Based on information primarily provided by coaches)
Conference overview: State runner-up Middleton is the coaches' favorite, with Madison West in hot pursuit. Madison La Follette, Verona, Sun Prairie and Madison Memorial are expected to challenge in one of the toughest conferences in the state.
Middleton: Middleton repeated as conference champion and finished as WIAA Division 1 runner-up last year, and the Cardinals began this season top-ranked in Division 1 in the Wisconsin Cross Country Coaches Association poll. With 13 letterwinners and five of its top seven runners back, Middleton is expected to turn in another strong performance this season. "This season, I think we will fare quite well," Middleton coach Brian Finnel said. "A lot of high-performing runners return to the team." The graduated Caleb Easton must be replaced, but the Cardinals definitely have depth of talent. Roman Ystenes was the Big Eight conference meet runner-up but missed the rest of postseason with injury. Middleton also features Peter Hoferle, Zach Leffel, Egan Johnson and Braedon Gilles. Ryan Schollmeyer, who had played soccer in the fall, could break into the lineup, Finnel said.
Madison West: The Regents finished second at the conference meet and fourth at the Division 1 state meet last year. Seniors Ryan Reed, Julian Gary and Michael Kuhn lead a team that has 12 letterwinners returning. Senior Eli Gore and junior John Lee also figure prominently. "In order to get where we hope to this season, our experienced athletes will have to continue their development and our younger athletes will need to learn to compete at a high level," Regents 22nd-year coach Tom Kaufman said. The Regents got off to a good start winning Watertown's Glenn Herold Invitational; Gary finished first and Lee, Gore, Kuhn and Reed all were in the top 10.
Madison La Follette: Coach Brady Nichols said he is excited by a "strong, young team," led by returning state qualifiers Chris Wolfe, a senior, and Christian Jaeger, a junior. "These two young men, with some of our returners, hope to have a strong season this fall," said Nichols, the Lancers' coach for 19 years. Senior Denzel Bailey also returns, buoyed by a strong finish to the 2018 season. A talented sophomore class will contribute, and so might junior Karl Olson, coming off a good showing in track and field last spring. Good turnouts by freshmen the past two years helped make this one of the Lancers' larger teams with 36 athletes on the roster, Nichols said.
Verona: Seniors Nathan Neitzel and Luka DiMaggio and sophomore Aidan Manning lead the Wildcats' lineup that coach Randy Marks hopes will make a move up the standings after illness hindered the team at the end of last season. Marks believes a top-three conference finish is possible. Senior Mulu Johnson, freshmen Max Metcalf, Ryan Cassidy and Blake Oleson and sophomores Ryan Ochowski, Noah Serrault and Sean Parry also could be among those in the mix for a top-seven spot, Marks said. "Staying healthy, having our younger runners progress and our leaders doing a solid job of helping to bring everyone together for a common goal will get the job done," Marks said. Verona was second as a team and DiMaggio was second as an individual at the recent Watertown meet.
Sun Prairie: Coach Kevin Hall, whose Cardinals finished 12th at the Division 1 state meet, hopes his team can improve on its third-place conference placing of a year ago. Seniors Hunter Teniente and Marquez Rodriguez and junior Connor Carpenter lead this year's team. Brothers Joe and Tyler Stoll, Max Saron and Stephen Skalitzky of the junior class also have varsity experience. "The strength of this group of runners is the camaraderie they share," Hall said. Sophomores Joe Freng and Ben Marshall will compete for top-seven spots.
Madison Memorial: The Spartans hope to enjoy a bounce-back season and climb into the top four in the conference, said Casey Hopp, with 14 years of experience as Memorial's head coach. Nine letterwinners return, including four of the Spartans' top seven runners from a year ago. "We return a young nucleus of runners who gained valuable experience last season and have put in some hard work in the offseason to be more competitive this season," Hopp said. Juniors Aidan Peppard and Dylan Anthony return with the most experience from last year. Senior Brett Neumann, junior Cole Wichmann and sophomore Mick Sakk are expected to challenge for top spots in the lineup. A.J. Ketarkus leads the freshman class, Hopp said.
Madison East: Matthew Peters takes over as boys cross country coach, replacing Nancy Gritt. Peters was East's girls cross country coach in 2018 and also is the head coach for the Purgolders' track and field teams. Four of the Purgolders' top seven runners return. Top runners include Malachi Oser, Ian Beilfuss, Caleb Oser and Nelson Dresser. "While we graduate the top three from our team last season I believe that our depth and new additions will allow our team to compete in the top four or five in the conference again this season," Peters said.
You have free articles remaining.
Janesville Craig: Bryan Bloomquist finished 10th at the WIAA Division 1 meet last year, the top placing by a sophomore. "Bryan Bloomquist is one of the most accomplished distance runners in the state," Janesville Craig coach Brandon Miles said. "He has had a fantastic first two years and we expect he can be in medal contention again at the state meet in the fall." Bloomquist leads the Cougars, who have three of its top seven runners returning. Miles said the team will be younger than it has been. "Our focus this year is going to be growing our athletes in order to position them for future success while remaining competitive this year."
Conference overview: Defending conference champion Sauk Prairie returns a strong team that the league coaches believe will be the favorite, chased by DeForest, Baraboo, Waunakee and Beaver Dam. Conference meet champion Cade Ferron of Beaver Dam graduated. His teammate Gavin Czarnecki was fourth at the Badger North meet, while Sauk Prairie's Noah Wankerl (sixth at conference meet) and Hudson Haas were top-10 finishers.
Sauk Prairie: The Eagles return six of their top eight runners who helped Sauk Prairie win the Badger North title last year. "With a large group of seniors who have had great success, the team looks to continue to be very competitive," Sauk Prairie coach Andy Sherman said. Senior Hudson Haas tops the lineup, which also features seniors Noah Wankerl, Camden Desroches and Casey Vande Hey, junior Sam Beattie and sophomore Dalton Zirbel.
DeForest: The Norskies are expected to challenge for a top spot. They lost the graduated Jacob Burgener and Alex Grabowski. John Roth finished ninth as a junior at last year's conference meet.
Waunakee: Coach Heather Martens-Raffel's team, which has eight letterwinners returning, is seeking to challenge for the conference crown. "I think we have the boys to challenge Sauk for that repeat title," Martens-Raffel said. Coleson Lincoln, Logan Rynes, Evan Voge, Trenton Niles, Alex Korth, Kyle Davis and Paul Busse are among top runners who will compete to be in the top seven. Martens-Raffel said the Warriors made considerable improvement last year, but fell a bit short of team goals. "I'm really excited to see what our boys will do both as a team and individually this fall," Martens-Raffel said.
Baraboo: Coach Jake Boll said the Thunderbirds had a rebuilding year in 2018 after winning the conference title the previous year and now look to get back into the chase with the top teams in the league. "We are only losing one varsity runner and we are gaining some hard-working and talented underclassmen," Boll said. Team captain Garrett Exo, a senior, leads a roster that also includes several varsity returners, junior Max Statz, senior Alec Schmelzer, junior Cortney Dunnett, junior Carter Stapleton, senior Malachi Krayer and sophomore Evan Exo.
Reedsburg: Five of Reedsburg's top seven runners return for coach Kory Boughton, who hopes the Beavers can make a move up the league standings. Noah Brunner is expected to be the top returner. Caden Schneider and Hayden Thomas should contribute after putting in much work this summer. Brendon Stelling and sophomore Dominic Gintz will compete after being hampered by injuries in 2018 and Krystian Tolzmann is a promising cross country newcomer, Boughton said.
Conference overview: Defending Badger South Conference meet champion Monona Grove, conference meet runner-up Madison Edgewood, Watertown and Stoughton are viewed as top contenders for the conference title. The individual race is open; conference meet champion James Giftos of Monona Grove has graduated.
Monona Grove: Eric Chanos is the new Monona Grove coach, after Jeremy Duss stepped down. "We have a relatively young team," Chanos said. "Lots of potential, but lots of work to put in." Ethan Frydenlund, Ayden Gnewuch, Eli Traeder, Jacob Anderson and Joey Byrne are top runners for the Silver Eagles, who lost several seniors from last year's conference meet winner. Chanos called Traeder "an absolute workhorse" and the "strongest runner on the team." Of Gnewuch, Chanos said: "He's an aerobic beast with a great motor. I'm expecting him to lead the team by example and help facilitate a culture of excellence and winning." Frydenlund, Gnewuch and Byrne are team captains.
Madison Edgewood: Coach Joe LaMontagne, with four of the top seven runners returning, said he has high expectations that the Crusaders can finish in the top three in the conference and qualify for the WIAA Division 2 state meet. "It will take passion, accountability, commitment and energy on behalf of all team members to achieve these goals," LaMontagne said. Junior Leo Richardson is a leading returner on a team that also includes seniors Jack Brolin, Ethan Hughes and Uri Canto Moliner, juniors Jacob Linderoth, Alex Sviatoslavsky and Geoffrey Rossow and sophomore Jack Ortmann.
Watertown: The Goslings return five of their top seven and seven letterwinners, including Izak Jensen and Chris Kitzhaber. Improvement demonstrated by Nathan Williams and Josh Krueger should make them key runners in the lineup, according to Watertown coach Kirk Wackett. Freshman Ben Gifford will push for a varsity spot and Jack Heier, a transfer from Beaver Dam, also is expected to compete for a top-seven spot, Wackett said.
Stoughton: The Vikings return six of their top seven runners and coach Patrick Schneider believes his team will be in the mix for the conference title in a wide-open race. "I think we will have the best team we have had in several years," Schneider said. Senior Gavin Model, a captain and a three-year letterwinner, and Jack Albert, also a captain, lead the way. Senior Tyler Kalagian, juniors Christian Smith, Cade Milliam and Alex Wicks and sophomore Colton Hansen also are expected to be top contributors. The Vikings will feature youth and experience, adding several sophomores who are new to cross country but performed well in track and field last spring. "Learning how to race intelligently and intensely by the end of the season will be our team goal," Schneider said. "If we do that, good things will happen."
Conference overview: Watertown Luther Prep, which won the Capitol North Conference meet last year, returns its lineup and is the clear favorite. Runner-up Poynette and Lodi are expected to challenge.
Poynette: The conference runner-up Pumas return eight letterwinners and their top seven runners, making for stiff competition among the 22 athletes who came out this season. Senior Elias Ritzke, a three-time first-team all-conference performer, won the Capitol North meet last year. Sophomore Trent Sickenberger was 10th, sophomore Tucker Johnson 11th and senior Logan Bahr 14th at the conference meet. Bahr has lettered his previous three years. Junior Quinn Johnson and sophomores Trent Chadwick, Austin Kruger and Cash Stewart also return. "The boys team has a lot of experience coming back, but it is pretty young," 23rd-year coach Kevin Frehner said. "We have eight letterwinners and four all-conference runners returning from our team that took second place in the conference last season."
Lodi: Coach Kurt Wilson's team is expected to challenge for a top-three league finish, after placing third last year at the conference meet. He said the Blue Devils "should be a very solid team if healthy." Senior Brandon Grover and sophomore Parker Heintz finished sixth and ninth, respectively, at the 2018 conference meet. Wilson said the team's top runner, Grover, might miss time early in the season "so it will be interesting to see who steps up for us. We should have a solid team. We have a good mix of youth and experience." Freshman Paul Lins has showed promise, according to Wilson.
Lakeside Lutheran: Senior August Gresens finished second at the conference meet last year and leads the Warriors, who have five of their top seven runners back. "We will again be relying on a relatively young roster to run at the varsity level," Lakeside Lutheran coach Cameron Ausen said. "This will require patience in the early part of the season as we continue to become seasoned distance runners and as our team commits to demanding training to make the next jump." Gresens narrowly missed the final state qualifying spot at sectionals and is determined to reach state this year, Ausen said. Sophomore Jonathan Abel and senior Ben Ertman are expected to be among top runners in the lineup.
Conference overview: Deerfield/Cambridge returns a strong contingent that will be favored to repeat as the conference meet champion, ahead of New Glarus/Monticello, which was runner-up, and Wisconsin Heights/Barneveld and Marshall. Wisconsin Heights/Barneveld senior Christian Patzka won the conference meet and was fifth at the WIAA Division 2 state meet.
Deerfield/Cambridge: Coach Matt Polzin, in his 21st year, welcomes back six of the team's top seven runners and nine letterwinners in all. Wills Manning, a state qualifier who graduated, will need to be replaced on a team that topped the conference in 2018. "We need some of our young talent to make a big jump up," Polzin said. Team leaders are expected to be Zach Huffman, Jack Nikolay, Austin Trewyn-Colvin and Makhai Navarro.
New Glarus/Monticello: Seven letterwinners return for New Glarus/Monticello, including top seven runners seniors Simon Blohowiak, Garrett Grossen and Adam Nelson, juniors Conor McCoy, Joe Quaglia and Ty Ready and sophomore Evan Guenther. Nelson begins the season as lead runner and captain, 33rd-year coach Steve Wehrley said. Wehrley expects the sophomores on the team and freshman Tommy Nelson to challenge for a top-seven spot in the lineup. "We need to train harder than ever to match up with this strong (Deerfield/Cambridge) team," said Wehrley, who believes his team will be a factor once the sectional meet rolls around.
Marshall: Five letterwinners departed, but coach Jeff Looze's young team has four letterwinners returning. Looze said juniors Kobe Grossman, Mason Haberkorn and Logan Kosbau and sophomore Justin Grady will lead the way. Juniors Ethan Jennings and Reece Collins, who had played football, also will seek to make the top lineup. "I see this group being very competitive in 2019," Looze said.
Belleville: Five of Belleville's top seven runners return. The top five – sophomores Matthew Loshaw and Jordan Wilder and seniors Sean Campbell, Alan Woller and Julian Fullbright – is a hard-working, competitive group who likely will switch spots weekly, Belleville coach Tamera Houser said. The challenge for Belleville will be competing with three teams at the top of the conference that are strong enough to qualify for state, Houser said. "The goals for the boys team are just to dig in and be as competitive with those teams as possible," Houser said. "This group of boys is very personable and coachable."
McFarland: The Spartans, coached by Andrew Garvey and Scott Fischer, lost four of their top seven runners – including state runner-up Andrew Pahnke and seventh-place finisher Eli Kemna -- from a team that placed fifth at the WIAA Division 2 state meet. But five letterwinners return. Leading the way will be seniors Matthew Klumpyan, Carson Aubey and Evan Kania. McFarland has qualified for the state meet four of the past five years and will pursue the conference title in a competition likely with East Troy (third at Division 2 state) and Jefferson (sixth at Division 2 state).
Madison Country Day/Madison Abundant Life: Seniors Keltin Stakston and Nick Rusch are captains and expected to lead third-year coach Mary Langlie's team. "We are a young team and continuing to build the program," Langlie said. "We only lost one runner to graduation and are picking up some new freshmen."
St. Ambrose Academy: Patrick Hardyman is the new cross country coach. He formerly coached at Pecatonica. St. Ambrose isn't affiliated with a conference; the team will compete in postseason in a WIAA Division 3 sectional. Senior Jack Krebs was the only runner on the boys team last year and will serve as captain this season, said Hardyman, who hoped enough runners would come out to record a team score this season.
Jefferson (Rock Valley): Ian Sande, 19th last year at the WIAA Division 2 state meet, returns for the Eagles, who finished sixth as a team at state. Four of the top seven runners are back for coach Jason Marin, an assistant last year who said he's filling in for head coach Megan Carstens this season. Marin anticipates that team goals will be high despite losing three top runners from 2018. "We have a nice spread (age-wise) of returning athletes that really enjoyed the past two seasons' success and want to continue the current track," Marin said.