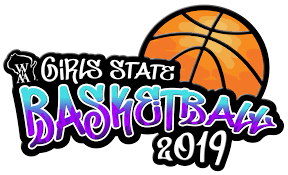 ASHWAUBENON — Heralded sophomores Mia Morel, Anna Lutz and Laura Nickel receive significant acclaim playing for the Marshall girls basketball team.
But on Thursday afternoon, defending WIAA Division 3 state champion Marshall relied on a heavy supply of senior power during a 58-37 victory over Gale-Ettrick-Trempealeau at the state tournament.
Ceraya Morel — a 5-foot, 4-inch guard who's Mia's sister — scored a career-high 17 points. And 6-1 forward Bailey Neuberger came off the bench to score 11 points, including consecutive three-point plays that blew open the game in the second half, during the Division 3 semifinal at the Resch Center.
"I was feeling really good," said Morel, who topped her scoring average by 12.5 points. "I just wanted to make more baskets than I have over the course of the season. I'm just proud of myself."
With G-E-T sagging off her on defense, Morel made three 3-pointers and scored 13 first-half points in leading top-seeded and second-ranked Marshall (25-2) to a 28-23 halftime lead.
"I was like, 'I need to get these baskets,'" said Morel, who shot 5-for-8 from the floor in the first half. "(They) just fell in."
The Cardinals then limited the fourth-seeded and fifth-ranked Red Hawks (24-3) — making their first state appearance — to 14 second-half points and 25.5 percent field-goal shooting overall while winning their 17th consecutive game.
Marshall will play Laconia (27-0) in the championship game at about 2:30 p.m. Saturday.
"G-E-T tried to take away our three leading scorers and (Ceraya Morel and Neuberger) stepped up huge for us and contributed when their name was called upon — Ceraya hitting huge shot after huge shot early on and throughout the game, and Bailey stepping up huge for us, getting a couple 'and-ones,'" Marshall coach Alex Koeller said.
"I couldn't ask for more of these two seniors to step in when things were not going right for us throughout the game. Just huge senior leadership for us, and I'm so proud of these two girls."
After G-E-T closed within 30-26, the Cardinals broke open the game with a 10-0 run. Neuberger scored the consecutive three-point plays on putbacks, giving Marshall a 38-26 lead.
"It was definitely a game-changer," said G-E-T first year coach Louis Hurd, a Portage High School graduate who played for UW-Stevens Point's 2010 NCAA Division III basketball championship team.
The 6-1 Lutz, off a feed from Neuberger, then scored inside, capping the run and boosting the Cardinals' lead to 40-26.
You have free articles remaining.
"I'm just trying to do what I can for my team, getting rebounds and stuff," said Neuberger, who also had five rebounds. "Yeah, it was a lot of fun."
Neuberger, who has committed to NCAA Division I Southern Illinois for volleyball, didn't play basketball last year. But she has savored playing this season and in Thursday's state tournament game.
"It was super awesome," she said. "I'm so glad I went out this year. My teammates are awesome. They are always encouraging me, and same with the coaches."
Hurd said he knew the Red Hawks faced a tall task against Marshall and 5-7 guard Mia Morel, who finished with 11 points and six assists; Lutz, who had 10 points and six steals; and the 5-11 Nickel, who had seven points and a team-high 11 rebounds.
"We decided not to guard two of their players we felt were not good shooters percentage-wise and make that gamble," Hurd said.
But Ceraya Morel made sure that gamble didn't pay off.
"We didn't want the 17 points, no," said Hurd, a coaching disciple of Jack and Dick Bennett. "We were going with the averages and playing with the law of averages. I give her credit. She's been here before. She hit some big shots early for them. … If she's going to hit her shots, we're going to get beat."
The Cardinals made G-E-T leading scorer Lexi Wagner, a 5-9 senior guard and Youngstown State commit, their priority on defense, tightly guarding her the entire game. Wagner scored a game-high 18 points, but she was 7-for-25 from the field and committed five of G-E-T's 18 turnovers.
And the Cardinals are back in the state title game.
"They didn't settle," said Koeller, 51-3 in his two seasons as Marshall's coach. "They weren't satisfied just winning the one gold ball last year. They were excited to come back come November and try to go for another. It is just exciting to see these girls play so well together at just the perfect time. I couldn't be more proud of them."
Gale-Ett.-Tremp. 23 14 — 37
GALE-ETTRICK-TREMPEALEAU — Lettner 0-3 2-2 2, M. Schmitz 1-5 1-0 3, Bratberg 1-1 0-0 2, C. Schmitz 0-2 0-0 0, Hammond 0-1 2-2 2, Wagner 7-25 1-2 18, Amoth 1-4 0-0 2, Zielke 2-3 1-5 5, O'Neill 0-2 3-5 3. Totals 12-47 9-17 37.
MARSHALL — Lutz 4-7 2-4 10, K. Andrews 1-1 0-0 2, M. Andrews 0-6 0-0 0, M. Morel 4-12 2-2 11, C. Morel 7-12 0-1 17, Michalak 0-1 0-0 0, Neuberger 4-7 3-4 11, Nickel 1-6 5-6 7. Totals 21-52 12-17 58.
3-point goals — GET 4-15 (Wagner 3-9, M. Schmitz 1-4, C. Schmitz 0-1, Lettner 0-1), M 4-11 (C. Morel 3-5, M. Morel 1-2, Nickel 0-1, M. Andrews 0-1, Lutz 0-2). Rebounds — GET 12-22-34 (Zielke 12, Wagner 5, Amoth 5); M 13-24-37 (Nickel 11, Lutz 5, Neuberger 5, M. Andrews 4, M. Morel 4). Turnovers — GET 18, M 12. Assists — GET 5 (Wagner 2); M 14 (M. Morel 6, M. Andrews 3). Steals — GET 5 (Wagner 2); M 9 (Lutz 6). Blocks — GET 0; M 2 (Lutz). Total fouls — GET 15, M 15 15.