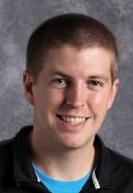 Waunakee announced Wednesday that Marcus Richter has been named its girls basketball coach, Waunakee athletic director Aaron May said.
Richter is a physical education teacher at Waunakee and was an assistant for the Waunakee boys basketball program last season, May said.
Richter has prior coaching experience in Sun Prairie and Winona, Minnesota, May said.
"Waunakee is excited to have Marcus Richter take over the girls program," May said in a release.
Richter replaces Tom Lesar.
Mount Horeb named Lesar as its girls basketball coach this spring.
Waunakee finished 14-10 this season, including 9-5 in the Badger North Conference.
Waunakee defeated Verona 66-51 in a WIAA Division 1 regional semifinal and lost to eventual state runner-up Middleton 60-38 in a regional final.
Lesar was hired as Waunakee coach in July, 2015.
Bill Freidig resigned as Mount Horeb girls basketball coach in March.