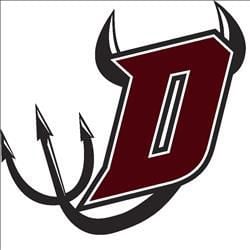 2019-2020 STANDINGS
Palmyra-Eagle; 9-3; 11-12
Orfordville Parkview ;7-5; 9-13
Madison Abundant Life/SA; 6-6; 12-11
Johnson Creek; 2-10; 3-20
Madison Country Day; 0-12; 1-22
ALL-CONFERENCE RETURNEES
First team: Stephanie Siewert, so., Deerfield; Moli Haak, so., Deerfield; Ally Czeshinski, sr., Palmyra-Eagle; Jenna Olin, jr., Orfordville Parkview.
Second team: Lexi Swanson, jr., Johnson Creek.
Honorable mention: Breanna Ezzell, jr., Deerfield; Sara Donoso, jr., Madison Country Day; Kyler Koutsky, jr., Palmyra-Eagle; Ally Fredrick, sr., Palmyra-Eagle; Margaret Higgins, so., Williams Bay.
COACHES' PICKS
1, Orfordville Parkview; 2, Palmyra-Eagle; 3, Williams Bay.
TEAM PREVIEW CAPSULES
Deerfield Demons
Coach: Don Schindler, 3rd year (23-23).
Season status: Deerfield will go on with its basketball season, but some schools within the Trailways South Conference have opted to call off or delay their seasons.
Returning starters: Moli Haak, 5-7, so., F (9.8 ppg, 5.8 rpg); Steffi Stewart, 5-5, so., G (8.8 ppg, 4.6 rpg, 3.0 apg); Grace Brattlie, 5-5, so., G (6.2 ppg, 3.1 rpg); Hailey Eickhoff, 5-7, sr., F (4.6 ppg, 3.2 rpg, 1.1 apg); Breanna Ezzell, 5-5, jr., G (6.2 ppg, 3.7 rpg, 2.9 apg, 1.5 spg).
Other returnees: Jayden Winger, 5-7, so., G (4.7 ppg, 3.7 rpg); Laura Bush, 5-7, jr., G (0.4 ppg); Julia Fischer, 5-7, so., F (2.5 ppg, 2.9 rpg); Morgan Mack, 5-7, jr., F (1.1 ppg, 1.4 rpg); Ingrid Rucks, 5-7, jr., F (2.4 ppg, 1.2 rpg).
Key fact: Moli Haak led the Demons in both scoring and reb9ounding last year, and Stephanie Siewert ranked second in both statistical areas while leading the team in assists.
The lowdown: The Demons bring back a talented squad filled with experience. All five starters will be back along. Along their starting five are the conference leaders in assists, three pointers made and free throw percentage along with the player with the second most steals in the conference. Leading scorer and rebounder Moli Haak and Stephanie Stewart made the all-conference first team a season ago, and running mate Breanna Ezzell was an honorable mention. Head coach Don Schindler mentions that the team is filled with players who are ready to take the next step in their development and thinks they can compete for another conference title.
Madison Abundant Life/St. Ambrose Challengers
Season status: The Challengers have called off their 2020-2021 season due to COVID-19.
Madison Country Day Prairie Hawks
Season status: The Prairie Hawks have called off their 2020-2021 season due to COVID-19.
Around the Trailways South
Orfordville Parkview returns junior first-team all-conference guard Jenna Olin (14.0 ppg, 3.2 rpg, 2.0 apg) and has a veteran coach in Chad Smith.
Palmyra-Eagle has the deepest roster in the conference and returns 5-5 senior guard Ally Czeshinski (13.5 ppg), whom Deerfield's Schindler said is "quick and (has) an ability to score from anywhere." She averaged 13.5 points and 8.1 rebounds for the Panthers last year.
Williams Bay returns sophomore forward Margaret Higgins (6.3 ppg, 4.4 rpg).
Johnson Creek welcomes back 5-7 junior forward Lexi Swanson (11.2 ppg, 10.5 rpg), last year's team leader in scoring and rebounds.