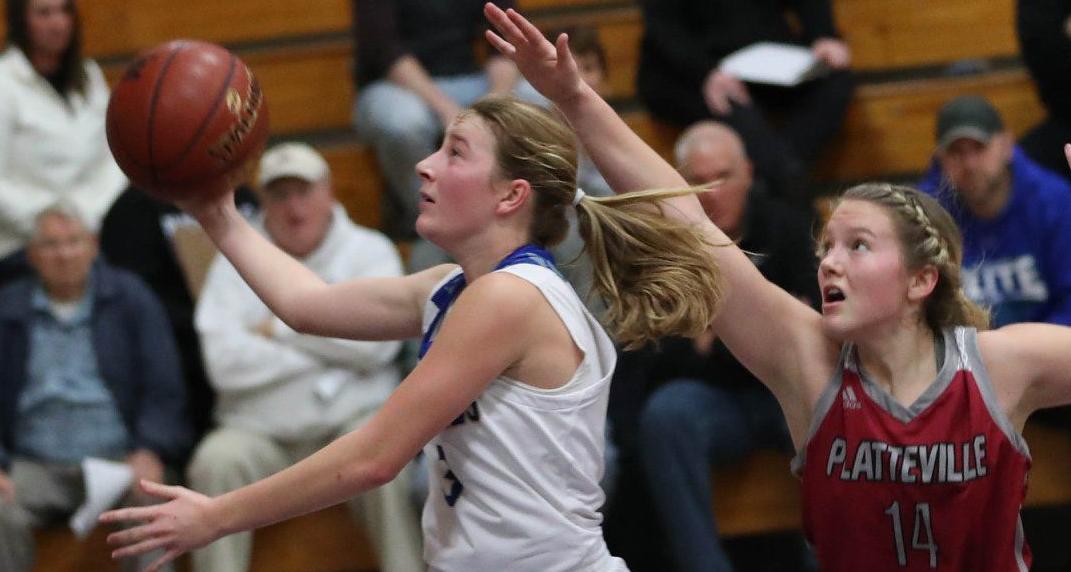 2019-2020 STANDINGS
Prairie du Chien: 7-3, 18-7
Richland Center: 3-7, 7-16
First team: Lily Krahn, jr., Prairie du Chien; Olivia Argall, sr., Dodgeville; Macey Banasik, sr., Prairie du Chien.
Second team: Kiley Kelly, sr., Lancaster; JoJo Heimerl, sr., Dodgeville; K.J. Louis, jr., Richland Center; Bride Burks, jr., Lancaster.
Honorable mention: Mackenzie Knapp, sr., Prairie du Chien; Katie Schmitz, sr., Richland Center; Sophia Uppena, jr., Lancaster.
COACHES' PICKS
1, Prairie du Chien; 2, Dodgeville; 3, Lancaster.
PREVIEW CAPSULES
River Valley Blackhawks
Coach: Brent Johnson, fifth year (36-81).
Season status: River Valley begins practicing on Monday and is slated to open the season against Lancaster on Dec. 4.
Returning starters: Emily Esser, 5-6, sr., G (5.0 ppg, 3.0 rpg, 1.0 apg); Brooke Anderson, 5-7, so., G (4.3 ppg, 3.0 rpg, .6 apg); Charlotte Ferstl, 6-3, so., F (5.4 ppg, 6.0 rpg, .7 apg).
Other returnees: Ava Liegel, 5-7, sr., G (2.4 ppg, 2.6 rpg, .5 apg); Sophia Haas, 5-7, sr., F (1.0 ppg, 1.2 rpg, .2 apg); Jayden Schaller, 5-10, sr., F (1.7 ppg, 2.7 rpg, .1 apg); Anna Johnson, 5-3, jr., G (.5 ppg, .5 rpg, .2 apg); Adi McConkey, 5-8, sr., F (1.8ppg, 1.4 rpg, .3 apg).
Key fact: The Blackhawks return three starters from a year ago, but the three combined last year for only 14.7 points per game.
The lowdown: Emily Esser led last year's team in starts and in assists per game, and is back to run the show this winter. She'll have some familiar faces to look for. Forward Charlotte Ferstl was the second-leading scorer and rebounder, and Brooke Anderson led the team in 3-point baskets and steals. Coach Brent Johnson says the Southwest Wisconsin Conference is, again, an "ultra-talented" conference, but he believes his Blackhawks have a chance to show improvement based on their returning experience and some developing younger players.
Around the Southwest Wisconsin
Prairie du Chien has a top-shelf backcourt, made up of senior Macey Banasik and junior Lily Krahn, an NCAA Division I prospect. The Blackhawks' other three starters also return, hoping to boost the team to the No. 1 spot in the conference.
Platteville went unbeaten last year and advanced to the WIAA Division 3 state championship game, which was called off due to COVID-19. Graduation hit the Hillmen hard, but Platteville does return sophomore guard Camryn Nies (37 3-point baskets last year) and players from an exceptional junior varsity.
Dodgeville also has a first-rate backcourt, as senior guards Olivia Argall and JoJo Heimerl combined to average more than 30 points per game last year and are liable to take control of any game.
Lancaster brings back its top three scorers from last year, led by senior guard Kiley Kelly (14 ppg).
Richland Center has its top four scorers back from last year, led by junior guards K.J. Lewis (10.4 ppg) and Lexi Mieden (8.6 ppg).
Get in the game with our Prep Sports Newsletter
Sent weekly directly to your inbox!