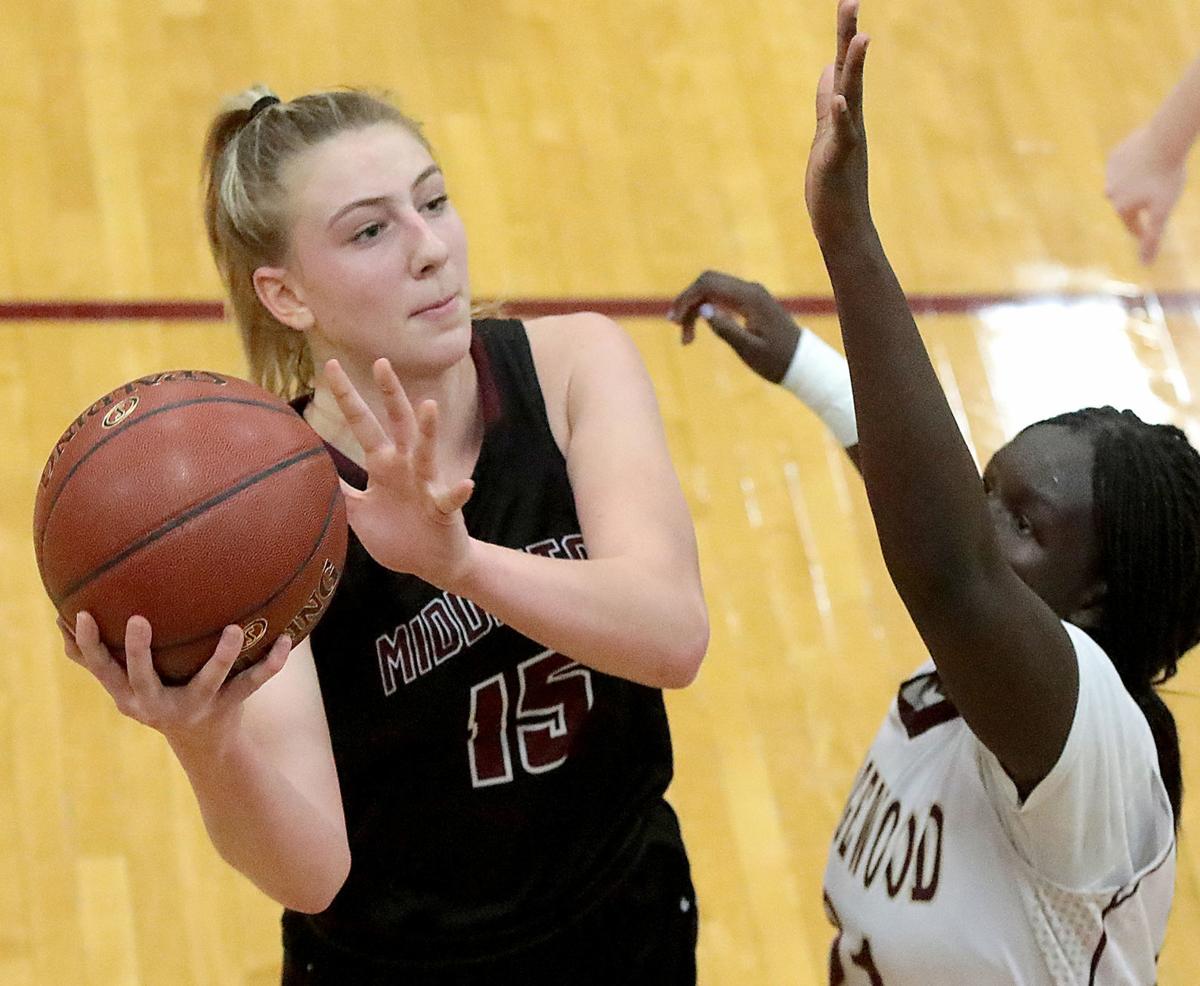 Middleton senior forward Sitori Tanin has looked to the past in hopes of achieving a brighter future at the free throw line this girls basketball season.
Success there will be important for the 6-foot-2 Tanin, whose aggressive play inside figures to make her a frequent visitor to the foul line.
After shooting 40% from the free throw line last season, Tanin restructured her form. The Loyola (Illinois) commit was 9-for-10 shooting free throws Saturday as part of a strong all-around performance that lifted Middleton to a 59-53 victory over host Madison Edgewood in a non-conference game between state-ranked teams.
Tanin had game-high totals of 22 points and 14 rebounds, blocked three shots and had three steals, while senior forward Karina Bursac scored 13 of her 16 points in the second half for Middleton (3-0), the WIAA Division 1 state runner-up last season.
"I'm trying to help my team out in the most ways possible offensively and defensively, getting blocks, steals and definitely offensive rebounds, which is a huge part of our game," Tanin said. "I've been working on my free throws. Obviously, last year I struggled a bit.
"Over the summer and the early season, I went back to my old shooting (style) from freshman and sophomore year. I have been practicing that and it has been helping a lot."
Middleton coach Jeff Kind — whose team made 20 free throws, 11 more than Edgewood converted — said Tanin's foul shot is much softer after resembling a slingshot last season.
"Her ball-handling is better and, obviously, her free throw shooting is way better," Kind said. "She has added some things to her game; she can drive a little bit better. I'd still like her to finish a little bit more at the basket, but she is working on those things. She gets a ton of rebounds."
Junior guard Sydney Olson led the Crusaders (1-1) with 14 points, 6-3 junior Sarah Lazar had 10 points and 6-1 junior Ella Foti added nine.
Middleton 6-0 sophomore McKenna Monogue, a Mukwonago transfer, hit a jumper in the lane to give the Cardinals the lead for good at 55-53 with 1 minute, 31 seconds to play. Tanin added two free throws, boosting the Middleton lead to 57-53 with 1:03 left.
Bursac scored 11 points and Tanin five during a 17-2 run that gave the Cardinals a 45-32 lead with 10:15 left in the second half.
"(Bursac) was probably our most energetic player today," said Kind, whose team was ranked fourth in Division 1 in the WisSports.net preseason poll.
Middleton turned to its 1-3-1 "Cobra" defense near the beginning of that run, which started with 10 unanswered points.
"It kind of changed the momentum for us," Kind said.
You have free articles remaining.
The Crusaders, who rallied from a 16-6 first-half deficit and tied the game at 26 at halftime, also came back in the second half.
After Tanin scored on a drive to put Middleton ahead 50-47, Edgewood sophomore Ellie Meriggioli made a 3-pointer and tied the game at 50 with 3:05 remaining.
"I thought we battled hard," said Edgewood coach Lora Staveness, whose team was ranked fifth in Division 3. "Obviously, Middleton is a really good program. Jeff has done a nice job with them over the years, and he's been coaching forever, too. … They have a lot of their team members coming back (from the state runner-up team).
"Sitori really crashed the boards and was active the entire game. We just got beat on the boards a little bit more. But our two runs when we came back showed a lot of character and resilience from our group."
The 5-7 Olson's basket on a drive gave the Crusaders a 52-51 lead with 2:18 left, but Bursac answered with two free throws with 2:11 to play.
One free throw by Foti knotted the game at 53 with 1:53 remaining.
Middleton fell in the final seconds to Bay Port 50-49 in last season's Division 1 state title game. Tanin said the Cardinals are seeking to return to the state tournament, but added: "We have to focus on the present. A big part of this year is step-by-step."
Edgewood was without three of its players – sophomore Amber Grosse and junior Krista Hanna were sidelined by injuries and senior Lindsey Langlois was out of town, Staveness said.
Madison Edgewood 26 27 — 53
Middleton — Schwartz 1 0-2 3, Lemirande 2 1-4 6, Hodson 0 0-0 0, Tanin 6 9-10 22, Roquet 0 2-4 2, Coleman 1 1-2 4, Bursac 4 6-6 16, Monogue 2 1-2 6, Accola 0 0-0 0. Totals 16 20-30 59.
Madison Edgewood — Foti 3 2-4 9, Browne 2 1-1 5, Wallhaus 0 0-0 0, Barth 1 0-0 2, Iglar 0 0-0 0, Deang 3 0-0 6, Olson 5 2-3 14, Cook 2 0-2 4, Meriggioli 1 0-0 3, Lazar 3 4-4 10. Totals 20 9-14 53.
3-point goals — Mid 7 (Bursac 2, Schwartz 1, Lemirande 1, Tanin 1, Coleman 1, Monogue 1); ME 4 (Olson 2, Foti 1, Meriggioli 1). Total fouls — Mid 14, ME 18.
---
Photos: Middleton 59, Edgewood 53