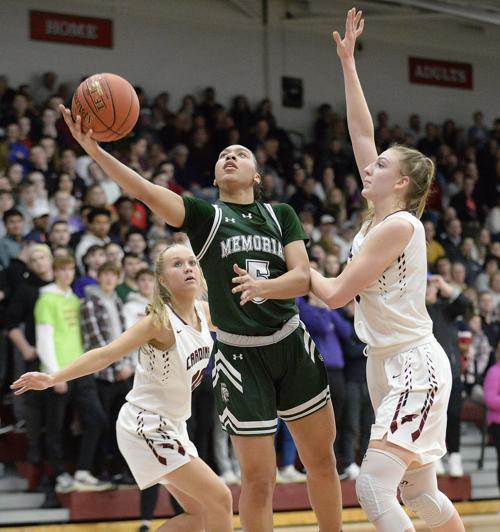 Leilani Kapinus endured a long and arduous recovery after a knee injury that required surgery and ended her junior season after only five games.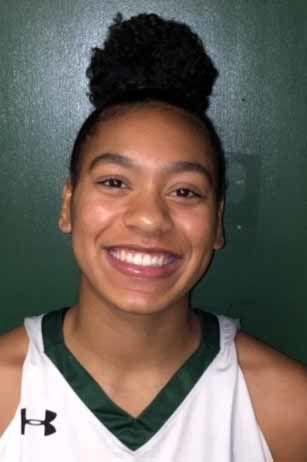 The 5-foot-11 Kapinus returned for her senior year and excelled. She earned Big Eight Conference Player of the Year honors while leading Madison Memorial to a share of the league girls basketball title with Middleton, a No. 2 ranking in Division 1 in the final Associated Press state poll and a berth in a sectional final.
"She came back as strong as ever," Madison Memorial coach Marques Flowers said. "If you had just been dropped onto the planet and didn't know she had been injured, you would not have known she had been out for most of last season and recovered from an ACL. It's a real testament to her drive and determination."
Penn State commit Kapinus, a guard/forward, averaged 18 points, 9.5 rebounds, 4.5 steals, 2.2 blocked shots and 1.8 assists and was a lockdown defender for the Spartans (24-2, 17-1 Big Eight). She had 21 points in a 61-58 loss to top-ranked Middleton in the sectional final.
For her efforts, she has been named the Wisconsin State Journal's 2019-20 All-Area girls basketball player of the year. Beaver Dam junior guard Maty Wilke and Middleton senior forward Sitori Tanin also were considered for the honor.
"It was definitely a very successful season for us," Kapinus said. "We accomplished so many things as a team. We can't forget that. Although it didn't end as we hoped, we accomplished so much. I think I played pretty good. I wish I could have done more that last game, so we could have reached where we all wanted to go."
Kapinus also was named a first-team selection on the AP All-State team (which includes all divisions) and a first-team choice on the Wisconsin Basketball Coaches Association Division 1 All-State team. She was selected as WisSports.net's top senior wing in the state.
Middleton girls basketball coach Jeff Kind praised Kapinus' relentless effort, particularly on the boards.
Flowers saw it first-hand.
"That relentlessness and aggressiveness, other kids see that they can do it, too," he said. "Other kids start to embody that. They embody her relentlessness, aggressiveness and selflessness."
Flowers has known Kapinus since she was a fifth-grader and said he watched her grow as a young woman and basketball player during high school. He credited Kapinus' parents and family for letting the coaches do their job and coach her.
"That was a true blessing," Flowers said.
Kapinus consistently demonstrated a desire to get better, competing with a positive attitude.
"She has great energy," Flowers said. "She's always smiling and she takes feedback well. She helped set a culture in our program during her four years. She helped us set a tone."
Flowers said the leadership demonstrated by Kapinus, a captain since sophomore year, and the Spartans' other captains — Emmoni Rankins, Reette Thorns and Charlotte Sweet — was significant to Memorial's success.
"I definitely tried to come into every practice with a very positive attitude," Kapinus said. "I would always try to pick my teammates up. We had a target on our back, so we knew we couldn't have bad practices."
Flowers said Kapinus ramped up her leadership this season.
"She encouraged her teammates," Flowers said. "Whatever I asked, she did it."
Flowers said Kapinus was willing to make whatever sacrifice was necessary to make the team better and to take on more responsibility and minutes after junior guard Mia Morel was lost to an ACL injury after 14 games.
"Losing Mia was a huge, huge shift for the team," said Flowers, whose team was undefeated at that point. "We reshuffled the deck."
The pursuit of a first state appearance for the Memorial girls program remained the burning season-long goal — a goal the Spartans didn't attain when Middleton rallied to win the intense sectional final March 7.
Middleton didn't get to play in its Division 1 state tournament semifinal against Oconomowoc on March 13 because the WIAA canceled the rest of the state tournament the night before due to concerns about the COVID-19 coronavirus pandemic.
Losing the sectional final was extremely disappointing; Kapinus couldn't imagine the feeling had the Spartans qualified for state for the first time and then not been able to play.
"That would have been really bad, really sad," she said.
"That would have been a whole 'nother level of hurt," said Flowers, the Big Eight coach of the year.
Flowers said his heart went out to Middleton's Kind, whom Flowers called a mentor and someone he's watched to see how he instructs players. But Flowers also said he believed the WIAA made the right decision to stop the girls and boys basketball tournaments and delay the start of the spring sports season due to the coronavirus.
"We have to make sacrifices for the greater good," Flowers said. "This is a very, very, very hard real life example for the players and coaches."
Statewide schools are closed, with online learning being put in place, and a "safer at home" order from Gov. Tony Evers is the norm until at least April 24.
Kapinus hopes students return to school so that end-of-year activities — including graduation for seniors — and at least a portion of the spring sports season can be contested. She planned to compete in track and field for Memorial this spring prior to leaving at the end of June for Penn State.
"I've known a lot of my friends since elementary school," said Kapinus, who hopes to study sports medicine in college. "They are not just friends, they are family. I just want to be together before we go in different directions."
Coach of the year
Kind, in his 28th season coaching Middleton, was selected as the Wisconsin State Journal's 2019-20 All-Area girls basketball coach of the year.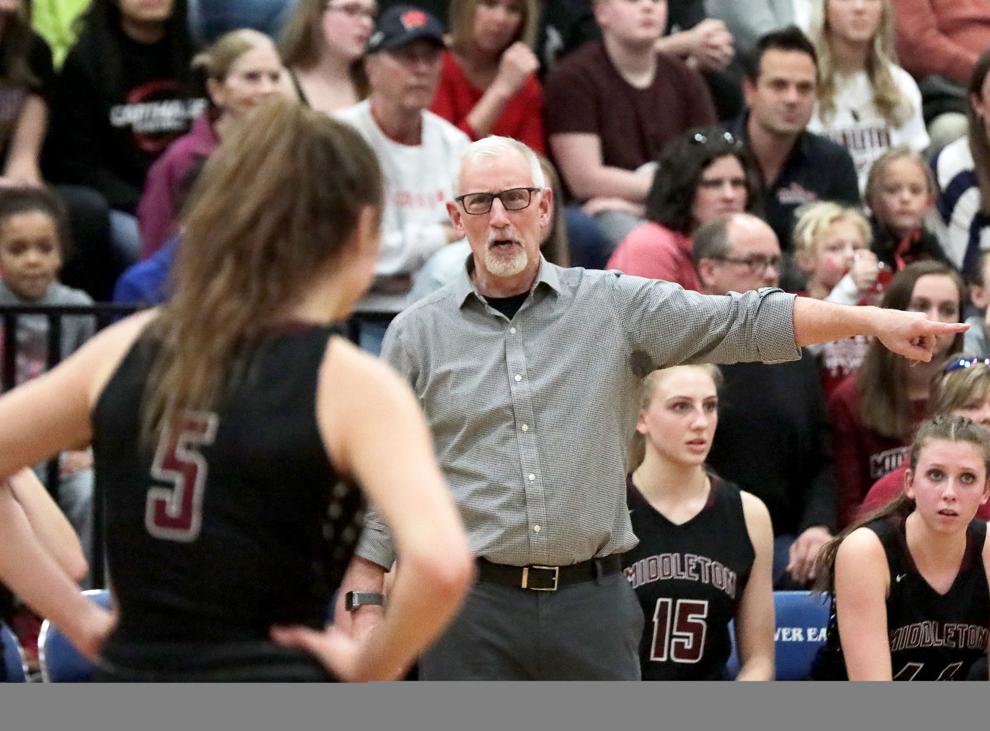 Kind led the top-ranked Cardinals to a 25-1 overall record and 17-1 in conference play.
"This is really a special group," Kind said about his team, which included eight seniors.
Middleton, after an early season loss to Memorial, improved in all phases and won its final 20 games, including twice defeating Memorial. The Cardinals qualified for the state tournament for the 12th time and third time in the past four years.
Middleton, after finishing as state runner-up last year, was seeking its first state title and entered the semifinals as the top seed in Division 1. But the Cardinals never got a chance to see how it would turn out due to the tournament's cancellation.
"It's a life lesson," Kind said after the girls tournament was canceled. "It's all about what we learn in high school sports, and that is the ultimate goal. … We talked about you control a lot of things and we controlled most of the controllables, but that there are things you just don't have any power over. Down the road, this is something you will always remember. I am proud I was able to coach them. All season, they were able to rise to the occasion. We just didn't have the pen in our hand for the final chapter."
Kind is one of two active girls basketball coaches in the state with 600 or more victories (625-269 for his entire career, which also included stops at Cuba City and Kohler).
He said he likely would have retired from coaching if the Cardinals had won the title, but right now is planning to return next season.
Others considered for the coaching honor were Beaver Dam's Tim Chase, Oregon's Adam Wamsley, Lake Mills' Brandon Siska and Flowers.
Chase missed part of the season due to colon cancer but returned to lead the Badger North Conference champion Golden Beavers to the Division 2 state tournament, where they had hoped to win an unprecedented fourth consecutive state championship.
Wamsley guided the Badger South Conference champion Panthers to a Division 2 state berth, their first state tournament appearance since 1980.
Siska led the Capitol North Conference champion L-Cats to their first state appearance. Lake Mills dropped a 62-54 decision to Wrightstown in a Division 3 state semifinal March 12 – one of the four games played before the tournament was canceled.