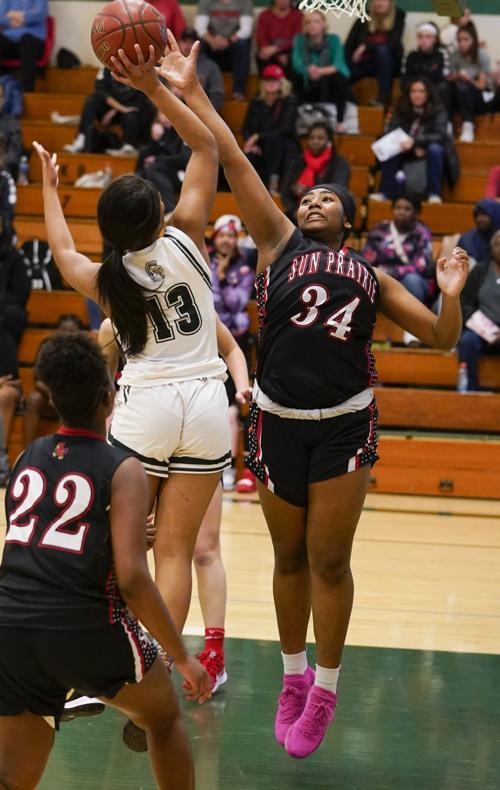 The undefeated Madison Memorial girls basketball team remained in a tie with Bay Port for the No. 1 spot in Division 1 in The Associated Press state rankings, which were released Monday night.
Middleton was fourth-ranked in Division 1.
Hortonville took over the top spot in Division 2. Beaver Dam dropped to second after losing to La Crosse Aquinas. DeForest was third-ranked.
In Division 3, Platteville stayed No. 1.
Lake Mills was third and Marshall sixth.
Aquinas remained No. 1 in Division 4.
Mineral Point earned honorable-mention recognition.
Also, Cuba City was tied for ninth with Crandon.
Black Hawk was first in Division 5.
Also, Fall River was fifth.
The Associated Press state girls basketball poll for the week of Jan, 27, with first-place votes in parentheses, record, total points and last week's ranking, as voted upon by a statewide panel of sports writers and broadcasters:
1 (tie), Bay Port (4)*15-0*76*T1
1 (tie), Madison Memorial (4)*15-0*76*T1
6, Milw. Divine Savior*12-2*38*6
7, Appleton East*14-2*32*7
10, Wales Kettle Moraine*12-3*10*10
Others receiving votes: West Bend West 1.
1, Hortonville (6)*15-1*78*2
2, Beaver Dam (1)*13-3*69*1
4, Milw, Pius XI*11-3*47*5
5, Union Grove (1)*13-1*42*7
8, South Milwaukee*13-2*25*4
9, River Falls*12-2*20*10
10, Green Bay Notre Dame*11-4*15*9
Others receiving votes: Pulaski 7, West De Pere 6, Green Bay Southwest 3, Mosinee 1, New Berlin Eisenhower 1.
1, Platteville (8)*15-0*80*1
7, Prairie du Chien*10-3*25*T9
10, Wittenberg-Birnamwood*12-1*14*8
Others receiving votes: Arcadia 8, Hartland Lake Country Lutheran 6, St. Croix Falls 5, Waupun 5.
1, La Crosse Aquinas (7)*15-1*79*1
2, Racine Lutheran (1)*15-0*68*3
3, Howards Grove*14-0*66*2
4, Melrose-Mindoro*13-1*59*4
9 (tie), Crandon*10-3*13*8
9 (tie), Cuba City*9-3*13*5
Others receiving votes: Mineral Point 9, Crivitz 4, Fond du Lac Winnebago Lutheran 4, Oostburg 2, Brookfield Academy 2.
1, Black Hawk (8)*14-0*80*1
4, River Ridge*15-1*56*T3
7, Oneida Nation*15-0*33*7
8 (tie) Wausau Newman*13-3*20*9
Others receiving votes: Prairie Farm 1, Blair-Taylor 1, Cashton 1.
-- agate, Art Kabelowsky. 
Get in the game with our Prep Sports Newsletter
Sent weekly directly to your inbox!