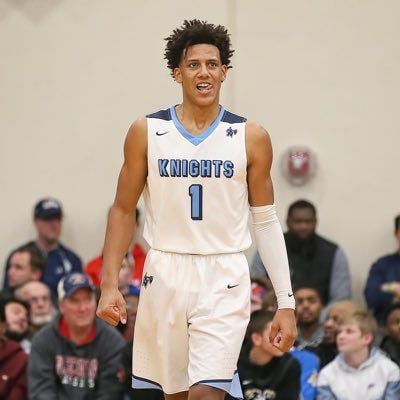 When Glendale Nicolet fans filling 10 to 12 buses travel to Madison for this week's WIAA boys basketball tournament, they will be celebrating the Knights' first trip to state since 1993.
"It's been huge for our school," said Kirk Krychowiak, in his 10th year as Nicolet's athletic director. "It was something we needed. It's pulled our whole school together. It's been fantastic."
For 6-foot-9 junior Jalen Johnson and his younger brother, sophomore Kobe Johnson, it will be a return state appearance at the Kohl Center.
Only this time, the Johnson brothers are wearing different uniforms and representing a different school.
Jalen and Kobe Johnson were part of the Sun Prairie program last year. Jalen, as a sophomore, helped lead Sun Prairie to its first state appearance, which resulted in a last-second overtime loss to Brookfield East in the WIAA Division 1 state semifinals.
But Jalen — the state's top-ranked junior who's listed as ESPN.com's No. 3 college prospect in the 2020 class — and Kobe Johnson then transferred to Nicolet last summer.
That sparked controversy in the state about player movement in prep boys basketball, concern about the influence of AAU programs and the formation of so-called "super teams," and debate about what the WIAA should do about it.
Nicolet — led by Jalen Johnson and 6-9 junior forward Jamari Sibley, another heavily recruited player — has put together a memorable season that's seen the Knights (25-1) advance to the WIAA Division 2 state semifinals while consistently ranked No. 1 in Division 2 and currently holding the No. 7 spot in USA Today's Top 25 national poll.
"I've been loving Nicolet," Jalen Johnson said prior to the Knights' practice Tuesday at the Milwaukee School of Engineering's Kern Center. "It's one of the best decisions I've made."
One of the most enjoyable, too, he said.
"My family enjoys it, as well, being able to see me and my brother on the same team since third or fourth grade," he said.
Great expectations
Nicolet was expected to reach state.
But in a delicious turn of events, Sun Prairie — which wasn't projected by outsiders to make a return state trip after the departures of the Johnsons and a strong senior class led by Marlin Ruffin — is back in the Division 1 semifinals. Sun Prairie plays West Allis Central on Friday night.
"I'm happy for them. No hard feelings whatsoever," Jalen Johnson said. "I'm glad they made it to state. Hopefully, they do better than they did last year. They have a good coach (Jeff Boos) and good players, so they are more than deserving of it."
Top-seeded Nicolet enters a Division 2 state semifinal against fourth-seeded Elkhorn at 1:35 p.m. Friday with a golden goal.
"This is my third year here (at Nicolet) and (making state) has been our goal from Day One," Nicolet coach Allan Hanson said. "We've set the standard here to make it to state and we want to be the best. That goes back to my first year I was here, to last year making it to a game away from Madison. And finally to make it to Madison is definitely a step in the right direction, but is not the ultimate goal."
That ultimate goal has remained Johnson's focus amid intense interest and a bevy of scholarship offers from the nation's top collegiate programs, including Duke, Kentucky, Marquette and the University of Wisconsin.
"I'm not dealing with any of it right now," Johnson said. "Maybe a few texts here or there. I told them, `Just wait until the end of the season because I have one goal in mind and that is to win a state championship.' So, that's what I want to be my main focus right now."
Center of attention
Nicolet has been in the spotlight this season.
There was the arrival of the Johnsons; the WIAA's denial of a proposed transfer by former New Berlin West player Desmond Polk (who instead went to La Lumiere Prep in Indiana); the Knights' excellent team play this season; and a controversy that arose during a regular-season game when Port Washington students taunted Jalen Johnson with pictures that appeared to show he was wearing blackface (he wasn't; Port Washington apologized for those actions, which Johnson had termed "unacceptable." )
The Knights — with Jalen Johnson and Sibley each averaging almost 20 points per game and Kobe Johnson averaging almost 10 — have dealt with the high expectations.
You have free articles remaining.
"We have a lot of pressure to win the state title," Johnson said. "But getting to state is huge for our program and school."
"The experience has been really great, playing with guys you love, getting better every day and pushing each other," said Sibley, the second-ranked junior in the state. "We all have the same goal in mind. That is winning state."
With great expectations come attention and scrutiny.
"We still have got people who want to see us fail," Sibley said. "We use that as motivation. A lot of people want to see us fail. Some people want to see us win, too."
Senior guard Sonny Phinisee said Nicolet has had a target on its back, but he's relished the experience.
"I am trying to make the most out of it – playing with a talented group like we are," Phinisee said. "The group of guys we have has been amazing."
Hanson said the transition has been seamless because of a group of selfless players.
"I wasn't sure the way it would come out, especially adding a guy of Jalen's caliber and his brother Kobe," said Hanson, who played at Wauwatosa East and UW-Milwaukee. "(Kobe) had varsity experience, but not much playing experience. … You are just not sure what to expect. For them to come in and really fit into our community and fit into our culture and fit into our team, that says a lot about their upbringing."
Dealing with departures
When the Johnsons left the Sun Prairie program, the Cardinals faced a rebuilding situation.
Boos remained optimistic at season's start despite the departures and several injuries to key players, believing his team would progress through the course of the season. Senior Brock Voigt said the Cardinals' goals didn't change — that they were striving to get back to the Kohl Center.
Those remarks might have raised skepticism, but no one doubted Sun Prairie's motivation. Junior guard Colin Schaefer said prior to the season that Jalen Johnson's transfer caused some anger and resulted in a healthy chip on the players' shoulders.
"It gives other players a chance to show what they've got and to get in the mix," Schaefer said then. "Obviously, he's a good player. But we still can compete. We are a really deep team and we've shown that in years past."
The late-season return of Schaefer from injury, resiliency and belief in the coaching staff's plan boosted the Cardinals in their postseason run as a fourth seed. They wound up with a return trip to the Kohl Center and much praise for Boos on Twitter.
"Buy-in is a big piece of it," Boos said this week.
The final countdown
The Division 2 field is loaded at this year's state tournament. Second-seeded Milwaukee Washington, which fell to Kaukauna in last year's title game and is led by senior forward Deontay Long and sophomore forward Michael Foster Jr., meets third-seeded La Crosse Central, led by brothers Johnny and Jordan Davis, in Friday afternoon's second semifinal.
"It's been strong in past years, but it's about as strong as it's ever been this year," La Crosse Central coach Todd Fergot said.
Elkhorn coach Josh Skatrud said his team is "kind of the misfit" in the field.
"We don't have a Jalen Johnson, or the Davis brothers or a Foster like Washington has," Skatrud said, adding: "They are really good. I don't think it is a secret how talented they are. … It's going to be a challenge for us."
"Elkhorn is a really good team, tough, hard-nosed," Hanson said. "They are a physical group, and most important, they are unselfish."
Hanson said Nicolet has faced every defense imaginable as teams tried to contain Sibley and Jalen Johnson, who has played all five positions while effectively scoring (19.9 points per game), rebounding (11.4 per game) and handing out assists (6.2 per game).
"He's certainly a lot more confident in his skills," Hanson said of Johnson. "He knows I am a coach who lets players make plays and just go out and compete and show the versatility that he has. That is something Jalen has been able to showcase this year."
Johnson and Nicolet hope to showcase their skills for two more games.
"I think the teams that have qualified are really good teams," Johnson said. "They have good coaches. We have to bring it even more because this will be the biggest crowd we have had all year. So, it's going to be an adjustment. I'm going to try prepping these guys on what it's like in there with the crowd, because I was there last year. Hopefully, we get the job done this time."