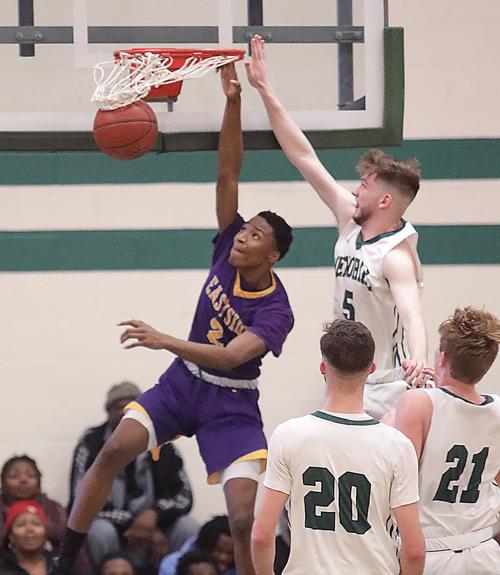 Area preseason rankings
1, Madison East; 2, Sun Prairie; 3, Stoughton; 4, Madison La Follette; 5, Waunakee; 6, Madison Memorial; 6, Middleton; 7, Lake Mills; 8, Reedsburg; 9, New Glarus; 10, Monroe; 11, Edgerton; 12, Deerfield.
Players to watch
Dayne Armwald, 6-4, sr., G, Madison West: A third-team All-Big Eight Conference pick last year, Armwald brings leadership, experience and strong basketball IQ to the Regents. One of three returning starters in a West lineup that is shooting for a move up the Big Eight standings.
De'Shawn Barsness, 6-1, jr., G, Wisconsin Heights: A sharpshooting guard who averaged 13.5 points and 5.5 rebounds and made the All-Capitol South Conference first team last year. Will be the go-to player, as the Vanguards' only returning starter.
Will Fuhrmann, 6-0, sr., G, Reedsburg: Averaged 16.8 points and 6.3 rebounds per game for the Beavers, earning unanimous first-team All-Badger North honors (the only non-senior to make the first team). Brings experience, shooting and quickness to a deep and experienced lineup.
Delaware Hale, 6-6, sr., F, Sun Prairie: An athletic, physical big man who was a force on the baseline for the Cardinals' state runner-up team, averaging 12.2 points and 3.8 rebounds. Further refinement and consistency could make him one of the state's top forwards.
Adam Hobson, 6-4, sr., G, Stoughton: Averaged 16.8 points and 6.3 rebounds as the Vikings went 10-4 in Badger South Conference play last season, and is expected to provide more punch. Was the only junior named to the all-conference first team.
Clayton Jenny, 6-0, jr., G, Edgerton: Averaged 11 points and four rebounds as the Crimson Tide went 16-9 last season. A strong perimeter scorer and play creator. Earned first-team All-Rock Valley Conference honors.
Keonte Jones, 6-3, sr., G, Madison East: Joins athletic veteran Anthony Washington to form one of the state's most imposing backcourt pairs. Strong defender and rebounder who is developing his offense and savvy. A third-team All-Big Eight pick last year. "(He's) prepared to have a breakout senior season," coach Matt Miota said.
Ben Probst, 6-1, sr., G, Madison La Follette: A smart leader and strong, talented athlete who averaged 15 points and 3.8 rebounds and earned second-team All-Big Eight honors for the Lancers. La Follette returns four starters and hopes to challenge for the conference title. Had a strong season at quarterback for the Lancers in the fall.
Colin Schaefer, 6-1, sr., G, Sun Prairie: A quick and creative playmaking guard for the Cardinals and the team's top returning scorer after averaging 11.3 points and 3.0 rebounds. Joins Hale as a returning starter for the two-time state tournament-qualifying program.
Isaiah Stewart, 6-0, sr., G, Madison La Follette: Averaged 10 points and 3.6 rebounds for the Lancers, adding 2.0 assists and 1.8 steals. Versatile, defensive-minded player who's expected to step up his contributions as part of a strong backcourt.
You have free articles remaining.
Erik Victorson, 6-0, jr., G, Oregon: Averaged 10.7 points and 3.0 rebounds last year, earning second-team All-Badger South honors. A strong defensive player and one of two returning starters and six returning letterwinners for the Panthers.
Anthony Washington, 6-3, sr., G, Madison East: Averaged 16.9 points, 5.0 rebounds, 1.9 assists and 1.6 steals and shot 65 percent from the field as the Purgolders went 22-2 and won the Big Eight. Named first-team WBCA Division 1 All-State, fourth-team AP All-State, first-team All-Big Eight, first team All-Area and the Big Eight Defensive Player of the Year. Fourth year as varsity contributor and third year as starter. Lanky, athletic, creative on both offense and defense. Has drawn interest from some state and region Division I and II programs.
Kyle Yu, 6-4, jr., F, Madison Memorial: One of two returning starters from last year's 17-7 team. A strong shooter who worked the baseline to deliver 9.0 points and 5.0 rebounds per game.



A survey of Big Eight coaches lists Madison East as the favorite to repeat as Big Eight Conference champion and its neighbor to the southeast, Madison La Follette, is picked for second. "It's fun," East coach Matt Miota said. "It's great to see both programs doing so well the last couple years." But what about Sun Prairie, last year's WIAA Division I state runner-up and a two-time state semifinalist? The Cardinals are picked for third. Madison Memorial, Middleton and West also could make a run. Needless to say, there will be big games from week to week during the 18-game Big Eight season.


The list of area coaching changes includes Todd Jahns, who moves to Lakeside Lutheran after 20 seasons and 270 wins at Jackson Kettle Moraine Lutheran. Other newbies: Tyler Fish at Baraboo; Michael Thies at Madison Abundant Life/St. Ambrose, Brian Lutz at Madison Country Day, Darrin Berger at Portage, Eddie Singleton at Verona and Trevor Deppe at Waterloo.


In June, the WIAA Board of Control voted to increase the maximum number of varsity games during the regular season from 22 to 24. The change will make it easier for teams in conferences such as the 10-member Big Eight (which requires each team to play 18 conference games) to find quality non-conference opponents and make trips to holiday and out-of-state tournaments.


Madison East and Madison Memorial are the only area schools with major travel plans for tournaments. East will visit Milton (Georgia) High School to take on the Eagles on Dec. 6, and will travel to Buford (Georgia), about 40 miles northeast of Atlanta, to meet Lilburn's Berkmar High School on Dec. 7. East also will meet perennial power Minneapolis South at the La Crosse Center on Jan. 18, and Chicago Heights Marian Catholic on Feb. 8 at Racine Prairie. Memorial will travel to Windemere, Florida, over the holiday break to compete in the Rock Holiday Classic from Dec. 27 to 30. Other teams scheduled to meet out-of-state opponents are Sun Prairie, Beaver Dam, DeForest and Beloit Memorial.


Fiserv Forum visitors: Three area games will be played on the Milwaukee Bucks' home court, the Fiserv Forum: Richland Center vs. Baraboo on Nov. 30; Waunakee vs. Oconomowoc on Dec. 11; and Beaver Dam vs. Menasha on Dec. 14.