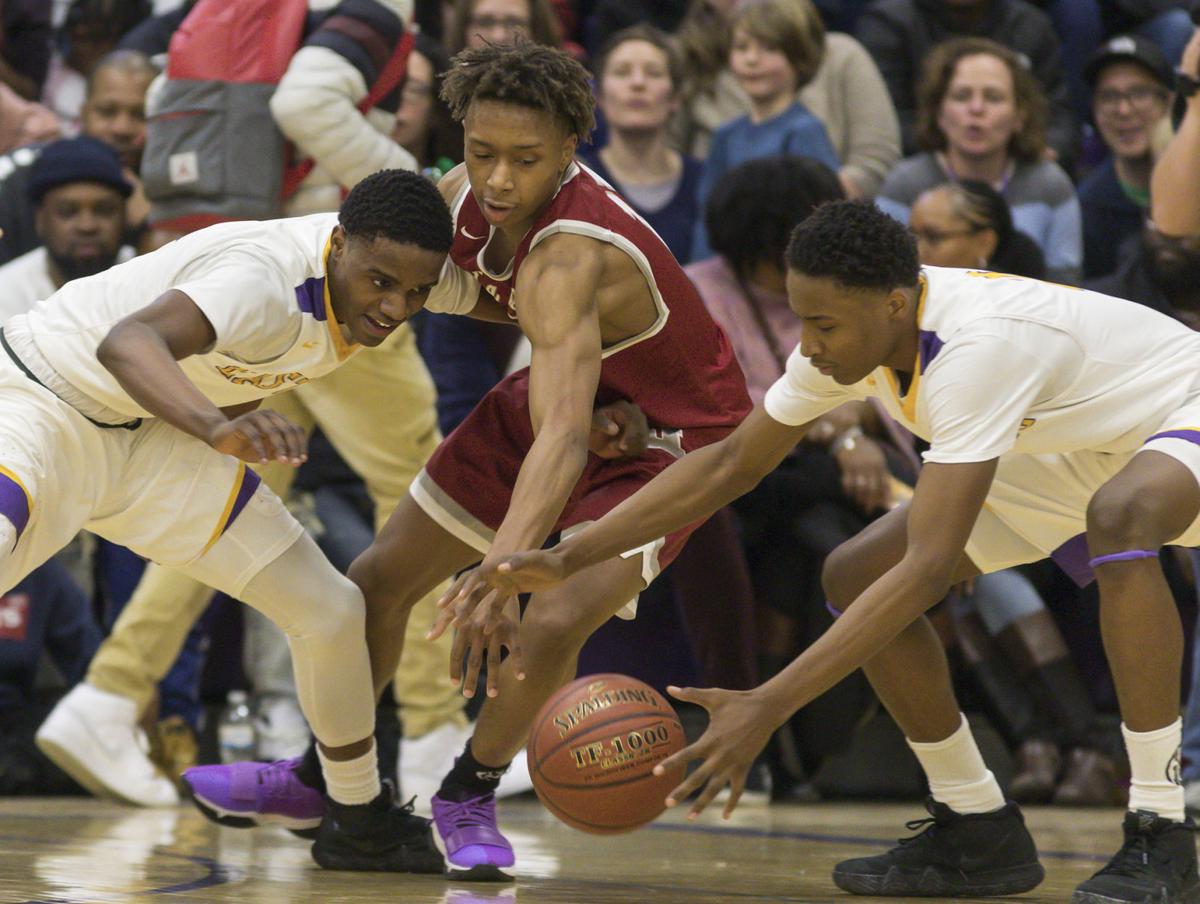 One isn't much for the off-the-court spotlight.
The other, as Madison East boys basketball coach Matt Miota put it, "will take over a room once he enters it."
Put them on the basketball court, though, and the synergy flows. The Purgolders' somewhat shy Anthony Washington and the outgoing Keonte Jones create one of the state's strongest, most complete senior guard combinations.
There's no surprise this year. With four returning starters and two other letterwinners, East enters the year listed as high as No. 2 in Division 1 preseason rankings. The Purgolders are favored by Big Eight Conference coaches to earn a repeat title after winning the school's first outright title in 25 years last season.
Last year's East team climbed the ladder to finish the regular season ranked No. 1 in The Associated Press' state poll.
"I don't think anyone had us on the radar to begin the season," Miota said. "As it progressed, we had some accolades, some media attention. We kind of bought into it."
And that proved disastrous — the Purgolders were knocked out of the postseason by Racine Horlick in a regional final. They had to watch on TV as Sun Prairie represented the Big Eight in the state tournament, taking home the runner-up trophy.
"I was mad. I got into foul trouble," Washington said of the Horlick game. "Three in the first half, the fourth early in the second."
Said Miota: "We relaxed a little bit. You could see that in practice near the end of the season."
It has been East's offseason goal to make sure that situation doesn't happen again. With the season about to begin, Miota thinks the lesson has sunk in.
"The locker room after that game kind of spoke for itself. When it became real, they got it," Miota said.
But with only one senior starter lost to graduation, Miota had another message: "I told them a lot of guys never get a second opportunity, but you guys have one."
Said Washington: "Now that the season is here, I'm thinking about it. Last season should have had a few more games."
You have free articles remaining.
Added Jones: "We know not to sleep on any other teams and not take any games for granted. And, like we do on the East side, preach defense."
The 6-foot-3 Washington averaged 17 points and five rebounds, and the 6-4 Jones averaged 10 points and three rebounds last year.
"Me and Ant (Washington) have been playing together for years, since we were young," Jones said. "It's fun playing somebody that you can communicate with, without even knowing that you're communicating. It's fun having that guy you know you can pass to, or who's got you (on the) help side."
"I've played with Keonte since fifth grade," Washington said. "David (McKinley), Mac (Micheal McIntosh), too. Everybody here, I played with since back in the day."
On offense, the coach said "Anthony loves to come off ball screens. He's got a nice little step-back shot, but he's a passer as well. And he can attack, left or right."
Miota said Jones "likes to attack. He likes some space on the floor, and he has really worked on his ball handling. It's been fun to watch that improve. And he's grown 1, maybe 2 inches from last year. He's ridiculously long."
Miota promoted Washington to the varsity during his freshman year — when he "weighed maybe 130 pounds," the coach said — and he is now a lanky and tough third-year starter.
"Freshman year, I was just playing my role. Sophomore year, still playing my role but starting to score the ball," Washington said. "Junior year, it all changed. I had the ball in my hands a little and I was doing something with it."
Said Miota: "Each year as he has progressed, he has taken on a bigger role. He's a humble kid. He does not want the spotlight. But he's a senior, he's a leader, and he knows we've got to put some more workload on his back."
"They take a lot of pride in their man-to-man defense. We work on it every day in practice, and we're serious about it," Miota said.
"It's been fun to see, in the preseason, Ant and Keonte playing each other, pushing each other a little bit," Miota said. "If anything, we sometimes have to put the brakes on that, because all these kids know each other so well."
Jones also joined the varsity as a sophomore, and after his growth spurt and a busy summer of AAU play, "his confidence offensively is through the roof."
The two have told Miota they want to play in college, and the coach expects both to post fully qualified ACT numbers when they take the test this year. Washington has gotten most of the interest to this point, from schools such as UW-Milwaukee, Colorado State and Wright State, and Miota said Jones "has gotten a few nibbles so far" but expects interest in both to soar as the season unfolds.
Because as the Purgolders learned the hard way last year, finishing the regular season at No. 1 isn't the ultimate goal. A Saturday night in the Kohl Center is what every team aims for.
"To get there," Jones said, "we have to make sure everyone's on the same page, all the way through."