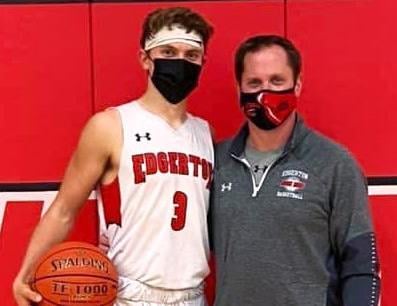 The Edgerton basketball programs have been on a roll this season. And right at the center of it all has been the Jenny family.
Chris Jenny, in his first year as the coach for the girls program after four years as an assistant with the boys team, led the Crimson Tide to a 17-5 season after the program produced only four wins last season and went 0-18 in the Rock Valley Conference two years ago. The Edgerton girls saw their season end Saturday with a 36-32 loss to state-ranked Jefferson in a WIAA Division 2 regional final.
The Edgerton boys are still chugging along at full steam. Coach Daryl Fox's team is 20-4 and ranked 12th in the state heading into WIAA regional play, which begins for some teams on Tuesday.
The catalyst for that big season has been senior guard Clayton Jenny, who ranks ninth in the state with a 26.7-point scoring average. He has scored 25 or more points in 16 of the 24 games, with 30 or more points eight times.
Jenny and the boys team are coming off of three WIAA regional championships, and stand two victories away from a fourth — though fifth-ranked Monroe awaits as a potential opponent in a Saturday regional final.
Clayton, who has committed to play at UW-Platteville, has had a ball in his hand since his days in kindergarten.
"We eat, sleep and breathe basketball," said Sara Jenny, Chris' wife and Clayton's mother. Sara Jenny has spent many of her evenings figuring out how and where to live-stream video of the games — the new reality of high school basketball.
Chris Jenny's goal was to bring a winning culture of hard work to the girls program, and the results haven't taken long to show up.
"It's exactly what he did with the boys team," Clayton Jenny said. "They just built in the culture of playing defense and shooting the ball. A lot of the work that goes in (during) the offseason ... is just the mentality of things. And that's the mentality that they established, that kind of killer mindset of playing defense and shooting.
"Obviously, getting a little skill and talent helps, but if you have the right mindset and right work habits, that's what they helped instill in us. That's exactly what he's doing with the girls program now. That's why they're having success that the boys programs have had for a couple of years."
Fox, whose daughter, Sylvia, is a key member of the girls team, had Jenny as an assistant since taking over five years ago.
"He's got more flair, though, I'll give him that," Fox joked while praising Jenny. "(Jenny) has a passion for hard work and he's gotten the girls to buy in."
When your father is a coach, hard work is bred into the mix. And that is exactly the case for Clayton Jenny.
"All he cares about is winning," said Chris, who has played the role of father and coach for Clayton. "It's really that simple."
"During the summer I asked him to write down his goals and all that he put down was 'whatever it takes to go 26-0.' He's a coach's dream as a point guard. He'll do whatever you need to do to win."
Fox offers much of the same praise, calling the senior guard "relentless" and referring to an early game against Janesville Parker in which Edgerton wiped out a 14-point deficit in the final 11 minutes, in large part because Jenny refused to lose.
"He's been a starter from the jump and leadership just comes natural to him," Fox said. "A 100 percent, he's the leader. He leads in every facet and is an extension of me on the court."
The success has come during a unique season with the ever-shifting COVID-19 restrictions, but the community has supported the programs in ways to match the unprecedented season.
"When I scored 1,000 (career) points the other game, there were a ton of people in the parking lot who celebrated with us after," Clayton recalled. "It's just the little things that our community does to support us, even when they can't be at the game."