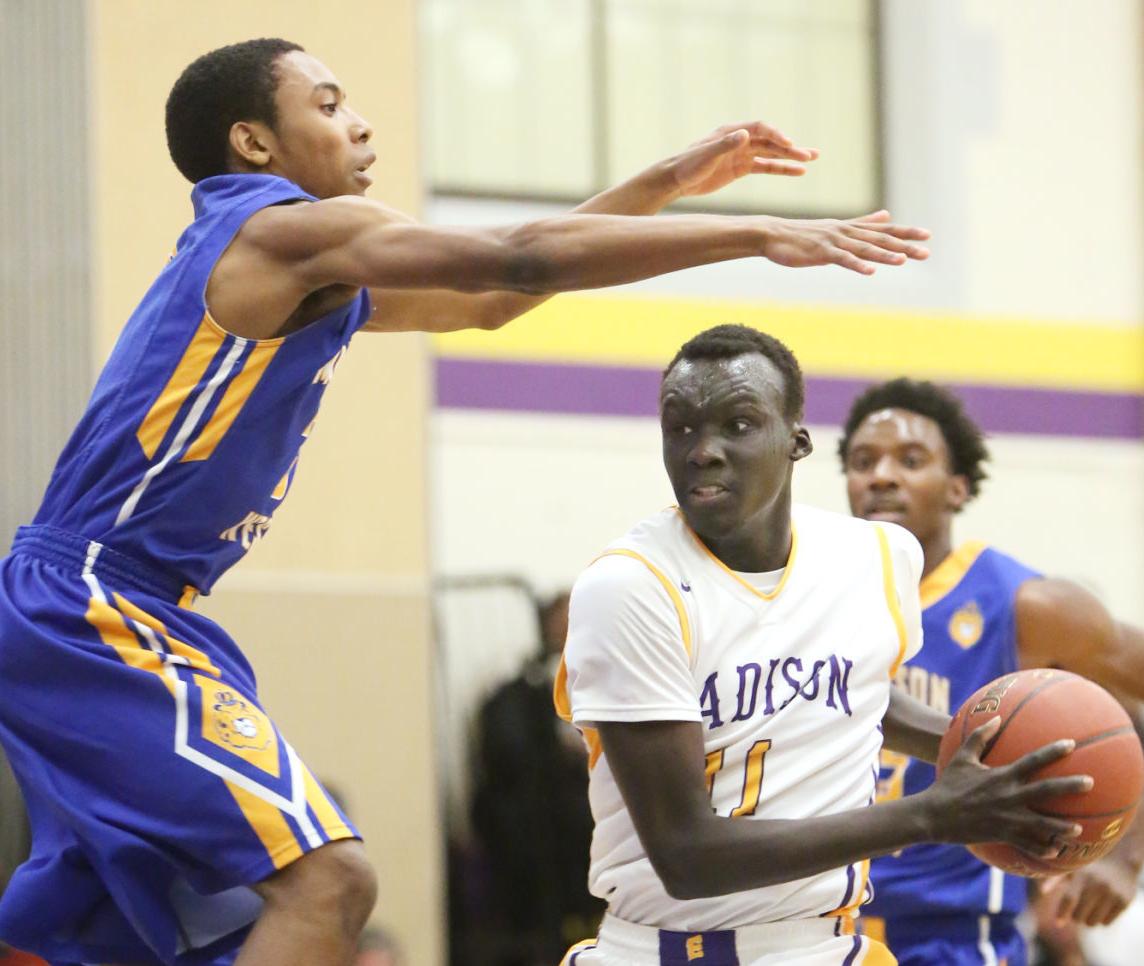 Former Madison East athlete Deang Deang has committed to Eastern Illinois University as a transfer for men's basketball.
Eastern Illinois announced that it has added its second player of the spring signing period, signing junior college guard Deang to next year's roster.
The 6-foot-4, 185-pound Deang played at Highland Community College in Illinois.
As a freshman in 2016-17, he played for current Eastern Illinois assistant coach Tone Boyle averaging 16.5 points, five rebounds and 5.4 assists per game earning first-team all-region honors, according to an Eastern Illinois release.
During his freshman season, he had nine 20-point scoring games, with five double-figure assist games and one double-figure rebounding game.
Deang missed the 2017-18 season with a leg injury, before returning this past season to play for coach Chad Boudreau.
Deang averaged 13.3 points, five rebounds and five assists per game as he earned first team all-region honors. He finished the year with five 20-point games, including a season-high game of 29. He added two double-figure rebounding games and one double-figure assist game.
As a senior, Deang was the Wisconsin State Journal/WisconsinPrepZone All-Area boys basketball player of the year for the 2015-16 season and a first-team all-state selection. He averaged 19.1 points and 3.1 assists during his senior campaign.
Deang put together an impressive season as a senior that saw the guard recognized as the Big Eight Conference player of the year, a first-team selection in Division 1 on the Wisconsin Basketball Coaches Association all-state team and a second-team choice on The Associated Press all-state team, which includes all divisions.
You have free articles remaining.
Deang joined George Dixon and Jordan Skipper-Brown as members of the Panthers' 2019-20 recruiting class. Dixon signed earlier this week after helping Vincennes University win this year's NJCAA national championship. Skipper-Brown signed during the November signing period and averaged 11.1 points and 4.8 rebounds per game at McLennan Community College in Texas.
Marshall's Jason McConnell says he's stepping down 
Marshall boys basketball coach Jason McConnell announced on Twitter that he is stepping down as the Cardinals' coach.
He was with the program for 16 seasons, including 12 as head coach.
He didn't disclose his plans, but indicated other coaching and educational opportunities have presented themselves in recent months.
McConnell teaches in Waunakee.
Marshall girls basketball coach Alex Koeller also stepped down this week.
McConnell tweeted: "It has certainly been quite a journey. For the past 16 years, I have been a coach for the Marshall boys basketball program, serving as a head coach for the past 12 years. During that time, I was so very fortunate to have been blessed with so many talented players who contributed to our success year after year. That journey has provided me with many wonderful memories, connections, and relationships with players, families, and fellow coaches which will last a lifetime. Over the past few months, several opportunities have been presented to me in the coaching and educational worlds. After careful consideration and discussions over the past few weeks, the timing of these prospects provide an exciting opportunity to advance professionally in both coaching and education.
"As a result, I am stepping away from my time at Marshall. I want to thank all the fans, parents, and staff for all your support during the past 16 years. I will always be indebted to my fantastic coaching staff and AD who were the best anyone could ask for. Finally, thank you to all the players who have come through our program. I have built lifelong friendships with so many of you and will cherish the relationships forever.
"Marshall will always have a special place in my heart."