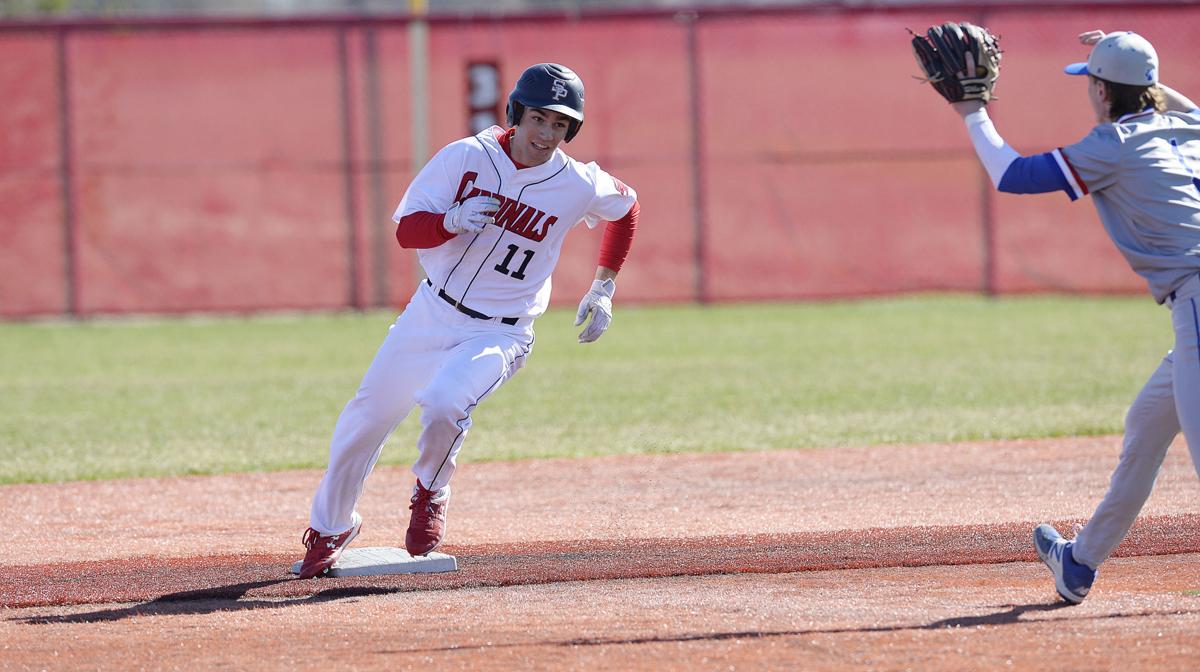 A three-run walk-off homer resulted in a loss in the Sun Prairie baseball team's first game at Waunakee. That was followed by a loss to Madison Memorial in the Big Eight Conference opener.
Sun Prairie fell three times in the first five games and was a .500 ballclub after 10 games.
"We were really young," said junior Matt DePrey, who plays catcher and pitcher. "We just needed to find our groove. We have a lot of young talent. … So, we just needed to mature as a team and get it done, and we did."
The Cardinals indeed found their groove as the season progressed, winning eight consecutive games during one stretch in midseason and their past six games at crunch time.
"The coaches tried to push us every day," said junior Noah Wendler, who can play multiple positions, including pitcher. "We needed to get more energy from the start, and that's what started it all."
That has led Sun Prairie (22-7) to Fox Cities Stadium in Grand Chute, where the Big Eight Conference runner-up Cardinals are one of eight WIAA Division 1 teams remaining in the hunt for a state championship.
Sun Prairie, which leads all divisions with eight state titles, will make its 15th state tournament appearance.
The Cardinals open against 10th-ranked Oak Creek (21-6) in a Division 1 quarterfinal at about 10:30 a.m. today.
Sun Prairie earned a 2-0 non-conference regular-season victory over Oak Creek, which won four state titles as a summer baseball team prior to qualifying for its first spring state tournament this year.
The Cardinals advanced to state behind the pitching of right-hander Wendler, who allowed five hits in six innings during a 7-0 victory over Madison West in the sectional semifinal June 4 in Middleton, and DePrey, who tossed a three-hit shutout in a 10-0 six-inning victory over Verona in the sectional final.
You have free articles remaining.
Afterward, Verona coach Brad D'Orazio said he believed Sun Prairie was a team that could do damage at state.
"The pitching they have is all pretty solid," D'Orazio said. "They fill up the zone. I think they are one of the best hitting teams we've seen. … They aren't cheap hits either. They can swing it. I think they will do well there."
Sun Prairie coach Rob Hamilton said he wasn't sure during the first weeks of the season that the Cardinals would be in this position now.
"You hope you can right the ship," Hamilton said. "You know it's a long season. We talked about that in the huddle (after the sectional title victory) — the speed bumps we had along the way. We had a lot of young kids starting for us and so we had a few speed bumps. But these kids are extremely coachable and extremely hard workers, and, man, they have a passion to play this game. And when you have that, you are in a pretty good spot."
Hamilton, asked if that made this season's journey gratifying for the coaching staff, said: "It's really gratifying for (the players) — it's really not about us — to get this experience and to be able to win these tight games and enjoy these memories. Now we have another, hopefully, three games to play."
The Cardinals' lineup includes Big Eight all-conference first-team selections in junior outfielder Spencer Bartel, sophomore second baseman Carson Shepard, senior shortstop Robbie Knorr and sophomore designated hitter Josh Caron and second-team picks Wendler (as a pitcher) and sophomore designated hitter Liam Moreno.
Wendler and DePrey don't have overpowering stuff and must rely on throwing strikes and getting ahead in the count, Hamilton said.
"They don't throw it 87 mph," Hamilton said. "Neither one of them do. So, they really have to stay down and get ahead, and then get ahead and make people chase a little bit. And they've been really good at that. They were really good at that (at the sectional)."
Said DePrey: "We are not going to overpower anyone with our fastball, so we have to hit corners and make people work during their at-bats."
Those two victories at the sectional sent the Cardinals back to state, where they last appeared in 2017, finishing as Division 1 runner-up to Kimberly.
"The big one is to try to get (to state)," Hamilton said. "We weren't able to win the conference, but we still had two more goals set. That was to get to state and to win state. One of them is still out there. We were able to get the other one (by winning the sectional title)."