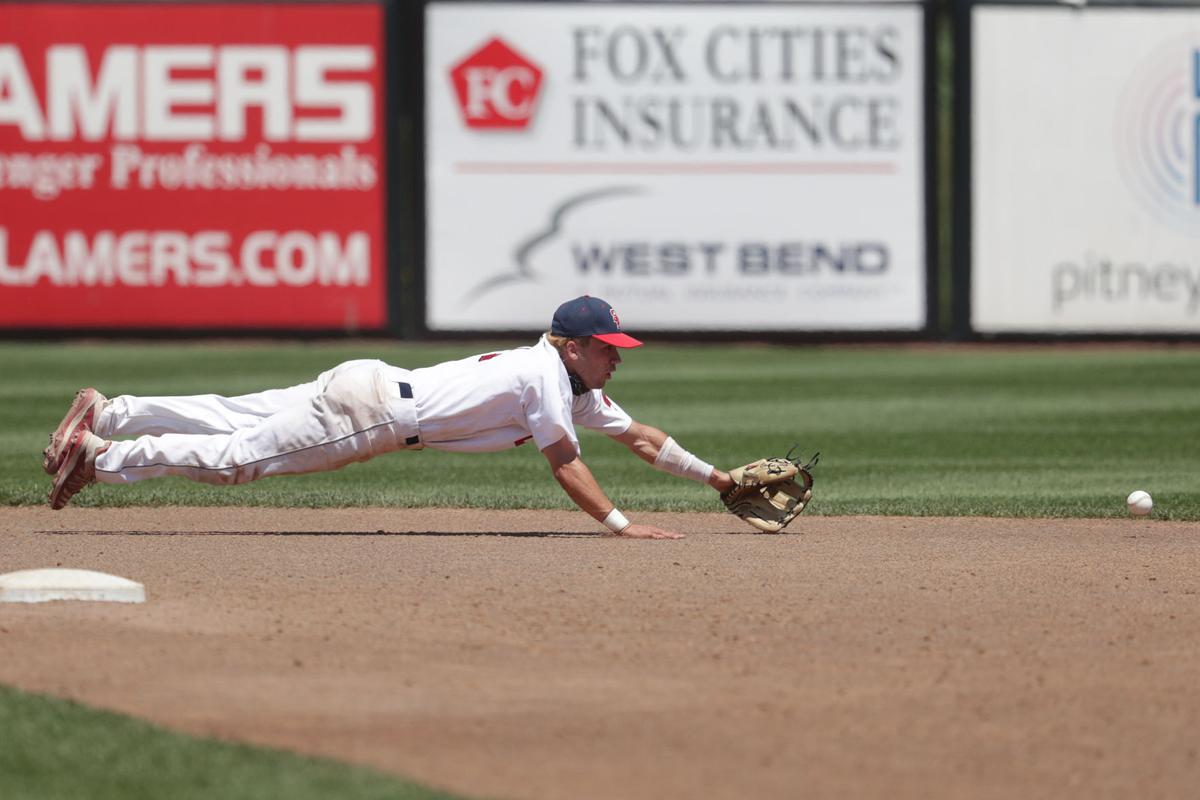 Three players from the Division 1 state champion Sun Prairie baseball team are among several area class of 2021 standouts chosen to play for the South team in the Wisconsin Baseball Coaches All-Star Classic.
The four-team, six-game, round-robin tournament will include two games on Friday, July 9 and four more on Saturday, July 10, all at E.J. Schneider Field in Oshkosh.
Participants must be nominated by their coaches, who must be WBCA members, and must accept the invitation.
Stoughton's Jeremy Dunnihoo will coach the South team, along with Bangor's Todd Grant and Belmont's Trevor Kattre.
Representing Sun Prairie will be pitcher Brady Stevens, catcher Josh Caron and infielder Carson Shepard.
Other Big Eight Conference players on the South roster include pitcher Jacob Kisting of Verona,
Representing the Badger North Conference will be pitcher Keagon Kaufmann and infielder Mason Kirchberg of DeForest, catcher Charlie Bogue and infielder Jonas Kittoe of Mount Horeb and infielder Payton Steiner of Baraboo.
The Badger South Conference will be represented by pitcher Evan Jackson of Milton, and the Capitol South's representatives will be Columbus outfielder Trace Kirchberg and Lake Mills outfielder Sam Giombetti. Also selected as an outfielder was Deerfield's Clayton Mathwig.
---
WISCONSIN BASEBALL COACHES ASSOCIATION
Friday-Saturday, July 9-10
E.J. Schneider Field, Oshkosh
Friday, July 9: North vs. South, 4 p.m.; East vs. West, 6:30 p.m.
Saturday, July 10: East vs. South, 10 a.m.; North vs. West, 12:30 p.m.; South vs. West, 2:30 p.m.; East vs. North, 4:30 p.m.
---
Pitchers: Bow Hartwig, Johnson Creek; Evan Jackson, Milton; Keagon Kaufmann, DeForest; Jacob Kisting, Verona; Brady Stevens, Sun Prairie; Liam Stumpf, Mineral Point.
Catchers/Outfielders: Josh Caron, Sun Prairie; Charlie Bogue, Mount Horeb; Anthony Vivian, Dodgeville.
Infielders: Carson Shepard, Sun Prairie; Bryce Leedle, Markesan; Mason Kirchberg, DeForest; Jonas Kittoe, Mount Horeb; Payton Steiner, Baraboo; Clayton Slack, Viroqua.
Outfielders: Trace Kirchberg, Columbus; Sam Giombetti, Lake Mills; Clayton Mathwig, Deerfield.
Coaches: Jeremy Dunnihoo, Stoughton; Todd Grant, Bangor; Trevor Kattre, Belmont.
---
Pitchers: Cole Fialco, Menomonee Falls; Jacob Hartlaub, Greendale Martin Luther; Alex Hayes, Muskego; Tommy Meyer, Wauwatosa East; Tyler Peck, Oak Creek; Mason Ruh, Wisconsin Lutheran.
Catchers: Joe Ricchio, Kenosha Tremper; Anthony Tomczak, Muskego.
Infielders: Bobby Ball, Brookfield Central; Ryan Kendziorski, Hales Corners Whitnall; Ethan Sawyer, Germantown; Sawyer Smith, Somers Shoreland Lutheran; Gavin Theis, Hartland Lake Country Lutheran; Gabe Zelenski, Milwaukee Pius XI.
Outfielders: Leo Faletti, Wilmot; Anthony Gross, Waukesha Catholic Memorial; Luke Wroblewski, Sussex Hamilton.
Utility: Nick Nowak, Waukesha South.
Coaches: Jeff Bigler, Brookfield Central; Tim Gotzler, Menomonee Falls; Tim Mielke, Somers Shoreland Lutheran.
---
Pitchers: Connor Brinkman, New London; Carl Cano, Bay Port; Isaac Cychosz, Rosholt; Tommy Ellisen, Kimberly; Thomas Hunt, Almond-Bancroft; Kyle Springstroh, Kaukauna.
Catchers: Noah Berndt, Winneconne; Kaden Kosobucki, West De Pere.
Infielders: Will Matheis, Laconia; Cal McGinnis, Kimberly; Brennan Miller, Denmark; River Reifsnider, Fond du Lac; Carter Stebane, Brillion; Patrick Ward, Elkhart Lake-Glenbeulah.
Outfielders: Josh Blount, West De Pere; Mason Dorn, Seymour; Bennett Spaeth, De Pere; Wilson Zuck, Appleton North.
Coaches: Brett Brooks, Wild Rose; Jack Brooks, Rosholt; Shawn Rotzenberg, Wrightstown.
---
Pitchers: Spike Alexander, Medford; Owen Anderson, Hudson; Dylan Lapic, La Crosse Central; Jared Lessman, St. Croix Falls; Walker Retz, Boyceville; Kenny Schultz, Stevens Point.
Catchers: Trett Joles, Boyceville; Brigs Richartz, Menomonie.
Infielders: Jackson Bonneville, Ashland; Jared Everson, Aquinas; Matt Heinrich, Wausau East; Owen Latendresse, Schofield D.C. Everest; Evan Long, Tomah; Brock Warren, Marathon.
Outfielders: Tanner Marsh, Mondovi; Ethan Rothbauer, Bloomer; Brett Stuessel, Sparta; Nick Urban, Marshfield.