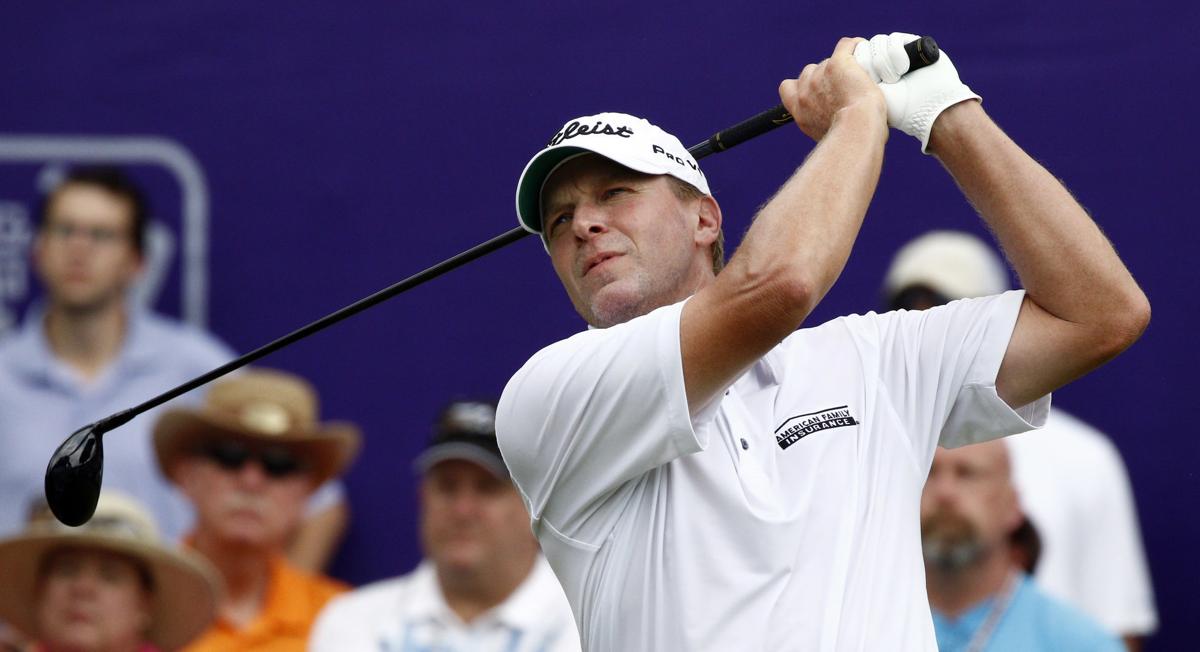 Steve Stricker made it almost three minutes into the program announcing the amount raised for charities by the initial American Family Insurance Championship golf tournament before choking up.
Helping raise nearly $1.1 million for local charities can do that to a guy.
The tournament, which made its debut in June at University Ridge, raised total charitable proceeds of $1,089,500, tournament and PGA Tour officials announced Monday. That's among the highest ever for a first-time PGA Tour Champions event.
"To raise this money, to have that kind of impact in the community is really fulfilling, as a person," Stricker said. "It's like Christmas.
"We're handing out checks today and to see the people's faces light up and the excitement in their eyes and to know how much it means to them is very rewarding to us. I feel very lucky to be able to do it."
The biggest check, $589,500, will go to the American Family Children's Hospital, with the remaining $500,000 to be distributed to 33 other charities.
That total more than doubled the goal established for the tournament when it was conceived last year. And even that target was thought to be ambitious by PGA Tour officials.
"When we first told them we had a $500,000 goal they kind of laughed at us," said Jack Salzwedel, American Family's CEO. "They said it's good to have a goal that big, but don't make it too high because we want you to be able to achieve something. The fact that we got over $1 million, the PGA was blown away by it as well."
The tournament, which was won by Kirk Triplett, attracted more than 56,000 spectators and infused an estimated $12 million into the Madison area economy.
Salzwedel is confident the tournament will continue to build on that success and expects the number of corporate sponsors to grow for next year's tournament, set for June 19-25. He said the celebrity foursome of Stricker, Andy North, Brett Favre and Mark Tauscher helped raise a lot of money and said plans are in the works for something special next year.
And the biggest boost will be having Stricker and fellow Madisonian Jerry Kelly in the field, as each will turn 50 by then to become eligible for the Champions Tour.
"To turn 50, I didn't think I'd be that excited," said Stricker, who will turn 50 on Feb. 23. "But we have another opportunity on the Champions Tour to go out there and do something different.
"I didn't think I was going to play in front of Wisconsin fans too much again and here we are able to tee it up, Jerry and I, to play in front of our family and friends. It'll be hard to play, but it will be fun too."
Stricker said he had received nothing but positive feedback from those who played in the first tournament and suggested notables such as Fred Couples, Davis Love III and Tom Watson could enter next year, along with fellow Champions Tour rookie David Toms.
"The word on the street on the Champions Tour is that it was a great event," Stricker said. "The community responded in a way they hadn't seen too much of. They get a little bit of crowds at some of the majors but not at the normal Champions Tour event. So the players were blown away about the interest the community had for the event."
In addition to the money raised for the Children's Hospital, organizations receiving various amounts include: American Cancer Society, Balance & Believe Foundation, Big Brothers Big Sisters of Dane County, Boys & Girls Club of Dane County, Bridge Lake Point Waunona Neighborhood Center, Children's Dyslexia Center, Cover Me Veterans, Domestic Abuse Intervention Services, East Madison Community Center, Edgerton Community Outreach, The First Tee of South Central Wisconsin, Gio's Garden, Goodman Community Center, Habitat for Humanity of Dane County, Happy Kids Network, Jockey Family Foundation, KOJO Productions, Madison 4 Kids, Madison Reading Project, Middleton Outreach Ministry, Mike Muranyi Junior Golf Foundation, Monsignor Thomas F. Campion Charitable Fund, The River Food Pantry, Second Harvest Foodbank, Southwestern Wisconsin Community Action Program, Sun Prairie Community Schools, Timothy W. Finchem The First Tee Scholarship, Tri 4 Schools, United Way of Dane County, VSA Wisconsin, Waunakee Community School District, Wisconsin PGA Junior Foundation and YMCA of Dane County.