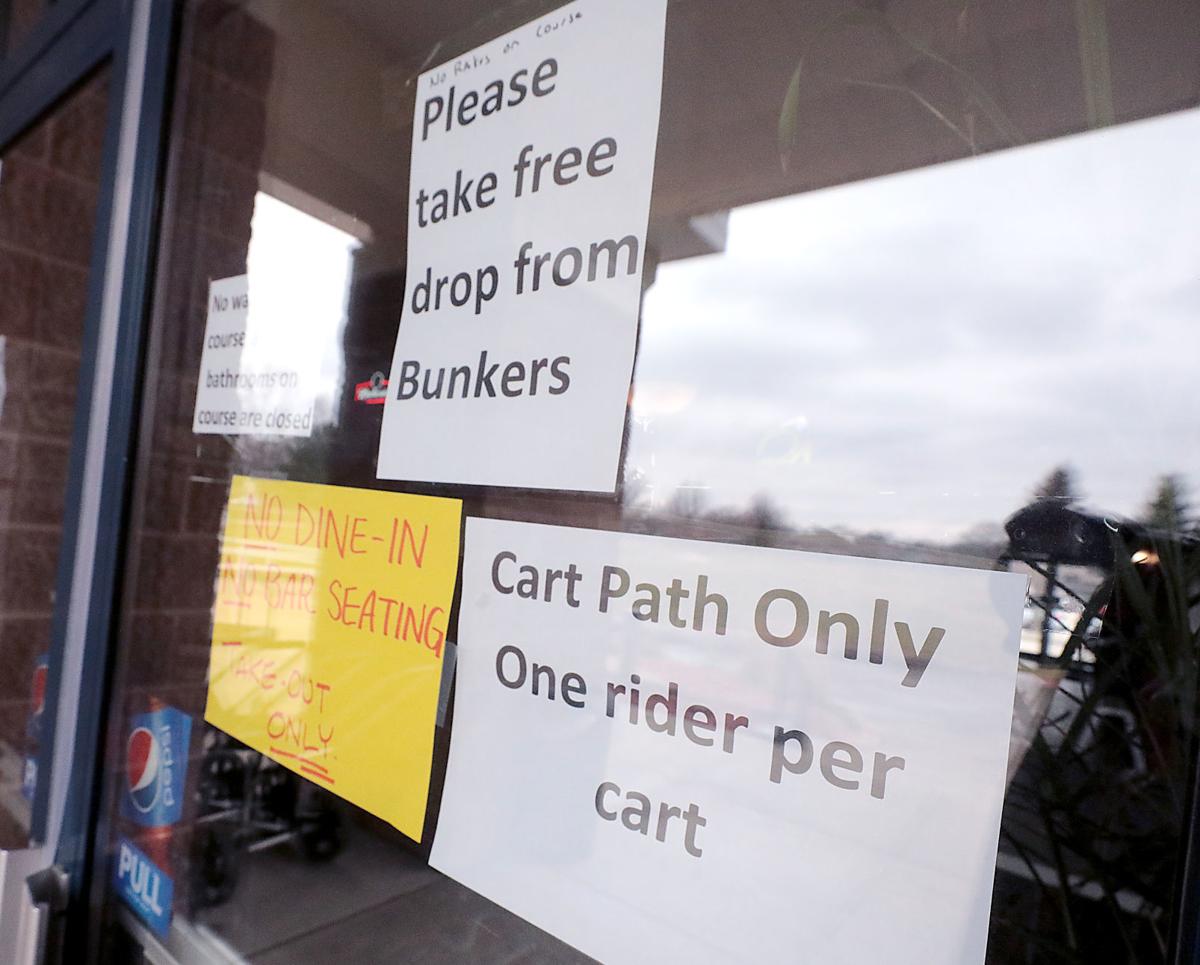 Golf course owners and patrons around the state are asking Wisconsin Democratic Gov. Tony Evers to reconsider golf courses being included in the closures caused by his "Safer at Home" order.
The order, which went into effect at 8 a.m. Wednesday, stated that nonessential businesses, including golf courses, must close in an attempt to stop the spread of the COVID-19 coronavirus.
Some outdoor activities, such as walking, biking, hiking and Frisbee golf, are allowed under Evers' order. Players, course owners, the Wisconsin PGA and the Wisconsin Golf Association are wondering how their activity is different to the point of being shut down.
Many courses in the Madison area were either open or were preparing to open when Evers' order went into effect. If it stands, courses will remain closed until at least Friday, April 24.
"We're doing things that make us safer than other outdoor activities," said Jeff Schwister, the executive director of the Golf Course Owners of Wisconsin. "You go down to your local parks, state parks, things like that that are open, they can be quite crowded on the trails.
As of Thursday afternoon, a petition on change.org asking for the state to overturn course closures had nearly 19,000 signatures. According to data from the National Golf Courses Owners Association, 12 states with nonessential business closures have allowed golf courses to stay open. Illinois, whose Democratic Gov. J.B. Pritzker issued a shelter-in-place order starting March 21, closed golf courses in the order, but had that amended on Tuesday to allow courses to open with restrictions. Ohio made a similar reversal. However, Illinois changed course Thursday evening and closed golf courses again. 
The USGA and the state golf associations gave courses guidelines earlier this month on how they could operate in a manner that promoted social distancing and fight the pandemic. Some methods included spreading out tee times, closing practice areas, limiting players to one per cart and removing items such as sand rakes and ball washers from courses to eliminate multiple people touching the same object without it being sanitized.
"The public has to understand there may be restrictions like Illinois where you can't take a cart, or not having a pro shop open, or not having food and beverage. I think most everybody's willing to put up the circumstances as they are," Schwister said.
In an industry already facing thinning margins and a short season to generate revenue, a shutdown of a month or more would be difficult to sustain.
"It's going to be very hard for people to achieve their budgets this year," Schwister said. "It is March, it's not July … summer is when most people are playing, but it's going to be more of an impact every month and every week that goes by."
Schwister said the GCOW hasn't had any contact with the governor's office, but course owners around the state are reaching out to their representatives, he said. Joe Stadler, the executive director of the Wisconsin PGA, said his organization is working on the next steps that may be taken to present a case to the state for golf to be open for play.
The WSGA submitted two letters to the governor's office and had requested the WEDC to classify golf as essential in the order. Now, the group is working with the state's department of tourism to ensure their message is heard. It's hoping to learn more Friday about what the state will do.
"We certainly support the 'Safer at Home' order, and want people to stay home and be safe during this time. The governor's also said it's OK to get outside, get some fresh air, incorporating proper social distancing, of course," said Rob Jansen, the executive director of the WSGA. "And we think golf can be part of that and help people through this difficult time, safely and smartly."
Thousands of jobs connected to the golf industry in Wisconsin are essentially on hold until the order is lifted or changed. While courses can do maintenance on their land, the part-time, seasonal work — caddies, rangers, instructors, bartenders, beverage cart operators, etc. — at courses is paused.
Sue Shapcott, whose business Change Golf Instruction partners with Madison's city-run courses, is usually deep into planning teaching programs at this time of year. April, normally a decent month business-wise for Shapcott if the weather's nice, will be a wash if the closure holds.
The indoor simulators Shapcott uses in the winter were the first to be shut down, and she's not sure how much to plan for May programs. Even though it's hurting her business, Shapcott said she thinks it's the correct path.
"That's the difficult bit for everyone, just not knowing how long this is going to go on," she said. "For golfers, it's going to be even harder when the weather turns nice and the golf courses are closed. Even though I'm personally affected, I feel it's the right thing to do. We've got to get on top of this so that we can get back to normal faster."
Concerned about COVID-19?
Sign up now to get the most recent coronavirus headlines and other important local and national news sent to your email inbox daily.