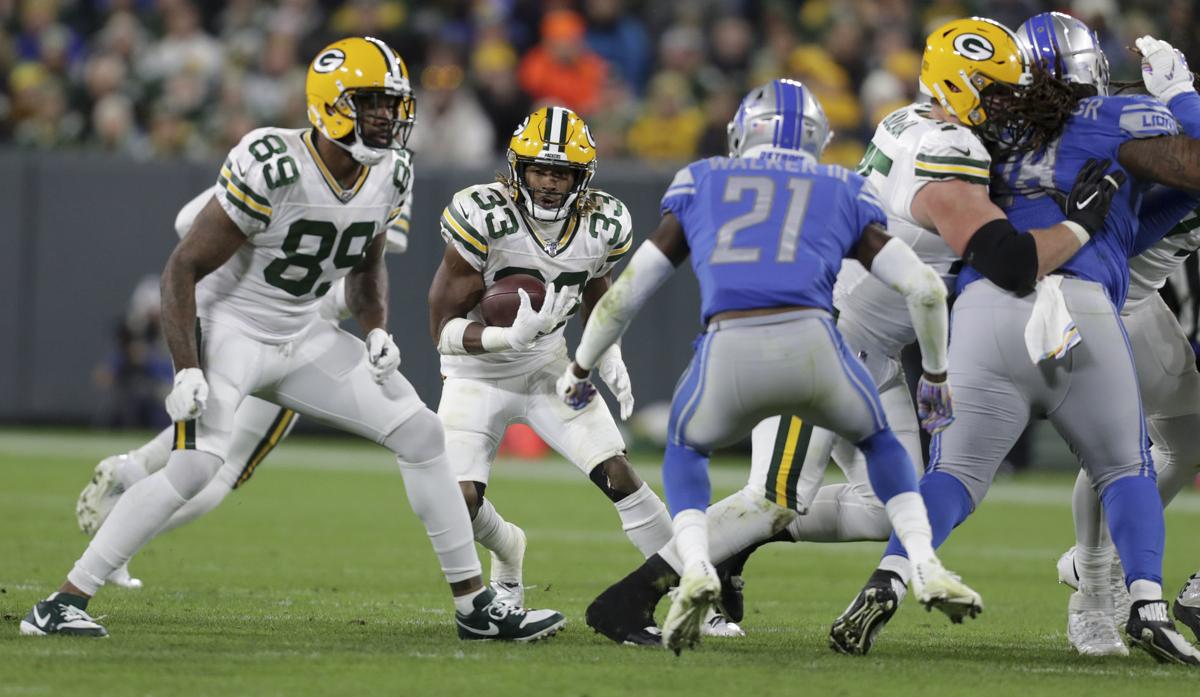 GREEN BAY — While Aaron Jones isn't counting any touchdowns before they're scored, the Green Bay Packers running back already knows what he'll do with his 20th touchdown ball — assuming he gets it during Sunday's regular-season finale against the Detroit Lions at Ford Field.
"I keep every ball, every touchdown ball. I take them home, and I give them to my mom," Jones said Friday. Reminded that he chucked one of his touchdown balls into the AT&T Stadium seats during his four-TD day in the Packers' 34-24 win at Dallas on Oct. 6, Jones reminded the assembled reporters at his locker that he threw a strike to his brother, Alvin, with that ball — meaning it stayed in the family.
"I gave that one to my brother. I've given a couple to my brother (and) other family members. But the majority of the balls go to my mom," Jones said. "Any touchdown ball, if I remember to carry it off the field. If not, I'll ask (the equipment staff) after the game, 'Hey, can I get that ball?'"
The question going into Sunday's game against the Lions is whether Jones — needing 16 yards to break the 1,000-yard barrier for the first time in his NFL career and two touchdowns to break Ahman Green's 2003 single-season franchise record of 20 touchdowns in a season — will be able to reach both milestones quickly and get to the bench with the Packers comfortably ahead of the struggling Lions (3-11-1), who have lost eight in a row.
The Packers (12-3) and can clinch a first-round playoff bye with a victory. They could also earn the NFC's No. 1 overall seed with a win and if the Seattle Seahawks win at home on Sunday night against the San Francisco 49ers.
"The most important thing is this game. Once the end of the season is over, we can assess how many touchdowns I have then. The most important thing is getting this win and getting that bye," said Jones, whose 19 touchdowns (16 rushing, three receiving) are tied for second-most in a single season in franchise history with Jim Taylor's 19 TDs (all rushing) in 1962. Jones has surpassed wide receiver Sterling Sharpe's 18 TDs in 1994 (all receiving) and receiver Don Hutson's 17 TDs in 1942.
"Of course you think of (the records), but at the end of the day, it's bigger than me. It's a team sport. So I can accomplish something, but I want our team to accomplish something even more special."
Asked which record would mean more to him, Jones replied: "Not a lot of people score 20 touchdowns, but not a lot of people rush for 1,000 yards. I feel like that's kind of something that's hard to do, a little overlooked in the league. But that's a head-scratcher right there. Can I get back to you on that one?"
One thing not up for debate: Jones has been special this year and, on an up-and-down offense, he's been vital to the team's success. That said, coach Matt LaFleur also insisted Jones' success has been a product of more than just his own brilliant play.
"I think it's pretty remarkable. I think it speaks to everybody, though," LaFleur said Friday. "It speaks to not only Aaron's (Rodgers) accomplishments but (also) the other 10 guys on the field, the guys blocking for him. It's the offensive linemen, the receivers, the tight ends. It speaks to our quarterback getting us into the right looks. So I think it's a credit to all the guys that are out there with him."
From the infirmary
If the Packers were hoping Jones could take it easy after reaching his touchdown and yardage milestones, their injury report didn't exactly cooperate Friday. No. 2 running back Jamaal Williams (shoulder) and fullback Danny Vitale (knee) were both listed as doubtful for the game, and LaFleur indicated he plans to sit Williams in hopes of having his shoulder heal thoroughly before the playoffs start.
"I think we'll probably hold him back this week and move forward with the guys we have," LaFleur said of Williams.
With Williams and Vitale not expected to play, the Packers' next options in the backfield behind Jones are No. 3 running back Dexter Williams, who as a rookie has played in just three games and carried three times for 2 yards; and punt/kickoff returner Tyler Ervin, who was claimed on waivers last month and has played running back earlier in his NFL career. Ervin saw seven snaps of action on offense in Monday night's win at Minnesota and gained 6 yards on a jet sweep — which was technically a pass play — against the Vikings.
"Whoever is up is going to have to have a bigger role. That's just how we rotate those backs," LaFleur said. "We've got a lot of confidence in (Dexter). I think he's been working hard all season long. Obviously you guys don't get to see that (during practice), but we've got confidence that he's going to go in there and do a really good job."
The Packers also listed safety Will Redmond (hamstring) as doubtful, and wide receiver Jake Kumerow (illness) was added to the injury report as questionable after missing practice Friday.
Something to play for
LaFleur said he feels good about his team having a reason to play hard in Sunday's game and not having to contemplate resting crucial players. Some teams, once they're locked into a playoff position, opt to rest key players in the finale – the 2011 Packers, for instance, were 14-1 and sat quarterback Aaron Rodgers and a host of other key players in the finale against the Lions – and sometimes look rusty once the postseason starts.
"It definitely takes the decision making out of it," said LaFleur, who was on the Atlanta Falcons' staff in 2016 when the team needed to win its regular-season finale against New Orleans to lock up a No. 2 seed and bye. "We're going 100 miles an hour to go win a football game. And it makes it easier, I guess, because you're not going to second guess yourself."
Extra points
ESPN.com reported the Packers adjusted Rodgers' contract recently, guaranteeing $14.26 million of the $19.5 million roster bonus Rodgers is due in March as a signing bonus. The move creates an additional $11.4 million in 2020 salary-cap space, which the Packers could use to sign nose tackle Kenny Clark to an extension. Clark is entering the fifth-year option year of his rookie contract, and the 2016 first-round pick is a high priority for the team, general manager Brian Gutekunst said earlier this season.. … LaFleur said he was pleased with the way players handled the unusual schedule of the week, which included coming off a Monday night game, having Wednesday off for Christmas Day and trying to fit a Wednesday and a Thursday schedule into one day. "I think our guys, at this stage of the season, they've banked a lot of reps," he said. "I think they're locked in, they're ready to go."
Be the first to know
Get local news delivered to your inbox!