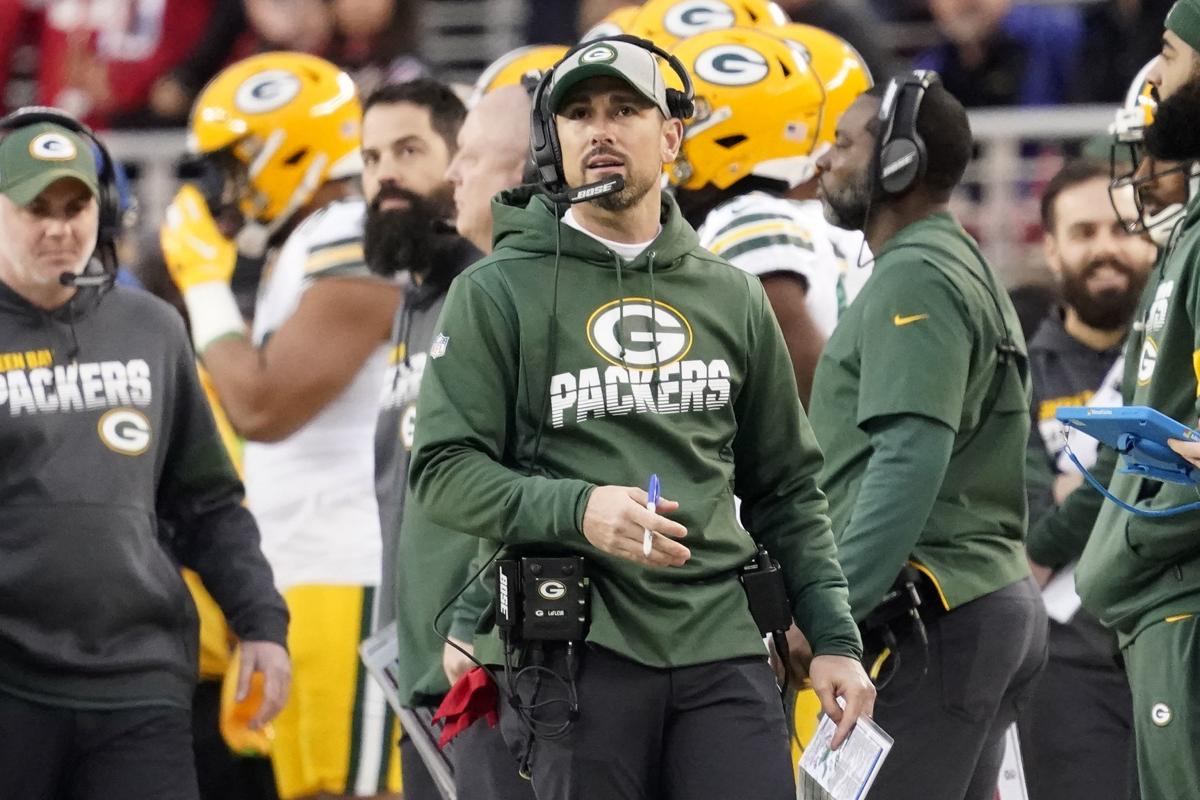 GREEN BAY — The strangest offseason program in the Green Bay Packers' history is essentially over. What happens next, not even coach Matt LaFleur can say for sure.
"You've just got to be fluid, you've got to be flexible. I feel like I've done four different schedules already," LaFleur said this week during an interview on the team's website with longtime center and broadcaster Larry McCarren. "But that's just the circumstances that we're faced with. There's no use in complaining about it. You've just got to make the best of the situation."
Most NFL teams are slated to open training camp on July 28 if the COVID-19 pandemic allows. Earlier this month, the NFL league office sent all 32 clubs specific protocols and parameters for how to reopen facilities to their players, including extensive regulations on social distancing that are requiring teams to reconfigure their locker rooms and weight rooms.
LaFleur said in a Zoom video conference call with Wisconsin reporters recently his hope is not only for training camp to open as scheduled but for rookies to come in a week earlier than the veterans in an effort to make up for the on-field time they missed because organized team activity practices and minicamp practices were wiped out by the coronavirus.
While players were challenged by the virtual, video-oriented offseason, some said that in some ways it was a welcome change-of-pace.
"For this different offseason, it's been in a sense refreshing. I've had a lot of seasons under my belt, so I feel pretty comfortable not having to be at the facility as much," veteran left tackle David Bakhtiari said. "I am beyond a year integrated in this offseason and I know it pretty well. I'm not worried about my knowledge of the offense.
"I think we've done a great job remotely of teaching it. I have no problems. I think we have the best structure. I've been around a couple other guys on a couple other teams and how they've operated, and I like ours the best. For me personally, it's just been nice to stay on my own regimen."
Asked what he's expecting as far as training camp and the 2020 regular season, Bakhtiari replied: "My expectation of the season with the current pandemic that's been going on is, I don't know what to expect. It is such a weird time. There are so many unanswered questions that we have that I don't really know how it's going to impact the season. We have a lot of if-scenarios and guesses. But I don't think we'll really know. We'll let time answer that for us all."
LaFleur said he held the final team meeting of the offseason program on Monday, when former Packers defensive star and future Pro Football Hall of Famer Charles Woodson addressed the team. Well known for his inspirational locker-room speeches during the 2010 team's run to the Super Bowl XLV title — Woodson used then-President and noted Chicago Bears fan Barack Obama's plans to attend the Super Bowl if the Bears beat the Packers in the NFC Championship Game as the basis for his "White House on 3!" rallying cry — Woodson said Wednesday afternoon he joined the team via a live Zoom video conference.
"It was exceptional," LaFleur said.
LaFleur said the players will spend the remainder of the week in a "review" mode with the installations and "then they're kind of on their own until we report back for camp."
Told by McCarren that Bakhtiari and other veterans appreciated his approach to training camp, LaFleur replied: "It's really two things that we told our guys. No. 1, take care of your bodies. Come back for training camp in the best possible shape. Also, it really gave us a chance, for these players, to learn the system at their own pace. It's a credit to our coaches. It's a credit to our players and how attentive they were. We had great communication throughout. I really do think our guys got a lot out of this.
"These guys are pros. I think it's safe to say they'd all rather be in Green Bay, be in the building, be around each other, going out on the grass, competing on a daily basis. But it is what it is. You've got to make the best of it. I thought our guys really did a great job taking advantage of that. Certainly, we know the 2020 season is going to come with some high expectations. Our guys are going to embrace that and put their best foot forward."
In the meantime, LaFleur acknowledged the NFL's COVID-19 guidelines mean there's much to be done at Lambeau Field before he can see his players face-to-face for the first time since they cleaned out their lockers the day after the team's season-ending loss to the San Francisco 49ers in the NFC Championship Game on Jan. 19 — a loss that he said will fuel high expectations for Year 2 of his program.
"There are some challenges we're going to have to work through and work around. Who knows if those guidelines will be the same guidelines when we eventually do start camp? Again, it's just about being fluid and being flexible," he said.
"I thought the camaraderie on our team (last year) was as good as I've ever been around. You can't take that for granted. Every year is going to be different. You're going to have new players on the team, but that is something that we will certainly try to get back to for the 2020 season."