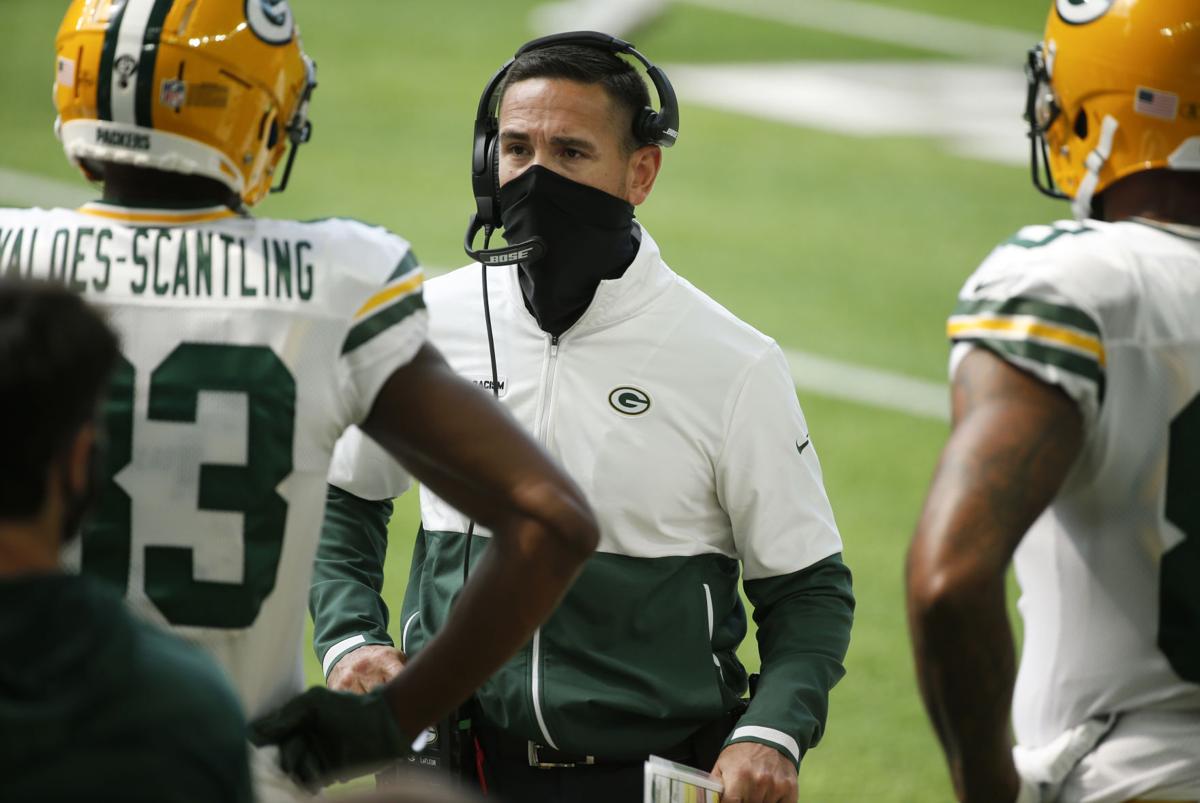 GREEN BAY — Matt LaFleur wasn't sure about the nomenclature — cornhole, or bags? (For the record, he's a "cornhole" guy.)
David Bakhtiari, meanwhile, defended his first-round exit by blaming the scoring system.
"I want to say I balled out, but I got knocked out in the first round," the Green Bay Packers left tackle confessed when asked about the team's cornhole tournament at a Twin Cities hotel during its first road trip of the COVID-19 era. "So, I'm not too happy about that. But we didn't do true cornhole play — I'm more of an 'Exact 21' guy. I think I'll fare better if we play by the actual rules."
While LaFleur may not have another tournament on the docket for this weekend's trip to New Orleans for Sunday night's showdown with the Saints, you can bet the Packers second-year coach will have some sort of pass-the-time team-bonding activity that the members of the traveling party can do together from a safe social distance.
Because of the travel protocols the NFL has put in place in response to the novel coronavirus, teams aren't allowed to leave their hotels once arriving in their host cities. Whereas under normal circumstances players were able to go shopping or out to dinner during their free time in a new city — Chicago, for example, has long been Packers players' shopping paradise, with Michigan Avenue's plentiful stores and restaurants of the Miracle Mile being a major attraction — teams are instead sequestered upon arrival. Whatever sightseeing players and staff do is limited to what the team buses pass on the commute from the airport.
Players also aren't allowed to have friends and family members come visit them at the team hotel, leaving little for them to do but sit around their rooms and get cabin fever.
To combat that, LaFleur enlisted the help of director of player engagement Grey Ruegamer, who tapped into LaFleur's preference for having his players compete even in their free time by setting up the cornhole tournament the night before the team's 43-34 win over the Minnesota Vikings on Sept. 13 in Minneapolis.
"Just good team bonding," LaFleur said.
While this may seem like a trivial pursuit — hey, maybe there's an idea for a future road trip — LaFleur and his staff believe there's value in getting the players up and at 'em instead of vegging out in their rooms until bussing to the stadium on game day.
"As coaches, as players, that is our comfort, to be in our routine," offensive coordinator Nathaniel Hackett said. "We've had to make a lot of adjustments, and one of those things is the night before the games. Just being in the hotel, not being able to leave, not being able to see friends, family, anybody that might come to the game — it's a lot different. It's something that everybody's had to just embrace and find a way to enjoy it.
"(The cornhole competition) was something great that Grey and Matt set up, and everybody came together to say, 'We still want to do something and be together.' They're trying to be as creative as they can to create those situations, because the last thing you want is for somebody to sit in their room and just overthink things and this and that. Because in the end, it's football, and we want everybody to be loose and anxiety free and be ready to go full speed and no hesitation. That's what you're always looking for. Any way we can do that, whether it's cornhole, watching a movie together or whatever it might be, we always want the guys to be able to feel relaxed and have a good time."
Past Packers coaches have experimented with a variety of travel itineraries and ideas for how players should spend their time in other cities.
In the 1990s, as his team lost road game after road game to the Dallas Cowboys, Mike Holmgren refused to stay in the same hotel the year after a loss, and the team started to run out of appropriate lodging options in the greater Dallas-Fort Worth Metroplex. In the 2000s, Mike Sherman started his tenure with late Saturday night team meetings that dragged on and on — until he decided the meetings were contributing to sluggish starts on Sundays.
More recently, Mike McCarthy dabbled in having the team go out an extra day early and practicing at a local facility or high school field on the Saturday before a Sunday game. And LaFleur found himself searching for a magic bullet after his team delivered troublingly flat performances in the state of California during his first year in charge.
"I don't think there's a one size fits all. I think a lot of it might depend on the personality of your team," said Packers defensive coordinator Mike Pettine, who was the Cleveland Browns head coach in 2014 and '15. "I mean, if you've got a lot veteran guys that you feel are locked in on the plan, I don't think you need to spend a lot of time (reviewing). But then sometimes as coaches, you feel better when you kind of re-install (the game plan) at the end of the week.
"If they're locked in, I just think that's a good time for them to decompress and, be with their own, have their own thoughts and prepare in their own way. This situation makes it a lot more difficult. Usually you get a chance to get there early and if you had family in town, (see them). That's all changed. I'm all for finding out what the players want. Each team's different, different personality. And just tailor what you do on the road to what's going to help them best be prepared on Sunday."
Asked how he thought the trip to Minnesota went, and if a prime-time game will make this trip even more challenging, LaFleur replied: "I thought our guys adapted well. I thought Grey Ruegamer did a really good job of giving the guys some activities to do at night, just to help pass some of the time. But definitely, when you're stuck in a hotel for almost 24 hours before you go out and play a game, it does present some of its own challenges. At the same time, we've got to stay focused and get ready to play against one of the premier opponents in the National Football League."
Of course, there aren't enough cornhole boards and beanbags in New Orleans to make enough of a difference in the outcome if the Packers don't play well.
"I've sat in a lot of meetings where we've discussed procedures on the road. Like, how did we travel? When do we fly? What are we eating? How do we structure the meetings?" Pettine said. "And the conclusion I came to very early is, if you want to be good on the road, take a good team with you."
Health watch
Wide receiver Davante Adams (hamstring) missed his third consecutive practice and was listed as doubtful on the team's injury report. Nevertheless, LaFleur isn't ruling him out.
"We'll give him the rest of the week to see where he's at, but ultimately we've got to see if he's able to go," LaFleur said. "I know he's doing everything in his power to make that happen."
Asked what the drawbacks are of playing someone — even a player as accomplished as Adams — without any practice time, LaFleur replied: "There's some specific plays that are maybe a little bit newer than others. And you don't quite get the timing that you're going to get in the game. You never want that. At the same time, when you have a guy of his caliber, you want to find a way to get him to the grass on Sunday."
Nose tackle Kenny Clark (groin), who did not play against the Lions on Sunday, practiced again Friday and is questionable.
"He's made progress, there's no doubt," LaFleur said. "He's definitely not 100 percent yet. But he's another guy we're going to give up until game time, and we'll have to determine whether or not he can go."
The Packers added starting offensive lineman Elgton Jenkins to the injury report with a back/rib injury, which kept him from practicing Friday. Jenkins is questionable.
"I wouldn't say (we are) overly concerned," LaFleur said. "We're going to have to see where he's at over the next 48 hours and make that determination."
Tight end Josiah Deguara (shin/ankle) did not practice for the second straight day and, having already missed last week's game against Detroit, is doubtful.
The Saints will be without all-pro wide receiver Michael Thomas (ankle), who has been ruled out for the second straight week. The Saints also ruled out linebacker Chase Hansen (hip) while listing defensive end Marcus Davenport (elbow), defensive end Trey Hendrickson (groin), ex-Packers running back Ty Montgomery (hamstring) and defensive tackle David Onyemata (calf) as questionable.