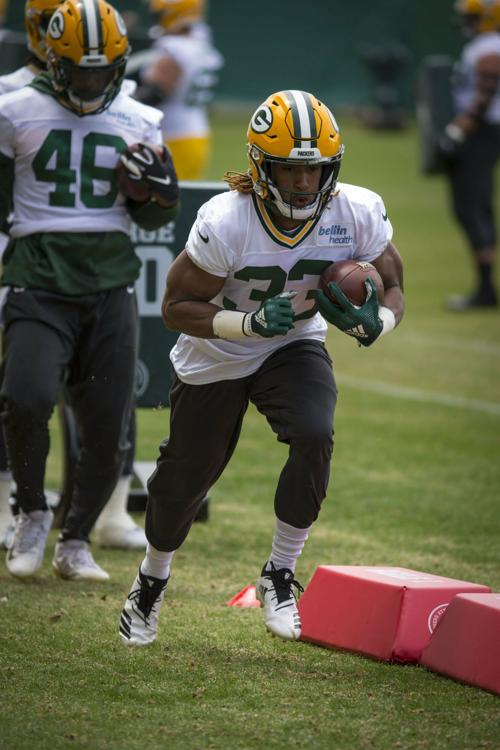 GREEN BAY — Matt LaFleur might be a rookie head coach, but he's well-versed in the NFL's offseason rules, having been part of three new coaching regimes — with the Los Angeles Rams (2017), the Tennessee Titans (2018) and now with his Green Bay Packers — the past three years.
As a result, LaFleur knows there is never enough time to do everything you want to do during the offseason.
"Shoot, I wish we could be out there all day and get 100 reps (for each player)," LaFleur said during the Packers' organized team activity practices. "But that's not realistic."
It's also not permitted. The NFL restricts how many offseason practices a team can hold, how long those practices can be and how long players can be at the club facility, so every team — even the ones with new coaches, which get an extra minicamp and an earlier start to training camp — are constantly searching for an edge.
And especially since the 2011 collective bargaining agreement between the NFL Players Association and league owners, which further curtailed players' offseason workloads, coaches have been looking for ways to max out their on-field practice time.
To that end, LaFleur has tried a few tricks during OTAs in hopes of doing twice as much work in the allotted time. During some 11-on-11 periods, LaFleur actually split the team in half and ran the same plays at opposite ends of the field, standing — or, after rupturing his Achilles' tendon, parking his golf cart — between the two groups and swiveling back and forth to watch them both.
With a 90-man offseason roster to work with, LaFleur puts the 1s and 2s together on one side and the 3s and 4s on the other. And while he doesn't do it for every team period, when the fields are compressed for, say, a red-zone or short-yardage session, he tries to make the most of it.
"I don't know if it's necessarily necessary," LaFleur said. "But once we condensed the field and got closer to the red zone, we like to split it up because you can maximize your reps and try to get as many guys as many reps as possible."
LaFleur's split-squad spiel isn't new; ex-Packers offensive coordinator and interim head coach Joe Philbin, for example, used a similar technique in his first year as the Miami Dolphins coach in 2012, simultaneously running two team periods during training-camp practices while installing his playbook.
"We're just trying to get those guys ready so that by the time we get to training camp they can be ready to play at the highest level that they can," said quarterbacks coach Luke Getsy, who coached wide receivers during his first stint in Green Bay under ex-coach Mike McCarthy. "I feel like by the time we leave here June 13, we'll be in really good shape. They will have a lot of information and they will have learned a lot by the time they leave and then that way when we get back in late July, they'll be able to apply it and things will be more direct and more specific once we get into the installations."
LaFleur, who admitted the entire offensive playbook was not going to be fully installed by the end of OTAs, will likely continue that approach this week as the Packers wrap up their offseason program with their three-day mandatory minicamp. After minicamp, which kicks off Tuesday with the first of at least two practices, the players will then be off until reconvening for the first training-camp practice on July 25.
According to some of the younger players, the extra snaps are valuable and appreciated — especially on offense, where LaFleur's playbook has limited carryover from McCarthy's.
"What he's trying to do is make the most of the limited time we have out there. If you only have one group going, half the team is watching," said second-year quarterback Tim Boyle, who was the third-stringer last year behind starter Aaron Rodgers and backup DeShone Kizer. "Anytime you can get as many reps as possible, it's awesome for the quarterbacks."
Typically, during a 10-snap team period in training camp, the starting quarterback takes five snaps, the backup gets three, and the third and fourth quarterback get one apiece. With LaFleur's approach, not only do Boyle and No. 4 quarterback Manny Wilkins get more turns, but when the players watch film with their coaches after practice, they can compare what they did on the play with what Rodgers did while running the same play with the starters.
"It definitely gives them a lot of reps," Rodgers said. "For me, it was always about taking the mental rep when I wasn't in. (But) I like it. It's good. You can marry up concepts and for those groups, if one group did it bad, you can kind of watch what it's supposed to look like compared to maybe what it looked like on the other side.
"But it's really good for a guy like Manny, who's not slated in a normal (offseason) practice structure where you're going 3-3-3 with 1s, 2s and 3s, to get any reps. Now he goes over there and gets a decent amount of reps. I think it's important for those guys and for the young guys to be able to watch their own film and then see what the first group is doing."
Another way LaFleur tried to do more with less: In one quarterback drill, the quarterbacks first work on their handoffs to running backs, then roll out and are tossed a second ball, which they catch and throw on the run to get an extra passing rep in.
"It's a way so you're both getting your footwork, your handoff, your ball security with the running back and then you're turning it into a (quarterback) keeper. So now the guy gets the ball as if he was faking it and running a keeper," Getsy explained. "Again, there's always purpose to what we're doing — kind of killing two birds with one stone within one drill."
Be the first to know
Get local news delivered to your inbox!