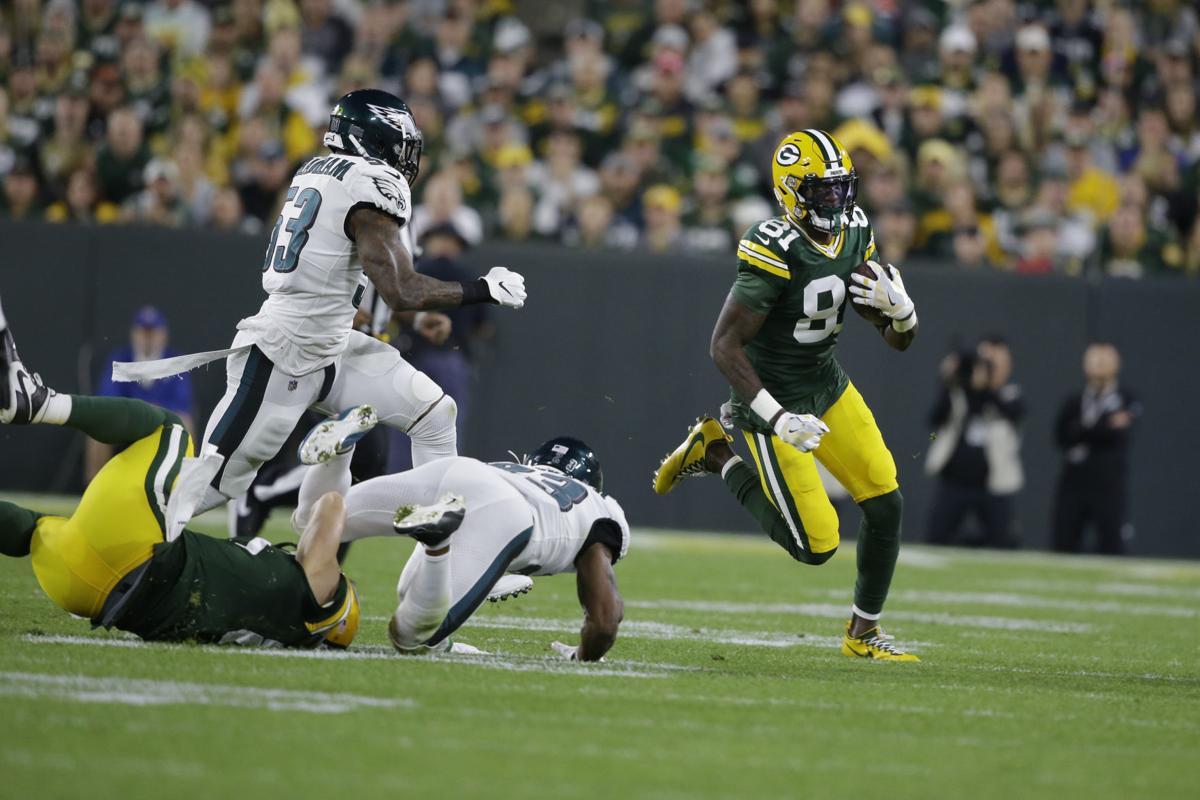 GREEN BAY — Davante Adams kept after Geronimo Allison all game long. Virtually every time they were on the sideline together.
Isn't this fun? Isn't this fun?
Yes, Adams wasn't just catching 10 passes for a career-high 180 yards during last Thursday night's loss to the Philadelphia Eagles. The Green Bay Packers' No. 1 wide receiver was working almost as hard at getting his fellow wideout's mind off past disappointments and boosting his confidence.
In Week 2, Allison's fumble had brought the Packers offense's early-game momentum to a full stop after the unit had put touchdowns on the board on each of its first three possessions. In Week 3, Allison had managed just one reception — and it lost a yard.
So against the Eagles, amid one of the best games of his career, Adams was working to get Allison going, too.
"Davante was in my ear constantly. Like, 'Isn't this fun?' Are we having fun?'" Allison recounted as the Packers turned their attention to Sunday's game against the Dallas Cowboys at AT&T Stadium in Arlington, Texas. "I was just waiting on my opportunity to have fun, too. When he gave me that reassurance, I'm like, 'Shoot, yeah it is. I'm just waiting on my opportunity.' And sure enough, it came.
"Him doing that kind of put me a mindset of just, 'Stay ready, G, your time is coming.'"
Allison's time came shortly before halftime, when he skied between two defenders to reel in a high Aaron Rodgers pass for a 31-yard gain. On the next play, Rodgers went back to Allison for a 19-yard touchdown that pulled the Packers to within 21-20 at the break.
Now, with Adams' status uncertain for Sunday because of the turf toe injury he suffered with 10 minutes to play in what ended up being a 34-27 loss to the Eagles, Allison's time — as well as Marquez Valdes-Scantling's, Darrius Shepherd's, Allen Lazard's and Jake Kumerow's — might be coming again, to an even more critical degree.
"You definitely never want to see anybody go down out there," Allison said. "It's just unfortunate. But definitely there's opportunities every week, every day, for guys to go out there and make plays."
If Adams can't go — while the injury is not thought to be major, it could be significant enough Adams will miss this week's game and perhaps the team's Oct. 14 meeting with the Detroit Lions on "Monday Night Football" — Allison and the other receivers will have to make more than just a few plays.
Through four games, while Adams has 25 receptions for 378 yards, the Packers' other wide receivers have combined for 26 receptions for 333 yards — and that includes a 28-yard reception by Trevor Davis in the season opener at Chicago. Davis was traded to the Oakland Raiders for a sixth-round pick last month.
Of those receivers still on the roster, Valdes-Scantling has caught 16 passes for 217 yards and one touchdown; Allison has caught eight passes for 76 yards and two touchdowns; and Kumerow, who has missed the past two games with a shoulder injury, has one catch for 12 yards. After strong preseasons, Lazard and Shepherd have yet to catch a pass.
"We go into every week preparing the same. I go in preparing as a starter because you never know with this game of football who's going to be up and who's going to be down with injuries. You just have to be able to prepare the same way," Lazard said. "I think that's what makes '17' so great. He goes out there and performs, and he's very consistent. I'm just trying to follow his lead on what he's done so far this year."
For Rodgers, connecting with receivers has long been a matter of trust, something he developed over the years with not only Adams but Jordy Nelson, Greg Jennings, James Jones and Randall Cobb. His on-field relationship with Allison, who is in his fourth season, has grown incrementally each year, and Rodgers spoke highly of how his connection with Valdes-Scantling has improved in the receiver's second season. Rodgers had a near-instant connection with Kumerow in camp last year and seemed to get in a rhythm with Lazard and Shepherd this summer, when the pair went through their first training camp with him.
Now, if Adams isn't able to play against the Cowboys, those connections will be put to the ultimate test.
"You see it in practice (first). I always tell these young guys, whether it's a connection between Jordy and I, or Greg and I, or James and I, or Randall or Davante, the stuff starts at practice," Rodgers said last week before Adams' injury. "If somebody says something in a meeting or I say something in the locker room or a meeting, being able to go to the field and execute that minor adjustment is showing me that you're able to take that to the field and think and thrive in real time. And that gives me the confidence to throw the ball your way in the game.
"Every single one of those guys have spent those moments. For some, it came very easily, and they showed a mature nature from the first few practices, and the ability to pick up things quickly. For some, it takes a little bit longer, but you want to see that carry over on the field.
"I expect them to be ready to play and to understand the checks that we have, the responsibilities on certain plays. Those guys do a good job, they really do. I think that their coaches have done a nice job preparing them, especially the wideouts. They know. There's an expectation to (be prepared), understanding your responsibility at all times. I think those guys have made some really nice jumps this year."
Be the first to know
Get local news delivered to your inbox!