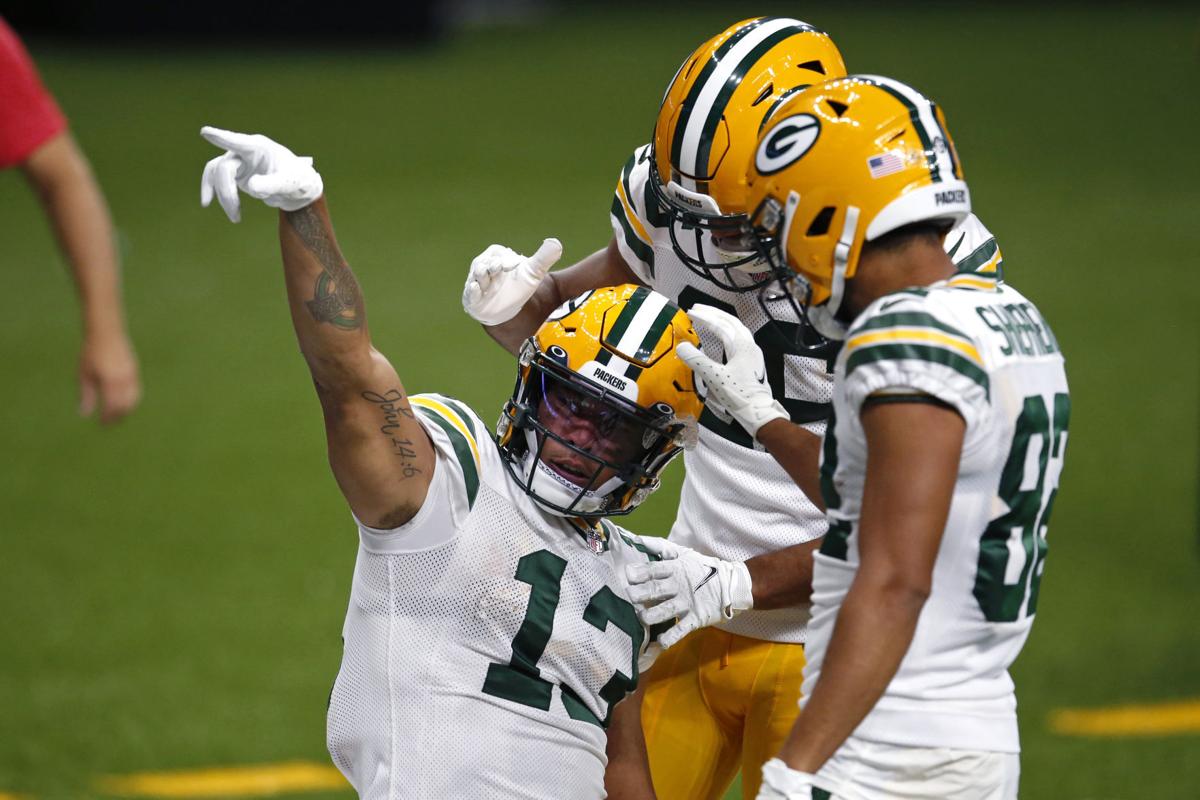 GREEN BAY — The Green Bay Packers may have to sustain their white-hot offensive start to the season without their top two wide receivers on Monday night.
The team has lost No. 2 wide receiver Allen Lazard following a core muscle injury that required surgery, and there's no guarantee Davante Adams' injured hamstring will be back to full health — something the Packers star wide receiver said Thursday afternoon needs to happen in order for him to return to the field against the Atlanta Falcons — although Adams did practice Thursday and is feeling better.
ESPN reported Thursday evening that Lazard had undergone surgery and is out indefinitely. It's unclear if the injury occurred during his career night in last Sunday night's 37-30 victory at New Orleans or if the injury was already bothering him and he made it worse during the game.
Earlier in the day, ESPN reported that renowned Philadelphia-based core-muscle specialist Dr. William Meyers was set to examine Lazard's scans to advise Lazard on whether the injury could heal with rest or if he'd need surgery. Apparently, the latter was necessary.
Lazard had six receptions for a career-high 146 yards and a touchdown against the Saints, earning the offensive game ball for his performance. Lazard played all but three of the Packers' 62 offensive snaps in the game, and he made no mention of any sort of injury during his postgame video call with reporters, so it's unclear when Lazard sustained the injury.
Coach Matt LaFleur made no mention of the injury during his pre-practice video call with reporters, but historically, Packers players have missed extended time for such injuries, which often require surgery.
In 2012, wide receiver Greg Jennings tried to play through such an injury before Meyers performed surgery on him. In 2016, defensive back Damarious Randall underwent surgery with Meyers during the season and missed five games before returning. In 2018, Meyers performed season-ending surgery on wide receiver Geronimo Allison. And last year, tight end Robert Tonyan sustained a core muscle injury and was limited during the second half of the season before having surgery after the season ended.
Adams, meanwhile, left the Packers' Sept. 20 win over the Detroit Lions with the hamstring injury, didn't practice at all last week and then went through pregame warmups in New Orleans before he and the medical staff agreed that it would be smart for him to sit out. He practiced on a limited basis Thursday.
"I will be making sure I feel normal, like before it happened, before I step out there. So we're doing our thing to make sure that that's the case," said Adams, who missed four games last season with a turf toe injury. "I'm going to make sure I'm 100 percent before I'm back out there, but it's definitely something (where) I'm proud of the guys. The way they approach the game, it makes it easier for me to not feel rushed to come back.
"Last year, I may have been trying to rush back a little bit quicker. But just seeing the way they've handled success or handled people going down, and how they just kind of jumped straight up (with) that next-man-up mentality, it makes it a lot easier to make sure I get all the way right before I come back."
That supporting cast against the Falcons if neither Adams nor Lazard plays would consist of Marquez Valdes-Scantling, Darrius Shepherd and Malik Taylor, the only three other wide receivers on the roster. Last month, the team placed receiver Equanimeous St. Brown on injured reserve with a knee injury. St. Brown isn't eligible to return from IR until after next week's bye.
The Packers do have four receivers on the 16-player practice squad: Reggie Begelton, who was in camp with the team all summer; Robert Foster, who was signed after being cut by the Buffalo Bills at the end of training camp; Caleb Scott, who was added earlier this week; and Juwann Winfree, who was signed to the practice squad Thursday.
Shepherd, who made the 53-man roster coming out of camp a year ago before being demoted to the practice squad later in the year, was signed to the roster last week and has impressed both Adams and Rodgers with his approach this year.
Still, it could be difficult for Rodgers, who has gotten off to one of the best starts of his career, if neither Adams nor Lazard can go against the Falcons.
"Like I've said many times to you guys at my locker, the trust is earned in practice. It's earned in those 1-on-1 reps. It's earned on the first-team reps. It's also earned (when I'm) watching the scout team, too," Rodgers said. "Those reps are really important, the way you practice, the type of professional that you are, your aptitude and eagerness to grow and to learn, your aptitude with the signals, with the formations.
"I don't have some magic wand that I'm going to say, 'You're going to play because I trust you.' Obviously, as we've seen that doesn't work around here. But it's not just my trust you have to earn. It's the head coach, position coach, the guys in your room. And I think in general, that's the biggest hurdle for a lot of young players, is figuring out how to practice like a pro, how to be consistent in practice and make plays."
Extra points
Tight end Josiah Deguara (ankle), linebacker Christian Kirksey (pectoral) and tight end Marcedes Lewis (veteran rest) did not practice. Kirksey left Sunday night's game with what was initially termed a shoulder injury. Last year with the Cleveland Browns, Kirksey suffered a pectoral injury in Week 2, landed on IR and later underwent season-ending surgery. His injury this time is not thought to be season-ending. … Nose tackle Kenny Clark, who hasn't played since Week 1 because of a groin injury, practiced on a limited basis and may be able to play against the Falcons. Asked if he would consider holding Adams or Clark out with the bye week looming, LaFleur replied, "Knowing that we have a bye is comforting because we are a little bit banged up right now, but it certainly has no bearing on this game." … Outside linebackers Za'Darius Smith (ankle), Rashan Gary (ankle) and Randy Ramsey (groin) were also limited. … Cornerback Jaire Alexander (hand), left guard Elgton Jenkins (back/rib) and guard Billy Turner (knee) all practiced in full. … For the Falcons, safety Ricardo Allen (elbow), defensive end Dante Fowler (ankle), defensive tackle Grady Jarrett (hip), kicker Koo Younghoe (groin), defensive end Takk McKinley (groin), safety Keanu Neal (hamstring) and wide receiver Calvin Ridley (ankle) all did not practice. Longtime all-pro receiver Julio Jones (hamstring) practiced on a limited basis.
---
Photos: Packers' 2020 season so far in pictures
Photos: Packers' 2020 season so far in pictures
Check out photo galleries from every game of 2020 through the end of the regular season and the playoffs — if the Packers make it.
Be the first to know
Get local news delivered to your inbox!