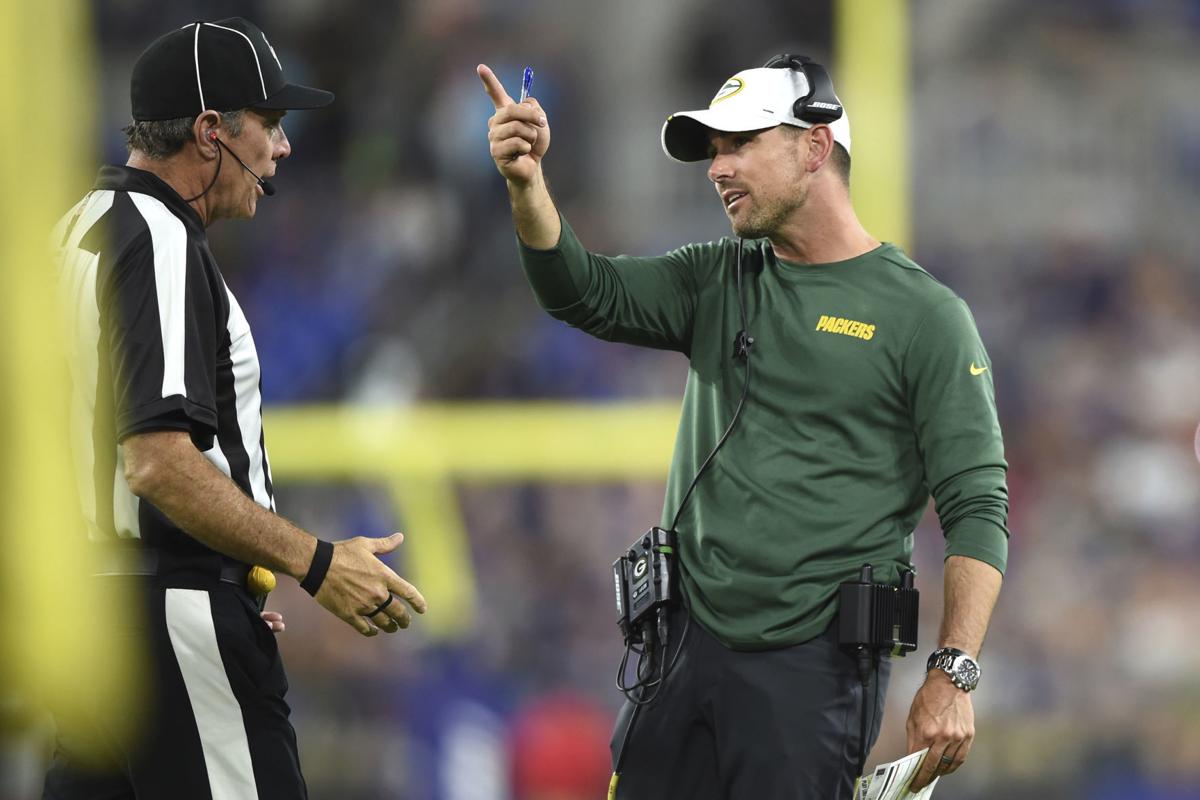 GREEN BAY — The Green Bay Packers' offense without Aaron Rodgers is … not especially good.
Yes, while that might be a take that even Captain Obvious would deem beneath him, that was the reality of the Packers' offensive struggles as they returned to practice Sunday after two days away from Ray Nitschke Field and with their starting quarterback still nursing the sore back that sidelined him for last Thursday night's preseason loss to the Baltimore Ravens.
With Rodgers out of the lineup, DeShone Kizer worked with the No. 1 offense and the unit sputtered amid pre-snap penalties, missed assignments, dropped passes and turnovers. The second and third units, led by Tim Boyle and Manny Wilkins, didn't fare much better, with the exception of one deep ball from Wilkins to a wide open Marquez Valdes-Scantling late in the final 11-on-11 period. One could have even argued the scout-team offense, which ran the Oakland Raiders' plays in advance of this Thursday's Canadian game Winnipeg, Manitoba, looked better than when the offense ran the Packers' plays.
"It was pretty sloppy overall," coach Matt LaFleur admitted. "(But) if you miss somebody, the standards don't change. Everybody else has to pick up their play around and support (each other), especially the quarterback position. Because it takes everyone. It takes all 11."
Perhaps LaFleur should have known what kind of day it was going to be when rookie running back Dexter Williams had a mental error on the first 11-on-11 play of practice, during a competitive drill that LaFleur intentionally moved from the end of practice to the start in hopes of getting his guys to be more focused after back-to-back off days. Instead, it led to LaFleur really losing his temper for the first time in his first training camp as a head coach.
"First play of practice," LaFleur said, still appearing slightly annoyed. "It wasn't like a play call coming out of left field. It was something we had scripted. And when we get out there and we don't know what we're doing and we have a busted assignment, that's pretty irritating to me. It doesn't make sense to me."
Although Kizer and Boyle haven't been spectacular so far in camp or in their two preseason appearances, they certainly have been sharper than they were on Sunday, which disappointed them both.
"A couple (throws) got away from me. And what I'm learning is, that's my knock. I've got to be able to step in there, when Aaron goes down and I'm out there with the 1s, keep the ball out of harm's way," Kizer said. "Obviously it was a windy day, a couple balls got blown all over the place, but that's no excuse.
"The position I'm in right now, you've got to take it day-by-day. You can't count on a good game or a good practice the day before to compensate for a day that's not as good. Because the way this league works, it's how (the team) feels come cut day — or trade day. And it's about making sure you're stacking good days. Today, I wouldn't say was a horrible day, but obviously I had a couple throws I'd like to have back."
Boyle said he thought the installation of the no-huddle offense might've left the players on that side of the ball doing more thinking and less playing than they have in recent practices.
"Whenever 12's not there, you have to account for something because he's such a presence out there. Even when he's not super rah-rah, he's still Aaron Rodgers and you still respect everything he does and says, so you have to account for that. I don't think there's any added pressure or you have to do any different, it's more of a 'Hey, we're getting more reps now, we have to make sure we're doing things that Aaron would expect out of every single teammate.
"We put in something a little bit new, so I think the learning curve with that kind of slowed us down in one of the periods. … But I don't think it was a terrible practice."
You have free articles remaining.
Meanwhile, LaFleur was pleased with the defense, which he challenged to be more physical after missing a combined 43 tackles in the first two preseason games. While there was no live tackling in the practice, defenders did carry their "thud" hits out more than they had in past sessions.
"I thought the defense was much more physical," LaFleur said. "I think it surprised a couple of the guys on offense where they actually got knocked off their feet."
Graham injures finger
Jimmy Graham broke his thumb midway through last season and was never quite the same player. The veteran tight end must be hoping that the finger injury he suffered Sunday doesn't have a similar effect.
Graham was injured when he tried to catch a contested pass from Kizer over the middle and safety Darnell Savage broke up the play. Graham was clearly in pain immediately and headed inside the Don Hutson Center with an athletic trainer right away to be tended to. He did not return.
LaFleur didn't know the severity of the injury, saying only that Graham "missed the rest of practice."
Moore OK after crash
Wide receiver J'Mon Moore said he wasn't ticketed in the traffic crash he was involved in on Friday. He said he was driving in heavy rain at the time and was traveling westbound on Highway 29 and his Mercedes-Benz hydroplaned across the median into eastbound traffic, where he was hit in the driver's side by an oncoming pickup truck.
"It was raining hard as hell," he said. "I just hydroplaned from 29 West, spun out all the way to 29 East."
Moore was no worse for wear and practiced as expected on Sunday.
"Anytime somebody gets in a car accident, especially someone you care about, it's a big deal," LaFleur said. "We're very grateful that he's OK. It was a pretty scary deal for him."
Extra points
With All-Pro left tackle David Bakhtiari not practicing due to a personal matter, Alex Light worked with the No. 1 offensive line in his place. "He's an athletic guy that is a smart football player," LaFleur said of Light. "We've seen some really good flashes. It's going to come down to the consistency with how he plays. But I think there's been some really good moments for him." … Running back Jamaal Williams, sidelined since the second practice of camp with a hamstring injury, returned to action, though he was held out of 11-on-11 periods. … Cornerback Josh Jackson, who missed much of camp with a foot injury, finally took part in team drills for the first time. ... Cornerback Ka'dar Hollman (stinger) and outside linebacker Reggie Gilbert (knee) missed practice with injuries suffered against the Ravens…. Receiver/returner Trevor Davis (stinger), fullback Malcolm Johnson (groin) and defensive end Fadol Brown (calf) returned to practice.