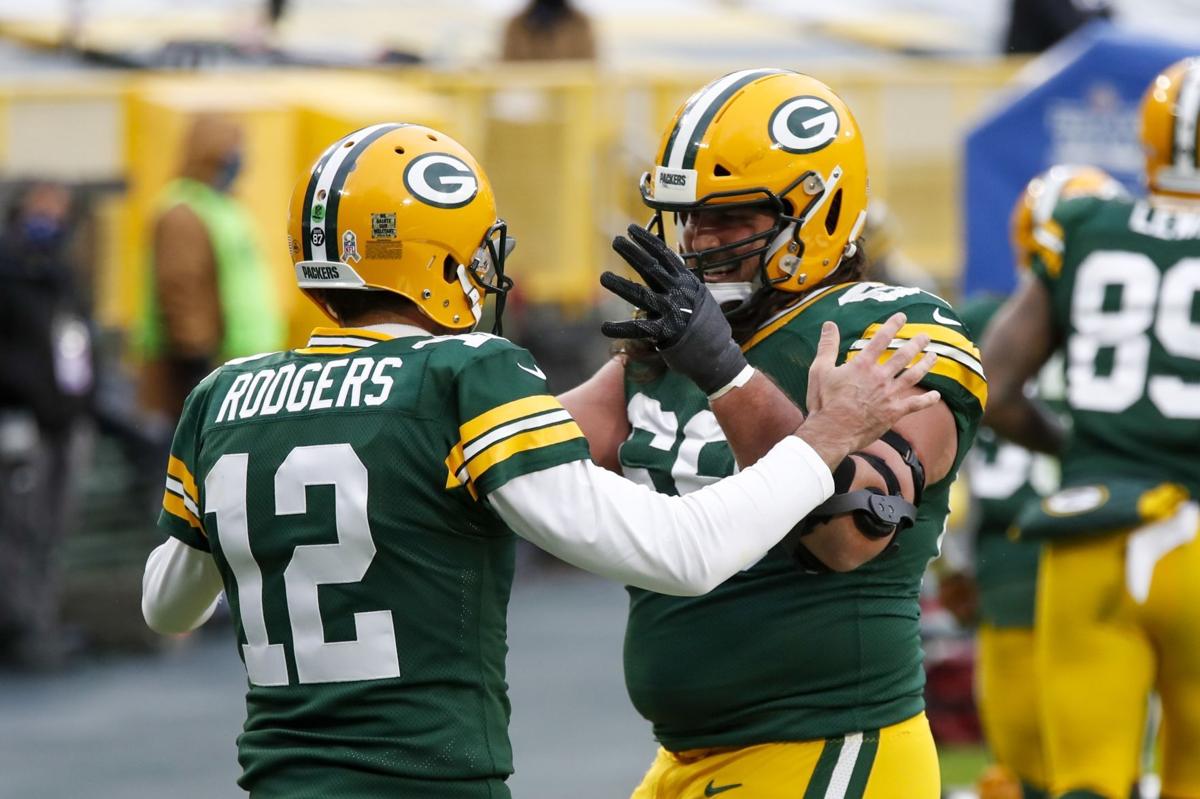 GREEN BAY — At first, it sounded a little too good to be true.
The Green Bay Packers had just locked up their franchise left tackle, David Bakhtiari, with a four-year contract extension worth $103.5 million, including a $30 million signing bonus. And somehow, making Bakhtiari the highest-paid offensive lineman in NFL history had somehow given the team … more flexibility in its efforts to keep some other key pieces despite the challenges a reduced 2021 salary cap will present?
"I think this was actually an important part of what we're trying to do," general manager Brian Gutekunst said when the deal was announced, shortly after the team's 24-20 victory over Jacksonville on Sunday afternoon. "As we move forward in '21 — which is going to be a challenging year for everyone in the National Football league — this gives us a little bit more flexibility moving forward."
Having extended Bakhtiari and Pro Bowl nose tackle Kenny Clark, who got a four-year, $70 million deal in August, the Packers accomplished their two biggest re-signing goals. Still on the to-do list, though, would be center Corey Linsley, running backs Aaron Jones and Jamaal Williams, and cornerback Kevin King. And Gutekunst didn't rule out signing one of them to an extension before season's end.
"I think there's opportunities to get some deals done," Gutekunst said. "We'll kind of have to wait and see how that goes. Every situation is a little bit different. But the '21 cap situation, again, is problematic. Everyone is trying to figure out how they're going to solve that going forward. We'd certainly like to (complete another extension). Whether that happens or not is tough to tell."
Jones, who enters Sunday's game at Indianapolis with 724 total yards from scrimmage and seven total touchdowns despite missing two games with a calf injury, would seemingly be the Packers' next-man-up signing priority, but the uncertain nature of the running back market perhaps will lead to him testing the free agent waters instead. The team drafted AJ Dillon in the second round in April, and Williams might be a less-expensive alternative to re-signing Jones.
King, meanwhile, has missed the past five games with a quadriceps injury and, having had injury issues during his first two seasons, seems unlikely to fetch a high price as a free agent. The Packers could retain him on an inexpensive prove-it deal or let him walk if another team is willing to take a more lucrative chance on him.
That leaves Linsley, who is in the last year of a three-year, $25.5 million extension, as perhaps the most logical candidate for an in-season extension. He and his wife, Anna, live in Green Bay year-round and are heavily involved in the community, but Linsley is also having what should be his first Pro Bowl season, holding together an injury-ravaged group. If he chooses, he might reset the center pay scale if he hits the open market.
The reason Gutekunst believes the Packers are in position to keep another player is the structure of Bakhtiari's deal, which also keeps his cap number reasonable for 2021, when the salary cap is set to drop to $175 million because of the league's COVID-19 pandemic-related losses.
By getting the deal done before the end of the year, the Packers are able to prorate that lineman-record $30 million signing bonus over five years instead of four because 2020 counts in the equation. Plus, Bakhtiari's deal contains large roster bonuses to be paid each March, and the Packers could convert the March 2021 payment of about $11 million to a signing bonus and spread the cap hit out over future years after the pandemic subsides and new TV deals are negotiated.
"There's just some avenues as we move forward that allows us to kind of reduce his number in the next couple years that maybe we wouldn't have been able to do if we couldn't come to agreement," Gutekunst said. "Again, he's an elite player at an elite position, and we felt it was important to lock him up. And I think it helps us go forward with some of the other things we want to do."
The Packers had roughly $8.4 million in cap space remaining for 2020 before Bakhtiari's deal, and they can carry over any unused space into next year if they don't use it on a late-season extension in the next several weeks.
And while quarterback Aaron Rodgers is having an outstanding season that could result in his third NFL MVP, the Packers would create more cap room next year if they moved on — roughly $4 million if they absorbed all of the unamortized portion of his signing bonus into next year's cap, or about $22 million if they designated his trade/release as a post-June 1 transaction. That said, it's hard to imagine rookie first-round pick Jordan Love, who is currently third string behind Rodgers and Tim Boyle, being ready to start in 2021.
It's also possible that the Packers will let all of their other impending free agents hit the market in March and see what happens. While some NFL teams are positioned to have ample cap space even with the reduction in 2021, the depressed market could help them retain one or two of their own on the cheap.
Gutekunst also suggested that the team might benefit by adding outside players who are salary-cap casualties elsewhere.
"The players that might become available to us during the March period may be a little different than it has in the past, and we want to have some flexibility to do those things if we can," Gutekunst said. "So I think (our approach) is a combination of that. We've always believed that we'd like to take care of our own first — that's very important to us. But we'd also like to have some flexibility to see what the market might bring in March."
Lazard activated
Wide receiver Allen Lazard (core muscle surgery) was activated from injured reserve after missing six games. He has 13 receptions for 254 yards and two touchdowns in three games this season.
Lazard had the best game of his pro career Sept. 27 when he caught six passes for 146 yards and a touchdown in a 37-30 victory at New Orleans, but he suffered a core injury in that game and hasn't played since.
The 2018 undrafted free agent from Iowa State has 13 catches for 254 yards and two touchdowns in just three games this season. Lazard had 35 catches for 477 yards and three touchdowns last year.
---
Photos: Packers' 2020 season so far in pictures