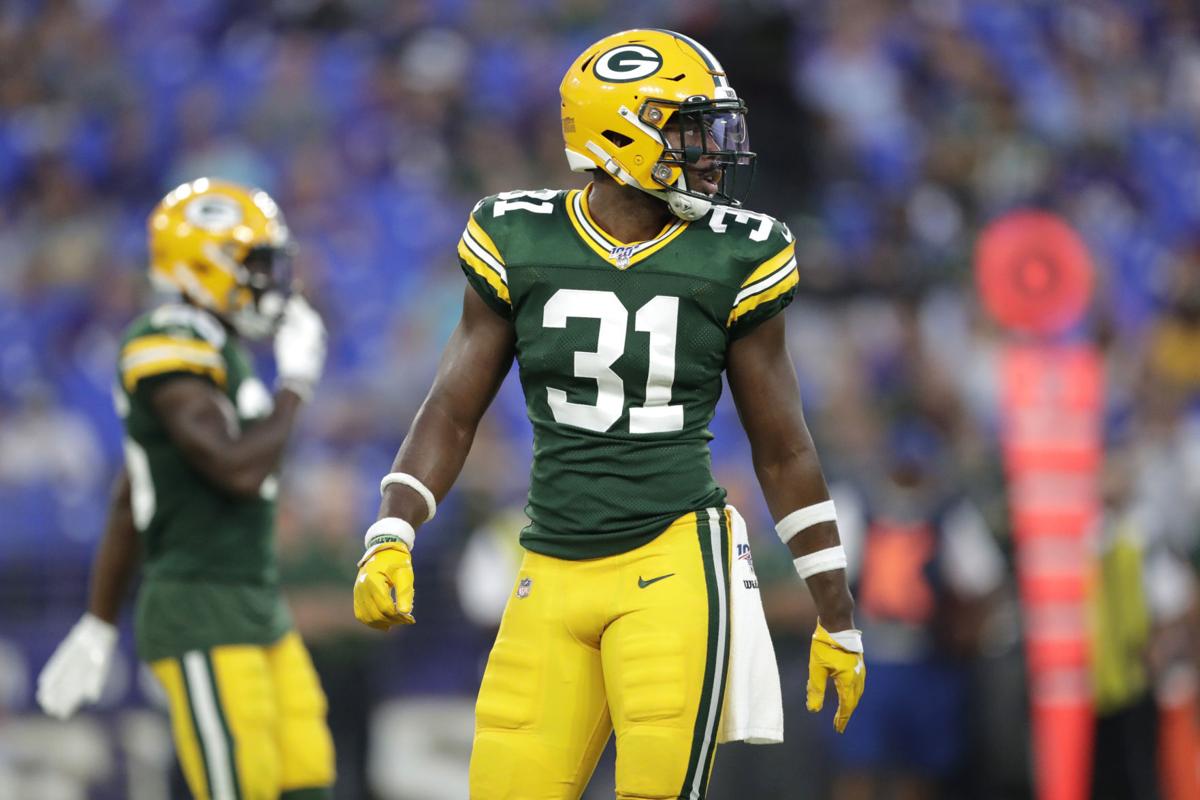 GREEN BAY — Adrian Amos might not even leave the hotel. Despite his intimate knowledge of Windy City eateries and the best spots to shop on Michigan Avenue after four years there, the Chicago Bears-turned-Green Bay Packers safety might limit himself to a few restaurant and retail recommendations for his teammates and just stay in on Wednesday night.
"I'll get some room service or something," Amos said Tuesday after practice.
Yes, Amos is taking his Packers debut in Thursday night's season opener against the Bears at Soldier Field very seriously. But not because he'll be sharing the field with the guy who used to have his new job: Packers-turned-Bears safety Ha Ha Clinton-Dix.
"I guess for fans and things like that it's big, but to me, it's just how it worked out. It's not like it was something that was planned or anything like that," said Amos, who joined the Packers as a free agent in March, signing a four-year, $36 million deal ($12 million guaranteed). "I don't see it as anything. A lot of people try to make it me versus him and stuff like that, but it's not really that way. Whether he does well or not, it has nothing to do with whether I do well or not."
And to be sure, Amos wants to do well. The Packers signed him and then drafted his running mate, first-round pick Darnell Savage, in hopes of remaking a position that became problematic in recent years — in part because Clinton-Dix, the team's 2014 first-round pick, didn't parlay a 2016 Pro Bowl selection into continued top-flight play and a lucrative contract extension.
Instead, the Packers moved on from him at the trade deadline, shipping Clinton-Dix to the Washington Redskins for a fourth-round pick — a pick they used in a trade to move up and take Savage at No. 21 overall, the same spot where they chose Clinton-Dix five years earlier.
In a sign of just how devoid the Packers defense was of takeaways last year, Clinton-Dix played in only seven games before being traded and still led the team in interceptions with three. He left Washington and signed a one-year, $2 million deal with the Bears in hopes of regaining his Pro Bowl form with one of the league's best defenses. He's lining up in Amos' old spot as the safety sidekick to Eddie Jackson, a first-team All-Pro last season.
"I haven't been a part of a group like this since I was a rookie in the league," Clinton-Dix said midway through training camp, referring to the Packers' 2014 defense, which was terrific during the second half of that season en route to an NFC Championship Game berth.
"Being able to be around this many guys with this much talent, elite players in the front seven, it'll make my job easier. One of my coaches told me: 'We're not here to make the honor roll; we're here to make plays.' We'll definitely have more chances to make plays and take chances."
Bears coach Matt Nagy said Clinton-Dix has assimilated well into new defensive coordinator Chuck Pagano's scheme and has fit in well in the locker room.
"I'll tell you what, I'm really, really proud of the way he's handled himself since he's been here. He's been absolutely awesome," Nagy said in a conference call with Wisconsin reporters this week. "He's completely all-in on the culture that we have here, how we do things, his teammates. They're brothers, man. It's cool. It's really neat to see. That's all we ask for is for guys to just come in and do their job and play hard and work harder for your teammate, and he's done that and more since he's been here."
Clinton-Dix's ex-teammates, meanwhile, don't seem to have any hard feelings toward him, as both wide receiver Davante Adams and quarterback Aaron Rodgers said they're looking forward to seeing Clinton-Dix on the other side of the field and praised him for being a good teammate and friend.
"Ha's one of my best friends," Adams said. "He's definitely in for a treat. He hasn't seen me play this year, so there's a few things he hasn't seen. I've added a few more tools to the belt. It'll be fun. I love Ha, so it'll be good to see him and finally get a chance to go at him a little bit."
Said Rodgers: "I have a ton of respect for Ha Ha. I enjoyed playing with him. We always had really interesting football conversations. He's a student of the game, as most guys who went to Alabama. They really understand the ins and outs of the game, are tough players, they're fun to be around and Ha's no different. He was a lot of fun to be in the locker room with, to go to battle with, and I'm sure he's talking about different things that I like to do. But it'll be fun to play against him."
Amos, meanwhile, says he is focused not on proving the Bears wrong for moving on from him but on proving the Packers right for bringing him aboard. While Nagy said Amos was the kind of player who "you can really trust him and you know he's going to be there when you need him," the Packers would like to see him be reliable but also be a playmaker. Amos enters the season with three career interceptions to Clinton-Dix's 14.
"I'm just excited to get the season started, excited to see my role in this defense and want an opportunity to go out there and start off strong," Amos said. "Things happen with the business part of it. That's what it is, it's a business. I'm just going out there trying to prove myself to the league. Not necessarily to the Bears or anybody, just to the league that I belong."