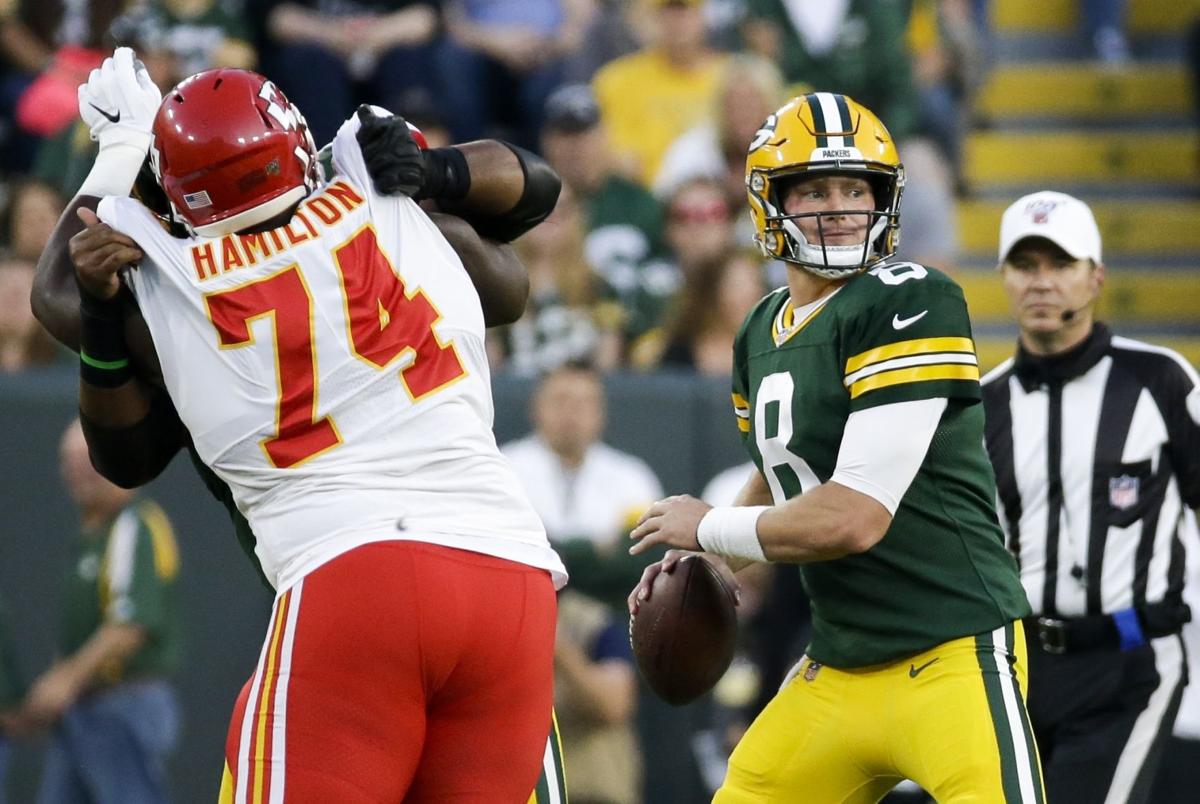 GREEN BAY — A year ago, amid Tim Boyle's surprising rise from little-known training-camp rookie to legitimate NFL prospect to earning a spot on the Green Bay Packers' 53-man roster as the No. 3 quarterback, a handful of the team's regular beat writers were taken aback by Boyle's strong arm.
It would be that strong arm — along with significant improvement over the past year — that would lead the Packers to make Boyle their No. 2 quarterback on Saturday, opting to release last year's primary backup, DeShone Kizer, as part of their flurry of roster moves to reach the NFL-mandated 53-player limit.
The decision capped a remarkable rise for Boyle, who arrived last year as an undrafted free agent with a largely unimpressive resume, having gone to the University of Connecticut as the state's high-school player of the year, only to leave after three disappointing seasons and finish his college career at Eastern Kentucky having completed only 55.5 percent of his career passes and thrown more than twice as many interceptions (26) as touchdown passes (12).
But during one practice last summer, fellow Connecticut native Michael Cohen, then a writer for The Athletic, observed on the sideline that Boyle was throwing "lasers" all over Ray Nitschke Field. And thus, the "Tim Boyle Laser Show" — the #TBLS in Twitter hashtag parlance — was born.
On Saturday, the Laser Show went to a new level, when the Packers released Kizer and made Boyle their primary backup behind Aaron Rodgers. The Packers also cut undrafted rookie Manny Wilkins, so they apparently plan to enter Thursday night's regular-season opener against the Chicago Bears at Soldier Field with just two quarterbacks on the roster.
"I don't pay attention to any of that stuff. I know what it is. I know there's a hashtag behind it," Boyle replied when asked about the #TBLS phenomenon last week. "It's flattering that you guys think I have a strong arm but I don't pay much mind to it."
Well, Packers general manager Brian Gutekunst and first-year coach Matt LaFleur were clearly paying attention throughout training camp and the preseason this summer, when the 24-year-old Boyle clearly outperformed Kizer, who came into the NFL with a far grander pedigree.
A former second-round pick and starting quarterback at the University of Notre Dame, Kizer came to Green Bay last offseason in a trade with the Cleveland Browns. The Packers sent the Browns their 2015 first-round pick, cornerback Damarious Randall, in the deal, and since moving to safety, Randall appears to have resurrected his career.
The 23-year-old Kizer, meanwhile, was inconsistent with his accuracy throughout camp and now presumably will land elsewhere, which will mean being in his fifth offensive system in four years, dating to his final year at Notre Dame.
Kizer struggled in spot duty last season when Rodgers suffered a knee injury in the opener and a concussion in the finale, completing only 47.6% of his passes, with two interceptions and no touchdowns (40.5 rating).
"He's a young player and he's got a lot more to learn. He did a lot of good things, and then there's some things that we were constantly on him about, about trying to be a little bit more consistent," LaFleur said Friday when asked about Kizer's fit in his offense. "He's talented. He's athletic. He's definitely into it, and I thought it was a really good (fit). He's been a great teammate; he's been great in the room."
For the preseason, Boyle finished 34 of 57 (59.6 percent) for 356 yards with six touchdowns and no interceptions for an NFL-best 112.9 passer rating, while Kizer was 25 of 45 (55.5 percent) for 273 yards with two TDs and two INTs (70.0 rating). Boyle played 109 snaps and led the offense to 52 points, while Kizer played 95 snaps and led the offense to just 17 points.
"I've seen a change in my approach and I think my play," Boyle said last week. "When you're around a dude who throws like Aaron, (you learn a lot). I'll feel myself in the pocket, and Aaron does some funky stuff with his arm angles, and I feel myself doing that. Right after I do it, I almost feel like, 'Wow, that was almost Aaron Rodgers-esque.' He's definitely rubbing off on me a little bit. I obviously have my own style and my own rhythm, but being around him has really improved my game both physically and mentally. From last year to this year, I feel more comfortable. I feel like I belong. I definitely feel like my confidence is on the rise."
Here's a look at the initial 53-man roster, which includes 25 offensive players, 25 defensive players and three specialists:
Quarterbacks (2)
Kept: Aaron Rodgers, Tim Boyle.
Released: DeShone Kizer, Manny Wilkins.
Analysis: The Packers liked the glimpses they saw of Wilkins, an athletic undrafted free agent from Arizona State who is a candidate for the practice squad. This marks the only the second time the Packers have come out of preseason with only two quarterbacks on the 53-man roster since Rodgers broke his collarbone in 2013.
Running backs (4)
Kept: RB Aaron Jones, RB Jamaal Williams, RB Dexter Williams, FB Danny Vitale.
Released: RB Tra Carson, RB Keith Ford, FB Tommy Bohanon, FB Malcolm Johnson (waived/injured).
Analysis: Dexter Williams, a sixth-round pick, struggled mightily in pass protection but earned the third halfback spot over Carson. Vitale is the only fullback left standing at a position that's important to LaFleur's scheme.
Wide receivers (6)
Kept: Davante Adams, Marquez Valdes-Scantling, Geronimo Allison, Trevor Davis, Jake Kumerow, Darrius Shepherd.
Released: Teo Redding, Malik Taylor, J'Mon Moore, Allen Lazard.
Injured reserve: Equanimeous St. Brown.
Analysis: Shepherd overcame the longest odds to make the roster of any player, having been signed only after taking part in the post-draft rookie camp. He's the only undrafted rookie to make the team. Lazard, who missed the preseason finale while in the concussion protocol, seemingly did enough to make the roster and won over Rodgers but the Packers decided against keeping a seventh receiver. St. Brown's season is over because of an ankle injury suffered against Oakland. Moore is gone after one disappointing season as a 2018 fourth-round pick.
Tight ends (4)
Kept: Jimmy Graham, Marcedes Lewis, Robert Tonyan, Jace Sternberger.
Released: Pharoah McKever, Evan Baylis.
Analysis: The Packers will ride with the two old vets and Tonyan, who could see his role grow as the season wears on. Sternberger might not be ready for prime time after missing much of camp, though he did have a touchdown catch against Kansas City.
Offensive linemen (9)
Kept: Bryan Bulaga, David Bakhtiari, Lane Taylor, Billy Turner, Corey Linsley, Elgton Jenkins, Lucas Patrick, Alex Light, Cole Madison.
Released: Anthony Coyle, Gerhard de Beer, Dejon Allen, Yosh Nijman, Adam Pankey.
Analysis: The surprise here is Madison, a fifth-round pick a year ago who spent last season out of football while dealing with some mental health issues. He takes the spot of McCray, a former starter and versatile backup who heads to the Cleveland Browns. Taylor held off Jenkins to keep the starting left guard job. Light enters the season as the swing tackle.
Defensive linemen (6)
Kept: Kenny Clark, Dean Lowry, Montravius Adams, Tyler Lancaster, Kingsley Keke, Fadol Brown.
Released: Deon Simon, James Looney, Olive Sagapolu.
Analysis: The Packers kept perhaps one more defensive lineman than anticipated, especially considering the way they intend to use some of their outside linebackers as interior rushers. Brown battled back after missing most of camp with a calf injury to land the final spot.
Outside linebackers (4)
Kept: Za'Darius Smith, Preston Smith, Kyler Fackrell, Rashan Gary.
Released: James Folston, Randy Ramsey, Markus Jones.
Analysis: After trading Gilbert late last week, the Packers opted to keep just four true edge rushers — the fewest they've had since moving to a 3-4 scheme in 2009. The position looks dangerously thin if injuries strike.
Inside linebackers (4)
Kept: Blake Martinez, Oren Burks, James Crawford, Ty Summers.
Released: Brady Shelton, Curtis Bolton (waived/injured).
Analysis: Bolton was on his way to earning the fourth spot before a knee injury against Oakland. Summers, a seventh-round pick, led the NFL in preseason tackles (30) and reduced his missed tackles in the final two games. Burks said last week his partially torn pectoral muscle won't require surgery but his return is uncertain. Shelton made some plays and might be a practice-squad option.
Cornerbacks (7)
Kept: Jaire Alexander, Kevin King, Tramon Williams, Josh Jackson, Tony Brown, Ka'dar Hollman, Chandon Sullivan.
Released: Nydair Rouse, Jocquez Kalili, Jackson Porter, Kabion Ento.
Analysis: Brown, who played well with King sidelined with a hamstring injury for much of camp, earned his keep, as did Hollman, an impressive sixth-round pick, and Sullivan, one of the camp's more pleasant surprises. King and Jackson missed significant time with injuries but remain core players in the secondary. Ento showed promise before suffering a hamstring injury on a terrifically athletic interception during practice midway through camp.
Safeties (4)
Kept: Adrian Amos, Darnell Savage, Raven Greene, Will Redmond.
Released: Tray Matthews, Natrell Jamerson.
PUP list: Ibraheim Campbell.
Analysis: Jamerson, a versatile ex-University of Wisconsin player who was on the roster last year and had a solid camp, lost out to Redmond for the final spot. Matthews also had a good camp and could be a practice-squad pick. Campbell is recovering from a knee injury but should be a contributor once healthy.
SPECIALISTS (3)
Kept: K Mason Crosby, P JK Scott, LS Hunter Bradley.
Analysis: Ficken gave Crosby a legitimate competition that went down to the final preseason game. But he needed to vastly outperform Crosby to win the job, and that just didn't happen.
Be the first to know
Get local news delivered to your inbox!