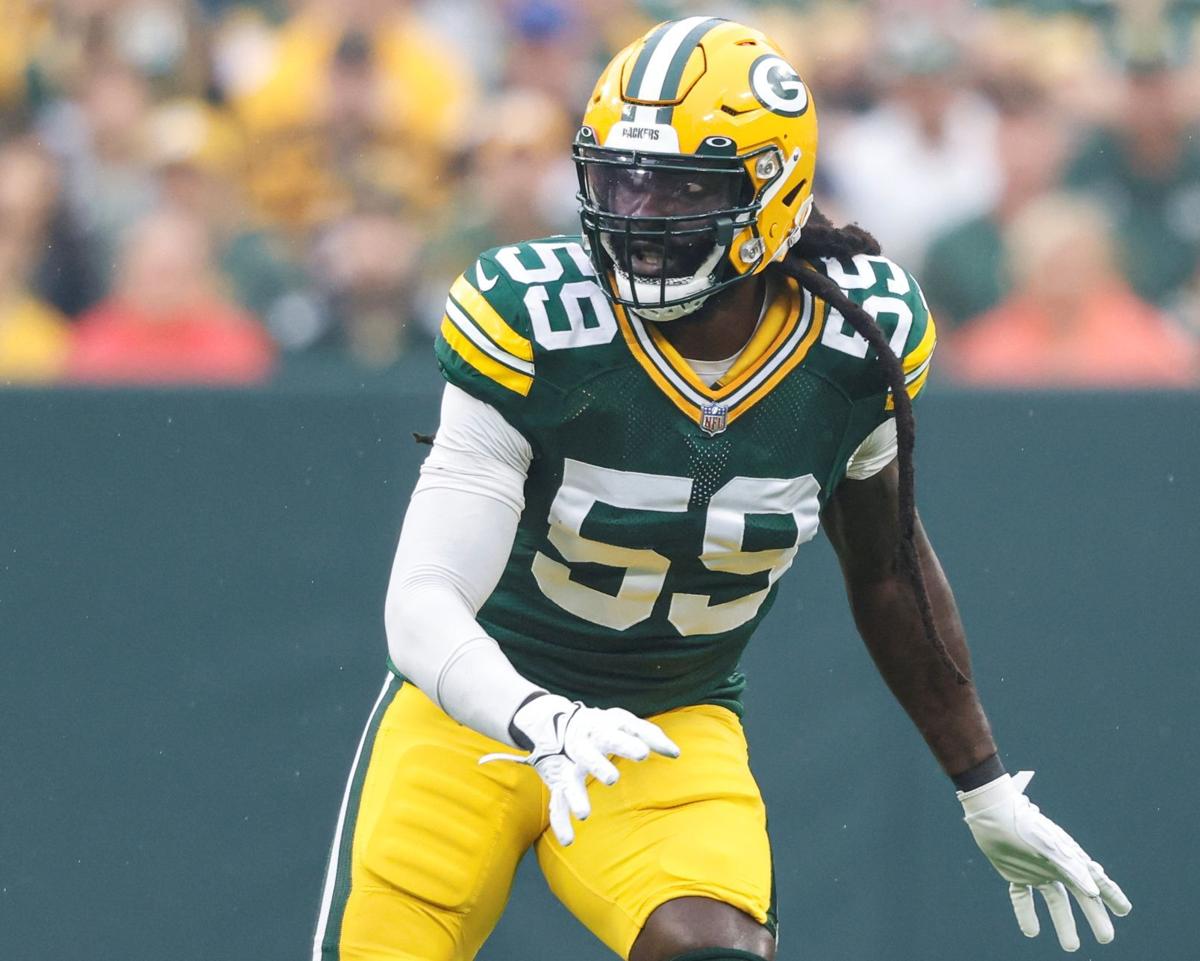 GREEN BAY — Aaron Rodgers could not remember who he was talking to. He thought maybe it was wide receiver Marquez Valdes-Scantling, but he wasn't sure. It might've been someone else standing nearby midway through Sunday's win over the Cincinnati Bengals.
Not that it mattered. The Green Bay Packers quarterback knew what was said — and knew what he was thinking as he watched unsung inside linebacker De'Vondre Campbell continue to lead a Packers defense that, roughly four months earlier, Campbell hadn't even been a part of.
"We just said, 'How in the hell was this guy on the street?'" Rodgers said of Campbell, who'd been unemployed — despite playing in 75 career games (70 starts) over five seasons with the Atlanta Falcons and Arizona Cardinals — until the Packers signed him on June 9.
"It's a great pickup by our personnel folks. He can run, he's a great tackler, he's around the ball all the time, he's a great locker room guy. I mean, it's baffling to me."
He's not alone. Xoach Matt LaFleur, whose time as an assistant coach in Atlanta overlapped with Campbell's rookie season of 2016, was just as perplexed Campbell wasn't already on a roster when general manager Brian Gutekunst and the personnel staff signed him.
"I'm sure glad he wasn't, for our sake," LaFleur said, adding he and Campbell had spent part of the team's charter flight back from Cincinnati talking on Sunday evening. "'Dre' has been outstanding. He's been so consistent, making plays, being physical, flying around the field.
"I think our guys are really getting to know him, just as a person. I think he's a great person … and (I'm) just really, really glad he's a part of our football team."
Entering this Sunday's game against the Chicago Bears at Soldier Field, Campbell has registered a team-high 48 tackles through five games while intercepting two passes, recovering a fumble, registering one tackle for loss and one quarterback hit while also being the defensive communicator in the huddle, relaying defensive coordinator Joe Barry's calls from the sideline.
At a position where the Packers have struggled to find a player who can combine sure tackling and splash playmaking, Campbell has managed to do both during the team's 4-1 start.
"That's a guy who walked in the building, studied his butt off, got the plays and started making the plays right away," outside linebacker Rashan Gary said. "Me coming into Year 3 and seeing a player that's just able to do that, it was like a 'Wow' moment. I love playing with this guy. He's bringing the juice, flying around and making us a better defense."
A fourth-round pick from the University of Minnesota in 2016, what intrigued the Packers about Campbell was his unusual combination of size and coverage ability. At 6-foot-4 and 232 pounds, Campbell is the rare inside linebacker who has enough bulk to be stout against the run but enough agility and athleticism to cover tight ends and running backs.
"I think I'm doing a pretty good job considering that I came in really late. I didn't have a full offseason with my guys on defense," Campbell said after Sunday's win. "I think I'm doing a pretty good job right now. There's still some things I can get a lot better at, as always. There's always things you can get better at. But I think we're off to a good start. There's a lot of football left, so I just have to continue to make corrections and continue to get better and strive for perfection."
LaFleur said that in Barry's defense Campbell has "a little bit more freedom" than in his past systems. In his first five NFL seasons, Campbell averaged 92.4 tackles per year and recorded a total of three interceptions and 7.5 sacks. In 11 games (10 starts) with Arizona last season, he had 99 tackles, an interception, a forced fumble, two sacks and three pass break-ups.
"We're just so thankful to have him," Rodgers said. "Because I think as he continues to make plays, his leadership opportunities will continue to grow, guys listen to him. (For now), he's leading the defense as much as he feels comfortable. And that's a guy we're really lucky to have."
Photos: Packers' 2021 season in pictures
Check out photo galleries from every game of 2021 from the preseason through the end of the regular season and the playoffs.