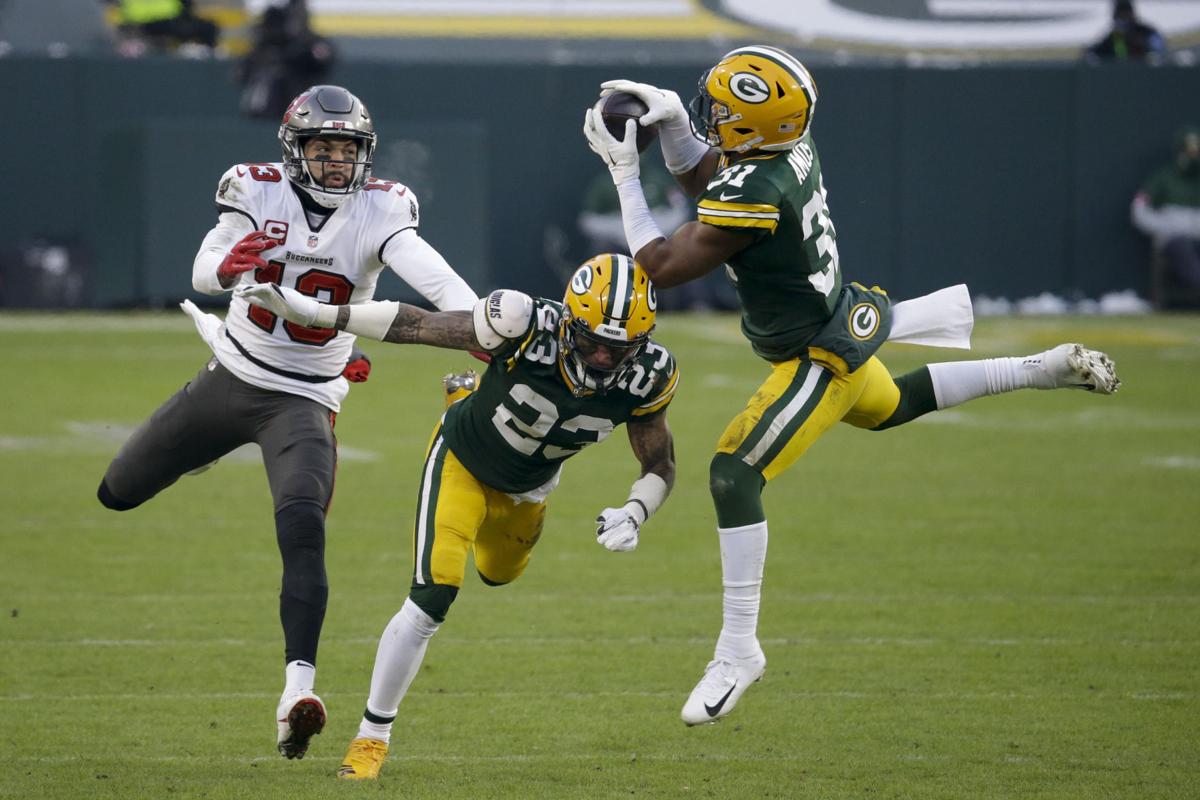 GREEN BAY — Whatever happens with Aaron Rodgers and the Green Bay Packers — and, to be clear, Adrian Amos most definitely wants the three-time NFL MVP back in the locker room and back under center — the guys on the other side of the ball believe they have to do a better job of holding up their end of the football bargain.
So whether Rodgers returns to the fold after his displeasure with the front office spilled into public view shortly before the 2021 NFL draft kicked off on April 29, or if general manager Brian Gutekunst and the team's brass changes course and decide a trade would be best for all involved, Amos wants his defensive teammates to realize their job doesn't change.
Even if Jordan Love takes over as the starting quarterback before he's truly ready.
"They're not going to cancel all the games because we don't have the three-time MVP at quarterback," the veteran safety said during the first week of organized team activity practices, which continue this week — presumably without Rodgers, who has opted not to attend after taking part in the technically voluntary sessions for his first 16 years in the NFL.
"Of course, you want one of the greatest, if not the greatest, quarterbacks ever on your team. You want him out here. But everybody has to go about their business, and I'm not going to knock anybody for getting what they feel they deserve."
That said, Amos insisted the Packers defense cannot concern itself with who's playing quarterback, even if Love or recent veteran addition Blake Bortles ends up taking the first snap of the Sept. 12 season opener against the New Orleans Saints at the Mercedes-Benz Louisiana Superdome.
That approach is consistent with what head coach Matt LaFleur has been preaching to his players throughout the offseason.
"We kind of talked about this with our football team. Right now, there's things that are in your control and there's certain things that are out of your control," LaFleur said. "I think that just our mindset right now is, each individual here is focused on the things that they can control. We need everybody to be at their best in order for us to continue to progress as a football team. So that's kind of been the focus throughout."
For Amos, though, it goes a step further than that — perhaps because of his experience during four seasons with the Chicago Bears, as part of a defense that had to compensate for the team's less-than-stellar offense.
In those four years in Chicago, Amos saw seven quarterbacks start at least one game: Mitch Trubisky (26), Jay Cutler (20), Matt Barkley (6), Brian Hoyer (5), Mike Glennon (4), Chase Daniel (2) and Jimmy Clausen (1).
"I've had about six or seven quarterbacks over my time in Chicago, before coming here. (And) I carry over that same mindset, that we're not relying on who's on offense," Amos explained. "That's something I try to consistently say (to the rest of the team) and consistently believe. If we lose, it's on us.
"We have to rely on our defense. The offense isn't always going to be clicking 100%. And that's how we take it. We can't worry about what's going on on the other side. You never know. Whether y'all think (Rodgers) is gone or staying or whatever, regardless, we've got to be great on defense."
The Packers are learning a new scheme under first-year defensive coordinator Joe Barry, who is taking over for Mike Pettine, who didn't return after three seasons in Green Bay (one under Mike McCarthy, two under LaFleur).
In Pettine's three seasons, the Packers finished 18th (354.4 yards per game), 18th (352.6) and ninth (334.0) in total defense and 22nd (25.0 points per game), ninth (19.6) and tied for 13th (23.1) in scoring defense.
Barry spent two seasons as the Detroit Lions' defensive coordinator and two more as the defensive coordinator in Washington. Those four units never finished higher than 28th in total defense, and they never finished higher than 17th in scoring defense.
"I'm really looking forward to continuing the next couple weeks and just getting our system in, implementing our terminology and putting it our system and getting it down," Barry said last week.
If Gutekunst were to have a change of heart and decide trading Rodgers — after the team has repeatedly insisted that it would not do so — a deal would be easier as NFL rules allow teams to spread the salary cap charges of dead money over the current league year and the following year if such a move happens after June 1.
With the calendar turning to June on Tuesday, the $38.36 million in dead money that Rodgers would have counted against the Packers' salary cap if he'd been cut or traded earlier in the offseason can now be divided over two years. Rodgers would then count $21.15 million against this year's cap and $16.05 million against the 2022 cap.
Two league sources said Monday that the Packers have not changed their stance on Rodgers and remain committed to bringing him back and resolving whatever issues exist. Last week, Rodgers appeared on ESPN anchor Kenny Mayne's final SportsCenter broadcast and was hardly subtle about which portion of the operation he's unhappy with, as he left the front office off a list of those that he said he loves in the organization.
"I love Jordan; he's a great kid. (We've had) a lot of fun to work together. (I) love the coaching staff, love my teammates, love the fan base in Green Bay. (It's been) an incredible 16 years," Rodgers told Mayne. "It's just kind of about a philosophy and maybe forgetting that it is about the people that make the thing go."
For his part, Amos said he still expects Rodgers to return, but he also expects his teammates to do their jobs while they await the resolution of the situation.
"I mean, I haven't heard him say anything other than that, so I expect him to be (here)," Amos said. "But like I said, I'm not going to go home and cry if something else happens. I'm just playing it day by day.
"Everybody has to focus on themselves as far as getting ready to play. Because regardless of what happens, we've got to go out there and the show goes on."
Photos: Packers' 2020 season in pictures
Check out photo galleries from every game of 2020 through the end of the regular season and the playoffs.