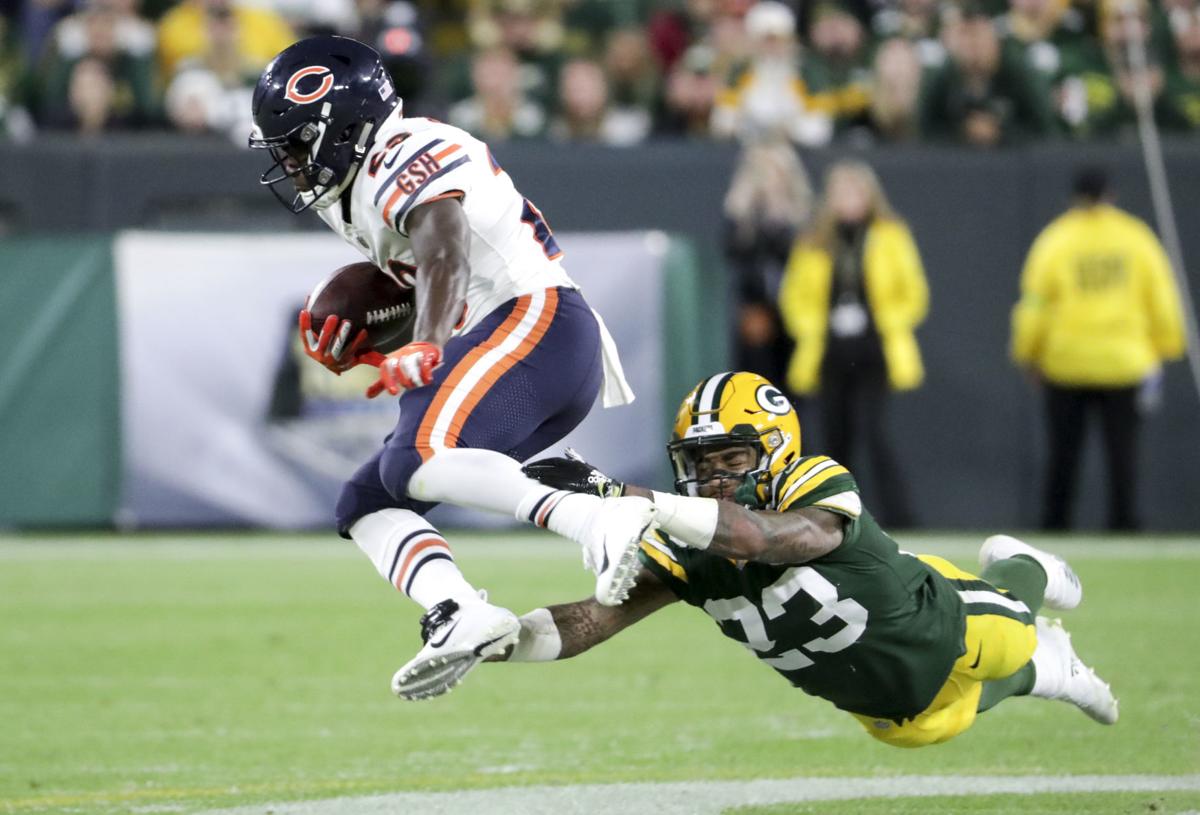 GREEN BAY — Aaron Rodgers could've gone with the one-game-at-a-time cliché, but he didn't. Instead, the Green Bay Packers quarterback stated the obvious Tuesday when asked just how important a stretch his team is entering, starting with Sunday's game at the undefeated Los Angeles Rams and what it'll take for the Packers to survive it.
"We're going to have to play better," Rodgers said matter-of-factly Tuesday. "We're going to have to play a lot better than we have to win those games."
The Packers' trip to Los Angeles will be the first of four road games over the next five weeks, with trips to the 4-2 New England Patriots (Nov. 4), to the 3-3 Seattle Seahawks (Nov. 15) and to the 4-2-1 Minnesota Vikings (Nov. 25) on the horizon. Green Bay's only home game is Nov. 11 against the 4-3 Miami Dolphins at Lambeau Field.
"This is an important stretch in our season," Rodgers said. "I'm not going to say it's going to define our season, but it's definitely going to shake things out when we get on the other side of this and get back home in six weeks. (It will decide) where we're at in the race and what we're playing for."
Asked if he could remember a more challenging stretch of games during his previous 10 seasons as the starting quarterback, Rodgers said no.
You have free articles remaining.
"I can't. This is three division winners (Rams, Patriots, Vikings) on the road and some tough tests for us," Rodgers said. "This week, obviously, a really hot team (in the Rams), and then going against Tom (Brady) and Bill (Belichick) and those (New England) guys, a fantastic organization that's obviously won a lot of championships. (Then we're) coming home and playing a tough Miami team, going on the road to one of the toughest places to play in the NFL (in Seattle) and then obviously a big division rival game. It's a tough stretch."
Health watch
Los Angeles entered the week leading the NFL in total offense (445.3 yards per game) and ranked second in scoring (33.6 points per game) but the Packers should have their full secondary ready to go.
Rookie cornerback Jaire Alexander, who has missed the past two games with a groin injury, practiced on Tuesday and appears on track to be back in the lineup. If he is able to play, it'll mark the first time since the Week 2 that the Packers' top four cornerbacks – Alexander, Kevin King, Tramon Williams and Josh Jackson – were all active for the same game.
"To get all four of those guys on the field together, it will be awesome," Williams said. "Continuity is a big part of this game, and if you can get all of these guys on the field for a span of time, it always helps out your team play. But who knows? It's always in the air. Injuries are part of the game. It's tough."
With wide receivers Randall Cobb (hamstring) and Geronimo Allison (hamstring) also practicing Tuesday, the only player on the 53-man roster who didn't practice was Rodgers, who is expected to practice Wednesday.
Meanwhile, the Packers did not designate wide receiver Jake Kumerow for return from injured reserve Tuesday. Kumerow, who suffered a shoulder injury in preseason and was placed on IR after the final roster cuts, is eligible to begin practicing this week if the Packers want to activate him. But as of now, there's been no indication whether Kumerow, a former UW-Whitewater standout, will be brought back onto the 53-man roster.
Jason Wilde covers the Packers for ESPN Wisconsin. Listen to him with former Packers and Badgers offensive lineman Mark Tauscher weekdays from 9-11 on "Wilde & Tausch" on your local ESPN station.