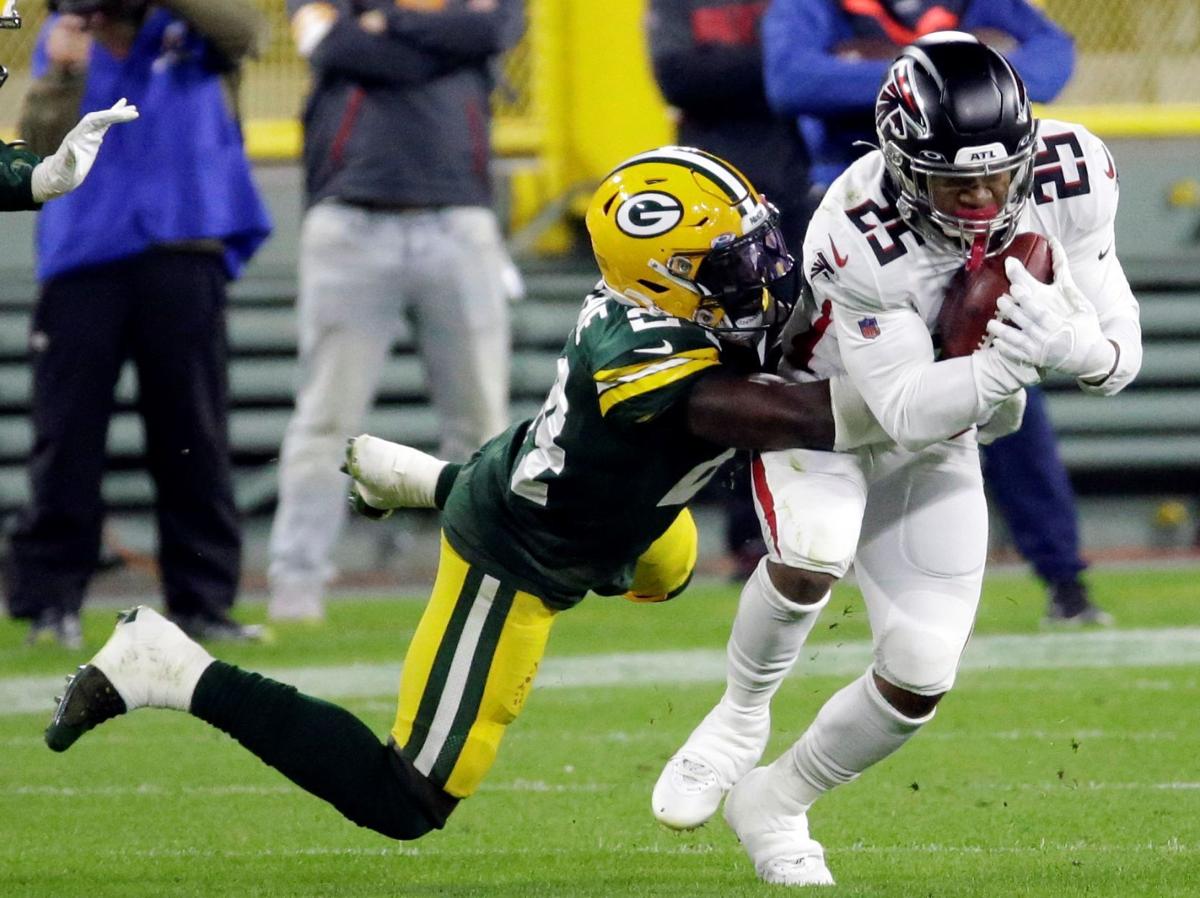 GREEN BAY — Raven Greene is still waiting.
Not for his opportunity to get back out there with the Green Bay Packers defense and be a consistent contributor. After missing virtually all of last season and scarcely playing in the first three weeks of this season after a training camp quadriceps injury, his wait ended during the Packers' pre-bye 30-16 victory over the Atlanta Falcons on Oct. 5 — a game he's hoping is just the beginning of his contributions defensively.
No, what the third-year safety is really waiting for is for the Packers Pro Shop to start stocking his No. 24 jersey with the cutoff sleeves — Greene's signature practice look that is hard to miss given the bulging biceps he likes to show off.
"They have not gotten back to me," Greene said with a chuckle. "But I feel like I can put a little bit more pressure down and get them to do that."
His performance against the Falcons was a good start.
The quadriceps injury sidelined him for the Sept. 13 opener at Minnesota, but even after being cleared to play, Greene's role early on was limited. He only played intermittently the next two weeks against Detroit (21 snaps, two solo tackles) and at New Orleans (six snaps, one assisted tackle).
Then came last week, when injuries in the secondary to Chandon Sullivan (the extra defensive back in the nickel defense) and Will Redmond (playing the hybrid inside linebacker/safety role that was supposed to be Greene's this season) forced defensive coordinator Mike Pettine to go to Greene. And he did not disappoint.
Playing 50 of the Packers' 70 defensive snaps against the Falcons, Greene finished with a career-high seven tackles (four solo) and an 11-yard sack of Atlanta quarterback Matt Ryan late in the second quarter on a third-and-4 play from Atlanta's 31-yard line. The sack forced a punt and set up a Packers touchdown with 50 seconds left until halftime.
"It was good to see Raven have a breakout night, get some more reps and make some plays," Pettine said. "He was just a guy we felt we needed to ease back in, just like anybody else, and get into game shape — (have him) log some practice reps to see it and rep it, and then see an expanded role for him moving forward."
Heaven knows Greene has waited long enough.
A pleasant surprise in 2018, when he made the team as an undrafted rookie free agent and saw action in eight games, flashing his versatility that piqued Pettine's interest in his first year as coordinator. Pettine loved that the 5-foot-11, 197-pound Greene could effectively cover running backs and tight ends in the passing game while also being strong enough — and physical enough — to be a willing tackler in the run game.
That led Greene to be in line for a significant role in last year's defense, and he played well in the Packers' season-opening defensive struggle of a win at Chicago — a six-tackle performance that caught the eye of new defensive backs coach Jerry Gray when he took the job in January and started looking at his players on film.
"When I saw Raven last year, I watched the Chicago game and I thought he did an excellent job covering," Gray said. "With a guy like that, he can play two or three positions for you. A guy like that is only going to make you better because if one of your guys get nicked that's in front of him, you're not going to lose much. I know he understands what he's doing on the back end. He's played close to the line of scrimmage and he's physical enough to be in the run."
But Greene suffered an ankle injury in Week 2, was placed on injured reserve and, while he was activated off IR in time for last year's NFC Championship Game loss at San Francisco, he was inactive on game day — although the defense could have used him that day.
"I feel like I kind of got my first taste (last year)," Greene said about his do-it-all role defensively. "A really small sample size, but being able to figure out that I really have a good chance of making an impact as long as I can stay out there."
That's obviously the goal moving forward, starting with Sunday's game against the Tampa Bay Buccaneers at Raymond James Stadium. According to Pettine, Greene's performance against the Falcons was a microcosm of why he's so valuable — after starting the game on the bench, he came in at the hybrid linebacker/safety spot when Sullivan suffered a concussion and Redmond moved to the slot. When Redmond went down, Greene was able to move again.
"He's a versatile guy. He can play deep. He can play down in the box. He can play dime," Pettine said. "The other night when we lost Sully after a couple snaps, we had to move Will Redmond to the nickel. And then Will got hurt in the fourth quarter, we had to move Raven to the nickel. That just shows you his versatility that he was able to seamlessly go from dime to nickel and perform at a high level."
In college at James Madison, Greene played almost exclusively as a traditional safety, but his unusual blend of size and speed (4.51-second 40-yard dash) made him an intriguing prospect, even though he wound up not getting drafted. The Packers and Pettine saw enough promise in him that when rookie starting safety Darnell Savage, a first-round pick, missed the first few days of training camp in 2019, Greene took all the snaps with the No. 1 defense and drew rave reviews.
Now, it's all about staying healthy and building — again — on what he's already done. Because for Greene, it's never been an issue of making an impression. It's all about sustaining it.
"I felt pretty comfortable out there, just (getting) my reps up and starting to really hit my stride. And going forward, I feel like I'm going to be extremely comfortable going into games," Greene said. "I'm just glad to be in this position I'm in."
Extra points
Rookie tight end Josiah Deguara (knee) was placed on injured reserve Tuesday. Green Bay also placed center Jake Hanson on injured reserve-practice squad and signed wide receiver Kalija Lipscomb to the practice squad.
---
Photos: Packers' 2020 season so far in pictures
Photos: Packers' 2020 season so far in pictures
Check out photo galleries from every game of 2020 through the end of the regular season and the playoffs — if the Packers make it.
Be the first to know
Get local news delivered to your inbox!