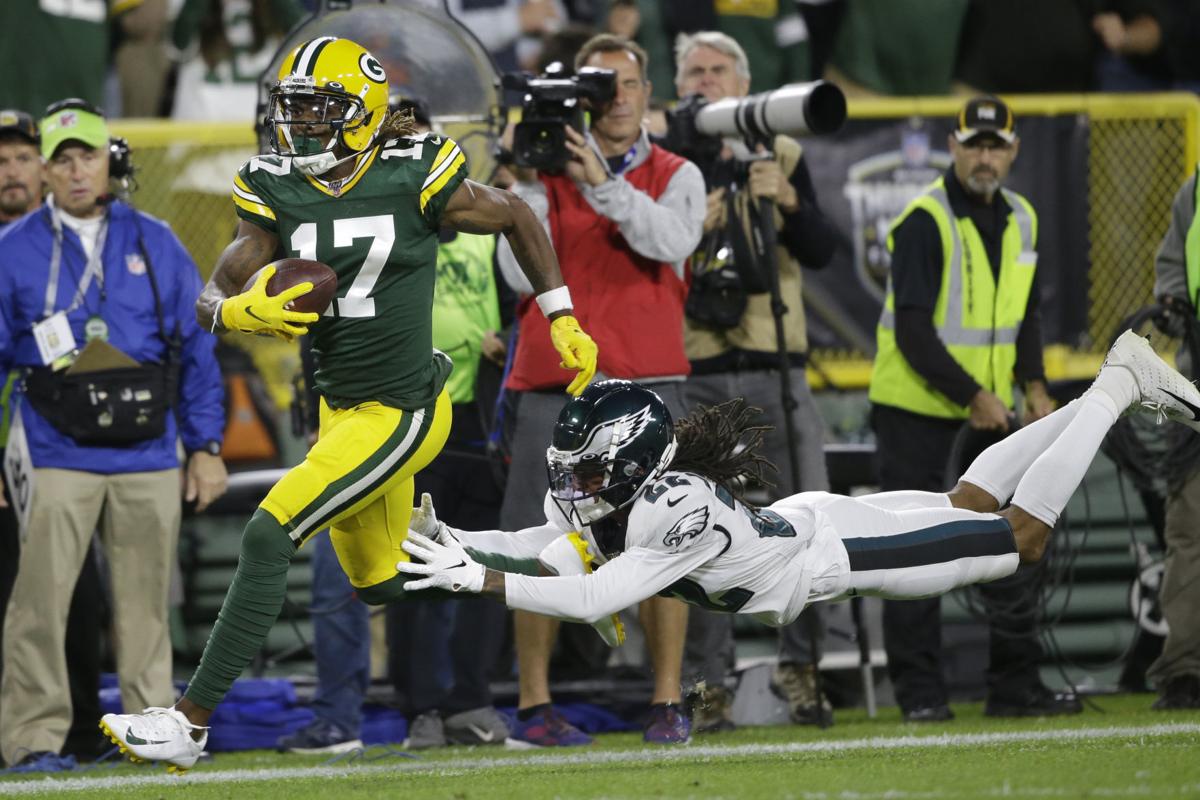 GREEN BAY – Aaron Rodgers is confident.
Not that No. 1 wide receiver Davante Adams will play Sunday despite his turf toe injury, but that he can do enough with the rest of the Green Bay Packers wide receivers to win a game while Adams recovers.
The Packers quarterback wasn't ready to rule out his go-to receiver on Wednesday afternoon, but he certainly didn't strike a hopeful chord when asked about Adams, who left last week's 34-27 loss to the Philadelphia Eagles with 10 minutes to play after suffering the toe injury on his 10th reception of the game.
"Nothing really surprises me with '17.' He's one of those rare guys who just has that toughness about him and the ability to play through stuff," Rodgers told reporters at his locker Wednesday, as the Packers (3-1) prepped for their showdown with the Cowboys (3-1) at AT&T Stadium. "I look at the '15 season when he was playing on one leg most of the year (because of an early-season ankle injury). You kept trying to tell him, 'Hey, take some plays off. Maybe take a week off.' But he never wanted to; he wanted to be out there.
"It speaks a lot to his personal drive and expectations and toughness. Nothing would surprise me with '17.' But hopefully it's this week or next week."
Adams did not participate in Wednesday's practice, and when he walked through the Packers' locker room during the media access period following practice, he was wearing a pair of soft, loose-fitting moccasins. He didn't speak with reporters on his way through, and earlier in the day, Packers coach Matt LaFleur had been unwilling to discuss Adams' injury, directing reporters to the team's official injury report, which merely listed him as having not practiced.
"With a toe injury and the type of player I am, what my game is based on is explosion and things like that," Adams said after last Thursday night's game. "So if I can't get out there and really do my thing how I want and I'm in a lot of pain, I'm sure my teammates understand that."
There's little question that the Packers need Adams. After four games, he has 25 receptions for 378 yards while the remaining receivers on the Packers' roster have a combined 25 receptions for 305 yards.
Nevertheless, Rodgers insisted that if he elevates his play against the Cowboys, his lesser-known receivers will follow suit.
"My confidence starts with myself, and I have a lot of confidence in my preparation and the expectations that I'll play well on Sunday. And then, that I'll be able to help those guys raise the level of their play by my own play and by the communication," Rodgers said. "A lot of stuff that's going to happen on Sunday will happen in the locker room, in the meeting rooms, before practice, on the practice field and after practice. We'll have to make sure that we're sharp in our communication and those guys feel ready to play."
Bulaga practices
While Adams didn't practice, veteran right tackle Bryan Bulaga, who left the loss to the Eagles during the second half after aggravating a shoulder injury and did not return, was able to practice on a limited basis. Left tackle David Bakhtiari said it was "awesome" that Bulaga was able to practice, and his presence would be a boost to an offense that doesn't have a crystal clear plan at right tackle if Bulaga can't go.
Second-year backup tackle Alex Light replaced Bulaga against the Eagles and fared OK, but the Packers could also move right guard Billy Turner to right tackle — a position he's played before in the NFL — or bring guard Lucas Patrick off the bench to play right tackle.
"That's something that we're working through as the week goes and we figure out exactly where we're going to be personnel-wise," LaFleur said of the team's backup plan.
Of course, the ideal scenario would just to have Bulaga in the lineup.
"I remember back to when he tore his ACL on Family Night (in August 2013) and finished the last 20 plays of practice. That's the kind of toughness you can't teach — you've either got it or you don't, and he's had it for years and dealt with some tough injuries over the years," Rodgers said. "It's nice seeing '75' out there. I think his grumpy nature sometimes is also what makes him so tough. He has such high expectations for himself to be on the field and play and play through pain, and he's backed that up his entire career of doing that year after year. I give him a lot of credit for that."
As for the rest of the Packers' injury report, running back Jamaal Williams (concussion), cornerback Kevin King (groin), cornerback Tony Brown (hamstring) and outside linebacker Kyler Fackrell (shoulder) also did not practice.
Williams reunites with Smith
The Packers claimed third-year outside linebacker Tim Williams off waivers from the Baltimore Ravens Wednesday, according to the NFL's official transaction wire. They made room for him on the roster by waiving tight end Evan Baylis, who was called up from the practice squad last week and presumably would return there if he goes unclaimed.
The 6-foot-3, 252-pound Williams, 25, played in all four of the Ravens' games this season, registering two tackles. He saw his playing time drop from 27 defensive snaps against Arizona in Week 2, to 15 snaps against Kansas City in Week 3, to just seven snaps in the Ravens' 40-25 loss to Cleveland on Sunday.
A third-round pick (No. 78 overall) from Alabama in 2017, Williams was teammates in Baltimore with Packers outside linebacker and defensive captain Za'Darius Smith, who signed with the Packers in free agency in March. Smith's departure was supposed to give Williams more opportunities, but he struggled against the run, drew coach John Harbaugh's ire last week for not generating enough pressure as a situational pass rusher and ends his Baltimore career with two sacks and 18 total tackles in 19 games.
Injuries mounting for Cowboys' O-line
The Dallas Cowboys' offensive line could be without both starting tackles Sunday against the Green Bay Packers.
Right Tackle La'el Collins did not practice Wednesday. He's dealing with a back issue, coach Jason Garrett said.
Left tackle Tyron Smith will miss the 3:25 p.m. game at AT&T Stadium after suffering a high ankle sprain against the Saints last week. He's expected to miss at least one game.
Connor Williams and Cam Fleming worked at the starting tackle spots during Wednesday's practice.
Running back Ezekiel Elliott, who rushed for the third-fewest yards (35) in his career against the Saints last week, said he's not concerned about the health of the offensive line.
"It's a long football season. There are going to be injuries," Elliott said. "The great thing about this offensive line is they're really good from top to bottom. There's a lot of depth. I've got of a lot of faith in all those guys in that room."
---
The Fort Worth Star-Telegram contributed to this report.
Be the first to know
Get local news delivered to your inbox!