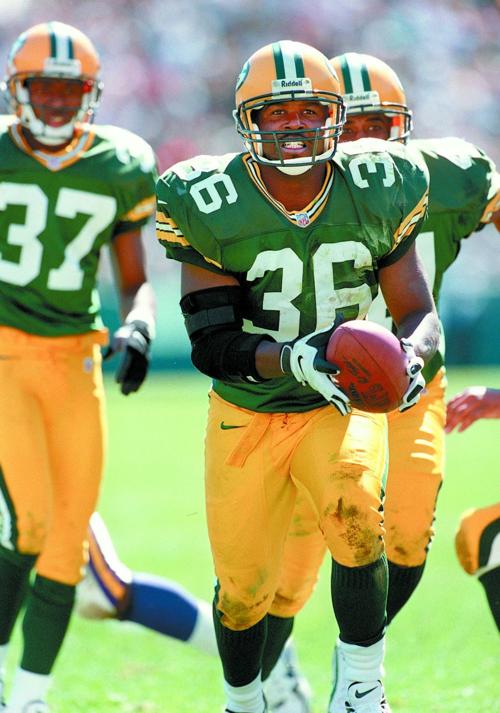 If there was one bet-the-farm lock on Super Bowl weekend — well, besides Denver's defense — it was former Green Bay Packers quarterback Brett Favre would be a first-ballot selection to the Pro Football Hall of Fame.
Favre was indeed one of the five modern-era players elected to the Hall on Saturday. He was such a prohibitive favorite that the 46 members of the selection committee never even discussed his credentials before voting. They didn't need to. They knew Favre's inclusion was a no-brainer.
But there was one aspect of the Hall selection process that I couldn't understand, and it had to do with one of the 15 finalists who were discussed and voted on by the committee. No, I'm not talking about Terrell Owens. I'm talking about former Broncos safety Steve Atwater, who, like Owens, failed to make the cut from 15 to five.
Simply put, if Atwater is a Hall of Fame finalist, why isn't former Packers safety LeRoy Butler?
In parallel careers spanning the 1990s, Butler was statistically superior and far more versatile at safety than Atwater. But what really set them apart was Butler was a pioneer, someone who changed the way his position was played in the NFL.
Somehow, though, Butler has never received serious consideration in the selection process. He has been among the 100-plus nominees for years, but he's never even been one of the 25 semifinalists, much less one of the 15 finalists for whom presentations are made to the committee.
I don't know if Butler has a chance at ever making the Hall because I don't know enough about the secretive voting process. But I do know if Atwater deserves to have his case heard by the committee, then Butler does, too.
Part of Butler's problem is the safety position is the Hall's red-headed stepchild. There have only been seven pure safeties elected to the Hall in 53 years. In the past 27, only one player who spent most of his career at safety, Minnesota's Paul Krause, has been fitted for a yellow jacket. And even though Krause is the NFL's all-time interceptions leader, it took him 14 election cycles to get in.
Further complicating Butler's candidacy is the competition at his position. Two more of his 1990s contemporaries at safety, Darren Woodson and John Lynch, have received Hall consideration and some well-known newer faces — Troy Polamalu, Ed Reed and Brian Dawkins — will become eligible in the next few years.
Perhaps Butler's candidacy has suffered because he was overshadowed on his team by Favre and defensive end Reggie White, both first-ballot Hall of Famers. Maybe if Green Bay had beaten Denver in Super Bowl XXXII, giving it two NFL titles in the 1990s instead of Denver, Butler would be viewed differently. Or maybe Butler's career numbers would be harder to ignore if his career hadn't been cut short by injury.
Still, it is indisputable the Packers were among the NFL's top teams in the 1990s and that Butler was its third-best player. Of the six teams that dominated the decade — Buffalo, Dallas, Denver, Green Bay, Pittsburgh and San Francisco — only the Packers have fewer than three players in the Hall.
As for comparing Butler and Atwater, the advantage goes to Butler.
He played 12 seasons and Atwater 11 at roughly the same time, so statistical comparisons are valid. In regular-season games, Butler had more interceptions (38-24), more sacks (20.5-5), more forced fumbles (13-6), more fumbles recovered (10-8) and more touchdowns (3-1). Each participated in 14 playoff games, with Butler getting three takeaways and three sacks and Atwater getting one of each.
In terms of honors received, it was essentially a wash. Butler and Atwater were the safeties on the Hall-sponsored All-90s team and are the only first-teamers who haven't been elected to the Hall. Atwater was in eight Pro Bowls compared to Butler's four, but Butler was named first-team All-Pro (a much more prestigious honor) four times to Atwater's two.
Of course, Hall voting goes well beyond statistics and honors, but Butler fares well there, too. Atwater was one of the position's most intimidating hitters and could control the middle of the field, especially early in his career when NFL teams still used power running attacks. Butler expanded the horizons of the safety position in an increasingly pass-dominated NFL, especially from 1994 to '98 when the innovative Fritz Shurmur was his defensive coordinator.
Shurmur lined up Butler all over and he was perfect for the role. Drafted as a cornerback, he was excellent in coverage yet he was physical enough to be a sure tackler and pesky blitzer. He was the first defensive back in NFL history to record 20 interceptions and 20 sacks in a career. Showing the respect teams had for Butler's playmaking ability, Denver built its entire game plan around neutralizing him in Super Bowl XXXII.
Oh, and one more thing. Butler also invented the Lambeau Leap, one of the more enduring touchdown celebrations in NFL history.
Somewhere in there is the makings of a pretty strong case for Butler to make the Hall of Fame. Too bad the committee hasn't heard it.