It's a good thing Green Bay Packers general manager Brian Gutekunst broke with tradition and signed some big-ticket free agents in March.
Even with outside linebackers Za'Darius Smith and Preston Smith, safety Adrian Amos and guard Billy Turner on board, however, the Packers have an exhaustive list of needs heading into the NFL draft, which starts Thursday night.
Here's my list of the most important ones, in no particular order, as Gutekunst attempts to restock the roster for first-year coach Matt LaFleur:
• A blocker who can start at right guard and eventually slide out to right tackle.
• A tight end who can function equally well as a receiver and blocker.
• A wide receiver who can be a versatile playmaker out of the slot.
• A running back who fits LaFleur's outside-zone running scheme.
• A defensive end with the ability to disrupt offenses.
• A speed rusher to complement the Smiths on the edge.
• A three-down inside linebacker with playmaking ability.
• A safety who can cover ground in the deep middle.
Whew, that's a load. And despite having two first-round picks and 10 overall, Gutekunst won't be able to scratch every one of those itches. Still, he has an opportunity for a franchise-changing draft in the next three days.
Here is one guess — minus any trades — at how the first round will play out:
NO. 1 | ARIZONA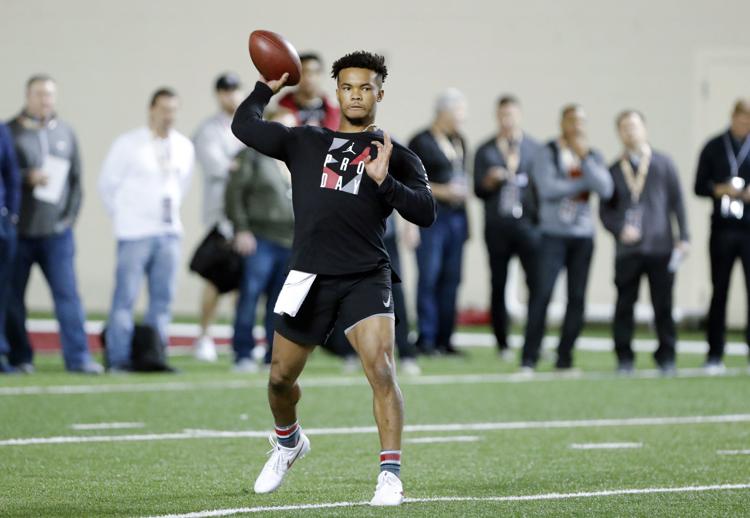 Kyler Murray - QB, Oklahoma
If you hire Kliff Kingsbury as coach, you better give him someone to run his spread offense.
NO. 2 | SAN FRANCISCO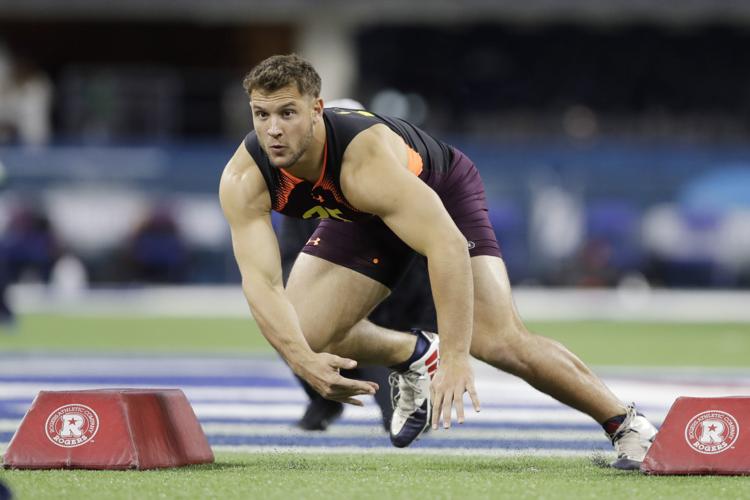 Nick Bosa — DE, Ohio State
One way to improve a league-worst two interceptions is to beef up the pass rush.
NO. 3 | NEW YORK JETS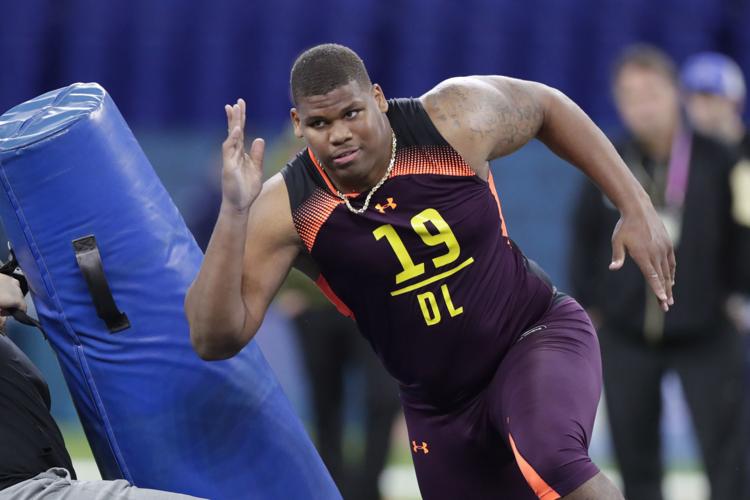 Quinnen Williams — DT, Alabama
Williams doesn't fill need for an edge rusher, but Jets get best player in draft.
NO. 4 | OAKLAND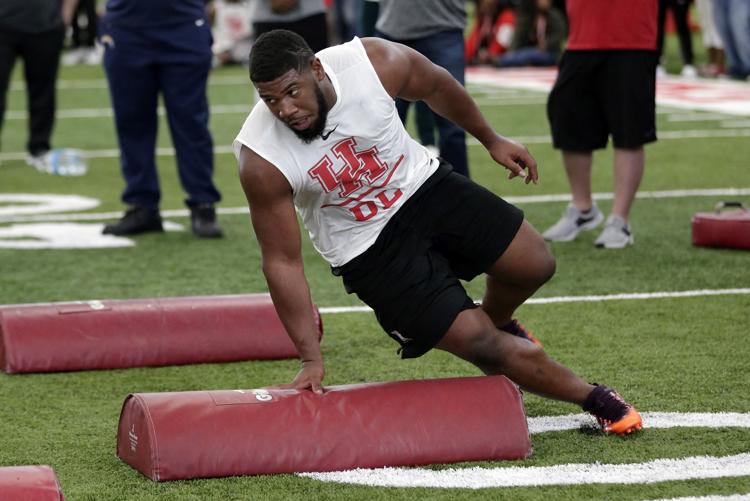 Ed Oliver — DT, Houston
Oliver won't plug hole created by trading Khalil Mack, but he's second coming of Aaron Donald.
NO. 5 | TAMPA BAY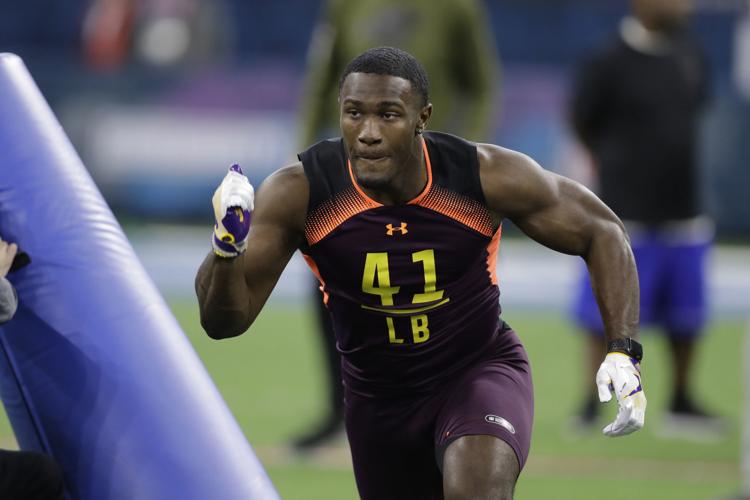 Devin White — ILB, LSU
Buccaneers haven't had linebacker with White's every-down skills since the great Derrick Brooks.
NO. 6 | NEW YORK GIANTS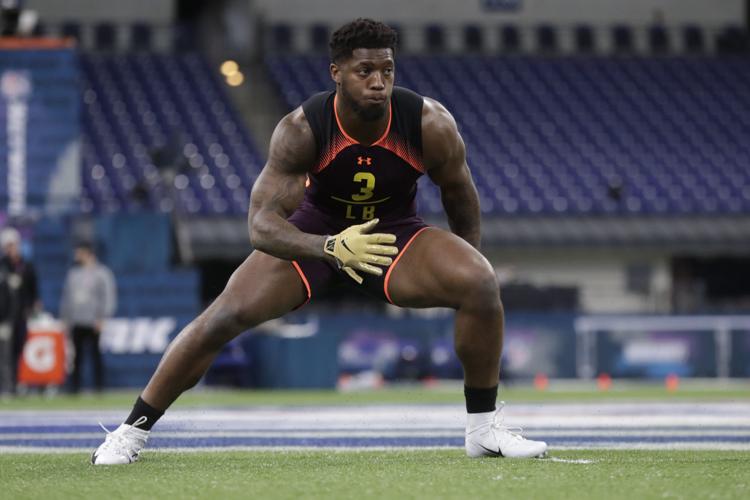 Josh Allen — OLB, Kentucky
If you don't think the quarterbacks are worth it here, get someone to rush the quarterback.
NO. 7 | JACKSONVILLE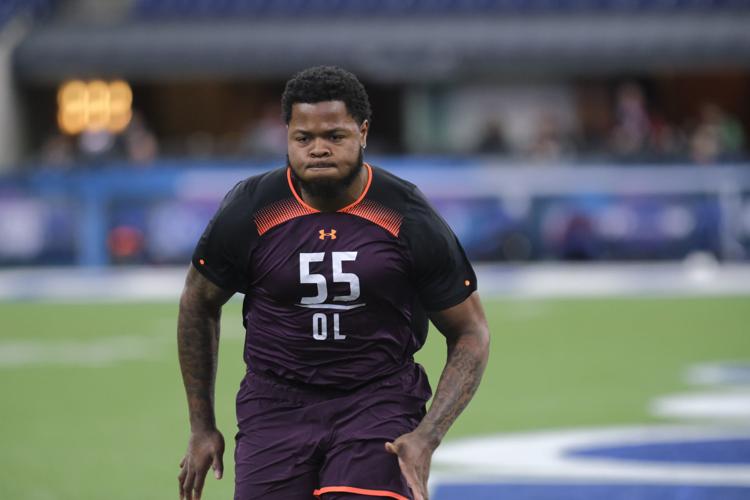 Jawaan Taylor — OT, Florida
Jaguars want to run the ball more and need a people-mover at right tackle to get it done.
NO. 8 | DETROIT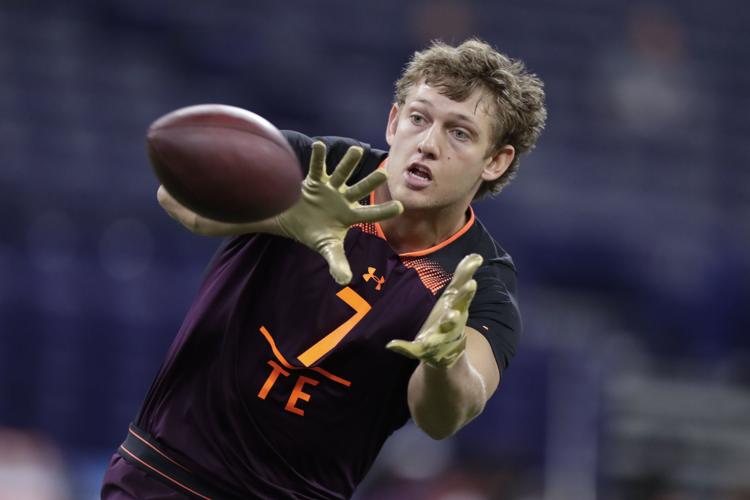 T.J. Hockenson — TE, Iowa
Lions need an impact defender in the front seven, but a playmaking tight end is another key need.
NO. 9 | BUFFALO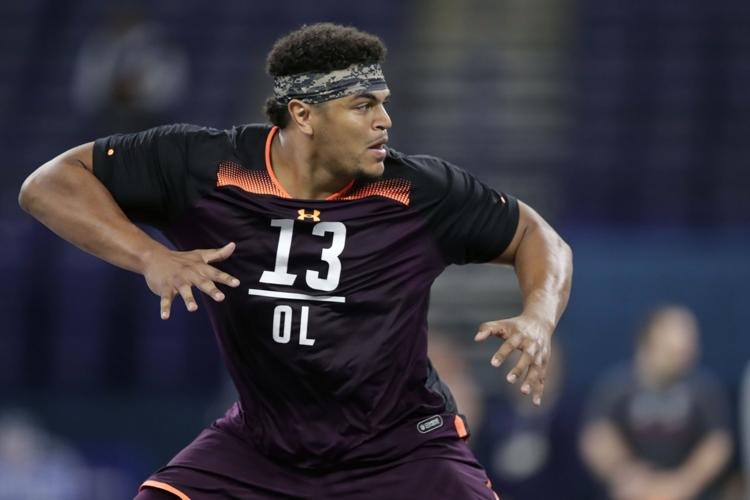 Andre Dillard — OT, Washington State
Bills have spent the offseason restocking the line and now they get their left tackle.
NO. 10 | DENVER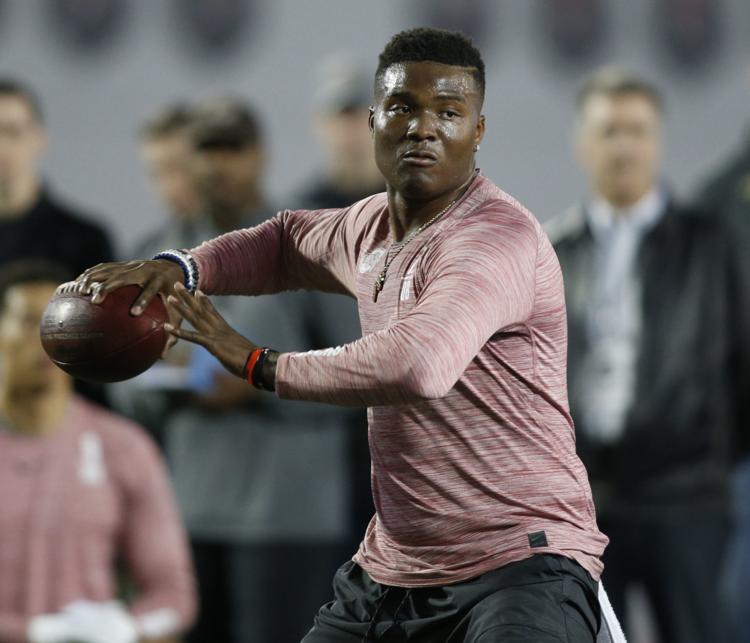 Dwayne Haskins — QB, Ohio State
If Haskins makes it to the 10th pick, Broncos will have their quarterback. If not, who knows?
NO. 11 | CINCINNATI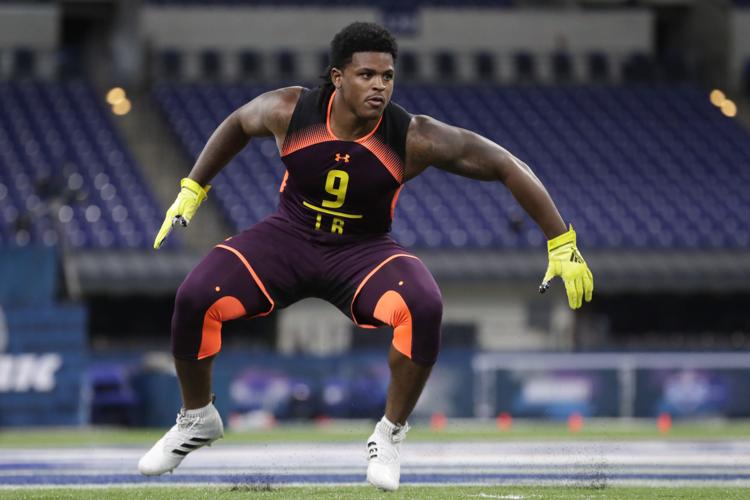 Devin Bush — ILB, Michigan 
Bengals need a linebacker and Bush might be the last sure-fire defensive playmaker in draft.
NO. 12 | GREEN BAY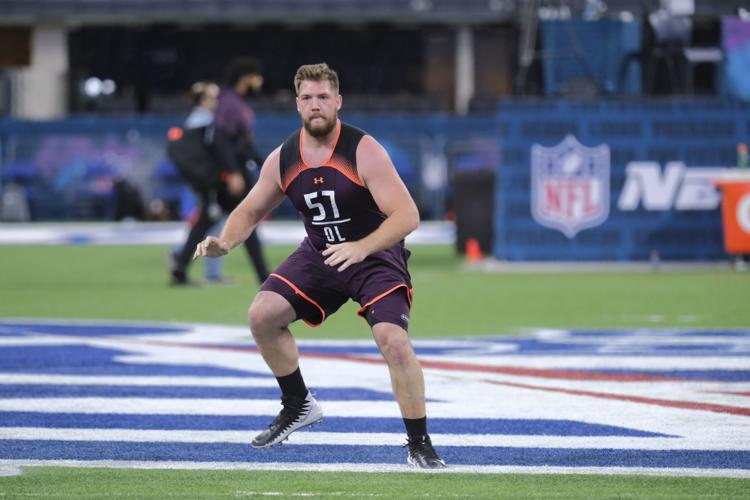 Jonah Williams — OT, Alabama
There are tempting edge rushers on the board, but Williams can play right guard next season, right tackle after that. T.J. Hockenson, Ed Oliver and Andre Dillard, if available, are possibilities.
NO. 13 | MIAMI
Clelin Ferrell — DE, Clemson
If your quarterback is Ryan Fitzpatrick you have a need, but Dolphins don't like this year's class.
NO. 14 | ATLANTA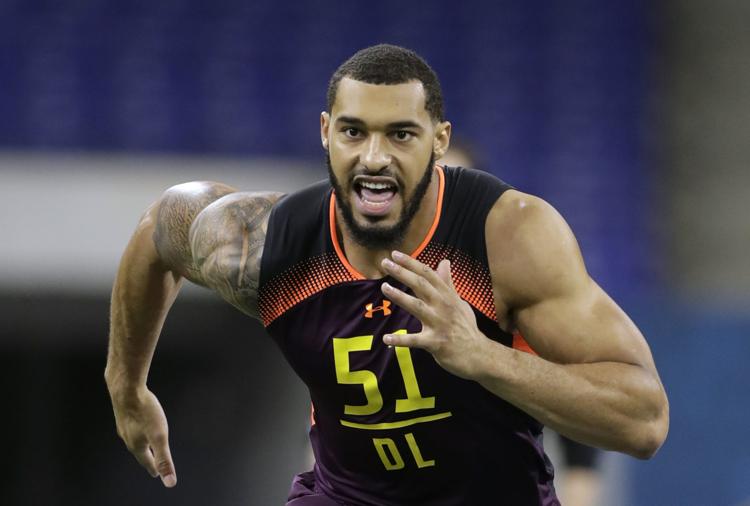 Montez Sweat — DE, Mississippi State
Sweat's heart issue scares off some teams, so Falcons get a potential star on the edge.
NO. 15 | WASHINGTON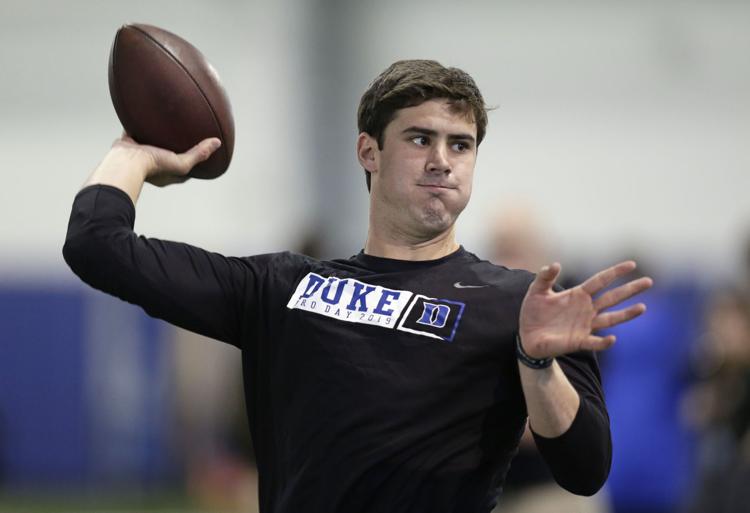 Daniel Jones — QB, Duke
Redskins thought they might have to trade up for a quarterback, but Jones falls into their laps.
NO. 16 | CAROLINA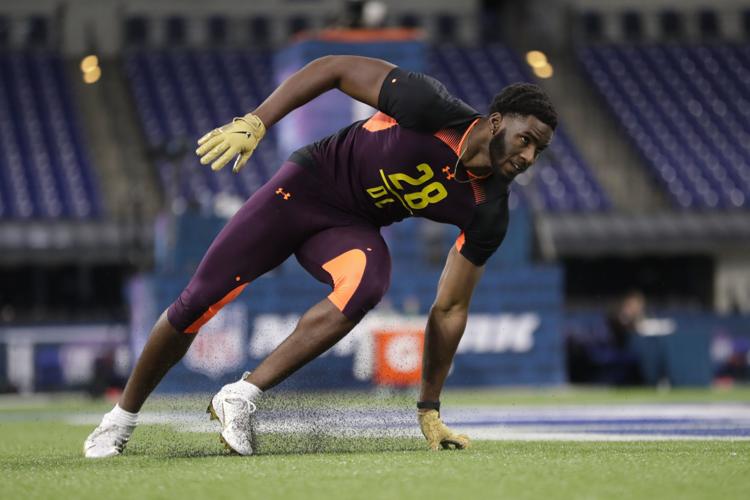 Brian Burns — OLB, Florida State
With the top offensive tackles gone, Panthers go to Plan B, which is a fast edge rusher.
NO. 17 | NEW YORK GIANTS
Drew Lock — QB, Missouri
Giants thought they might have to trade up for a quarterback, but Lock falls into their laps.
NO. 18 | MINNESOTA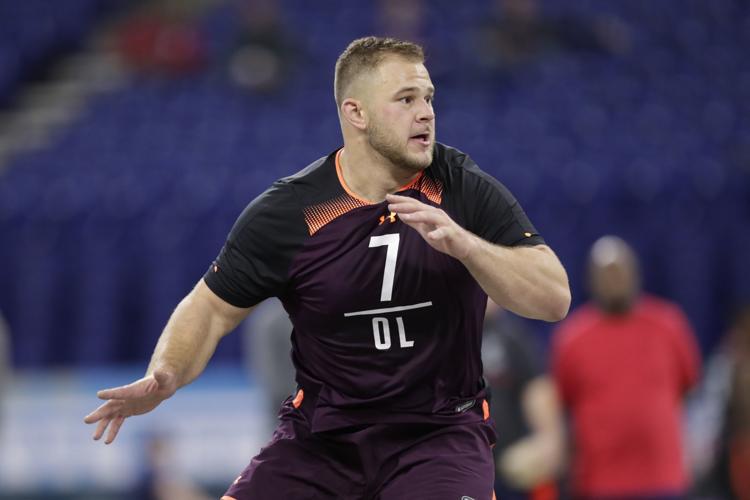 Garrett Bradbury — C/G, North Carolina State
Vikings finally address their biggest issue: keeping Kirk Cousins upright.
NO. 19 | TENNESSEE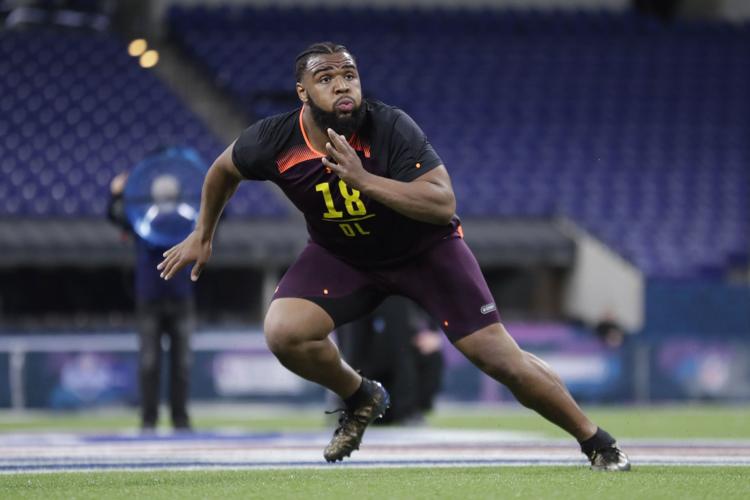 Christian Wilkins — DT, Clemson
Wilkins could go in the top 10, which makes the disruptive lineman at steal at this spot.
NO. 20 | PITTSBURGH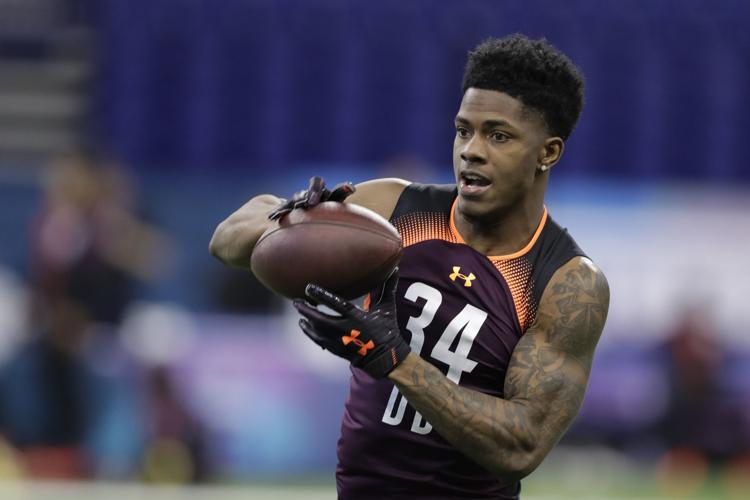 Greedy Williams — CB, LSU
Odell Beckham Jr. is now in the division, so Steelers need a cornerback with size and speed.
NO. 21 | SEATTLE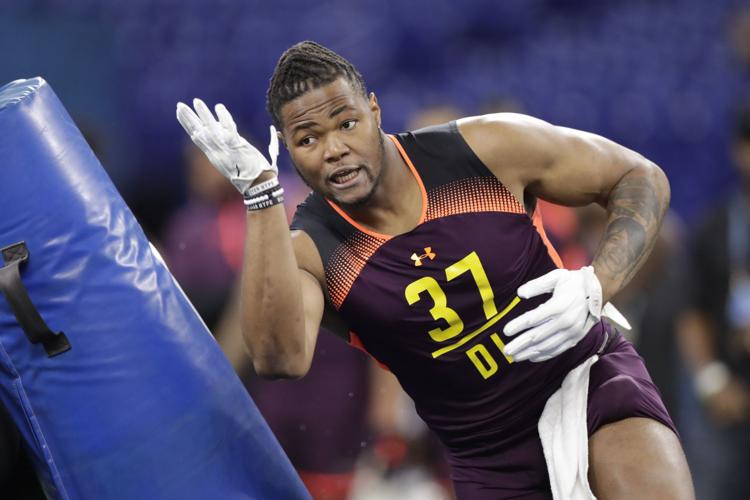 Rashan Gary — DE, Michigan
Even before trading Frank Clark to Kansas City this week, Seahawks needed reinforcements up front.
NO. 22 | BALTIMORE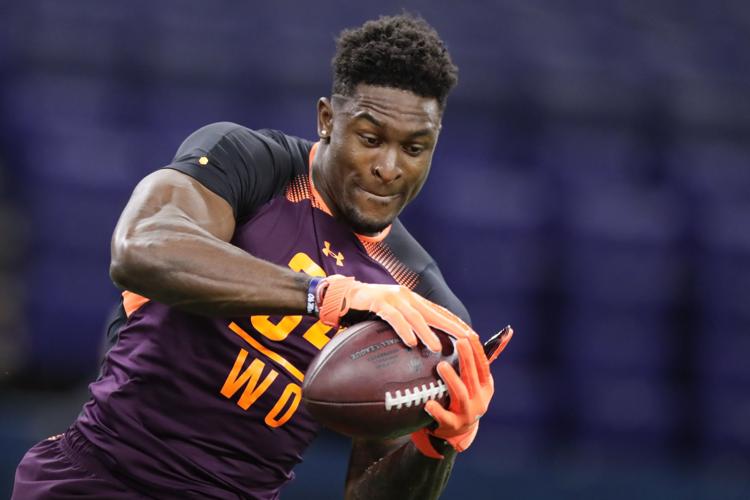 D.K. Metcalf — WR, Mississippi
Ravens need offensive line help, but landing elite deep threat is a nice consolation prize.
NO. 23 | HOUSTON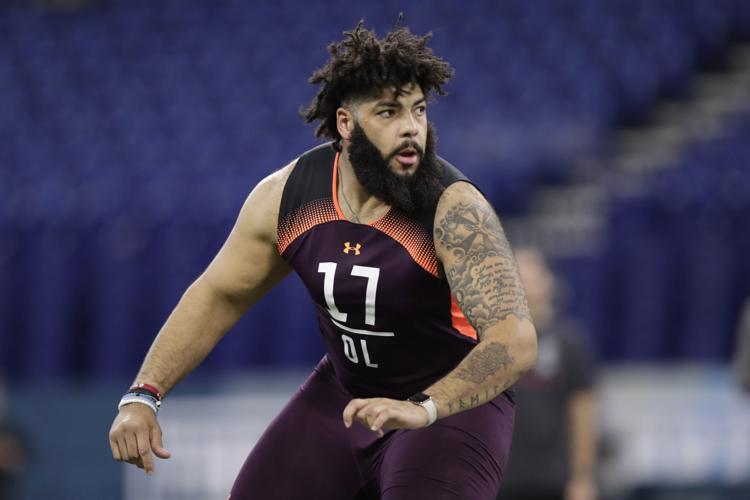 Cody Ford — G/T, Oklahoma
Texans simply must protect quarterback Deshaun Watson better than they have been or he won't last.
NO. 24 | OAKLAND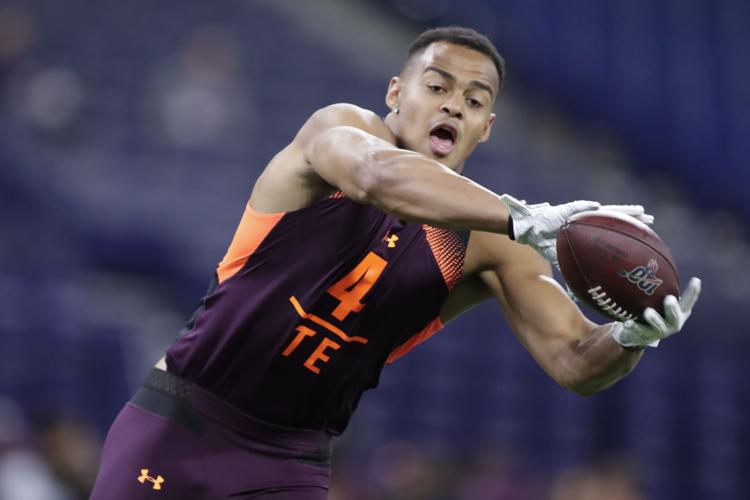 Noah Fant — TE, Iowa 
Raiders allowed Jared Cook to walk in free agency, but Fant is a younger, faster version of Cook.
NO. 25 | PHILADELPHIA
Marquise Brown — WR, Oklahoma
DeSean Jackson isn't getting any younger and Eagles secure his long-term replacement.
NO. 26 | INDIANAPOLIS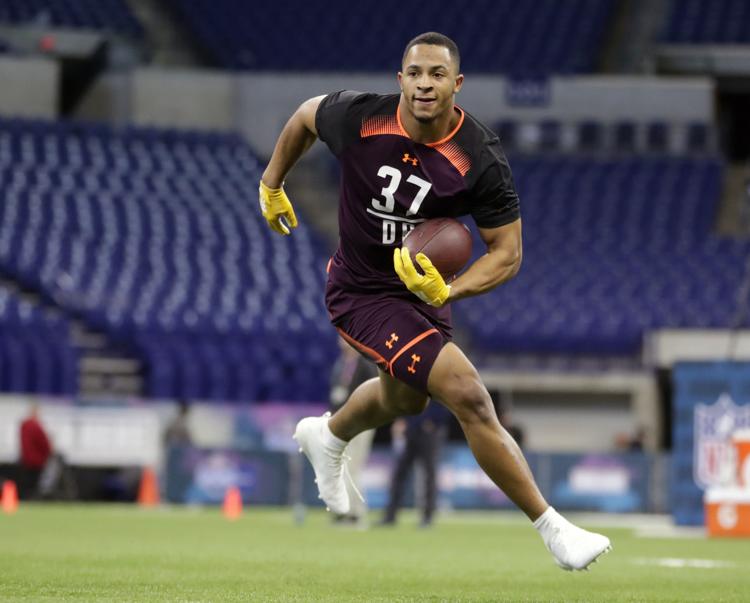 Johnathan Abram — S, Mississippi State
Of the many quality safeties in the draft, Abram best fits the Colts' needs.
NO. 27 | OAKLAND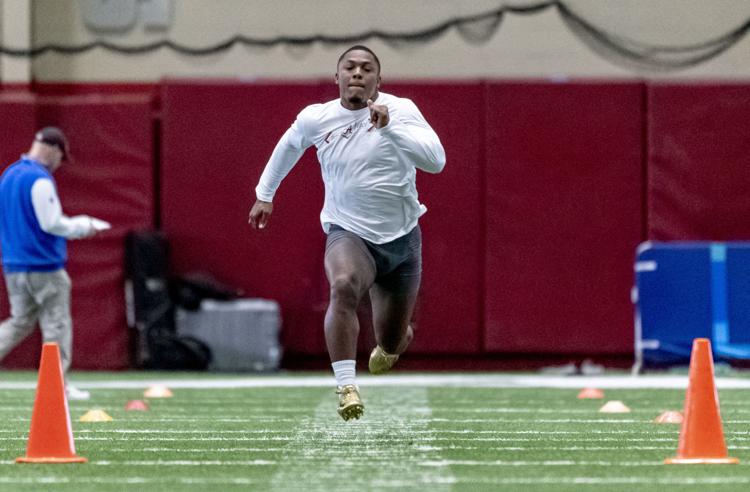 Josh Jacobs — RB, Alabama
After whiffing on Le'Veon Bell in free agency, Raiders need someone to replace Marshawn Lynch.
NO. 28 | LOS ANGELES CHARGERS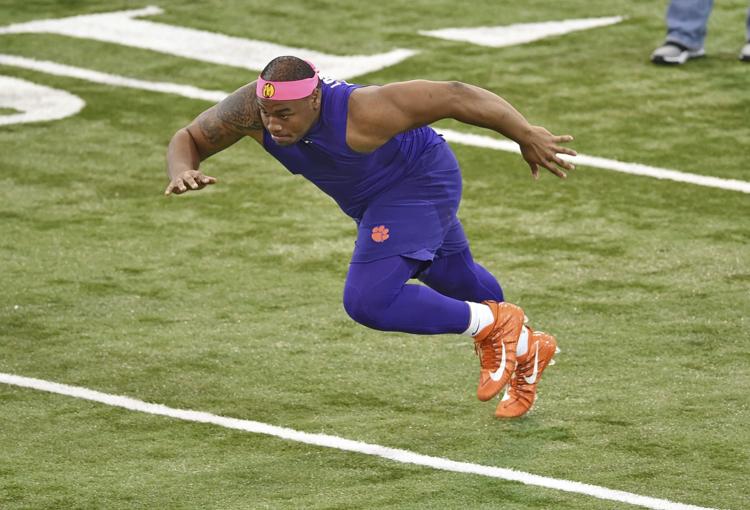 Dexter Lawrence — DT, Clemson
It's not often a team gets an NFL-ready mountain like Lawrence with the 28th pick.
NO. 29 | SEATTLE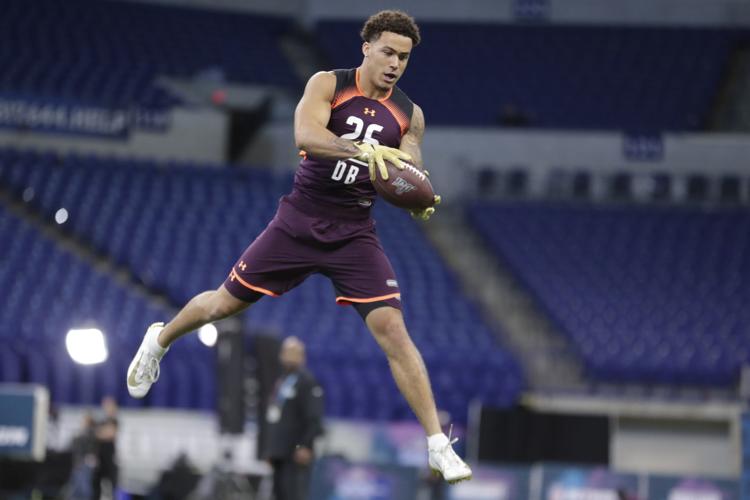 Byron Murphy — CB, Washington
Seahawks continue retooling their once-great defense with the most reliable corner in draft.
NO. 30 | GREEN BAY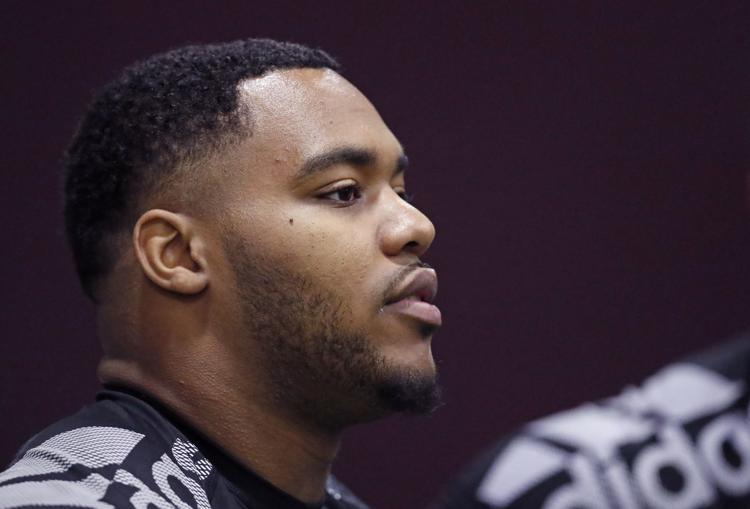 Jeffery Simmons — DT, Mississippi State
Top-five talent might not play until late in season, but he could be a steal. Packers can look for a safety and a tight end in next two rounds.
NO. 31 | LOS ANGELES RAMS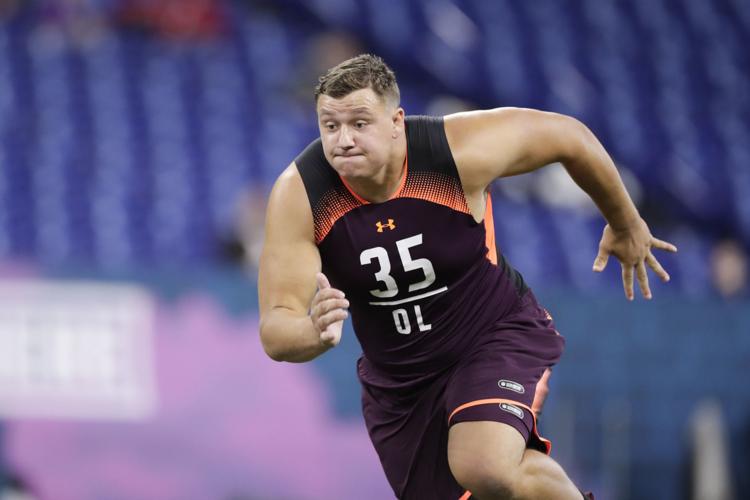 Chris Lindstrom — G, Boston College
Rams can't afford to let an injury up front derail expected return to Super Bowl.
NO. 32 | NEW ENGLAND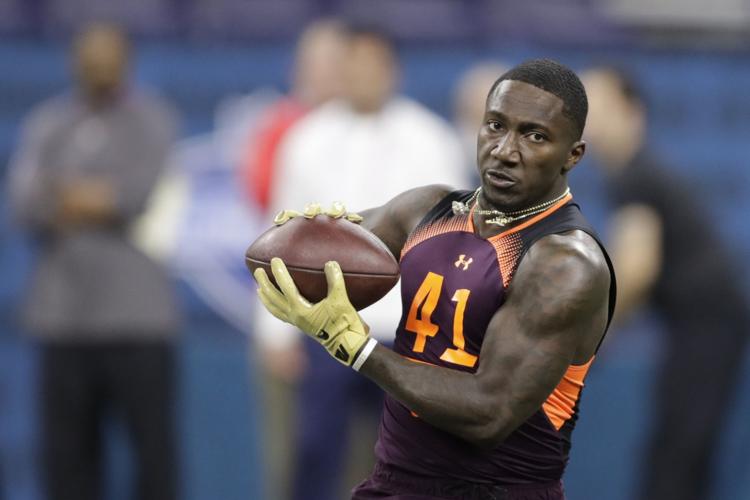 Deebo Samuel — WR, South Carolina
Samuel's potential as a playmaker could really show in Patriots' short-passing game.
---
Tom Oates has been a staff member of the Wisconsin State Journal sports department for 30 years and its editorial voice for more than 15, traversing the state and country to bring readers a Madison perspective on the biggest sports stories of the day — from UW athletics to the Green Bay Packers, Milwaukee Brewers and Bucks, as well as local teams such as the Mallards and Mustangs.