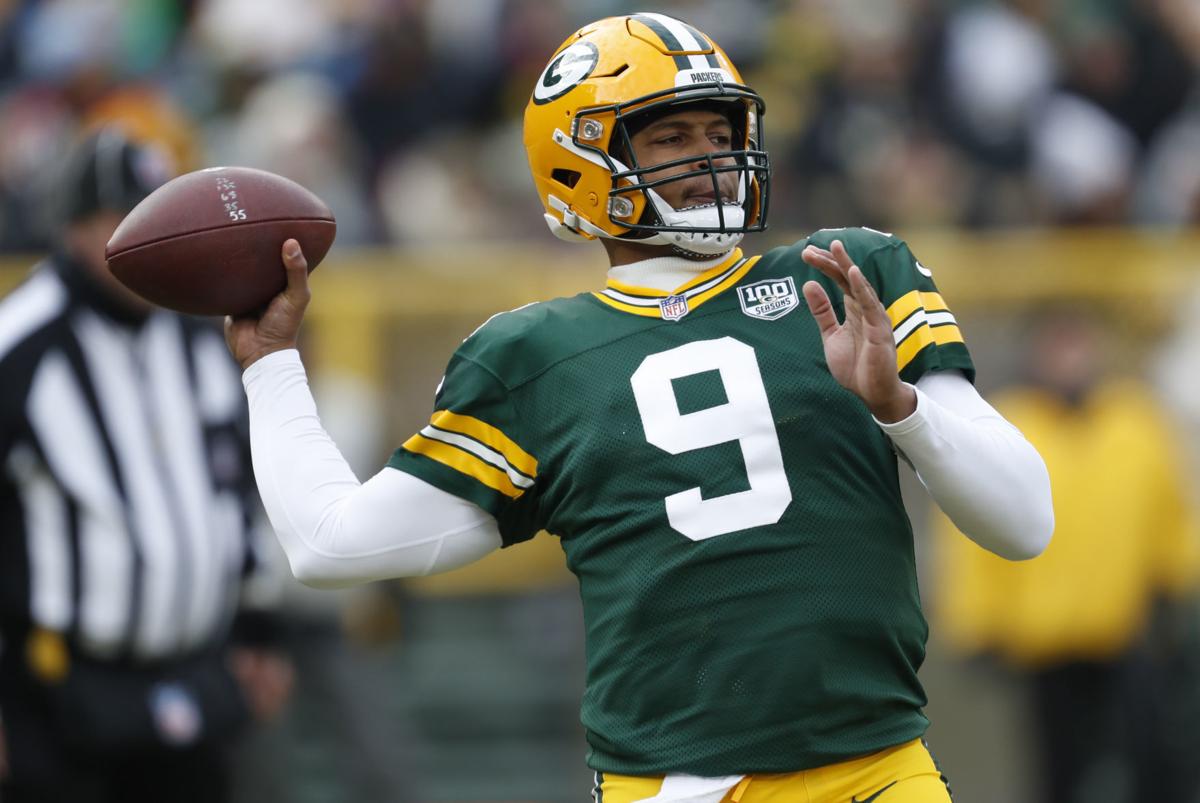 Drawing hard-and-fast conclusions from offseason workouts is risky business in the NFL.
With no pads, no hitting and not much 11-on-11 work, the workouts are little more than a sneak preview of what to expect once training camp opens in July.
Still, the Green Bay Packers, sporting new players, mostly new coaches and an entirely new offensive scheme, did leave some impressions after concluding their offseason with a minicamp last week.
First-year coach Matt LaFleur and veteran quarterback Aaron Rodgers are communicating well, which is the first step toward a productive relationship. Second-year man Marquez Valdes-Scantling looks like he could join Davante Adams as a go-to wide receiver in LaFleur's offense. Rookie Darnell Savage can cover ground in the deep middle like no safety the Packers have had since Nick Collins. Free agent guard Billy Turner is so light on his feet he could slide out to tackle at a moment's notice. With the addition of rookie Rashan Gary and free agents Za'Darius Smith and Preston Smith, the outside linebacker group is rangier and bulkier than anything the Packers have had. Defensive coordinator Mike Pettine is banking heavily on inside linebacker Oren Burks to make the second-year jump.
All are positive developments from LaFluer's first round of OTAs and minicamps. There was, however, one red flag, one area that has to be a concern for the Packers as they look to rejoin the ranks of NFL contenders after a two-year absence.
The play of backup quarterbacks DeShone Kizer and Tim Boyle simply wasn't very good. In fact, neither one looked ready to go in and win games should Rodgers suffer a significant injury for the third season in a row.
Some of that might have to do with learning a new offense, some might have to do with youth and inexperience as neither quarterback is yet 25. But the 35-year-old Rodgers missed nine starts due to a collarbone injury in 2017 and played courageously through a knee injury all last season, so the team needs a capable backup more than ever.
Kizer filled that role last season after the Packers acquired him from Cleveland, where he was an overmatched — and winless — 15-game starter as a rookie in 2017. Boyle made the roster as an undrafted rookie last season but never took a snap.
Both quarterbacks started with a clean slate after LaFleur replaced Mike McCarthy as coach, but neither has written anything significant on it. To this point, errant throws and mental mistakes have been far more commonplace than big plays.
"There's been some really good moments and there's been some where you'd like some more consistency," LaFleur said last week. "But they're competing every day. I know they're giving us their all. When you look at it, they're still young players. Especially when you're talking about the early stages of learning a new offense, there's going to be a learning curve. That's to be expected."
If that sounds non-committal to you, you're not alone. LaFleur was then asked if he had a backup quarterback on the roster who had the potential to come in and win games if needed.
"I definitely think both these guys are NFL quarterbacks," he said. "It's just, how fast is it going to come for them?"
One thing we do know, both quarterbacks have become experts at learning new offenses.
Kizer, a second-round pick from Notre Dame who became expendable when Cleveland drafted Baker Mayfield, is playing in his fourth offensive scheme in four years. Boyle, who couldn't win the full-time job at UConn and started his senior year after transferring to Eastern Kentucky, is in his fourth offense in five years.
Did that affect their performance this offseason? Undoubtedly. And it didn't help that they're going against a defense coordinated by Pettine, who has a complex, intentionally deceptive scheme and isn't afraid to use it against the offense in practice.
"Definitely, it's a natural progression," offensive coordinator Nathaniel Hackett said. "You look at DeShone, he's going on really his third (offense) in about two years, under two years, so I think that's always a test for a young quarterback. So he's coming along and he's got to keep grinding and keep learning it. And then Tim's going on his second in a young (NFL) career. So I think it's one of those things, it's always going to be a roller coaster of emotions for those guys as we're asking them to compete against a very unique defense in coach Pettine's and learn a new system. So there's always going to be those ups and downs."
The downs have outnumbered the ups so far. However, it would be wise to hold off any judgments until training camp, when the players will be reviewing the playbook instead of seeing it for the first time and the practices will be more competitive.
That's when we'll find out if Kizer can throw with any degree of accuracy or if Boyle is one of those quarterbacks who looks good in a practice jersey but can't function in live action.
"There's so many things that we ask those guys to do," Hackett said. "We just need to slow it down for them. I think that we've had a good offseason and now moving into training camp, you really get everything over again. That's really when we're hoping to see strides from really everybody."
Hoping? The Packers might be praying at this point.
Be the first to know
Get local news delivered to your inbox!