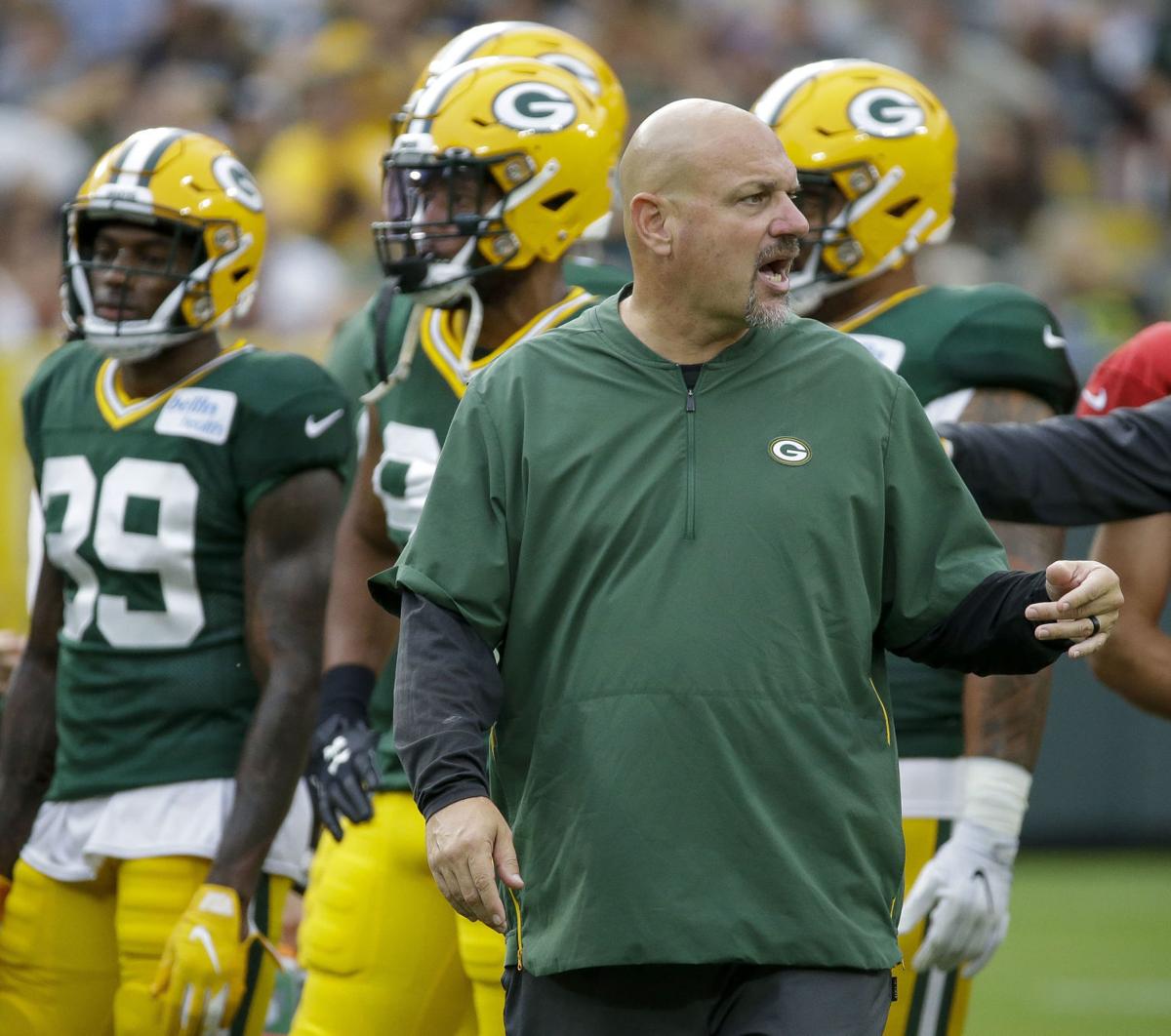 There is much to like about Mike Pettine.
The Green Bay Packers' defensive coordinator has boundless energy and is a straight shooter. His aggressive, attacking defensive schemes are creative and current. And the defense, which has ranged from average to abysmal since the 2010 Super Bowl season, has improved in each of his two seasons.
Still, it was a defensive collapse — the run defense, in particular — that led to the Packers' downfall against San Francisco in the NFC Championship Game in January. And while the criticism for that failure has focused on Pettine's scheme and the players' technique, a shortage of personnel played a major role as well. The Packers weren't good enough or deep enough along the defensive line and at inside linebacker. More important, they still aren't.
That's why it was curious when the Packers didn't select a defensive player until the fifth round in April's draft. As they found out last season after adding safety Adrian Amos and outside linebackers Za'Darius Smith and Preston Smith to the defense, free agency can be a great tool. It is the draft, however, that is the lifeblood of any NFL roster and the Packers' poor defensive depth stems from a lack of overall production from players drafted the past five years.
Except for the awful 2015 draft, the Packers' top picks each year — nose tackle Kenny Clark in 2016, cornerback Kevin King in 2017 and cornerback Jaire Alexander in 2018 — have been keepers. The jury remains out on outside linebacker Rashan Gary and safety Darnell Savage, the two first-round picks from 2019, though Savage showed flashes of serious potential as a rookie and Pettine has promised the explosive Gary will have an expanded role this season.
However, the fact remains only five of the 25 defensive draft picks from 2015 through 2020 — Clark, King, Alexander, Savage and end Dean Lowry (fourth round in 2016) — are projected starters this season. Moreover, it's hard to envision anyone but those five and perhaps Gary making a significant impact in this year's defensive rotation.
General managers Ted Thompson (2015-17) and Brian Gutekunst (2018-20) share some of the burden for those unproductive drafts, but they're not alone. Pettine, who was named defensive coordinator in 2018, must shoulder some of the blame as well.
Coaches, including the Packers' Matt LaFleur, talk incessantly about how it's their job to figure out ways to maximize the talent they have, whether that means finding a useful role for players or altering the scheme to fit their skill set. During Pettine's time in Green Bay, there hasn't been much evidence of that happening. Many drafted players aren't developing into regular contributors or, worse, aren't being given a legitimate chance to show what they can do before they are discarded.
Of course, a certain amount of change is expected when a team hires a new coordinator. Players drafted for one system often don't fit well in another. But there is evidence, both anecdotal and statistical, that Pettine has a short leash for players who don't fit his scheme or grasp its intricacies quickly enough to carve out a role.
Take former University of Wisconsin outside linebacker Vince Biegel, for instance. Drafted in 2017, Biegel played sparingly in the final nine games of his rookie season after recovering from foot surgery. Then Pettine arrived and Biegel, who doesn't fit Pettine's preference for big outside linebackers, was released prior to the 2018 season, which means the Packers gave up on a fourth-round pick after only nine games and one training camp. Biegel wouldn't have turned around the defense, but the Packers ran off a player who was a 10-game starter for Miami last season and is considered a part of that team's future.
Another high pick from 2017, athletic second-round safety Josh Jones, did play almost 50% of the snaps in 2018 but was cut by the Packers prior to last season, a sign Pettine could find no role for him. Defensive end Montravius Adams, the third-round pick in 2017, was expected to play a key role in 2019 but instead played 25 fewer snaps than he did in 2018 even though the Packers started Tyler Lancaster, a nose tackle who went undrafted in 2018, at end.
Two premium picks in 2018, second-round cornerback Josh Jackson and third-round inside linebacker Oren Burks, were non-factors last season, playing fewer than 10% of the snaps in what was projected as a breakout second season for both. Jackson was buried behind street free agent Chandon Sullivan, making him the team's fifth cornerback. Burks had an injury early, but he seldom got on the field upon his return despite the Packers' crying need for an inside linebacker with the speed to play the run and the pass.
The big-picture roster turnover has been troublesome as well. When Pettine was hired, 11 of the 12 defensive draft picks from 2015 to 2017 were on the roster. Two years later, only four remain from drafts that should form the backbone of the team. And if Jackson and Burks don't surface this season, only Alexander will be a contributor from the 2018 draft.
Again, such turnover isn't unprecedented when there is a coaching change. However, the Packers don't have nearly enough talent on defense to give up quickly on players who were talented enough to be picked early in the draft. For the defense to become a rousing success, Pettine has to start making use of the talent he has. All of it.