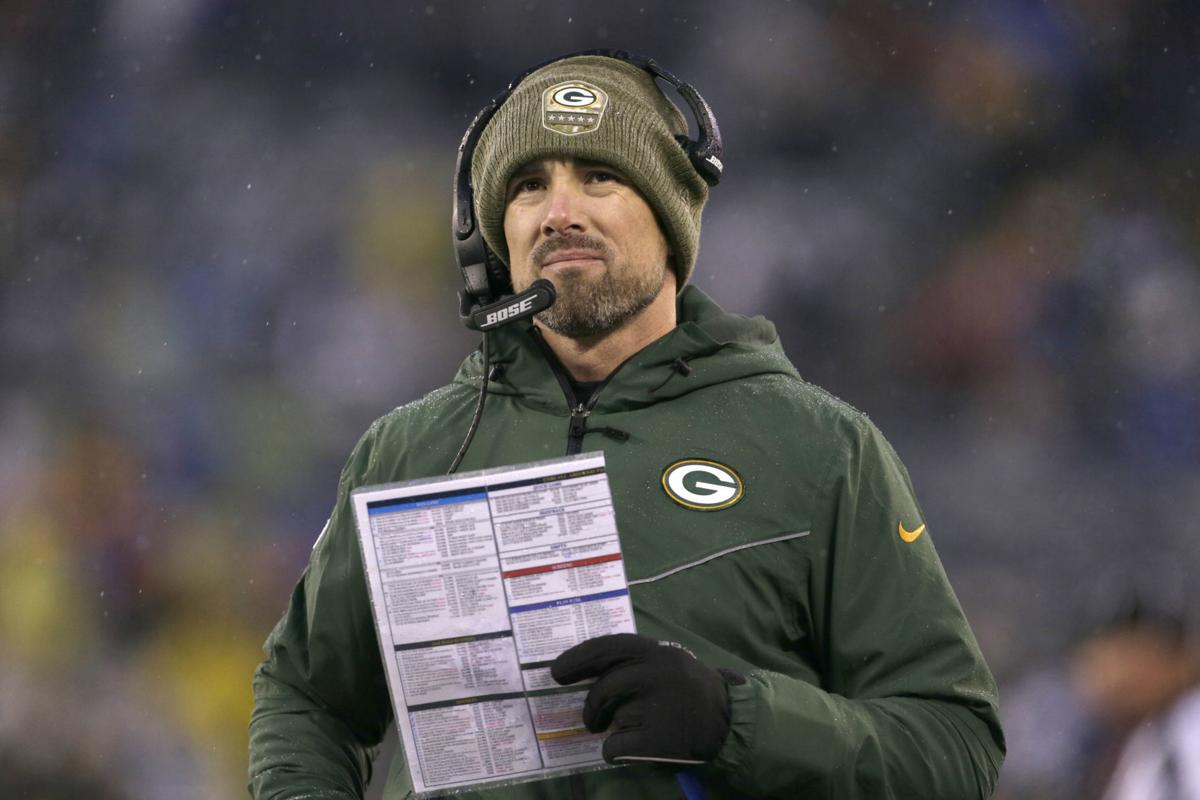 GREEN BAY — First-year coach Matt LaFleur understands better than anyone what the Green Bay Packers will face in their rematch with the San Francisco 49ers Sunday, so he wasn't blowing smoke Wednesday when he said San Francisco is a great team with a bunch of great coaches.
You mean, like your brother Mike?
"First of all, who said he was a great coach?" LaFleur said. "I never said that."
LaFleur was joking, of course. At least we think he was.
With much more at stake in the second meeting between the Packers and 49ers, the atmosphere surrounding Sunday's matchup has changed. The winner of the NFC Championship Game at Levi's Stadium in Santa Clara, California, will get an all-expenses paid trip to the Super Bowl, so brotherly love — Mike LaFleur is the passing game coordinator for the 49ers — will be temporarily placed on hold. Things are more serious this time.
"I think there's a little different vibe," Matt LaFleur said. "I'll just leave it at that. I haven't really talked to him much at all. It'll probably be that way for the remainder of the week."
That's in stark contrast to the game between the teams at Levi's Stadium in late November, which was more of a lovefest than a showdown between budding NFC powers. Besides having a brother who coaches for the 49ers, Matt LaFleur has worked with many members of San Francisco's staff over the years and considers them friends and mentors, most notably head coach Kyle Shanahan and defensive coordinator Robert Saleh.
But while LaFleur's wife and two sons accompanied him to the West Coast for the last meeting, even spending the weekend at his brother's house, there is no such family time built into this trip.
"They're not going," LaFleur said.
The lovefest in the November meeting ended sometime during the game's first few minutes, when the 49ers forced and recovered a fumble by quarterback Aaron Rodgers at the 2, punched it in for a touchdown and never looked back en route to a dominant, 37-8 victory. The teams may have been running offenses hatched in the same incubator, but they looked nothing alike on that day as the 49ers outmuscled and outplayed the Packers.
The natural reaction after the most lopsided loss in Green Bay's 14-3 season was to blame the familiarity between the coaches and teams. Was LaFleur wound so tight that week that the Packers players followed suit? Did LaFleur try to outthink the room and change things up so much in terms of strategy that his players made mistakes?
Outwardly anyway, the familiarity between the staffs didn't play much of a role in the outcome. LaFleur insisted it won't be this time, either.
"There's a lot of great coaches over there — Kyle Shanahan, Mike McDaniel, Bobby Turner," he said. "I've worked with all those guys, Jon Embree. I could go on and on and on. I have a lot of respect for their ability to dissect the tape and come up with a good game plan. I've seen it first-hand. I've lived it with those guys. I know they're going to have stuff ready for us. It's on us to go out there and make sure that we're disciplined in our approach defensively and that we trust what we see, we trust our preparation and then, ultimately, it's going to go down to execution."
Truth is, it came down to execution the last time, which makes this as stern a test as LaFleur has seen in his short tenure as coach of the Packers. The 49ers have the NFC's most complete team and they executed at an elite level in their victory over the Minnesota Vikings last week, so the task is clear.
If the Packers hope to win Sunday, they can't just line up and play because the 49ers are the better team. LaFleur has to do something to even the playing field and he has to do it against coaches who know him better than anyone. This time, he has to outcoach his friends.
"Obviously the plan wasn't good enough," wide receiver Davnte Adams said. "That's not a knock on Matt or anybody. The execution obviously wasn't good enough, too, so those go hand-in-hand. The plan, so far what I've seen, I really like. I think it's a better way to attack this defense. And yeah, we're all jacked up for it."
Indeed, as much as Rodgers and Adams and linebacker Za'Darius Smith have to be difference-makers for the Packers Sunday, so does LaFleur. He has to take his working knowledge of the 49ers and turn it into an advantage for his team. He also has to have his players performing at peak efficiency because the margin for error is slim in this growing sibling rivalry.
So which team will Denny and Kristi LaFleur — Matt and Mike's parents — side with Sunday?
"I know they're going to the Super Bowl, one way or the other," Matt LaFleur said. "It's mixed emotions. It certainly was last time, too. Anybody that knows me knows how much my family means to me — my brother, my parents and my wife and kids. It is an emotional deal, but this is not about us. This is about the Green Bay Packers versus the San Francisco 49ers, two great football teams, with the opportunity to go to the Super Bowl. It doesn't get any bigger than that."
This much we know: To win, the Packers will have to beat a really good team, which makes this a perfect venue for their coach to earn bragging rights.
Be the first to know
Get local news delivered to your inbox!