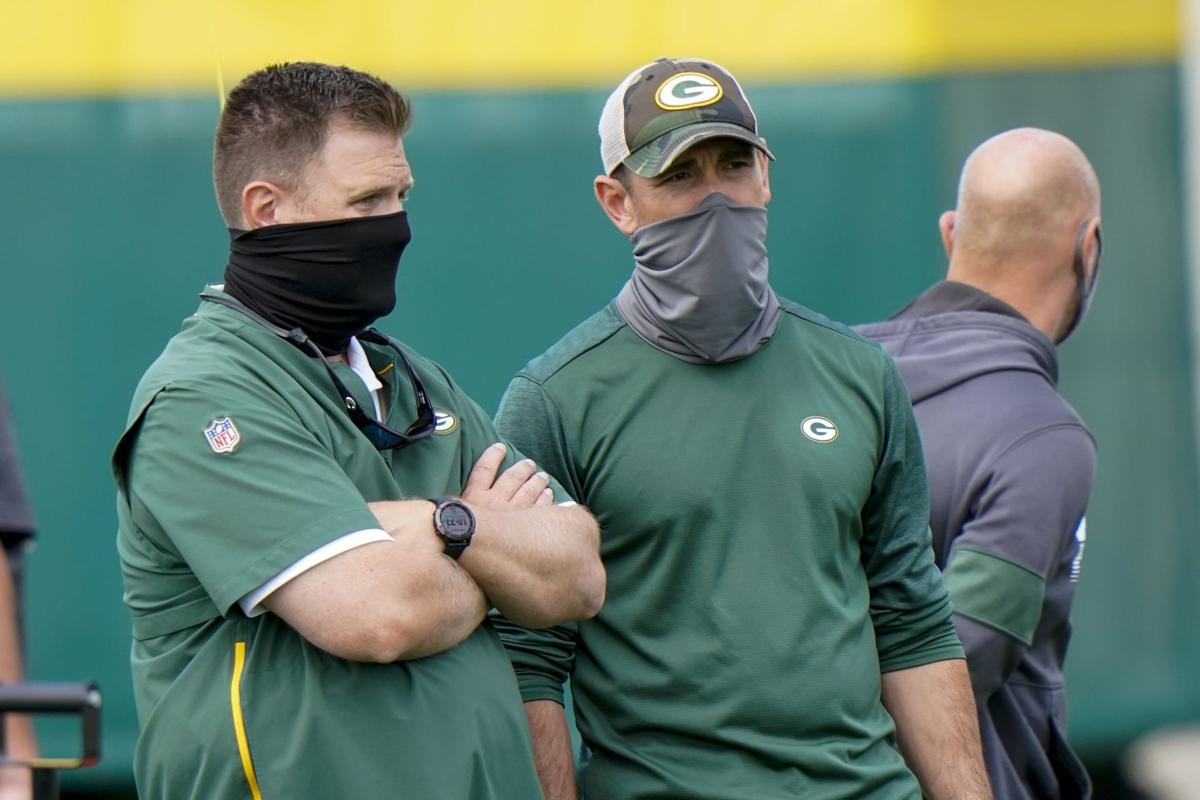 Tom Oates, who recently retired as a full-time columnist, has returned to write occasional columns for the State Journal.It was an NFL offseason like no other.
Spring workouts were scrapped, training camps started late, exhibition games were canceled.
The upshot of that pandemically altered offseason schedule? Teams had precious little information when it came to finalizing their rosters.
"I think you're running on faith a little bit," Green Bay Packers general manager Brian Gutekunst said.
He just as easily could have been talking about his football team.
As the Packers begin a season they expect will culminate in a second consecutive playoff berth, they are placing their faith almost exclusively on improvement from within.
Some of that improvement will come naturally as the Packers should have more continuity with their schemes during coach Matt LaFleur's second season. Mostly, however, the Packers are banking on individuals getting better at their craft, namely the large group of young players they drafted or signed the past few years, some of whom have been disappointments, all of whom are inexperienced and unproven.
Make no mistake, even though the Packers were 13-3 and one win away from the Super Bowl last season, they need to get significantly better if they hope to take the final step. For starters, they weren't even in the same league with San Francisco in the NFC Championship Game. Meanwhile, other NFC contenders such as New Orleans, Tampa Bay, Philadelphia, Dallas, Minnesota and Seattle made significant moves to get better during the offseason.
The Packers mostly stuck with what they had. Going into their season opener at Minnesota on Sunday, 43 of the 52 players on the roster (one spot remains open) were with the franchise last season. The Packers lost a ton of experienced snaps when they allowed offensive tackle Bryan Bulaga, tight end Jimmy Graham, inside linebacker Blake Martinez and nickel cornerback Tramon Williams to leave town, but they didn't go out of their way to fill holes from the outside.
Gutekunst drafted with an eye toward the future when he traded up for first-round quarterback Jordan Love, who predictably enters the season ranked third on the depth chart. The Packers added only two mid-level free agents — inside linebacker Christian Kirksey and offensive tackle Rick Wagner — who are on the active roster and only two of their draft picks — second-round running back A.J. Dillon and third-round tight end Josiah Deguara — have a chance to play immediately, though the truncated offseason has tempered the expectations for rookies across the league.
When the Packers released their first depth chart last week, the only one of the 22 listed starters who wasn't with the organization last season was Kirksey. And though Kirksey is a more dynamic linebacker than Martinez, he has been nowhere near as durable. The other major departures will be replaced from within.
That's a sizable risk because the Packers were more opportunistic than overwhelming while winning 13 regular-season games last season. They were 8-1 in games decided by a touchdown or less and they were remarkably injury-free, two things that historically even out in subsequent seasons. Though only Baltimore had a better record than Green Bay, the Packers' point differential — they outscored their opponents by only 63 points — ranked ninth. And then there was the sobering conclusion, the 37-20 playoff loss to the 49ers in which they trailed 27-0 at halftime and their defense was literally and figuratively run off the field.
It's hard to see how the Packers have closed the gap on the 49ers after their quiet offseason. Indeed, they may have lost ground.
The Packers do have notable strengths with quarterback Aaron Rodgers, running back Aaron Jones, wide receiver Davante Adams, the left side of the offensive line, nose tackle Kenny Clark, edge rushers Za'Darius and Preston Smith and the starting secondary. In most other areas, they'll be counting on young players to take a giant step up in productivity.
In that sense, the Packers' fortunes in 2020 will depend largely on wide receivers Marquez Valdes-Scantling, Equanimeous St. Brown and Tyler Ervin, tight ends Robert Tonyan and Jace Sternberger, defensive ends Montravius Adams and Kingsley Keke, edge rusher Rashan Gary, inside linebacker Oren Burks and defensive backs Chandon Sullivan, Josh Jackson and Raven Greene. If recent history is any indication, relying on so many players formerly buried on the depth chart to grow into significant contributors at the same time is not realistic.
In the NFC title game, those 12 players accounted for only 72 non-special teams snaps. Valdes-Scantling, Gary and Sullivan, who are expected to play major roles this season after impressive training camp performances, were used for one, three and eight snaps, respectively, in the team's most important game of the season. Despite missing an offseason of work due to the COVID-19 outbreak, those 12 are being counted on to elevate the Packers this season.
Gutekunst preaches patience, saying only that he looks for young players to show up and play significant roles at some point during their initial NFL contracts. The clock is ticking.
Yes, the offense should function more efficiently in LaFleur's second season and the defense has some serious star power. But the Packers roster remains largely intact and they will need a slew of young players to turn potential into production if they hope to get close to last year's win total.
<&rdpStrong>Three things to watch in Sunday's game vs. Vikings</&rdpStrong>
1. SOMETHING COOKING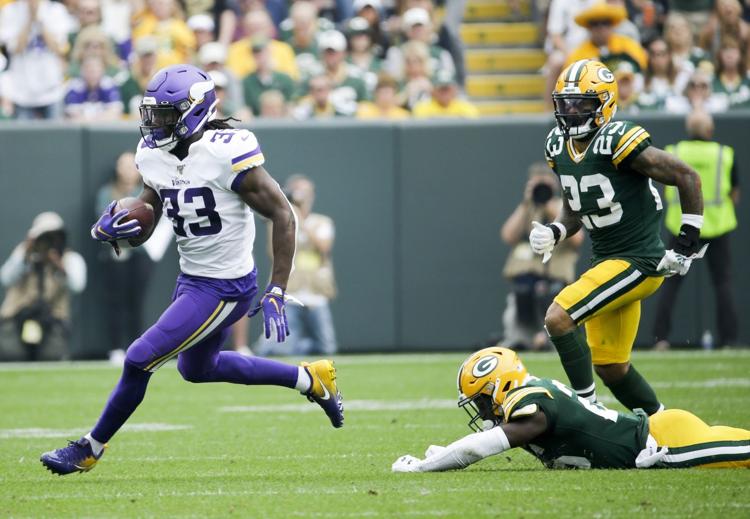 Everyone remembers what happened against the 49ers, of course, with Raheem Mostert running through the defense for 220 yards and four touchdowns as part of a 285-yard 49ers ground assault. And as they enter a new season, the Packers know that opponents will likely run on them until they prove they can stop the run. And defensive coordinator Mike Pettine believes they will stop it.
"We feel good about where we are," Pettine said at midweek. "From a run defense standpoint, just some of the tweaks we've made, some of the subtle changes that we've made, some of the things we put in, some of the things we've taken out, I think we're excited about it because we certainly know it's going to get tested. It's going to get tested right out of the gate on Sunday."
The Packers' only notable personnel change since that fateful day in the Bay Area was replacing inside linebacker and defensive communicator Blake Martinez with ex-Cleveland Browns linebacker Christian Kirksey, who played for Pettine in Cleveland.
"I think when it all comes down to stopping the run, having a good run defense is just attitude," Kirksey said. "Are guys all willing to stay in their gap? Make sure they're responsible for holding their gap? Are guys willing to stop the run? There's no secret formula to it. I think the guys are fully invested into understanding that teams are going to try to run the ball. And it's our job to stop 'em. I wasn't a part of the San Francisco game, but I can just see that guys are really putting a special emphasis on stopping the run here."
2. GETTING DEFENSIVE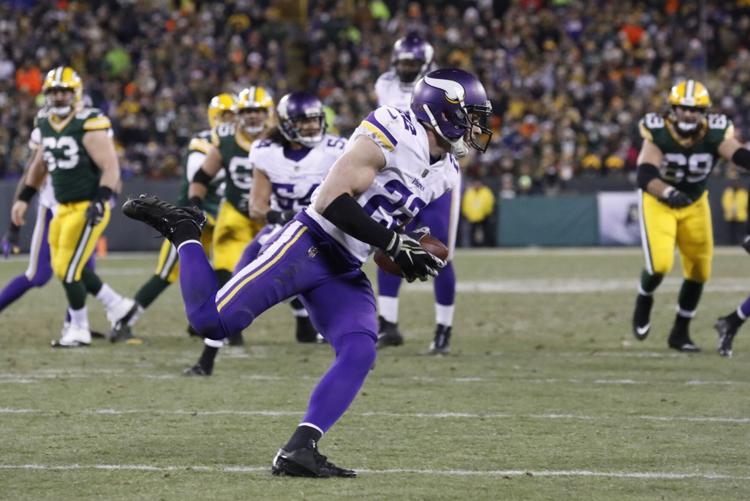 Defense has long been the Vikings' calling card under head coach Mike Zimmer, who is entering his seventh season in Minnesota. Last year, the Vikings finished fifth in scoring defense, 14th in total defense, fifth in sacks and fourth in takeaways. But the group will have some noticeable personnel differences this time around, with recently acquired Yannick Ngakoue having replaced Everson Griffen as one of the edge rushers; sack leader Danielle Hunter (neck) on injured reserve to start the season; and the cornerback position having been remade with new starters Mike Hughes and Holton Hill and sub-package corners Jeff Gladney, Cameron Dantzler and Harrison Hand.
But there are still holdovers, including all-pro safety Harrison Smith (above), who leads the re-imagined unit.
"He's obviously a familiar face," Packers quarterback Aaron Rodgers said. "(Xavier) Rhodes and (Trae) Waynes are gone, but it's still the same linebacker crew with (Eric) Kendricks and (Anthony) Barr inside, who have been very consistent for so many years. Really good, heady football players — smart, tough, instinctive. Having (Kendricks) and Harrison there together for so many years I'm sure gives Mike confidence that it doesn't matter who they put in there. They're going to be able to execute what he wants to do."
That said, the Packers coaches did find it challenging during the week that with such scant film on the Vikings' cornerbacks, prepping for what they do best and what their weaknesses might be was a challenge.
"The guys they had last year were pretty darn good, too," Packers head coach Matt LaFleur said. "There's a lot of unknown with the new guys, but we're anticipating that they're not going to miss a beat. That's a really well-rounded defense. They've got stars on all three levels and we know that in order to go out and do our best, we've got to be prepared and put our best product out on the field."
3. MISSIN' COUSINS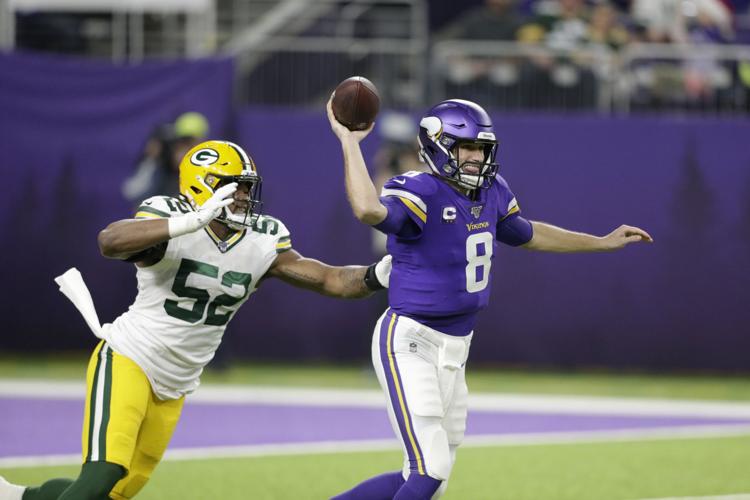 LaFleur has plenty of history with Vikings quarterback Kirk Cousins (above), having been the Washington Redskins' quarterbacks coach when the team drafted Cousins in the fourth round out of Michigan State — the same year the team picked Baylor's Robert Griffin III with the No. 2 overall pick.
"We talked about it from the day we drafted him, just his approach to the game is, it's rare," LaFleur said. "He does everything in his power to be at his best and you could see that early on in the process, just the amount of time that he would spend post-practice, the amount of time that he would spend in the film room, just watching tape, the types of questions he would come back on a daily basis (with). And, he's got elite arm talent. The guy's a natural thrower, he can hang in the pocket, he can make very tight-window throws, so it's definitely not a shock to me that he's progressed to being the kind of quarterback that he is today."
Nevertheless, Cousins hasn't always been good enough in his matchups with the Packers, with his teams going 2-3-1 against them (including playoffs) in games he's started. And for as good as Cousins was statistically last season, when he threw for 3,603 yards with 26 touchdowns and just six interceptions for a passer rating of 107.4, he was just 30 for 63 for 352 yards with two touchdowns and three interceptions (55.8 rating) against Green Bay.
"You're aware of how you need to be better," Cousins said. "I think they did a great job defensively. We've got to have a great plan and we have to go execute that plan. We can't afford to waste plays or make mistakes or turn the ball over. It's about many of the same things it's always about — protecting the football, running the football, time of possession. If you do those things, you give yourself a chance against a really good defense."
---
Jason Wilde covers the Packers for ESPN Wisconsin. Listen to him with former Packers and Badgers offensive lineman Mark Tauscher weekdays from 9 a.m. until noon on "Wilde & Tausch" on 100.5 FM ESPN Madison.
<&rdpEm>Tom Oates, who recently retired as a full-time columnist, has returned to write occasional columns for the State Journal.</&rdpEm>